Note: Supplemental materials are not guaranteed with Rental or Used book purchases.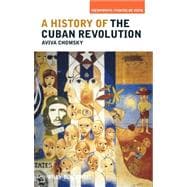 A History of the Cuban Revolution
ISBN13:
9781405187732
by
Chomsky, Aviva
Summary
A History of the Cuban Revolution presents a concise socio-historical account of the Cuban Revolution of 1959, an event that continues to spark debate 50 years later. Balances a comprehensive overview of the political and economic events of the revolution with a look at the revolution's social impact Provides a lively, on-the-ground look at the lives of ordinary people Features both U.S. and Cuban perspectives to provide a complete and well-rounded look at the revolution and its repercussions Encourages students to understand history through the viewpoint of individuals living it
Author Biography
Aviva Chomsky is Professor of History and Coordinator of Latin American, Latino and Caribbean Studies at Salem State College in Massachusetts. Her previous books include Linked Labor Histories: New England, Colombia, and the Making of a Global Working Class (2008), winner of the New England Council of Latin America's Best Book Prize, They Take Our Jobs! And 20 Other Myths about Immigration (2007), and West Indian Workers and the United Fruit Company in Costa Rica, 1870-1940 (1996).
Table of Contents
Introduction: Studying the Cuban Revolution
Talking about freedom
Scholars weigh in
Why revolution?
Comparing capitalism and socialism
Latin American attitudes
Cuba through 1959
Colonial history
The colony in the republic
Revolution: a war, or a process?
Experiments with Socialism
Analyzing the situation: economic backwardness
The 1960s: Experimentation and the Great Debate
The 1970s: Institutionalization and the Soviet Model
Democracy: U.S.- and Cuban-style
Cuba in the 1970s: how it worked
Rectification
How democratic was Cuban socialism?
The Cuban Revolution and the World: Relations with the United States
The U.S. and Cuba
In their own words: US policymakers respond to revolution
Covert War: Up to the Bay of Pigs
Covert war: After the Bay of Pigs
The Missile Crisis
After the Missile Crisis
The war continues
The Cuban Revolution and the World: Emigration and Internationalism
Miami
Cuba's global reach: beyond the Cold War
Cuba and black internationalism
Cuba in Africa and Latin America
Civilian aid missions
Art, Culture and Revolution
Literature
Film
Sport
Dance
Political culture
Food
Cuba Diversa
Race
Gender
Sexuality
Religion
The "Special Period": Socialism on One Island
1993-1995: Rapidfire reforms
Charting new territory
Contradictions: inequality and jineterismo
Opting to leave: the 1994 exodus
Debate and its limits during the 1990s
Cuba into the 21st Century
From perfeccionamiento to recentralization
Civil society into the new century
Disillusionment
Bush-era policies
Cuba, Venezuela and the ALBA
Cuba after Fidel
Conclusion
Notes
Bibliography
Index
Table of Contents provided by Publisher. All Rights Reserved.