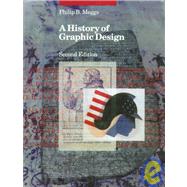 HISTORY OF GRAPHIC DESIGN
by
MEGGS
Van Nostrand Reinhold Company
Summary
Here is the first definitive history of graphic communication. More than a thousand vivid illustrations chronicle our fascinating and unceasing quest to give visual form to ideas.
Table of Contents
The Prologue to Graphic Design: The Visual Message from Prehistory through the Medieval Era
A Graphic Renaissance: The Origins of European Typography and Design for Printing
The Industrial Revolution: The Impact of Industrial Technology upon Visual Communications
The Modernist Era: Graphic Design in the First Half of the Twentieth Century
The Age of Information: Graphic Design in the Global Village
Epilogue
Selected Bibliography
Picture Credits
Index
Table of Contents provided by Publisher. All Rights Reserved.