Note: Supplemental materials are not guaranteed with Rental or Used book purchases.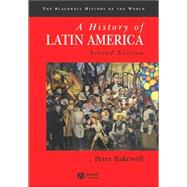 Summary
This is the second edition of Peter Bakewell's highly successful complete history of South and Central America, which now offers fuller coverage of twentieth-century developments. The book provides a vivid, analytical narrative and is clearly and extensively illustrated with maps and photographs. It describes the environment and peoples of the region before 1500, and the Iberian society which produced the conquerors; presents the story of Columbus's voyages and their aftermath in conquest by the Spanish and Portuguese; and examines the means of European domination, the mature colonial societies of Spain and Portugal and their patterns of development in the seventeenth and eighteenth centuries. For the second edition the author has revised and greatly expanded the book's coverage of the twentieth century, and has included additional illustrations covering the twentieth century and updates to the bibliography to include publications since 1997. This second edition now provides a complete history of the region suitable for all students of Latin America.
Author Biography
Peter Bakewell studied at Cambridge University and has taught in the United States since 1975, at the University of New Mexico, Emory University, and now, since 1999, at Southern Methodist University. His major research and writing has centered on the history of silver mining, and related topics, in colonial Spanish America. His previous works include Silver Mining and Society and Colonial Mexico: Zacatecas, 1546–1700 (1971) and Silver and Entrepreneurship in Seventeenth-Century Potosí: the Life and Times of Antonio López de Quiroga (1988).
Table of Contents
List of Illustrations
x
Series Editor's Preface
xiii
Preface to the Second Edition
xvi
Preface to the First Edition
xvii
Conventions Used
xix
Maps
xx
PART I BASES
1
(62)
4
(21)
25
(19)
44
(19)
PART II APPROACHES
63
(46)
66
(12)

| | |
| --- | --- |
| | 5 Experiment in the Caribbean |

78
(17)
95
(14)
PART III DOMINATION
109
(106)

| | |
| --- | --- |
| | 7 Administration: the Power of Paper |

112
(25)

| | |
| --- | --- |
| | 8 Church: Friars, Bishops, and the State |

137
(22)

| | |
| --- | --- |
| | 9 Society: Old Orders Changed |

159
(23)

| | |
| --- | --- |
| | 10 Economy: Ships and Silver |

182
(33)
PART IV MATURE COLONIES
215
(104)

| | |
| --- | --- |
| | 11 The Seventeenth Century: a Slacker Grip |

219
(52)
219
(11)

| | |
| --- | --- |
| | Production, Taxes, and Trade: Spain Frail, America Sturdy |

230
(9)

| | |
| --- | --- |
| | Indians in the Heartlands: Making Their Own Space |

239
(16)

| | |
| --- | --- |
| | Indians in the Peripheries: Less Regimented, Less Protected |

255
(6)

| | |
| --- | --- |
| | Women, Secular and Religious |

261
(5)
266
(3)
269
(1)
270
(1)

| | |
| --- | --- |
| | 12 Eighteenth-century Spanish America: Reformed or Deformed? |

271
(48)

| | |
| --- | --- |
| | People, Production, and Commerce |

273
(12)

| | |
| --- | --- |
| | Bourbon Revisions of Rules and Principles |

285
(9)

| | |
| --- | --- |
| | Society: Change and Protest |

294
(18)

| | |
| --- | --- |
| | Creole Self-awareness: Rejection and Reception of Europe |

312
(5)

| | |
| --- | --- |
| | The Eighteenth-century Balance |

317
(2)
PART V PORTUGAL IN AMERICA
319
(58)

| | |
| --- | --- |
| | 13 Colonial Brazil: Slaves, Sugar, and Gold |

322
(55)

| | |
| --- | --- |
| | Explorers, Interlopers, and Settlers |

322
(5)
327
(3)
330
(4)
334
(4)

| | |
| --- | --- |
| | Outsiders: the Dutch, and Others, in Brazil |

338
(5)

| | |
| --- | --- |
| | Movement Inland: Slavers, Prospectors, and Stockmen |

343
(6)

| | |
| --- | --- |
| | Seventeenth-century Society |

349
(3)

| | |
| --- | --- |
| | The Indians and Father Vieira |

352
(2)

| | |
| --- | --- |
| | Government and Economy in the Seventeenth Century |

354
(8)
362
(6)
368
(4)

| | |
| --- | --- |
| | Products of Mind and Sensibility |

372
(5)
PART VI SELF-DISCOVERY: THE NINETEENTH CENTURY AND BEYOND
377
(167)
382
(29)

| | |
| --- | --- |
| | 15 Adrift in Storms: Caudillos and Penury |

411
(32)
412
(2)
414
(5)

| | |
| --- | --- |
| | Conservatives and Liberals |

419
(15)

| | |
| --- | --- |
| | Post-independence Economies |

434
(9)

| | |
| --- | --- |
| | 16 Calmer Waters and a New Course: Oligarchs and Exports |

443
(54)
444
(9)

| | |
| --- | --- |
| | Politics During the Export Boom |

453
(5)
458
(5)

| | |
| --- | --- |
| | Mexico: Diaz and the Revolution |

463
(14)

| | |
| --- | --- |
| | The 1920's: Politics and Exports |

477
(3)

| | |
| --- | --- |
| | Brazil: Empire and Coffee |

480
(6)
486
(5)
491
(6)

| | |
| --- | --- |
| | 17 People, Politics, and Economies since 1930 |

497
(47)
497
(4)
501
(14)
515
(27)
542
(2)
Epilogue
544
(7)
Glossary
551
(5)
Notes
556
(27)
Bibliography
583
(22)
Index
605