Note: Supplemental materials are not guaranteed with Rental or Used book purchases.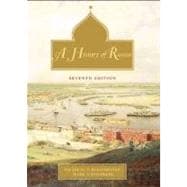 Questions About This Book?
What version or edition is this?
This is the 7th edition with a publication date of 12/16/2004.
What is included with this book?
The Used copy of this book is not guaranteed to include any supplemental materials. Typically, only the book itself is included.
Summary
Now completely revised in this seventh edition, A History of Russia covers the entire span of the country's history, from ancient times to the postcommunist present. Featuring a new coauthor, Mark Steinberg, this edition offers extensively updated material based on the most current research,including documents from recently opened archives. Keeping with the hallmark of the text, Riasanovsky and Steinberg examine all aspects of Russia's history--political, international, military, economic, social, and cultural--with a commitment to objectivity, fairness, and balance. This seventhedition contains a wealth of new images and a fully revised bibliography and reading list. Two new chapters on politics, society, and culture since 1991 explore Russia's complex experience after communism and discuss its chances of becoming a more stable and prosperous country in the future. Widely acclaimed as the best one-volume history available, A History of Russia is being offered in paperback for the first time. In addition to the one-volume version, it is now also available in two split volumes--the first covers early Russia through the nineteenth century and the second rangesfrom 1855 to the present. Volume II features an additional introductory chapter that links Russia's modern history to the events that preceded it.
Table of Contents
xi
xiii
Prefaces
xvii
3
(7)

| | |
| --- | --- |
| | Russia before the Russians |

10
(11)

| | |
| --- | --- |
| | The Establishment of the Kievan State |

21
(5)

| | |
| --- | --- |
| | Kievan Russia: A Political Outline |

26
(13)

| | |
| --- | --- |
| | Kievan Russia: Economics, Society, Institutions |

39
(9)

| | |
| --- | --- |
| | Kievan Russia: Religion and Culture |

48
(11)

| | |
| --- | --- |
| | Appanage Russia: Introduction |

59
(4)
63
(9)
72
(10)

| | |
| --- | --- |
| | The Southwest and the Northeast |

82
(6)
88
(17)

| | |
| --- | --- |
| | Appanage Russia: Economics, Society, Institutions |

105
(6)

| | |
| --- | --- |
| | Appanage Russia: Religion and Culture |

111
(12)

| | |
| --- | --- |
| | The Lithuanian-Russian State |

123
(8)

| | |
| --- | --- |
| | The Reigns of Ivan the Terrible, 1533--84, and of Theodore, 1584--98 |

131
(13)

| | |
| --- | --- |
| | The Time of Troubles, 1598--1613 |

144
(17)

| | |
| --- | --- |
| | The Reigns of Michael, 1613--45, Alexis, 1645--76, and Theodore, 1676--82 |

161
(8)

| | |
| --- | --- |
| | Muscovite Russia: Economics, Society, Institutions |

169
(12)

| | |
| --- | --- |
| | Muscovite Russia: Religion and Culture |

181
(16)

| | |
| --- | --- |
| | The Reign of Peter the Great, 1682--1725 |

197
(26)

| | |
| --- | --- |
| | Russian History from Peter the Great to Catherine the Great: The Reigns of Catherine I, 1725--27, Peter II, 1727--30, Anne, 1730--40, Ivan VI, 1740--41, Elizabeth, 1741--62, and Peter III, 1762 |

223
(12)

| | |
| --- | --- |
| | The Reigns of Catherine the Great, 1762--96, and Paul, 1796--1801 |

235
(21)

| | |
| --- | --- |
| | The Economic and Social Development of Russia in the Eighteenth Century |

256
(8)

| | |
| --- | --- |
| | Russian Culture in the Eighteenth Century |

264
(15)

| | |
| --- | --- |
| | The Reign of Alexander I, 1801--25 |

279
(22)

| | |
| --- | --- |
| | The Reign of Nicholas I, 1825--55 |

301
(16)

| | |
| --- | --- |
| | The Economic and Social Development of Russia in the First Half of the Nineteenth Century |

317
(6)

| | |
| --- | --- |
| | Russian Culture in the First Half of the Nineteenth Century |

323
(18)

| | |
| --- | --- |
| | The Reign of Alexander II, 1855--81 |

341
(21)

| | |
| --- | --- |
| | The Reign of Alexander III, 1881--94, and the First Part of the Reign of Nicholas II, 1894--1905 |

362
(15)

| | |
| --- | --- |
| | The Last Part of the Reign of Nicholas II: The Revolution of 1905 and the Constitutional Period, 1905--17 |

377
(19)

| | |
| --- | --- |
| | The Economic and Social Development of Russia from the ``Great Reforms'' until the Revolutions of 1917 |

396
(19)

| | |
| --- | --- |
| | Russian Culture from the ``Great Reforms'' until the Revolutions of 1917 |

415
(24)
439
(12)

| | |
| --- | --- |
| | Soviet Russia: An Introduction |

451
(9)

| | |
| --- | --- |
| | War Communism, 1917--21, and the New Economic Policy, 1921--28 |

460
(22)

| | |
| --- | --- |
| | The First Three Five-Year Plans, 1928--41 |

482
(19)

| | |
| --- | --- |
| | Soviet Foreign Policy, 1921--41, and the Second World War, 1941--45 |

501
(16)

| | |
| --- | --- |
| | Stalin's Last Decade, 1945--53 |

517
(12)

| | |
| --- | --- |
| | The Soviet Union after Stalin, 1953--85 |

529
(27)

| | |
| --- | --- |
| | Soviet Society and Culture |

556
(28)

| | |
| --- | --- |
| | The Gorbachev Years, 1985--91, and the Collapse of the Soviet Union |

584
(25)

| | |
| --- | --- |
| | Part VII Russian Federation |

| | |
| --- | --- |
| | Russia after Communism: Yeltsin, 1991--99, and Putin, 2000-- |

609
(32)

| | |
| --- | --- |
| | Society and Culture since 1991 |

641
2
(4)

| | |
| --- | --- |
| | 5 Political Subdivisions of the U.S.S.R. as of January 1, 1976 |

6
Bibliography
1
(1)
A Select List of Readings in English on Russian History
1
(1)
Index
1