Note: Supplemental materials are not guaranteed with Rental or Used book purchases.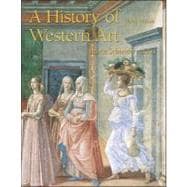 History of Western Art
ISBN13:
9780072317176
by
Adams
Summary
Appropriate for one-semester art history surveys or historically-focused art appreciation classes, "A History of Western Art," Revised Fourth Edition, features additional color which provides students with a greater understanding of the works of art. Focusing on the Western canon of art history, the text presents a compelling chronological narrative from prehistory to the present. A non-Western supplement, "World Views: Topics in Non-Western Art," addresses specific areas of non-Western art and augments the Western chronology by illustrating moments of thematic relationships and cross-cultural contact. "World Views" is available at a discount when packaged with "A History of Western Art,"
Table of Contents
Preface
xviii

| | |
| --- | --- |
| | Why Do We Study the History of Art? |

1
(11)
1
(1)
1
(1)
2
(2)
2
(1)
2
(1)

| | |
| --- | --- |
| | Brancusi's Bird: Manufactured Metal or a Work of Art? |

3
(1)
3
(1)
3
(1)
4
(1)
4
(2)
5
(1)

| | |
| --- | --- |
| | Traditions Equating Artists with Gods |

5
(1)

| | |
| --- | --- |
| | Reflections and Shadows: Legends of How Art Began |

5
(1)
6
(1)
6
(2)

| | |
| --- | --- |
| | Archaeology and Art History |

8
(1)

| | |
| --- | --- |
| | Methodologies of Art History |

9
(3)
9
(1)

| | |
| --- | --- |
| | Iconography and Iconology |

9
(1)
9
(1)
9
(1)

| | |
| --- | --- |
| | Biography and Autobiography |

10
(1)
10
(1)
11
(1)
11
(1)
12
(9)
12
(1)
12
(1)
12
(1)
12
(2)

| | |
| --- | --- |
| | Expressive Qualities of Line |

12
(2)
14
(1)
14
(1)
14
(1)
14
(1)
15
(1)
15
(1)
15
(1)

| | |
| --- | --- |
| | Expressive Qualities of Shape |

15
(1)
16
(2)

| | |
| --- | --- |
| | Physical Properties of Color |

16
(1)

| | |
| --- | --- |
| | Expressive Qualities of Color |

17
(1)
18
(1)
19
(2)

| | |
| --- | --- |
| | Prehistoric Western Europe |

21
(12)
21
(1)
21
(7)
22
(1)
22
(1)
22
(1)
23
(1)
23
(1)
23
(5)

| | |
| --- | --- |
| | Rock Paintings of Australia |

28
27
(1)
27
(6)
27
(1)
28
(1)
28
(1)

| | |
| --- | --- |
| | Post-and-Lintel Construction |

29
(4)
33
(14)
33
(1)
32
(1)
32
(1)
33
(7)
33
(1)
33
(1)
34
(1)
34
(1)
35
(1)
35
(1)
35
(1)

| | |
| --- | --- |
| | Sumer: Early Dynastic Period |

36
(1)
37
(1)
38
(1)
39
(1)
40
(1)

| | |
| --- | --- |
| | The Law Code of Hammurabi |

40
(1)
40
(3)
41
(1)

| | |
| --- | --- |
| | The Neo-Babylonian Empire |

42
(1)
42
(1)
42
(1)
43
(4)

| | |
| --- | --- |
| | Destroying the Archaeological Record |

44
(1)
44
(1)

| | |
| --- | --- |
| | Persian (Achaemenid) Empire |

44
(1)
45
(2)
47
(20)
47
(1)
47
(1)

| | |
| --- | --- |
| | The Egyptian Concept of Kingship |

47
(1)

| | |
| --- | --- |
| | Chronology of Egyptian Kings |

47
(1)
48
(2)

| | |
| --- | --- |
| | Religion and Egyptian Gods |

50
(1)
50
(5)
50
(2)
52
(1)
53
(1)

| | |
| --- | --- |
| | The Egyptian Canon of Proportion |

54
(1)
55
(1)
55
(7)
55
(1)
56
(3)
59
(1)
60
(2)
62
(1)
63
(4)

| | |
| --- | --- |
| | Tomb of Huy and Ramses II |

63
(1)
63
(4)
67
(14)
67
(1)
68
(4)
68
(1)
69
(2)
71
(1)
71
(1)
71
(1)
72
(2)
72
(2)
74
(7)
75
(6)

| | |
| --- | --- |
| | The Art of Ancient Greece |

81
(34)
82
(1)

| | |
| --- | --- |
| | Government and Philosophy |

82
(1)
82
(1)
83
(1)
83
(1)

| | |
| --- | --- |
| | ``Man Is the Measure of Things'' |

83
(2)

| | |
| --- | --- |
| | Greek Gods and Their Roman Counterparts |

84
(1)
85
(3)
85
(1)
85
(1)
86
(1)

| | |
| --- | --- |
| | Greek Vases: Media and Shapes |

86
(1)

| | |
| --- | --- |
| | Late Archaic to Classical Style |

87
(1)

| | |
| --- | --- |
| | Classical to Hellenistic Style |

87
(1)
88
(6)
88
(2)

| | |
| --- | --- |
| | Encaustic: Luminous Painting |

90
(1)
90
(2)
92
(1)
93
(1)

| | |
| --- | --- |
| | Classical Architecture: The Athenian Acropolis |

94
(12)
95
(2)
97
(1)

| | |
| --- | --- |
| | The Orders of Greek Architecture |

98
(5)
103
(1)

| | |
| --- | --- |
| | The Temple of Athena Nike |

103
(1)
104
(2)
106
(4)
106
(1)
106
(1)
107
(1)

| | |
| --- | --- |
| | The ``Hermes of Praxiteles'' |

108
(2)
110
(5)
110
(2)
112
(3)
115
(8)
116
(1)
116
(1)
117
(1)
118
(5)
118
(2)
120
(1)
121
(2)
123
(27)
124
(1)

| | |
| --- | --- |
| | Chronology of Roman Periods |

124
(1)
125
(17)

| | |
| --- | --- |
| | Arches, Domes, and Vaults |

125
(1)
126
(2)
128
(1)
128
(3)
131
(2)
133
(4)

| | |
| --- | --- |
| | Commemorative Architecture |

137
(4)

| | |
| --- | --- |
| | Josephus and the Jewish Wars |

141
(1)
142
(4)
142
(1)
143
(1)
143
(2)

| | |
| --- | --- |
| | Marcus Aurelius: Emperor and Philosopher |

145
(1)
146
(4)

| | |
| --- | --- |
| | Early Christian and Byzantine Art |

150
(17)
150
(1)

| | |
| --- | --- |
| | Constantine and Christianity |

150
(1)

| | |
| --- | --- |
| | The Divergence of East and West |

150
(1)

| | |
| --- | --- |
| | Christianity and Scriptures |

151
(1)
151
(4)
151
(1)
151
(1)
152
(1)
153
(1)
154
(1)

| | |
| --- | --- |
| | Centrally Planned Churches |

155
(1)

| | |
| --- | --- |
| | Justinian and the Byzantine Style |

155
(9)
155
(4)
159
(2)
161
(3)
164
(1)
164
(1)
164
(1)

| | |
| --- | --- |
| | Later Byzantine Developments |

164
(3)
167
(14)
167
(4)
167
(1)

| | |
| --- | --- |
| | The Great Mosque, Cordoba |

168
(3)
171
(7)
171
(1)
171
(1)
172
(1)
172
(3)
175
(1)
175
(1)

| | |
| --- | --- |
| | Revelation and the Four Symbols of the Evangelists |

175
(1)
176
(1)

| | |
| --- | --- |
| | Monasticism: Chastity, Obedience, and Poverty |

177
(1)
178
(3)
181
(14)

| | |
| --- | --- |
| | Economic and Political Development |

181
(1)
181
(1)
182
(2)

| | |
| --- | --- |
| | The Stavelot Reliquary Triptych |

183
(1)
184
(5)
184
(3)
187
(2)
189
(2)
191
(1)
192
(3)
195
(23)

| | |
| --- | --- |
| | Origins of the Gothic Style in France |

195
(1)

| | |
| --- | --- |
| | Early Gothic Architecture: Saint-Denis |

196
(1)
196
(1)

| | |
| --- | --- |
| | Elements of Gothic Architecture |

197
(3)
197
(1)
198
(1)
198
(1)
198
(1)
198
(1)
199
(1)
199
(1)

| | |
| --- | --- |
| | Romanesque Precursors of Gothic |

200
(1)
201
(2)
203
(8)

| | |
| --- | --- |
| | Exterior Architecture of Chartres |

203
(2)

| | |
| --- | --- |
| | Exterior Sculpture of Chartres |

205
(4)
209
(2)

| | |
| --- | --- |
| | Later Developments of the French Gothic Style |

211
(4)
211
(3)

| | |
| --- | --- |
| | Paris: Reliquary Chapel of Sainte-Chapelle |

214
(1)
215
(3)
215
(1)

| | |
| --- | --- |
| | King's College Chapel, Cambridge |

216
(2)

| | |
| --- | --- |
| | Precursors of the Renaissance |

218
(19)
218
(1)
218
(1)
218
(1)
219
(14)
219
(1)

| | |
| --- | --- |
| | Dante: Poet of Heaven and Hell |

220
(2)
222
(1)
222
(1)
222
(2)
224
(1)
224
(4)
228
(1)
228
(2)

| | |
| --- | --- |
| | Ambrogio Lorenzetti and the Effects of Good Government |

230
(1)

| | |
| --- | --- |
| | Training in the Master's Workshop |

231
(1)
232
(1)

| | |
| --- | --- |
| | The International Gothic Style |

233
(4)
233
(1)
234
(3)
237
(37)

| | |
| --- | --- |
| | Italy in the Fifteenth Century |

237
(7)
237
(1)
237
(1)
238
(1)

| | |
| --- | --- |
| | The Competition for the Florence Baptistery Doors |

238
(1)

| | |
| --- | --- |
| | Brunelleschi and Architecture |

239
(1)
239
(3)
242
(1)

| | |
| --- | --- |
| | Ghiberti's East Baptistery Doors |

243
(1)

| | |
| --- | --- |
| | Early Fifteenth-Century Painting |

244
(5)
244
(3)
247
(1)

| | |
| --- | --- |
| | International Style: Gentile da Fabriano |

247
(2)

| | |
| --- | --- |
| | Early Fifteenth-Century Sculpture: Donatello's David |

249
(1)

| | |
| --- | --- |
| | Second-Generation Developments |

250
(11)
251
(1)

| | |
| --- | --- |
| | The Theme of David and Goliath |

251
(1)
252
(2)
254
(1)
254
(1)

| | |
| --- | --- |
| | Monumentality versus Spirituality in Fifteenth-Century Painting |

255
(2)
257
(1)

| | |
| --- | --- |
| | Andrea Mantegna's Illusionism |

258
(2)
260
(1)

| | |
| --- | --- |
| | Botticelli and Mythological Subject Matter |

260
(1)
261
(1)

| | |
| --- | --- |
| | Fifteenth-Century Painting in the Netherlands |

261
(13)

| | |
| --- | --- |
| | Campin's Merode Altarpiece |

262
(1)
263
(4)
267
(3)
270
(4)

| | |
| --- | --- |
| | The High Renaissance in Italy |

274
(28)
274
(5)

| | |
| --- | --- |
| | The Ideal of the Circle and Centrally Planned Churches |

274
(3)

| | |
| --- | --- |
| | St. Peter's and the Central Plan |

277
(1)
278
(1)
279
(14)
279
(3)
282
(1)
283
(5)

| | |
| --- | --- |
| | The Restoration Controversy |

288
(2)
290
(3)
293
(9)
293
(1)

| | |
| --- | --- |
| | Giovanni Bellini and the Sacra Conversazione |

294
(1)

| | |
| --- | --- |
| | Painting versus Sculpture |

295
(1)
296
(2)
298
(4)

| | |
| --- | --- |
| | Mannerism and the Later Sixteenth Century in Italy |

302
(12)
302
(1)
303
(6)
303
(3)
306
(1)
307
(1)
307
(1)

| | |
| --- | --- |
| | Benvenuto Cellini: A Mannerist Lifestyle |

308
(1)

| | |
| --- | --- |
| | Counter-Reformation Painting |

309
(2)
309
(1)
309
(1)
310
(1)

| | |
| --- | --- |
| | Architecture: Andrea Palladio |

311
(3)

| | |
| --- | --- |
| | The Four Books of Architecture |

312
(2)

| | |
| --- | --- |
| | Sixteenth-Century Painting in Northern Europe |

314
(14)
314
(6)
314
(1)
315
(3)
318
(1)
319
(1)
320
(8)
320
(1)

| | |
| --- | --- |
| | The Development of Printmaking |

321
(1)

| | |
| --- | --- |
| | The Myth of the Mad Artist |

322
(1)
323
(1)
324
(2)
326
(1)
326
(2)

| | |
| --- | --- |
| | The Baroque Style in Western Europe |

328
(30)
328
(1)
329
(9)
329
(5)
334
(1)
334
(2)
336
(2)

| | |
| --- | --- |
| | Sculpture: Gianlorenzo Bernini |

338
(2)
340
(4)
340
(2)
342
(1)
342
(1)
343
(1)

| | |
| --- | --- |
| | Baroque Painting in Northern Europe |

344
(2)
344
(2)

| | |
| --- | --- |
| | Mughal Art and the Baroque |

346
(8)
347
(1)
348
(2)
350
(1)
350
(1)
351
(2)
353
(1)
354
(1)

| | |
| --- | --- |
| | Spanish Baroque Painting: Diego Velazquez |

354
(2)

| | |
| --- | --- |
| | French Baroque Painting: Nicolas Poussin |

356
(2)

| | |
| --- | --- |
| | Rococo and the Eighteenth Century |

358
(16)
359
(1)
360
(1)
360
(1)
361
(5)
361
(1)
362
(1)
363
(1)

| | |
| --- | --- |
| | Prelude to the French Revolution |

363
(1)
364
(1)
364
(2)
366
(2)
366
(1)

| | |
| --- | --- |
| | Matthaus Daniel Poppelmann |

366
(1)
367
(1)
368
(2)

| | |
| --- | --- |
| | Palladian Style: Lord Burlington and Robert Adam |

368
(1)

| | |
| --- | --- |
| | Gothic Revival: Horace Walpole |

368
(2)

| | |
| --- | --- |
| | Bourgeois Realism: Jean-Baptiste Chardin |

370
(1)

| | |
| --- | --- |
| | Neoclassicism: Angelica Kauffmann |

370
(1)
371
(3)
371
(1)
372
(2)

| | |
| --- | --- |
| | Neoclassicism: The Late Eighteenth and Early Nineteenth Centuries |

374
(12)

| | |
| --- | --- |
| | The Neoclassical Style in France |

374
(7)
374
(1)

| | |
| --- | --- |
| | Chronology of the French Revolution and the Reign of Napoleon |

374
(2)
376
(2)
378
(1)
378
(1)

| | |
| --- | --- |
| | Jean-Auguste-Dominique Ingres |

379
(2)
381
(5)
381
(1)

| | |
| --- | --- |
| | Chronology of the American Campaign for Independence |

381
(1)

| | |
| --- | --- |
| | The Architecture of Thomas Jefferson |

381
(1)

| | |
| --- | --- |
| | John Trumbull's Declaration of Independence |

382
(2)

| | |
| --- | --- |
| | Greenough's George Washington |

384
(2)

| | |
| --- | --- |
| | Romanticism: The Late Eighteenth and Early Nineteenth Centuries |

386
(15)

| | |
| --- | --- |
| | Romantic Trends in Architecture |

386
(2)

| | |
| --- | --- |
| | Rousseau and the Return to Nature |

387
(1)

| | |
| --- | --- |
| | Romanticism in Music and Poetry |

387
(1)
388
(1)
388
(13)
388
(1)
389
(1)
389
(2)
391
(2)

| | |
| --- | --- |
| | Francisco de Goya y Lucientes |

393
(1)
394
(1)
395
(1)

| | |
| --- | --- |
| | The Aesthetic of the Sublime |

395
(1)

| | |
| --- | --- |
| | John Constable and Joseph Mallord William Turner |

396
(2)

| | |
| --- | --- |
| | American Romantic Writers |

398
(1)
399
(1)
399
(2)

| | |
| --- | --- |
| | Nineteenth-Century Realism |

401
(20)

| | |
| --- | --- |
| | Karl Marx and The Communist Manifesto |

401
(1)
402
(1)
403
(6)
403
(1)
404
(1)
404
(2)
406
(1)
406
(2)
408
(1)
409
(3)
409
(1)
410
(1)

| | |
| --- | --- |
| | England: Julia Margaret Cameron |

411
(1)
411
(1)

| | |
| --- | --- |
| | American Realist Painting |

412
(1)

| | |
| --- | --- |
| | Thomas Eakins's Gross Clinic |

412
(1)
413
(1)

| | |
| --- | --- |
| | French Realism in the 1860s |

413
(3)

| | |
| --- | --- |
| | Edouard Manet's Dejeuner sur I'Herbe |

413
(1)
414
(1)

| | |
| --- | --- |
| | Courbet's Woman with a Parrot |

415
(1)
416
(5)

| | |
| --- | --- |
| | Joseph Paxton: The Crystal Palace |

416
(1)
417
(1)
418
(1)

| | |
| --- | --- |
| | Origins of the Skyscraper: Louis Sullivan |

418
(3)

| | |
| --- | --- |
| | Nineteenth-Century Impressionism |

421
(20)

| | |
| --- | --- |
| | Urban Renewal During the Second Empire |

421
(1)
421
(7)
421
(2)
423
(1)
424
(2)
426
(1)
427
(1)

| | |
| --- | --- |
| | Japanese Woodblock Prints |

428
(6)
430
(2)

| | |
| --- | --- |
| | Views of Paris: Renoir and Pissarro |

432
(2)

| | |
| --- | --- |
| | French Sculpture: Auguste Rodin |

434
(2)

| | |
| --- | --- |
| | American Painting at the Turn of the Century |

436
(1)
436
(1)
436
(1)
437
(4)

| | |
| --- | --- |
| | Post-Impressionism and the Late Nineteenth Century |

441
(14)

| | |
| --- | --- |
| | Post-Impressionist Painting |

441
(8)

| | |
| --- | --- |
| | Henri de Toulouse-Lautrec |

441
(1)
442
(1)
443
(1)
444
(2)
446
(2)
448
(1)
449
(2)
451
(1)
451
(1)
451
(1)
452
(1)

| | |
| --- | --- |
| | Naive Painting: Henri Rousseau |

452
(3)

| | |
| --- | --- |
| | The Mechanisms of Dreaming |

453
(2)

| | |
| --- | --- |
| | The Early Twentieth Century: Picasso, Fauvism, Expressionism, and Matisse |

455
(11)

| | |
| --- | --- |
| | Pablo Picasso and Henri Matisse |

455
(1)

| | |
| --- | --- |
| | Symbolism: Picasso's ``Blue Period'' |

456
(1)

| | |
| --- | --- |
| | Wallace Stevens: ``The Man with the Blue Guitar'' |

456
(1)

| | |
| --- | --- |
| | African Art and the European Avant-Garde |

457
(1)

| | |
| --- | --- |
| | Fauvism: Matisse from 1902-05 |

458
(1)
459
(4)
459
(1)
459
(1)
460
(1)

| | |
| --- | --- |
| | The Blue Rider (Der Blaue Reiter) |

460
(1)
460
(2)
462
(1)
462
(1)
463
(3)

| | |
| --- | --- |
| | Cubism, Futurism, and Related Twentieth-Century Styles |

466
(20)
466
(7)
466
(1)
466
(2)

| | |
| --- | --- |
| | Analytic Cubism: Pablo Picasso and Georges Braque |

468
(1)
469
(1)
470
(1)
470
(1)
471
(1)
472
(1)

| | |
| --- | --- |
| | Other Early Twentieth-Century Developments |

473
(7)
473
(1)
474
(1)
474
(1)
474
(2)
476
(1)

| | |
| --- | --- |
| | Aaron Douglas and the Harlem Renaissance |

477
(1)

| | |
| --- | --- |
| | Kazimir Malevich: Suprematism |

477
(2)
479
(1)
480
(1)

| | |
| --- | --- |
| | Frank Lloyd Wright and the Prairie Style |

480
(1)
480
(1)
481
(5)
481
(1)
482
(2)
484
(1)
484
(2)

| | |
| --- | --- |
| | Dada, Surrealism, Social Realism, Regionalism, and Abstraction |

486
(17)
486
(2)
486
(1)
487
(1)
488
(3)
488
(1)
489
(1)
490
(1)
490
(1)
491
(1)

| | |
| --- | --- |
| | Sculpture Derived from Surrealism |

491
(3)
491
(1)
492
(1)
492
(1)
493
(1)

| | |
| --- | --- |
| | The United States: Regionalism and Social Realism |

494
(3)
494
(1)
495
(1)
495
(1)
496
(1)
496
(1)
497
(1)
497
(1)
497
(1)

| | |
| --- | --- |
| | Toward American Abstraction |

498
(5)
498
(1)
498
(2)
500
(1)

| | |
| --- | --- |
| | American Self-Taught Painters |

501
(2)
503
(13)

| | |
| --- | --- |
| | The Teachers: Hans Hofmann and Josef Albers |

503
(1)
504
(2)
504
(1)
504
(2)
506
(4)
506
(1)
507
(1)
508
(1)
509
(1)
510
(1)
510
(1)
510
(3)
510
(1)
511
(1)
512
(1)

| | |
| --- | --- |
| | West Coast Abstraction: Richard Diebenkorn |

513
(1)
514
(2)
514
(1)
514
(1)
515
(1)

| | |
| --- | --- |
| | Pop Art, Op Art, and Minimalism |

516
(13)

| | |
| --- | --- |
| | Pop Art in England: Richard Hamilton |

516
(2)

| | |
| --- | --- |
| | Pop Art in the United States: Painting |

518
(4)
518
(1)
518
(1)
519
(1)
520
(1)
520
(1)
521
(1)
522
(1)
522
(1)
522
(1)
523
(1)
523
(1)
524
(3)
524
(1)
524
(1)
524
(2)
526
(1)

| | |
| --- | --- |
| | Action Sculpture: Joseph Beuys |

527
(2)

| | |
| --- | --- |
| | Innovation and Continuity |

529
(23)
529
(3)
529
(1)

| | |
| --- | --- |
| | Gilbert Proesch and George Passmore |

530
(1)
530
(1)
531
(1)
532
(8)

| | |
| --- | --- |
| | The Guggenheim Museum, New York |

532
(1)
533
(1)

| | |
| --- | --- |
| | The Geodesic Dome: R. Buckminster Fuller |

534
(1)
535
(2)

| | |
| --- | --- |
| | I. M. Pei: The Louvre Pyramid |

537
(1)

| | |
| --- | --- |
| | Richard Rogers: The Lloyd's Building |

538
(1)

| | |
| --- | --- |
| | Frank Gehry: The Solomon R. Guggenheim Museum Bilbao |

539
(1)
540
(3)
540
(1)
541
(1)
542
(1)
543
(1)

| | |
| --- | --- |
| | Judy Chicago: The Dinner Party |

453
(91)
544
(1)
544
(8)
544
(1)
545
(1)

| | |
| --- | --- |
| | Government Funding and Censorship |

546
(1)
547
(1)
547
(1)
548
(1)
549
(1)
550
(2)
Glossary
552
Suggestions for Further Reading
R1
Notes
N1
Photo Credits:
C1
Index
I1