Note: Supplemental materials are not guaranteed with Rental or Used book purchases.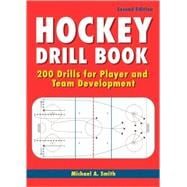 Hockey Drill Book : 200 Drills for Player and Team Development
ISBN13:
9781554075522
by
Smith, Michael A.
Summary
A classic how-to hockey title now fully redesigned with full-color diagrams.No hockey player or team can successfully play at any level without practice, and lots of it. The design of this new edition of Hockey Drill Book makes all that sweat and effort worthwhile.The book features 200 drills in a comprehensive practice regimen that covers every essential skill needed to master the fundamentals of the game, including:Skating Stick handling Passing Shooting Conditioning Goaltending Checking Game situationsEach drill has a defined purpose, and the techniques are described step by step and shown in full-color diagrams. Suggestions for drill tempo, variations of the drill and numbers of participants guide coaches in designing practices that are challenging, effective and appropriate for their players.Hockey Drill Book is the essential training tool for players and coaches at all levels of the game.
Table of Contents
Introduction
Skating
Stickhandling
Passing
Shooting
Conditioning
Goaltending
Checking
Situations
Practice
Table of Contents provided by Publisher. All Rights Reserved.
Excerpts
IntroductionThe success of a hockey team, whether it is measured in individual skill improvement, winning, or fun, is directly dependent on practice. The better the practice, the better the team. What goes into a practice, how a practice is conducted and what is accomplished during a practice is critical. In this sense, the drills that a practice is comprised of are essential to the development of the team.This book presents 200 drills in eight different chapters: skating, stickhandling, passing, shooting, conditioning, goaltending, checking and situations. The book presents a comprehensive selection of drills for the different stages of development. The book is meant to serve all coaches, either as a readily available on-ice drill reminder, or as reference for new and different drills.Each drill features: a full-color diagram, a purpose, a brief description, the number of participating players and the tempo of the drill's execution. All of this information is clearly displayed for quick reference. Many of the drills have variations listed as well.No drill is too simple to be used. Drills are where the fundamental skills of the game are taught. All teams should constantly practice fundamentals and as a team develops its skills, the drills provided can be made more complex. Teams should, at some time, begin to use drills that combine multiple skills in one exercise.The most important thing for the coach to consider when selecting a drill is that the drill should be fun: substantial, worthwhile and enjoyable. Good drills make coaching and playing a good experience.