Note: Supplemental materials are not guaranteed with Rental or Used book purchases.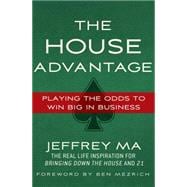 Summary
As part of the notorious MIT Team depicted in Ben Mezrich's now classic Bringing Down the House, Jeff Ma used math and statistics to master the game of blackjack and reap handsome rewards at casinos. Years later, Ma has inspired not only a bestselling novel and hit movie, but has also started three different companiesthe latest of which, Citizen Sports, is an innovative marriage of sports, betting, and digital technologyand launched a successful corporate speaking career. The House Advantage reveals Ma's cutting-edge mathematical insights into the world of statistics and makes them applicable to a wide business audience. He argues that numbers are the key to analyzing nearly everything in the world of business, from how to spot and profit from global market inefficiencies to having multiple backup plans in anticipation of every probability. Ma's stories and business lessons are as intriguing as they are universally applicable.
Author Biography
Jeffrey Ma was a member of the MIT blackjack team, which utilized sophisticated card-counting strategies to beat casinos at blackjack worldwide in the mid-1990s, and was the basis for the main character of the book Bringing Down the House and the film 21. He has been the technology lead for two internet startups and was an options trader on the Chicago Board of Options Exchange. He co-founded PROTRADE, a sports stock market website, and consults for professional sports teams including the Portland Trail Blazers and the San Francisco 49ers. He lives in San Francisco, CA.
Table of Contents
Praise for The House Advantage:
"From the minute I met Jeff Ma, I knew that my life was about to change; a mathematical genius who had turned Vegas upside down with a system that has since made him an international sensation, Jeff taught me more about money in a single neon-laced weekend than I could ever learn from a library full of CEO biographies. A perfect companion to Bringing Down The House, Jeff's book opens a window into a world where high-level statistics mingle with heart-pounding gambling tales. To put it simply- this is a business book like no other you've ever read before."-  From the Forerword by Ben Mezrich, NY Times Bestselling author of Bringing Down The House and The Accidental Billionaires
"Few things like experiencing the ups-and-downs of beating the casinos at blackjack can better equip one to understand risk and reward in visceral and concrete way. The House Advantage  is an efficient and enjoyable read that reflects Jeff's nuanced understanding about how to run the numbers in a real-world context. " – Nate Silver, Statistician and Founder of FiveThirtyEight.com
"Jeffrey Ma has written a work of philosophy in the guise of a business book...The House Advantage is an urbane blend of human observation and math smarts, business sense and common sense." - William Poundstone, author of Priceless: The Myth of Fair Value (and How to Take Advantage of It)
"The House Advantage sets the standard for explaining how the use of data and analysis is revolutionizing how businesses and sports teams will be successful in the future. Jeff uses his unique combination of theory and business savvy to illustrate this important trend in a way that is packed with entertaining stories and practical examples to get started. Sports and business executives ignore this ground-breaking book at their peril." – Daryl Morey, General Manager of the Houston Rockets
"Read Jeff's book if you want to understand what analytics can do for your business. His gambling and sports analogies tie well to business themes and reveal sound analytical thinking. Going on your gut just doesn't cut it today." - Dr. Jim Goodnight, CEO of SAS
"There's nobody else on earth who could have written this book." - Rob Neyer, ESPN.com
"Since graduating from MIT, Jeff Ma has excelled in professions as diverse as card-player, options trader, and internet entrepreneur. His experiences make for an absorbing read about the indisputable role of statistics and objective analysis in the making of smarter business decisions.  Jeff's story is compelling evidence as to why leaders in every field should believe in "The House Advantage." - Billy Beane, General Manager of the Oakland Athletics
Praise for Jeff Ma:
"Finding the statistical kernel that tells a truer story seems to be Ma's speciality" - Justin Berton,
San Francisco Gate
"So, who is Jeff Ma? He's a charming, intelligent guy who has gone through all of the ups and downs of the "City of Sin" and lived to tell his tale." - Brian Tallerico, Deadbolt.com