Note: Supplemental materials are not guaranteed with Rental or Used book purchases.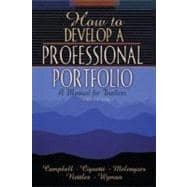 Related Products
Summary
";The text covers all of the basics, and more of what should be considered and included in one's portfolio. It has been a very helpful guide for many of our pre-service students."; Dr. John R. Cannon, University of Nevada, Reno This versatile and practical book helps pre-service and in-service teachers create a teaching portfolio that can be used effectively in their interviews and throughout their teaching careers. This manual provides clear, manageable, step-by-step guidelines and tips for professional portfolio development that can be followed by teachers at all stages of their careers. This new EDITION now includes a chapter on Digital Teaching Portfolios to help students learn to create portfolios on the web or on CD-ROM. Special Features: bull; bull;Specific guidelines for assembling portfolios, step-by-step procedures for portfolio development, and tips on how to organize a portfolio to document achievement of professional goals (Ch. 2). bull;Explanations of national teaching standards that form the organizing system of the portfolio; scenarios of actual pre-service teaching activities that illuminate the standards (Ch. 4). bull;An extensive, annotated list of artifact possibilities helps students identify papers, projects, course assignments, etc. that can be used to document professional growth and competence (Ch. 5). bull;Includes specific interview questions and suggested responses, using the portfolio as a guide (Ch. 5). bull;In-service teachers learn how maintaining portfolios affects professional growth and ways of using portfolios to accomplish goals in classrooms and school districts (Ch. 5). bull;In AppENDix C, a sample brochure called ";Portfolio At-A-Glance,"; illustrates how to summarize the contents of a portfolio to make it more understandable to a reviewer. bull;AppENDix D provides a glossary of terms important to portfolio development.
Table of Contents
Preface.
Acknowledgments.
1. What You Need to Know About Portfolios.
Why Portfolios?
What Is a Portfolio?
How Do I Organize My Portfolio?
What Evidence Should I Include in My Portfolio?
Who Is the Audience for My Portfolio?
How Might I Use My Portfolio?
2. Guidelines for Assembling Your Portfolio.
How to Use This Chapter.
Creating the Working Portfolio.
Creating the Presentation Portfolio.
3. Electronic Portfolios.
Definition of Electronic Portfolios.
Benefits of Electronic Portfolios.
Creation of Electronic Portfolios.
Stages for Developing Electronic Portfolios.
4. Organization of Portfolios Around Teaching Standards.
How to Use This Chapter.
How This Chapter Is Organized.
Knowledge of the Subject Matter.
Knowledge of Human Development and Learning.
Adapting Instruction for Individual Needs.
Multiple Instructional Strategies.
Classroom Motivation and Management Skills.
Communication Skills.
Instructional Planning Skills.
Assessment of Student Learning.
Professional Commitment and Responsibility.
Partnerships.
5. Using the Portfolio Throughout a Teaching Career.
The Full Potential of Portfolios.
Using the Portfolio While in a Teacher Education Program.
Using the Portfolio When Interviewing for a Teaching Position.
Using the Portfolio During Inservice Teaching.
6. Artifact Possibilities.
How to Use This Chapter.
Types of Artifacts.
Appendices.
Appendix A: Professional Organizations-NCATE Affiliated.
Appendix B: Artifact Checklist.
Appendix C: Developing Your "Portfolio at a Glance."
Appendix D: Glossary.