Note: Supplemental materials are not guaranteed with Rental or Used book purchases.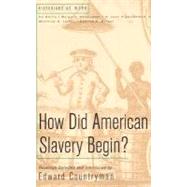 Summary
How did slavery in America begin? Gangs of black slaves toiling on large southern plantations dominate many students' ideas of African American history. Although ultimately the reality for most forced immigrants of African descent, the institution of slavery was not inevitable in colonial America. Each of the 5 selections in this volume attempts to show students how slavery emerged, how it became the defining condition for African Americans in the British colonies, and how its development influenced and transformed every aspect of society from colonial law and politics to social relations and cultural values.
Author Biography
EDWARD COUNTRYMAN is University Distinguished Professor in the Clements Department of History at Southern Methodist University. He has also taught at the Universities of Warwick and Cambridge; the University of Canterbury; and Yale University. He has published widely on the American Revolution, winning a Bancroft Prize for his book A People in Revolution (1981). Together with Evonne von Heussen-Countryman, he has also published Shane in the British Film Institute Film Classics series.
Table of Contents
Foreword
iii
Preface
v
A Note for Students
vii
PART ONE Introduction
1
(14)

| | |
| --- | --- |
| | The Beginnings of American Slavery |

3
(12)

| | |
| --- | --- |
| | Africans and Slavery in Colonial America |

3
(7)

| | |
| --- | --- |
| | Historians and the Beginnings of Slavery |

10
(5)
PART TWO Some Current Questions
15
(131)

| | |
| --- | --- |
| | Was the early ``European Atlantic'' also an African Atlantic? |

17
(48)
65
(20)

| | |
| --- | --- |
| | How did the subject of slavery enter American law? |

85
(14)

| | |
| --- | --- |
| | A. Leon Higginbotham, Jr. |

| | |
| --- | --- |
| | How did North America's absolute racial division begin? |

99
(20)

| | |
| --- | --- |
| | Did American freedom rest upon American slavery? |

119
(27)
Making Connections
146
(2)
Suggestions for Further Reading
148
Excerpts
(Excerpts from the Introduction)


On Jamestown, Virginia in 1619
On the demography of early American slavery
On slavery and the beginnings of early American society
On slavery and social death
On historians and the beginnings of slavery


On Jamestown, Virginia in 1619 . . .

We may recall learning about the arrival of twenty "Negars" at Jamestown, Virginia in 1619, where they were put to work growing tobacco. . . . Consider just a few points regarding those first twenty arrivals. They were not at all the first black migrants to the Western Hemisphere; by 1619 there were Africans all over the Caribbean and Central and South America . . . . Nor did those twenty at Jamestown automatically become slaves. On the contrary, it is quite possible that coming to Virginia ended the slavery that bound them when they boarded the Dutch vessel that took them there.

In 1619 Virginia had no law of slavery and the arrivals became "servants." They went to work in tobacco fields alongside other servants who were white and had come from England. Conditions were equally hard for both groups, but servitude could end. Early Virginia blacks gained their freedom and a few actually prospered. One, named Anthony Johnson . . . arrived at Jamestown in 1621, survived his own time of servitude, married, and acquired land and indentured servants.

Nonetheless, there was . . . one big difference. The whites had come freely, hoping for better lives once their servitude ended. We have no reason to think that those first twenty blacks entered the colony by their own choice. Many more were to follow. For these, even surviving was a triumph.

On the demography of early American slavery . . .

Historian Philip Curtin estimates that the total slave trade from Africa to the Western Hemisphere amounted to 9,566,000 people, the largest forced migration in all history. The 4,700,000 taken to South America accounted for half of the entire trade. The 4,040,000 who went to the West Indies represented more than 40 percent. By comparison, the British colonies/United States received roughly 399,000. South America imported nearly 12 slaves and the West Indies imported more than 10 slaves for every slave who went to North America.

On slavery and the beginnings of early American society . . .

During the colonial era most North American slaves lived in the Chesapeake and the Carolina/Georgia low country, growing tobacco, rice, indigo, and sea island cotton on lowland plantations. But black people labored on small farms in the southern backcountry and throughout the middle and northern colonies as well. They helped whites build houses and ships, cobble shoes, bake bread, brew beer, make hats, weave cloth, and sew gowns. They cleaned streets and they hauled heavily laden carts through them. They waited on planters in Virginia mansions and on lawyers, merchants, and public officials in northern cities. Black men helped turn ore into metal on the "iron plantations" that dotted the interior landscape from Virginia to New York. They loaded and unloaded vessels in colonial ports and they went to sea before the mast. Black women cooked, washed, tended children, and did scullery work in white households everywhere. They also did heavy labor to which no white woman would be subjected. Whatever free white people were doing to build colonial America, enslaved black people were doing it too.

On slavery and social death . . .

In a vast, sweeping comparison of world slave systems, sociologist Orlando Patterson has likened slavery to "social death." His metaphor offers a way to distinguish slavery from any other kind of subordination or degradation. All societies have some form of hierarchy, and all hierarchies involve different degrees of honor, respect, and reward. Somebody is always at the bottom, even in a society that proclaims equality. A slave, however, is totally dishonored, stripped of all claims to respect, and open to complete exploitation. Slaves live with the knowledge that somebody else is in control of their lives, "without consent or contract."

On historians and the beginnings of slavery . . .

The starting point for discussion of slavery's beginnings among "mainstream" (read, "most white") historians remains Oscar Handlin and Mary Flug Handlins "Origins of the Southern Labor System," published in The William and Mary Quarterly in 1950. The time was right. Simply on academic grounds, the scholarship of "Negro" history specialists was becoming too powerful to ignore. Moreover, thinking white Americans like the Handlins could not but see that a racial crisis was coming. Nazi Germany had shown the world the consequences to which racism could lead, and its actions cast a lurid light on white supremacy American-style. Even before the worst was known about the European Holocaust, the Swedish sociologist Gunnar Myrdal's powerful An American Dilemma (1944) pitted the Republic's self-image of freedom and equality against its bleak and deep-rooted racial realities.