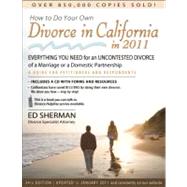 How to Do Your Own Divorce in California in 2011 Everything You Need for an Uncontested Divorce of a Marriage or a Domestic Partnership
by
Sherman, Ed
Customer Reviews
Excellent "How To" book
May 10, 2011
by





Overall you can find a very detailed, well put together book with "Step by Step" instructions that takes you through the whole process from beginning to end. The textbook is worth having, but a recent used one would have been good enough. This textbook is a MUST have for a do-it-yourself person. Highly recommended.

Flag Review
---
How to Do Your Own Divorce in California in 2011 Everything You Need for an Uncontested Divorce of a Marriage or a Domestic Partnership

:
stars based on
1
user reviews.
Summary
With this book, Californians can obtain an uncontested divorce without hiring an attorney. The first part of the book explains in detail how to divide property and settle custody, visitation, and child support issues. The second part is a step-by-step guide through the court process, including how to complete forms, when to file them, and how to get through a court appearance or even avoid it altogether. Tear-out copies and a CDROM of all the necessary forms are included as well.
"I think this book is terrific. It is clear, well written, humanistic and balanced. Congratulations."-Hugh McIsaac, Director, Family Court Services, Los Angeles, President, Association of Family and Conciliation Courts
"At last, a book that guides people through the legal divorce leaving them with enough energy and personal dignity to deal with the emotional divorce. I highly recommend it."-Betty Goldwater, M.F.C.C., family practice, Santa Barbara
"This book offers you the guidance and compassion of a well-informed good friend—exactly the kind of person you would most like to go to for advice. I recommend it."-Marje Burdine, Director, Conflict Resolution Department,Justice Institute of British Columbia