Note: Supplemental materials are not guaranteed with Rental or Used book purchases.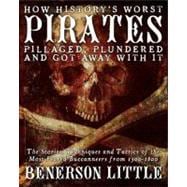 How History's Greatest Pirates Pillaged, Plundered, and Got Away with It
ISBN13:
9781592334438
by
Little, Benerson
Summary
Not simple retellings of the tried and true stories of buccaneers on the high seas, this book focuses on how pirating tactics of the 1500s through 1800s to give the reader a view of how pirates functioned through history. Readers will follow eighteen of the most famous pirates in detail as they raid major ships and pillage coastal villages. Readers will learn how the pirates approached such invasions and how they managed to elude authorities and sometimes whole navies. With archival images gathered from around the world. Each chapter is a stand-alone story about a famous buccaneer and follows them moment by moment on a specific attack as an example of their greater techniques and tactics for plundering. Readers will follow the characters in live action and trace their movements in real time; a recreation of the action based on the historic information available.
Author Biography
Benerson Little is the author of the forthcoming Pirate Hunting (March 2010), and has written The Buccaneer's Realm, a look at the world of buccaneers in the 1600s, and The Sea Rover's Practice, a look at how pirates and privateers practiced their trade. Little is a former Navy SEAL, and now works as a writer and consultant in several areas with an emphasis on maritime and naval issues, particularly maritime threat and security. He has appeared in two television documentaries on piracy and has advised on several. He lives in Huntsville, Alabama, and in his spare time he teaches modern fencing, researches historical fencing, and works on contemporary and historical novels.