Note: Supplemental materials are not guaranteed with Rental or Used book purchases.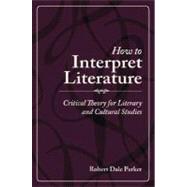 How to Interpret Literature : Critical Theory for Literary and Cultural Studies
ISBN13:
9780195334708
by
Parker, Robert Dale
Related Products
Summary
Offering a refreshing combination of accessibility and intellectual rigor,How to Interpret Literature: Critical Theory for Literary and Cultural Studiespresents an up-to-date, concise, and wide-ranging historicist survey ofcontemporary thinking in critical theory. Ideal for upper-level undergraduateand graduate courses in literary and critical theory, this is the only book ofits kind that thoroughly merges literary studies with cultural studies,including film. Robert Dale Parker provides a critical look at the majormovements in literary studies since the 1930s, including those often omittedfrom other texts. He includes chapters on New Criticism, Structuralism,Deconstruction, Psychoanalysis, Feminism, Queer Studies, Marxism, Historicismand Cultural Studies, Postcolonial and Race Studies, and Reader Response. Parkerweaves connections among chapters, showing how these different ways of thinkingrespond to and build upon each other. Through these exchanges, he preparesstudents to join contemporary dialogues in literary and cultural studies.Parker's engaging writing style relates directly to today's students and theirdaily lives. He underscores the connections between critical theory andstudents' other coursework, as well as its links to their technologically filledlives. The text is enhanced by charts, text boxes that address frequently askedquestions, photos, and a bibliography. Intellectually challenging yet remarkably readable--and devoted to theinterpretation of both literary and cultural studies--How to InterpretLiterature stands out from other surveys of critical theory. Its flexible formatmakes this volume ideal as either a stand-alone text or in conjunction with ananthology of primary readings.
Table of Contents
Preface
Introduction
New Criticism
How to Interpret: Key Concepts from New Criticism
Historicizing the New Criticism: Rethinking Literary Unity
The Intentional Fallacy and the Affective Fallacy
How to Interpret: A New Critical Example
Structuralism
Structuralism in Cultural and Literary Studies
The Structuralist Study of Narrative: Narratology
Narrative Syntax, Metaphor and Metonymy
Deconstruction
Writing, Speech, and Differance
Deconstruction beyond Derrida
Deconstruction, Essentialism, and Identity
How to Interpret: More Deconstructive Examples
Psychoanalysis
The Psychoanalytic Understanding of the Mind
How to Interpret: Models of Psychoanalytic Interpretation
From the Interpretation of Dreams to the Interpretation of Literature
Feminism
Early Feminist Criticism
Sex and Gender
Feminisms
How to Interpret: Feminist Examples
Feminism and Visual Pleasure
Queer Studies
How to Interpret: A Queer Studies Example
Queer Studies and History
Outing: Writers, Characters, and the Literary Closet
Homosociality and Heterosexual PanicHow to Interpret: Another Queer Studies Example
Marxism
Contemporary Marxism, Ideology, and Agency
How to Interpret: Marxist Examples
Historicism and Cultural Studies
New Historicism
Michel FoucaultCultural Studies
How to Interpret: Cultural Studies, Historicism, and Literature
Postcolonial and Race Studies
Postcolonialism
From Orientalism to Deconstruction
Race Studies: Postcolonial Theory and the Construction of Race
How to Interpret: Postcolonial and Race Studies Examples
Reader Response
Afterword
Works Cited
Further Reading
Index
Table of Contents provided by Publisher. All Rights Reserved.