Note: Supplemental materials are not guaranteed with Rental or Used book purchases.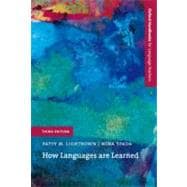 Questions About This Book?
What version or edition is this?
This is the 3rd edition with a publication date of 1/1/2006.
What is included with this book?
The Used copy of this book is not guaranteed to include any supplemental materials. Typically, only the book itself is included.
Summary
This thoroughly updated third edition presents the main theories of language acquisition, considering their bearing on language teaching. It discusses the effects of factors such as intelligence, personality, and age. It helps teachers assess the merits of different methods and textbooks. This new edition includes more information on theories of first language acquisition and early bilingualism, and the affects of motivation and style.
Table of Contents
Acknowledgements
xi
Preface to the third edition
xiii
Introduction
xv

| | |
| --- | --- |
| | Language learning in early childhood |

1
(28)

| | |
| --- | --- |
| | The first three years: Milestones and developmental sequences |

1
(6)
3
(1)
4
(1)
5
(2)
7
(1)
8
(2)

| | |
| --- | --- |
| | Explaining first language acquisition |

10
(14)

| | |
| --- | --- |
| | The behaviourist perspective: Say what I say |

10
(5)

| | |
| --- | --- |
| | The innatist perspective: It's all in your mind |

15
(4)

| | |
| --- | --- |
| | Interactionist/developmental perspectives: Learning from inside and out |

19
(5)

| | |
| --- | --- |
| | Language disorders and delays |

24
(1)
25
(2)
27
(2)

| | |
| --- | --- |
| | Explaining second language learning |

29
(24)

| | |
| --- | --- |
| | Contexts for language learning |

29
(5)
30
(2)
32
(2)
34
(1)

| | |
| --- | --- |
| | Second language applications: Mimicry and memorization |

34
(1)

| | |
| --- | --- |
| | The innatist perspective: Universal Grammar |

35
(3)

| | |
| --- | --- |
| | Second language applications: Krashen's `monitor model' |

34
(4)

| | |
| --- | --- |
| | Current psychological theories: The cognitive/developmental perspective |

38
(9)
39
(2)
41
(1)
42
(1)

| | |
| --- | --- |
| | Second language applications: Interacting, noticing, and processing |

43
(4)

| | |
| --- | --- |
| | The sociocultural perspective |

47
(2)

| | |
| --- | --- |
| | Second language applications: Learning by talking |

47
(2)
49
(4)

| | |
| --- | --- |
| | Individual differences in second language learning |

53
(24)

| | |
| --- | --- |
| | Who is a `good language learner'? |

54
(1)

| | |
| --- | --- |
| | Research on learner characteristics |

54
(20)
57
(1)
57
(2)
59
(1)
60
(3)
63
(2)

| | |
| --- | --- |
| | Identity and ethnic group affiliation |

65
(1)
66
(1)

| | |
| --- | --- |
| | Age of acquisition and the Critical Period Hypothesis |

67
(7)
74
(3)
77
(32)

| | |
| --- | --- |
| | Studying the language of second language learners |

77
(5)

| | |
| --- | --- |
| | Contrastive analysis, error analysis, and interlanguage |

78
(4)
82
(11)
83
(2)
85
(1)
86
(2)
88
(2)
90
(1)
91
(1)

| | |
| --- | --- |
| | Movement through developmental sequences |

92
(1)

| | |
| --- | --- |
| | More about first language influence |

93
(3)
96
(4)
100
(4)
104
(5)

| | |
| --- | --- |
| | Observing learning and teaching in the second language classroom |

109
(28)

| | |
| --- | --- |
| | Natural and instructional settings |

109
(5)
114
(18)

| | |
| --- | --- |
| | Classroom comparisons: teacher--student interactions |

115
(6)

| | |
| --- | --- |
| | Classroom comparisons: student--student interactions |

121
(4)

| | |
| --- | --- |
| | Corrective feedback in the classroom |

125
(5)

| | |
| --- | --- |
| | Questions in the classroom |

130
(2)
132
(3)
135
(2)

| | |
| --- | --- |
| | Second language learning in the classroom |

137
(46)

| | |
| --- | --- |
| | Six proposals for classroom teaching |

137
(39)

| | |
| --- | --- |
| | Get it right from the beginning |

138
(5)

| | |
| --- | --- |
| | Just listen . . . and read |

143
(7)
150
(5)
155
(5)
160
(5)
165
(11)

| | |
| --- | --- |
| | The implications of classroom research for teaching |

176
(3)
179
(4)

| | |
| --- | --- |
| | Popular ideas about language learning revisited |

183
(12)
Glossary
195
(12)
Bibliography
207
(22)
Index
229