Note: Supplemental materials are not guaranteed with Rental or Used book purchases.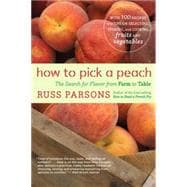 How to Pick a Peach : The Search for Flavor from Farm to Table
ISBN13:
9780547053806
by
Parsons, Russ
Questions About This Book?
What version or edition is this?
This is the Reprint edition with a publication date of 5/1/2008.
What is included with this book?
The eBook copy of this book is not guaranteed to include any supplemental materials. Typically only the book itself is included.
Summary
"Eat locally, eat seasonally."A simple slogan that is backed up by science and by taste. The farther away from the market something is grown, the longer it must spend getting to us, and what eventually arrives will be less than satisfying. Although we can enjoy a bounty of produce year round-apples in June, tomatoes in December, peaches in January-most of it is lacking in flavor. In order to select wisely, we need to know more about the produce we purchase. Where and how was the head of lettuce grown? When was it picked and how was it stored? How do you tell if a melon is really ripe? Which corn is sweeter, white or yellow?Russ Parsons provides the answers to these questions and manyothers in this indispensable guide to common fruits and vegetables, from asparagus to zucchini. He offers valuable tips on selecting, storing, and preparing produce along with one hundred delicious recipes. "How to Pick a Peach" delivers an entertaining and informative reading experience that is guaranteed to help put better food on the table.
Author Biography
RUSS PARSONS is the food and wine columnist of the Los Angeles Times. He is the author of the best-selling How to Read a French Fry, a winner of multiple James Beard Awards for his journalism, and the recipient of the IACP/Bert Greene Award for distinguished writing.

He lives in California, which produces more than half of the fruits and vegetables grown in this country. He has been writing about food and agriculture for more than twenty years.
Table of Contents
The Vegetables and Fruits Alphabetically
p. xi
The Recipes by Category
p. xiii
Introduction
p. 1
The Plant Designers: Factories in the Field
p. 21
Spring
Artichokes
p. 35
Asparagus
p. 47
Onions, Leeks and Garlic
p. 59
Peas and Fava Beans
p. 74
Salad Greens
p. 86
Strawberries
p. 101
Big Farmers, Small Farmers: The Cost of Compromise
p. 113
Summer
Corn
p. 129
Cucumbers
p. 140
Eggplants
p. 146
Green Beans
p. 154
Summer Squash
p. 160
Tomatoes
p. 169
Cherries
p. 181
Grapes
p. 190
Melons
p. 198
Peaches and Nectarines
p. 209
Plums
p. 218
Growers and Global Competition: Reinventing the Tomato
p. 223
Fall
Broccoli and Cauliflower
p. 235
Mushrooms
p. 248
Peppers
p. 256
Winter Squash
p. 267
Apples
p. 279
Pears, Asian Pears and Quinces
p. 288
Persimmons and Figs
p. 304
Market Corrections: The Return of the Small Farmer
p. 311
Winter
Cabbages and Brussels Sprouts
p. 321
Cooking Greens
p. 330
Potatoes
p. 339
Root Vegetables
p. 349
Lemons and Limes
p. 364
Mandarins (Tangerines), Grapefruits and Pummelos
p. 376
Oranges
p. 384
Index
p. 395
Table of Contents provided by Ingram. All Rights Reserved.
Excerpts
Artichokes Alexander Pope wrote that it was a brave man who first ate an oyster. What possible words can describe the heroism of he who first ate an artichoke? Not only did he have to consume it, but he probably had to invent it as well. At first glance - and maybe even after patient consideration - little about the artichoke indicates either edibility or conscious creation. The thing looks more like a primitive instrument of war than a domesticated product of agriculture. With its overlapping rows of hard prickly petals, it seems only one step removed from a stick with a nail stuck in it. Yet somehow, sometime, someone almost certainly did create the artichoke. Exactly how, when and who are unclear. Obviously, it happened well before anyone thought to copyright a plant, or even to write a scientific paper claiming academic bragging rights. But there is little doubt that the artichoke was invented. The vegetable that we call an artichoke is actually the unopened flower bud of a plant that is an improved cardoon. (My colleague Charles Perry says the word "artichoke" is derived from the Arabic al'qarshuf, which translates as "little cardoon.") If you visit ethnic produce markets - particularly Italian ones - you may have seen a cardoon. It looks like a prehistoric stalk of celery. It is outsize and a pale dinosaur gray-green with a thick, stringy skin. Peel it, chop it and cook it, and you'll taste artichoke. Why did our unnamed farmer decide that the bud of the cardoon was more desirable than the stalk? Is that even what he was going for? Did he really think he had accomplished his goal, or did he simply give up? There is something haphazard, even accidental, about the artichoke. One thing's for certain: no modern plant breeder would dare to come up with something like it. More's the pity. The artichoke is one of spring's great vegetables, with a buttery texture and an appealing flavor - an almost brassy sweetness that combines well with a multitude of other ingredients. But there's no getting around it, the artichoke is a peculiar vegetable. First, of course, there is its form - like a thistle-covered mace. The edible part of the artichoke is an unopened flower bud, or, more accurately, a collection of flower buds. If it is left to open, the artichoke will turn almost inside out, blossoming into something that looks like a flat pincushion stuck with hundreds of tiny lavender-blue flowers. It is attractive in its own gargantuan way, and fully opened artichoke flowers are sometimes used by avantgarde florists to make visual statements in arrangements. The sharp, tough "petals" or "leaves" of the artichoke are what botanists call bracts, which are actually somewhere between the two. Bracts are tough, leaflike objects that protect the flower. But the artichoke's contrariness is more than skin-deep. In fact, peel an artichoke and set it aside for a minute, and you'll soon discover another of its eccentricities. Exposed to air, artichokes turn brown or even black. This is not altogether unusual in itself - potatoes do the same thing, and so do peaches and shrimp, among many diverse foods. The process is what chemists call enzymatic browning. The plant contains a substance that when exposed to oxygen changes the color of the flesh. This is not always bad. All tea would be green if it were not for enzymatic browning. In the case of artichokes, though, it's hard to see the benefit, at least for the cook. But whereas it is almost impossible to prevent enzymatic browning, we can delay it fairly easily, either by preventing exposure to oxygen or by treating the flesh with an acidic compo