Note: Supplemental materials are not guaranteed with Rental or Used book purchases.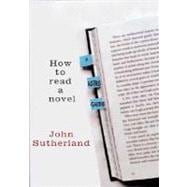 Summary
There are two approaches: If you're a trusting soul, treat an endorsement as you would the icing on a birthday cake-dip your finger into it, taste and pay up. If you're a suspicious kind of person, treat it as you would the cheese on the mousetrap and keep your hand on your wallet. I'd advise suspicion. Book jacket.
Author Biography
John Sutherland is Emeritus Lord Northcliffe Professor of Modern English Literature at University College London and a visiting professor at the California Institute of Technology. He has published and edited numerous books. He writes a weekly column for The Guardian, and also writes for The New York Times Book Review and London Review of Books. He was the committee chairman for the 2005 Man Booker Prize.
Table of Contents
| | | | |
| --- | --- | --- | --- |
| chapter 1: So many novels, so little time | | 1 | (13) |
| chapter 2: Declarations of independence | | 14 | (13) |
| chapter 3: Every other thing has changed: why hasn't the book changed? | | 27 | (16) |
| chapter 4: Fiction – a four-minute history | | 43 | (7) |
| chapter 5: Targeting – first find your book | | 50 | (6) |
| chapter 6: Preliminaries I | | 56 | (7) |
| chapter 7: Closing in | | 63 | (18) |
| chapter 8: Preliminaries II | | 81 | (4) |
| chapter 9: Titles | | 85 | (20) |
| chapter 10: Names | | 105 | (5) |
| chapter 11: Worth a thousand words | | 110 | (3) |
| chapter 12: Famous first words | | 113 | (5) |
| chapter 13: Epigraphs, forewords and afterwords | | 118 | (5) |
| chapter 14: Read one, you've read them all: intertextuality | | 123 | (8) |
| chapter 15: On the rack: know your genre | | 131 | (13) |
| chapter 16: Getting physical | | 144 | (6) |
| chapter 17: See as well as read | | 150 | (5) |
| chapter 18: Hardback or paperback? | | 155 | (7) |
| chapter 19: What do you do with the novel? read it, listen to it, look at it? | | 162 | (8) |
| chapter 20: Real world, fictional world — same world? | | 170 | (11) |
| chapter 21: When worlds collide | | 181 | (11) |
| chapter 22: Fiction — where the unspeakable can Be spoken | | 192 | (7) |
| chapter 23: I'm a Martian: will understand Pride and Prejudice? | | 199 | (14) |
| chapter 24: Can reviews help? | | 213 | (7) |
| chapter 25: Bestsellers | | 220 | (5) |
| chapter 26: The prize novel | | 225 | (4) |
| chapter 27: Book of the film? Film of the book? | | 229 | (9) |
| chapter 28: After all is said and done, what use are they? | | 238 | (6) |
| Afterword | | 244 | (3) |
| Notes | | 247 | (4) |
| List of illustrations | | 251 | (2) |
| Acknowledgments | | 253 | (1) |
| Bibliography | | 254 | |