Note: Supplemental materials are not guaranteed with Rental or Used book purchases.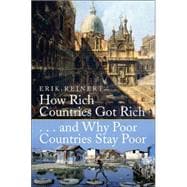 How Rich Countries Got Rich... And Why Poor Countries Stay Poor
ISBN13:
9780786718429
by
Reinert, Erik S.
Summary
In this refreshingly revisionist history, Erik Reinert shows how rich countries developed through a combination of government intervention, protectionism, and strategic investment, rather than through free trade. Reinert suggests that this set of policies in various combinations has driven successful development from Renaissance Italy to the modern Far East. Yet despite its demonstrable sucess, orthodox developemt economists have largely ignored this approach and insisted instead on the importance of free trade. Reinart shows how the history of economics has long been torn between the continental Renaissance tradition on one hand and the free market theories of English and later American economies on the other. Our economies were founded on protectionism and state activismlook at China todayand could only later afford the luxury of free trade. When our leaders come to lecture poor countries on the right road to riches they do so in almost perfect ignorance of the real history of national affluence.
Author Biography
Erik S. Reinert, author of Globalization, Economic Development and Inequality: An Alternative Perspective(2004), is Professor of Technology, Governance and Development Strategies at Tallinn University of Technology, Estonia, and President of The Other Canon Foundation, Norway. He is one of the world's leading heterodox development economists.
Table of Contents
Foreword
p. vii
Acknowledgements
p. xi
List of Figures
p. xv
Introduction
p. xvii
Discovering Types of Economic Theories
p. 1
The Evolution of the Two Different Approaches
p. 21
Emulation: How Rich Countries Got Rich
p. 71
Globalization: the Arguments in Favour are also the Arguments Against
p. 101
Globalization and Primitivization: How the Poor Get Even Poorer
p. 165
Explaining Away Failure: Red Herrings at the End of History
p. 203
Palliative Economics: Why the Millennium Goals are a Bad Idea
p. 239
'Get the economic activities right', or, the Lost Art of Creating Middle-Income Countries
p. 271
Appendices
David Ricardo's Theory of Comparative Advantage in International Trade
p. 301
Two Different Ways of Understanding the Economic World and the Wealth and Poverty of Nations
p. 305
Frank Graham's Theory of Uneven Development
p. 309
Two Ideal Types of Protectionism Compared
p. 311
Philipp von Hornigk's Nine Points on How to Emulate the Rich Countries (1684)
p. 313
The Quality Index of Economic Activities
p. 317
Notes
p. 318
Bibliography
p. 336
Index
p. 357
Table of Contents provided by Ingram. All Rights Reserved.