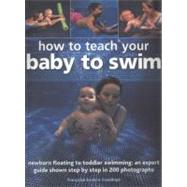 How to Teach Your Baby to Swim: Newborn Floating to Toddler Swimming: an Expert Guide Shown Step by Step in 200 Photographs
by
Freedman, Francoise Barbira
Customer Reviews
Great Book
November 24, 2014
by





A . This book is as good today as it was in 1996.

Flag Review
---
How to Teach Your Baby to Swim: Newborn Floating to Toddler Swimming: an Expert Guide Shown Step by Step in 200 Photographs

:
stars based on
1
user reviews.
Summary
In this book, Francoise Freedman shares the knowledge and expertise that led her to develop Aqualight, which is an approach to introducing babies and toddlers to the world of water. This book also answers the most frequently asked questions concerning choosing pools and equipment, and the safety of babies in the water.
Author Biography
Dr Francoise Barbira Freedman was educated in Paris and Cambridge. Despite a distinguished career as a medical anthropologist at the University of Cambridge, a highly regarded yoga teacher and founder of the charitable trust Birthlight, she considers giving birth to her four children to be her finest achievement. Francoise also lectures in midwifery and women's health studies within the National Health Service. Francoise's poineering interest in baby water training stems from her early experience as a swimming instructor in France and as an anthropologist in the Amazon, where she was inspired by the way parents played with their babies in the water and taught them how to swim. Through Aqualiqht training courses, she teaches and promotes the benefits of aqua yoga for pregnant women and young children. Her books, including Aqua Yoga for Pregnancy, Yoga for New Mothers and Yoga for Pregnancy (all published by Southwater), videos and television appearances are recognized internationally.