Note: Supplemental materials are not guaranteed with Rental or Used book purchases.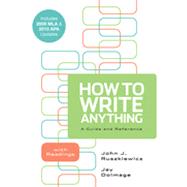 Questions About This Book?
What version or edition is this?
This is the 1st edition with a publication date of 7/8/2010.
What is included with this book?
The Used copy of this book is not guaranteed to include any supplemental materials. Typically, only the book itself is included.
Summary
Click here to find out about the 2009 MLA Updates and the 2010 APA Updates . Designed to be clear and simple,How to Write Anythingre-imagines how texts work, with support for students wherever they are in their writing process. The Guide, in Parts 1 and 2, lays out focused advice for writing common genres, while the Reference, in Parts 3 through 9, covers the range of writing and research skills that students need as they work across genres and disciplines. Intuitive cross-referencing and a modular chapter organization that's simple to follow make it easy for students to work back and forth between the chapters and still stay focused on their own writing. Now also available in a version with 50 fresh, additional readings from a wide range of sources, organized by the genres covered in the guide. The result is everything you need to teach composition in a flexible, highly visual guide, reference, and reader. Introducing Author Talk: Watch our video interview with Jay Dolmage.
Author Biography
JOHN J. RUSZKIEWICZ is a professor at the University of Texas at Austin where he has taught literature, rhetoric, and writing for more than thirty years. A winner of the President's Associates Teaching Excellence Award, he was instrumental in creating the Department of Rhetoric and Writing in 1993 and directed the unit from 2001-05. He has also served as president of the Conference of College Teachers of English (CCTE) of Texas. For Bedford/St. Martin's, he is co- author, with Andrea Lunsford, of The Presence of Others (2008), and Everything's An Argument  (2007) and co-author, with Andrea Lunsford and Keith Walters, of  Everything's an Argument with Readings (2007).
Table of Contents
I. Genres
1. Narrative
        Understanding personal narratives
          Reflection: Peggy Noonan , from "We Need to Talk"
        Exploring purpose and topic
                Brainstorm, freewrite, build lists, and use memory prompts
                  to find a topic for a personal narrative.
                Choose a manageable subject.
        Understanding your audience
                Select events that will keep readers engaged.
                Pace the story effectively.
                Tailor your writing to your intended readers.
        Finding and developing your materials
        Creating a structure
                Consider a simple sequence.
                Use images to tell a story.
        Choosing a style and design
                Don't hesitate to use first person – I.
                Use figures of speech such as similies, metaphors, and analogies
                  to make memorable comparisons.
                In choosing verbs, favor active rather than passive voice.
                Use powerful and precise modifiers.
                Use dialogue to propel the narrative and to give life to your characters.
                Develop major characters through language and action.
                Develop the setting to set the context and mood.
        Examining models
        Literacy narrative: Strange Tools, Richard Rodriguez
        Memoir: Check. Mate? Miles Pequeno (student)
        Graphic Novel excerpt: Persepolis, Marjane Satrapi
        Assignments
2. Reports
        Understanding reports
                Present information clearly.
          Informative Report: "Uranus' second ring-moon system,"
        Exploring purpose and topic
                Review what is already known about a subject.
        Understanding your audience
                Suppose you are the expert.
                Suppose you are the novice.
                Suppose you are the peer.
        Finding and developing your materials.
                Base reports on the best available sources.
                Base reports on multiple sources.
        Creating a structure
                Organize by date, time, or sequence.
                Organize by magnitude or order of importance.
                Organize by classification
                Organize by position, location, or space.
                Organize by definitional structure.
                Organize by comparison/ contrast.
                Organize by thesis statement.
        Choosing a style and design
                Present the facts cleanly.
                Keep out of it.
                Avoid connotative language.
                Cover differing views fairly, especially those you don't like.
                Pay attention to page design.
        Examining models
                Informative Report: Gene Altered Foods: A Case Against Panic, Jane Brody
                Academic Report: Inner and Outer Beauty, Annie Winsett (student)
                Visual Report: Blood Cells for Sale, Emily Harrison
        Assignments
3. Argument
        Understanding arguments
                Offer levelheaded and disputable claims.
                Offer good reasons to support a claim.
                Respond to opposing claims and points of view.
                Use language strategically-and not words only.
          Argument for Change: "College Rankings or Junk Science?" Robert Kuttner
        Exploring purpose and topic
                Learn much more about your subject.
                State a preliminary claim, if only for yourself.
                Qualify your claim to make it reasonable.
                Examine your core assumptions.
        Understanding your audience
                Consider and control your ethos.
                Consider your own limits.
                Consider race or ethnicity.
                Consider income or class.
                Consider gender or sexual orientation.
                Consider religion or belief.
        Finding and developing your materials
                List your reasons.
                Assemble your hard evidence.
                Cull the best quotations.
                Consider emotional appeals.
        Creating a structure
                Spell out what's at stake.
                Make a point or build toward one.
                Address counterpoints when necessary, not in a
                Hold your best arguments for the end.
        Choosing a style and design
                Invite readers with a strong opening.
                Ask rhetorical questions.
                Use images and design to make a point.
        Examining models
                Argument from Personal Experience: "Protecting What Really Matters,"
                Argument about a Public Issue: Uncle Sam and Aunt Samantha,
                Visual Argument: Vampire Energy, from Good magazine
        Assignments
4. Evaluation
        Understanding evaluations
                Establish and defend criteria.
                Offer convincing evidence.
          Product Review: "2007 Toyota Camry Hybrid," Erik B. Johnson
        Exploring purpose and topic
                Evaluate a subject you know well.
                Evaluate a subject you need to investigate.
                Evaluate a subject you'd like to know more about.
        Understanding your audience
                Write for a knowledgeable general audience.
        Finding and developing your materials.
                Argue for criteria that can't be measured.
        Creating a structure
                Choose a simple structure when your criteria and
                  categories are predictable.
         Choosing a style and design
                Use a high or formal style.
                Present evaluations visually.
        Examining models
                Music Review: Green Day, American Idiot, by Rob Sheffield
                Cultural Evaluation: A Public Service Campaign: Rock the Vote:
                  Useful Harm? Scott Standley (student)
                Cultural Evaluation: Movie Poster Art: Zorro Posters
        Assignments
5. Causal analysis
        Understanding causal analysis
                Don't jump to conclusions.
                Appreciate the limits of causal analysis.
                Offer sufficient evidence for claims.
           Cause and Effect Analysis: "Unplugging ads, Not Conversations,"
            Tobias Salinger (student)
        Exploring purpose and topic
                Look for a subject you know well.
                Look for an issue new to you.
                Look for a subject with many dimensions.
                Tackle an issue that seems settled.
        Understanding your audience
                Write to an existing audience.
        Finding and developing your materials
                Understand necessary cause.
                Understand sufficient cause.
                Understand precipitating cause.
                Understand proximate cause.
                Understand reciprocal cause.
                Understand contributing factor.
                Come to conclusions thoughtfully.
                Don't simplify situations or manipulate facts.
         Creating a structure
                Explain why something happened.
                Explain the consequences of a phenomenon.
                Suggest an alternative view of cause and effect.
                Explain a chain of causes.
         Choosing a style and design
                Adapt the style to the subject matter.
                Use appropriate supporting media.
        Examining models
                Cause and Effect Analysis: "Safe at Any Speed,"
                  editors of the Wall Street Journals
                Exploratory Causal Essay: "What's Really Behind the
                  Plunge in Teen Pregnancy?" Liza Mundy
                Causal Analysis of Culture: Politics of Pants, Charles Paul Freund
        Assignments
6. Proposal
        Understanding proposals
                Consider reasonable options.
                Make specific recommendations.
                Make realistic recommendations.
          Proposal for Change: "How Binging Became the New College
            Sport and Why It Would Stop If We Lowered the Drinking Age," Barrett Seaman
        Exploring purpose and topic
                Look for a genuine issue.
                Look for a challenging problem.
                Look for a soluble problem.
        Understanding your audience
                Write to people who can make a difference.
                Rally people who represent public opinion.
        Finding and developing your materials
                Define the problem.
                Figure out how to implement the proposal.
        Creating a structure
        Choosing a style and design
                Use a middle style, when appropriate.
                Pay attention to elements of design.
        Examining models
Proposal Defining a Problem:
"Disappearing Act," Michael Gurian
                Academic Proposal: "Mandatory HIV Testing," Ricky Patel (student)
                Visual Proposal: Carchitecture, Tyler Brett and Tony Romano
        Assignments
7. Literary analysis
        Understanding literary analysis
                Begin with a close reading.
                Make a claim or observation.
                Present works in context.
                Draw on previous research.
          Literary Analysis: Distinguishing the Other in Two Works
            by Tolstoy," Melissa Miller (student)
        Exploring purpose and topic
                Choose a text you connect with.
                Choose a text you want to learn more about.
                Choose a text that you don't understand.
        Understanding your audience
                Clearly identify the author and works you are analyzing.
                Don't aim to please professional critics.
        Finding and developing materials
                Examine the text closely.
                Focus on the text itself.
                Focus on its meanings, themes, and interpretations.
                Focus on its authorship and history.
                Focus on its social connections.
        Creating a structure
                Focus on a particular observation, claim, or point.
        Choosing a style and design
                Describe action in the present tense.
                Provide dates for authors and literary works.
                Use appropriate abbreviations.
                Follow conventions for quotations.
        Examining models
                Literary analysis of theme: "Insanity: Two Women," Kanaka Sathasivan (student)
                Comparison of two genres: "Size Doesn't Matter: Brokeback Mountain," Liz Miller
                Photographs as Literary Texts: "Jobless on the Edge of Peafield, Imperial Valley,
                  California," Dorothea Lange
                "Burrough Family Cabin, Hale County, Alabama," Walker Evans,
                "American Gothic," Gordon Parks
        Assignments
8. Rhetorical analysis
         Understanding rhetorical analysis
                Make strong claims about texts.
                Mine texts for evidence.
                Make a difference.
          Rhetorical Analysis: "Ad Report Card," Seth Stevenson
        Exploring purpose and topic
                Choose a text you can work with.
                Choose a text you can learn more about.
                Choose a text with handles.
                Choose a text you know how to analyze.
        Understanding your audience
        Finding and developing your materials
                Consider the topic or subject matter of the text.
                Consider the audiences of the text.
                Consider its medium or language.
                Consider its use of rhetorical appeals
        Creating a structure
        Choosing a style and design
                Consider a high style.
                Make the text available to readers.
        Examining models
                Rhetorical Analysis of an Argument: "A Mockery of
                Rhetorical Analysis of Two Film Trailers: "The Die Hard Trailer:
                  American Version Vs. International Version," Ryan Hailey (student)
                Rhetorical Analysis of a Cultural Trend: "They're Soft and Cuddly, So
                  Why Lash Them to the Front of a Truck?" Andy Newman
        Assignments
II. Special Assignments
9. Essay examination
        Understanding essay exams
                Anticipate the types of questions you might be asked.
                Read exam questions carefully.
                Sketch out a plan for your essay(s).
                Organize your answer strategically.
                Offer strong evidence for your claims.
          Model: Wade Lamb [student]
        Getting the details right
        Use transition words and phrases.
        Do a quick check of grammar, mechanics, and spelling.
        Write legibly or print.
10. Position paper
        Understanding a position paper
                Read the assignment carefully.
                Review assigned material carefully.
                Mine the texts for evidence.
                Organize the paper sensibly.
          Model: Triumph of the Lens, Heidi Rogers [student]
        Getting the details right
                Identify key terms and concepts and use them correctly and often.
                Treat your sources appropriately.
                Spell names and concepts correctly.
11. Email
        Understanding email
                Explain your purpose clearly and logically.
                Tell readers what you want them to do.
                Write for intended and unintended audiences.
                Arrange your text clearly.
                Keep your messages brief.
                Distribute your messages sensibly.
          Model: Informal Email Example
        Getting the details right.
                Choose a sensible subject line.
                Don't hit send with without checking who will receive the message.
                Include an appropriate signature.
                Have a sensible email address.
                Don't be a pain in the butt.
12. Business letter
        Understanding business letters
                Explain your purpose clearly and logically.
                Tell your readers what you want them to do.
                Keep your letter focused and brief.
                Distribute copies of your letter sensibly.
              : Model: Rita Weeks (student )
        Getting the details right.
                Use consistent margins and spacing.
                Photocopy the letter as a record.
                Don't forget the promised enclosures.
                Fold the letter correctly and send it in a suitable envelope.
13. Résumé
        Understanding résumés
                Gather the necessary information.
                Decide on appropriate categories. Arrange the information within categories chronologically.
                Design the pages that are easy to read.
                Proofread every line in the résumé several times.
              : Résumé: Marissa Dahlstrom (student)
        Getting the details right
                Don't leave unexplained gaps in your educational /work career.
                Protect your personal data.
                Think twice about posting your résumé on a job board.
                Consider having your résumés designed and printed professionally.
14. Personal Statement
         Understanding personal statements
                Read the essay prompt carefully.
                Be realistic about your audience.
                Decide on a focus or theme.
                Organize the piece conventionally.
                Try a high or middle style.
          Model: Internship Application, Michael Villaverde, (student)
        Getting the details right
                Cut the crap.
                Use common sense.
                Write the essay yourself.
15. Lab Report
        Understanding a lab report
                Follow instructions to the letter.
                Respect the conventions of lab reports.
          Model: "Synthesis of Luminol," Sandra Ramos (Student)
        Getting the details right
                Keep the lab report impersonal.
                Label charts, tables and graphs carefully.
                Document the report correctly.
16. Oral Report
        Understanding oral reports
                Know your stuff.
                Organize your presentation.
                Adapt your material to the time available.
                Practice your presentation.
          Model: Terri Sagatsume
        Getting the details right
III. Ideas
17. Brainstorming
        Find routines that support thinking.
        Build lists.
        Map your ideas.
        Google your ideas.
    Visual Tutorial: How to Browse for Ideas
18. Brainstorming with others
        Begin with a goal and set an agenda.
        Encourage everyone to participate.
        Avoid premature criticism.
19. Smart Reading
        Read to deepen what you already know.
        Read above your level of knowledge.
        Be curious.
        Read important texts very closely.
        Read to expose logical fallacies.
                Look for appeals to false authority.
                Look for ad hominem attacks.
                Look for either/or choices.
                Look for sentimental appeals.
                Look for bandwagon appeals.
                Look for hasty generalizations.
                Look for faulty causality.
                Look for equivocations and evasions.
                Look for slippery slope arguments.
                Look for faulty analogies.
20. Experts
        Talk with your instructor.
        Take your ideas to the Writing Center.
    Visual Tutorial: How to Use the Writing Center 
21. Writer's Block
        Break the project into parts.
        Do the parts you like first.
IV. Shaping and Drafting
22. Thesis
        Write a complete sentence.
        Make a significant claim or assertion.
        Write a declarative sentence, not a question.
        Expect your thesis to mature.
        Introduce your thesis early in a project.
        Or state a thesis late in a project.
        Write a thesis to fit your audience and purpose.
23. Organization
        Sketch out a plan or sequence.
        Provide clear steps or signals.
        Divide items in a sequence consistently.
        Deliver on your promises.
24. Outlines
        Begin with scratch outlines.
        Subordinate ideas.
        Decide on a sequence.
        Move up to an informal/topic outline.
        Prepare a formal outline.
25. Paragraphs
        Make sure paragraphs lead somewhere.
        Develop ideas adequately.
        Organize paragraphs logically.
        Design paragraphs for readability.
        Use paragraphs to manage transitions.
26. Transitions
        Use appropriate transitional words and phrases.
        Use sentence structure to connect ideas.
        Pay attention to nouns and pronouns.
        Use synonyms.
        Use physical devices for transitions.
        Read a draft aloud to locate trouble spots.
27. Introductions
        Provide background information
        Catch the attention of readers
        Follow formulas when they are required
        Write an introduction when it's ready
28. Conclusions
        Confirm your thesis and suggest implications
29. Titles
        Use titles to focus documents.
        Create titles that are searchable.
        Avoid whimsical or suggestive titles in academic and professional work.
        Capitalize and punctuate title carefully.
V. Style
30. High, middle, and low style
31. Inclusive and culturally sensitive style
        Pay attention to expressions that stereotype genders.
        Pay attention to expressions that stereotype races, ethnic groups,
        Treat all subjects with respect.
        Avoid sensational language.
32. Vigorous, Clear, Economical style
        Use strong, concrete subjects and objects.
        Avoid clumsy noun phrases.
        Avoid sentences with long wind-ups.
        Use action verbs when possible.
        Avoid strings of prepositional phrases.
        Don't repeat key words close together.
        Turn clauses into more direct modifiers.
        Cut introductory expressions such as it is and there are when you can.
        Vary your sentence lengths and structures.
        Listen to what you have written.
        Cut a first draft by 25%—or more. 
VI. Revising and editing
33. Revising Your Own Work
        Revise to see the big picture.
                Does the project meet the assignment?
                Does the project reach its intended audience?
                Does the project do justice to its subject?
        Edit to make the paper flow.
                Does the organization work for the reader?
                Does the paper have smooth and frequent transitions?
                Is the paper readable?
        Edit to get the details right.
                Is the format correct right down to the details?
                Are the grammar and mechanics right?
34. Peer Editing
        Peer edit the same way you revise your own work
        Be specific in identifying problems or opportunities.
        Offer suggestions for improvement.
        Praise what is genuinely good in the paper.
        Keep your comments tactful.
        Use proofreading symbols.
VII. Research and Sources
35. Beginning Your Research
        Find a challenging topic.
        Appraise your research resources.
        Distinguish between primary and secondary sources.
        Resolve to keep a record of every source you examine.
        Prepare a topic proposal.
36. Finding Sources
        Don't be intimidated by research tools.
        Learn to navigate the library catalog.
        Identify the best database for your subject.
        Identify the best reference tools for your needs.
        Use online sources intelligently.
37. Doing Field Research
        Interview people who know something about your subject.
        Make careful and verifiable observations.
38. Evaluating Sources
        Preview source materials for their key features and strategies.
        Check who published or produced the source.
        Check who wrote the work.
        Consider the market for a source.
        Establish the currency of a source.
        Check the sources and documentation.
39. Reviewing and Annotating Sources
        Read to identify and distinguish claims, assumptions, and evidence.
        Annotate a source to be sure you understand it.
40. Summarizing Sources
        Prepare a summary to provide a useful record of a source.
        Use a summary to recap what a writer has said.
        Use a summary to record your take on a source.
        Be sure your summary is accurate and complete.
        Use summaries to prepare an annotated bibliography.
41. Paraphrasing Sources
        Identify the claims and structure of the source.
        Track the source faithfully.
        Record key pieces of evidence.
        Be certain your notes are entirely in your own words.
        Avoid misleading or inaccurate paraphrasing.
42. Integrating Sources into Your Work
        Frame all borrowed material, whether quoted directly or paraphrased.
        Select an appropriate "verb of attribution" to frame borrowed material.
        Use ellipsis marks [ . . . ] to shorten a lengthy quotation.
        Use brackets [ ] to insert explanatory material into a quotation.
        Use ellipsis marks, brackets, and other devices to make quoted materials
          suit the grammar of your sentences.
        Use [sic] to signal an obvious error in quoted material.
43. Documenting Sources
        Understand the point of documentation.
        Understand what you accomplish through documentation.
44. MLA Documentation
    Visual Tutorial: How to Cite Material from a Book (MLA)
    Visual Tutorial: How to Cite Material from a Magazine (MLA)
    Visual Tutorial: How to Cite Material from a Database (MLA)
    Visual Tutorial: How to Cite Material from a Web site (MLA)
45. APA Documentation
    Visual Tutorial: How to Cite Material from a Database (APA)
VIII. Media and Design
46. Understanding Images
        Design an image to show a sequence.
        Design an image to display differences.
        Design an image to demonstrate a process.
        Design an image to present data hierarchically.
        Design an image to display three dimensions.
        Design an image to convey ideas metaphorically.
47. Using Images
        Have a good reason for using every image.
        Use digital images of an appropriate size.
        Use tools to improve an image.
        Crop a photo to get the image you want.
        Caption an image correctly.
        Respect copyrights.
    Visual Tutorial: How to Insert an Image in a Document
48. Presentation software
        Be certain you need presentation software.
        Use slides to introduce points, not cover them.
        Make slides consistent in design.
        Choose fonts, highlights, and colors strategically.
        Keep transitions between slides simple.
        Edit your slides ruthlessly.
49. Charts, Tables and Graphs
        Use tables to present statistical data.
        Use graphs to show plot relationships in data.
        Use pie charts to display proportions.
        Use maps to depict varying types of information.
        Label all charts and graphs.
50. Designing Print and Online Documents
        Keep page designs simple and uncluttered.
        Keep a design logical and consistent.
        Format academic documents correctly. 
IX. Common Errors 
51. Capitalization
        Capitalize ethnic, racial, religious, and political groups.
        Capitalize modifiers formed from proper nouns.
        Capitalize all words in titles except prepositions, articles, or conjunctions.
        Take care with compass points and directions.
        Understand academic conventions.
        Don't capitalize seasons.
52. Apostrophes
        Don't forget the apostrophes in possessives.
        Don't forget the apostrophes in contractions.
        Don't use apostrophes with possessive pronouns.
53. Commas
        Use two commas, not one, to set off a word or phrase within a sentence.
        Put commas around non-restrictive (that is, non-essential) modifiers.
        Don't put a comma between subject and verb or verb and object.
        Don't separate compound subjects, predicates, or objects with commas.
54. Comma Splice, Run-ons, and Fragments
        Avoid comma splices in academic and professional writing.
        Avoid run-ons in academic and professional writing.
        Use deliberate fragments only in appropriate situations.
        Edit any accidental fragments.
55. Subject/Verb Agreement
        Be sure the verb agrees with its subject, not with intervening phrases or modifiers.
        Don't be fooled by complicated subjects.
        Use a dictionary to confirm whether an indefinite pronoun is singular, plural or variable.
        Be consistent with collective nouns.
56. Irregular Verbs
57. Pronoun/Antecedent Agreement
        Check the number of indefinite pronouns.
        Treat collective nouns consistently
58. Pronoun References
        Clarify any confusing pronoun antecedent.
        Make sure a pronoun has a plausible antecedent.
        Don't leave the antecedent of this or that deliberately vague.
59. Pronoun Case
        Use the objective case after prepositions.
        Use the subjective case for pronouns that are subjects, objective case for
          pronouns that are objects.
        Don't be misled by an appositive. 
60. Modifiers
        Don't allow a modifier to dangle.
        Place adverbs such as only, almost, especially, and even carefully.
61. Parallelism
        Keep headings and lists parallel.
        When possible, make compound items parallel.
        Keep items in series parallel.  
Part 10: Readings
62. Narrative: Readings
Literacy Narrative
David Sedaris, Me Talk Pretty One Day
Graphic Novel (Excerpt)
Lynda Barry, Lost and Found
Reflection
Ntozake Shange, What Is It We Really Harvestin' Here?
Memoir
Naomi Shihab Nye, Mint Snowball
Memoir
Ira Sukrungruang, Chop Suey
Reflection
Amy Johnson Frykholm, Enough
Memoir
Rob Sheffield, Rumblefish
63. Report: Readings
Informative Report
Stephanie Armour, More Families Move
in Together during Housing Crisis!
Informative Report
Sharon Begley, Learning to Love Climate ÒAdaptationÓ
Descriptive Report
Kelefa Sanneh, New Orleans Hip-Hop Is the Home of Gangsta Gumbo
Visual Report
Sid Jacobson and Ernie Colon, The 9/11 Report: A Graphic Adaptation
Informative Report
Deb Aronson, The Nurture of Nature
64. Argument: Readings
Profile
Nancy Gibbs, Cool Running
Argument for Change
Emily Bazelon, Hitting Bottom: Why America Should Outlaw Spanking
Argument for Change
Clive Thompson, Why Science Will
Triumph Only When Theory Becomes Law
Analysis of a Cultural Value
Natadecha-Sponsel Poranee, Individualism as an American Cultural Value
Argument about a Public Issue
Naomi Klein, Pay to Be Saved: The Future of Disaster Response
Argument about the Media
Douglas Kellner, Contradictions
of Michael Jordan
65. Evaluation: Readings
Process Analysis
Sasha Frere-Jones, Ring My Bell
Film Review
Stephanie Zacharek, Harry Potter and
the Order of the Phoenix
Television Review
David Bianculli, Comedy Rambo
Cultural Evaluation
Michael Pollan, My Organic Industrial Meal
Product Review
Ayelet Waldman, Tool: Krups FDE3-12 Universal Grill and Panini Maker
Television Review
Carrie Brownstein, So I Thought I Could Dance
Cultural Evaluation
Chet Raymo, Dr. Seuss and Dr. Einstein: Children's Books and the Scientific
Imagination
66. Causal Analysis: Readings
Cultural Analysis
Natalie Angier, Almost Before We Spoke, We Swore
Cultural Analysis
Alex Williams, Here I Am Taking My
Own Picture
Cause and Effect Analysis
Lewis Thomas, The Wonderful Mistake
Exploratory Essay
Neil Swidey, What Makes People Gay?
Causal Analysis
Gardiner Harris and Anahad O'Connor, On Autism's Cause: It's Parents vs. Research
67. Proposal: Readings
Proposal for Change
Office of the Surgeon General of the United States, Prevention and Reduction
of Alcohol Use and Alcohol Use
Disorders in Adolescents
Proposal for Change
Eileen McDonagh and Lauren Pappano, Time to Change the Rules
Proposal for Change
Union of Concerned Scientists,
Global Warming 101: A Target for U.S. Emissions Reductions
Proposal for Change
Robert D. Bullard, Assuring Environmental Justice for All
Proposal Identifying a Problem
Francis Fukuyama, A Tale of Two
Dystopias
68. Literary Analysis: Readings
Textual Analysis
Joni Mitchell, Woodstock
Camille Paglia, Woodstock
Analysis of a Genre
Alison Gillmor, It's a Dog's Life
Analysis of a Genre
Naomi Wolf, Young Adult Fiction:
Wild Things
Textual Analysis
Joyce Carol Oates, L.A. Noir:
Michael Connelly
Textual Analysis
Charles Schulz, Peanuts
Geraldine DeLuca, "I Felt a Funeral in
My Brain": The Fragile Comedy of Charles Schulz
69. Rhetorical Analysis: Readings
Discourse Analysis
Deborah Tannen, Oh, Mom. Oh, Honey: Why Do You Have to Say That?
Cultural Analysis
Eric Weiner, How They Do It: Euromail
Analysis of an Advertisement
Stanley Fish, The Other Car
Analysis of Two Television Shows
Shayla Thiel-Stern, Beverly Hills 90210
Cultural Analysis
Laurie Fendrich, The Beauty of the Platitude
Media Analysis
John W. Jordan, Sports Commentary and the Problem of Television Knowledge
Analysis of Web Sites
Darren Crovitz, Scrutinizing the Cybersell: Teen-Targeted Web Sites as Texts