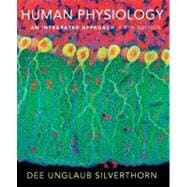 Human Physiology: An Integrated Approach With Masteringa&Pô, 5/E
by
SILVERTHORN
Questions About This Book?
What version or edition is this?
This is the 5th edition with a publication date of 6/1/2011.
What is included with this book?
The Used copy of this book is not guaranteed to include any supplemental materials. Typically, only the book itself is included.
Summary
Human Physiology: An Integrated Approachbroke ground with its thorough coverage of molecular physiology seamlessly integrated into a traditional homeostasis-based systems approach. The newly revised Fifth Editionhas been significantly updated throughout and features substantially revised art and Running Problems in the book and on the student Companion Website. Recognized as an extraordinary educator and active learning enthusiast, Dr. Silverthorn incorporates time-tested classroom techniques throughout the text and presents thorough, up-to-date coverage of new scientific discoveries, biotechnology techniques, and treatments of disorders.† † Dr. Silverthorn also co-authored the accompanying Student Workbook and Instructor Manual, ensuring that these ancillaries reinforce the pedagogical approach of the text. The Fifth Editionincludes access to MasteringA&P".
Author Biography
Dee Silverthorn has been teaching at the University of Texas since 1986 where she lectures and coordinates student laboratories in physiology, and instructs graduate students in a course on developing teaching skills in the life sciences. Her innovative teaching has been recognized with numerous local and national awards, including the American Physiological Society's Arthur C. Guyton Physiology Educator of the Year and Claude Bernard Distinguished Lectureship, and the University of Texas Marilla D. Svinicki Burnt Orange Apple Award, Texas Excellence Teaching Award, and College of Natural Sciences Teaching Excellence Award. Her textbook also received the Robert W. Hamilton Author Award for best textbook published by a University of Texas faculty member. "Dr. Dee" studied biology and art as an undergraduate at Newcomb College and went onto earn a Ph.D. in marine science from the University of South Carolina. She began her career in the Physiology Department of the Medical University of South Carolina and spent several years at the University of Texas Medical Branch in Galveston before coming to Austin. Her research interest is epithelial transport, and work in her laboratory currently focuses on transport properties of the chick allantoic membrane. She is past chair of the Teaching Section of the American Physiological Society and just completed six years as editor-in-chief of Advances in Physiology Education. Her physiology education outreach extends to the international level and she has organized workshops and symposia in countries around the world.
About the Illustrators
Dr. William C. Ober received his undergraduate degree from Washington and Lee University and his M.D. from the University of Virginia. While in medical school, he also studied in the Department of Art as Applied to Medicine at Johns Hopkins University. After graduation, Dr. Ober completed a residency in Family Practice and later was on the faculty at the University of Virginia in the Department of Family Medicine. He is currently an Affiliate Professor of Biology at Washington and Lee University and is part of the Core Faculty at Shoals Marine Laboratory, where he teaches Biological Illustration every summer.
Claire W. Garrison, R.N., B.A., practiced pediatric and obstetric nursing before turning to medical illustration as a full-time career. She returned to school at Mary Baldwin College where she received her degree with distinction in studio art. Following a five-year apprenticeship, she has worked as Dr. Ober's partner in Medical & Scientific Illustration since 1986. She is on the Core Faculty at Shoals Marine Laboratory and co-teaches the Biological Illustration course.
As Medical and Scientific Illustration, some of this team's titles include Human Anatomy (Benjamin Cummings), Integrated Principles of Zoology (McGraw-Hill), Biology (Raven/Losos, McGraw-Hill), Marine Biology (McGraw-Hill) and Galapagos Marine Life Series (Sugar Spring Press).
Table of Contents
I. BASIC CELL PROCESSES: INTEGRATION AND COORDINATION
1. Introduction to Physiology
2. Molecular Interactions
3. Compartmentation: Cells and Tissues
4. Energy and Cellular Metabolism
5. Membrane Dynamics
6. Communication, Integration, Homeostasis
II. HOMEOSTASIS AND CONTROL
7. Introduction to the Endocrine System
8. Neurons: Cellular and Network Properties
9. The Central Nervous System
10. Sensory Physiology
11. Efferent Division: Autonomic and Somatic Motor Control
12. Muscles
13. Integrative Physiology I: Control of Body Movement
III. INTEGRATION OF FUNCTION
14. Cardiovascular Physiology
15. Blood Flow and the Control of Blood Pressure
16. Blood
17. Mechanics of Breathing
18. Gas Exchange and Transport
19. The Kidneys
20. Integrative Physiology II: Fluid and Electrolyte Balance
IV. METABOLISM, GROWTH, AND AGING
21. Digestion
22. Energy Balance and Metabolism
23. Endocrine Control of Growth and Metabolism
24. The Immune System
25. Integrative Physiology III: Exercise
26. Reproduction and Development