Note: Supplemental materials are not guaranteed with Rental or Used book purchases.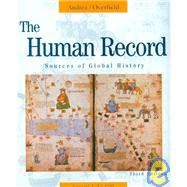 the Human Record, Volume 1, Third Edition
ISBN13:
9780395870877
by
ANDREA
Questions About This Book?
What version or edition is this?
This is the 3rd edition with a publication date of 2/18/1998.
What is included with this book?
The New copy of this book will include any supplemental materials advertised. Please check the title of the book to determine if it should include any CDs, lab manuals, study guides, etc.
Table of Contents
Geographic Contents
xiii
Topical Contents
xvii
Preface
xxvii
Prologue: Primary Sources and How We Read Them
P-1
P-1

| | |
| --- | --- |
| | Primary Sources: Their Value and Limitations |

P-2
P-4
P-6

| | |
| --- | --- |
| | ``With the Royal Standard Unfurled'' |

| | |
| --- | --- |
| | Christopher Columbus, A Letter Concerning Recently Discovered Islands |

P-8

| | |
| --- | --- |
| | Interpreting Columbus's Letter |

P-15
P-19

| | |
| --- | --- |
| | An Anonymous Woodcut of 1511 |

P-19
P-21
Part One The Ancient World
1
(174)
5
(36)

| | |
| --- | --- |
| | Mesopotamia: The Land Of Two Rivers |

6
(11)

| | |
| --- | --- |
| | The Search for Eternal Life in Mesopotamia |

7
(5)

| | |
| --- | --- |
| | Bringing Order to an Uncertain World |

| | |
| --- | --- |
| | The Judgments of Hammurabi |

12
(5)

| | |
| --- | --- |
| | Egypt: The Land Of Two Lands |

17
(8)

| | |
| --- | --- |
| | The Search for Eternal Life in Egypt |

18
(4)

| | |
| --- | --- |
| | Making a Living in Ancient Egypt |

22
(3)

| | |
| --- | --- |
| | China: The Land Of The Yellow River |

25
(6)
26
(3)

| | |
| --- | --- |
| | Courtship and Marriage in Ancient China |

29
(2)
31
(10)
31
(2)

| | |
| --- | --- |
| | Indus, Mesopotamian, and Cretan Seals |

33
(3)

| | |
| --- | --- |
| | Sacred Kingship along the Nile |

36
(2)
38
(3)
41
(22)
42
(10)

| | |
| --- | --- |
| | Life, Death, and the Gods in Aryan India |

43
(4)

| | |
| --- | --- |
| | A Journey to the Underworld |

47
(5)

| | |
| --- | --- |
| | The Hebrews And Their Neighbors |

52
(11)

| | |
| --- | --- |
| | Establishing a Covenant with Humanity |

53
(4)

| | |
| --- | --- |
| | Establishing a Covenant with the Chosen People |

57
(3)

| | |
| --- | --- |
| | Keeping and Breaking the Covenant |

60
(3)

| | |
| --- | --- |
| | Transcendental Reality: Developing the Spiritual Traditions of India and Southwest Asia: 800--200 B.C.E. |

63
(27)

| | |
| --- | --- |
| | The Emergence of Brahminical Hinduism |

65
(6)

| | |
| --- | --- |
| | The Hindu Search for Divine Reality |

66
(2)

| | |
| --- | --- |
| | Dharma: The Imperative of Caste Law |

68
(3)

| | |
| --- | --- |
| | Challengers of Caste: The Mahavira And The Buddha |

71
(12)

| | |
| --- | --- |
| | A Call to the Heroic Life |

72
(2)

| | |
| --- | --- |
| | The Path to Enlightenment |

74
(5)

| | |
| --- | --- |
| | Admitting Women to the Mendicant Life |

79
(4)

| | |
| --- | --- |
| | Persians, Israelites, And Their Gods |

83
(7)

| | |
| --- | --- |
| | The Fight between Good and Evil |

83
(3)

| | |
| --- | --- |
| | A New Covenant for All Peoples |

86
(4)

| | |
| --- | --- |
| | The Secular Made Sacred: Developing the Humanistic Traditions of China and Hellas: 600--200 B.C.E. |

90
(34)

| | |
| --- | --- |
| | China: Three Ways of Thought |

91
(13)

| | |
| --- | --- |
| | Daoism: The Way That Is and Is Not |

| | |
| --- | --- |
| | The Classic of the Way and Virtue |

93
(3)

| | |
| --- | --- |
| | Confucianism: The Way of the Superior Man |

96
(4)

| | |
| --- | --- |
| | Legalism: The Way of the State |

| | |
| --- | --- |
| | The Writings of Master Han Fei |

100
(1)

| | |
| --- | --- |
| | The Legalist Policies of Qin |

| | |
| --- | --- |
| | The Records of the Grand Historian |

101
(3)

| | |
| --- | --- |
| | Hellenic Civilization: A Rational Inquiry Into Life |

104
(20)
106
(2)

| | |
| --- | --- |
| | The History of the Peloponnesian War |

108
(6)

| | |
| --- | --- |
| | An Inquiry into the Horrors of War |

114
(5)

| | |
| --- | --- |
| | Socrates and the Laws of Athens |

119
(5)

| | |
| --- | --- |
| | Regional Empires and Afro-Eurasian Interchange: 300 B.C.E.--500 C.E. |

124
(51)
126
(14)

| | |
| --- | --- |
| | Images of the Hellenistic World |

127
(4)

| | |
| --- | --- |
| | The World According to Strabo |

131
(3)

| | |
| --- | --- |
| | The Blessings of the Roman Peace |

134
(3)

| | |
| --- | --- |
| | Isis: The Goddess Who Saves |

137
(3)
140
(9)

| | |
| --- | --- |
| | The Records of the Grand Historian |

141
(4)

| | |
| --- | --- |
| | The Views of a Female Confucian |

145
(4)

| | |
| --- | --- |
| | India In The Age Of Empires |

149
(13)

| | |
| --- | --- |
| | The Softening Effects of Dharma |

150
(4)

| | |
| --- | --- |
| | Sacred Law in Classical India |

154
(5)

| | |
| --- | --- |
| | Gupta India as Viewed by Chinese Monk |

| | |
| --- | --- |
| | Travels in India and Ceylon |

159
(3)

| | |
| --- | --- |
| | Travel Along The Silk Road |

162
(9)

| | |
| --- | --- |
| | Zhang Qian's Western Expedition |

| | |
| --- | --- |
| | The Records of the Grand Historian |

163
(4)

| | |
| --- | --- |
| | The Transit of Images along the Silk Road |

167
(4)

| | |
| --- | --- |
| | Travel Across The Indian Ocean |

171
(4)

| | |
| --- | --- |
| | The Transit of the Buddha Image to Funan |

171
(2)

| | |
| --- | --- |
| | Faxian, Travels in India and Ceylon |

173
(2)
Part Two Faith, Devotion, and Salvation: Great World Religions to 1500 C.E.
175
(78)

| | |
| --- | --- |
| | New Developments in Three Ancient Religions |

177
(21)

| | |
| --- | --- |
| | Hinduism: The Way Of Devotion |

178
(5)
179
(1)
180
(3)

| | |
| --- | --- |
| | Mahayana Buddhism: A Religion Of Infinite Compassion |

183
(7)

| | |
| --- | --- |
| | Perceiver of the World's Sounds: A Universal Bodhisattva |

184
(3)
187
(3)
190
(8)
191
(4)
195
(3)

| | |
| --- | --- |
| | Christianity: Conquering the World for Christ |

198
(25)

| | |
| --- | --- |
| | The Foundations Of Christianity |

199
(6)

| | |
| --- | --- |
| | Becoming Spiritually Perfect |

| | |
| --- | --- |
| | The Gospel of St. Matthew |

200
(2)

| | |
| --- | --- |
| | The Path to Righteousness: |

| | |
| --- | --- |
| | The Epistle to the Romans |

202
(3)

| | |
| --- | --- |
| | Christianity And The Roman World |

205
(11)

| | |
| --- | --- |
| | Persecution and Deliverance |

| | |
| --- | --- |
| | Eusebius of Caesarea, Ecclesiastical History |

206
(5)
211
(2)

| | |
| --- | --- |
| | The Origins of Christian Monasticism |

| | |
| --- | --- |
| | The Life of St. Mary the Harlot |

213
(3)

| | |
| --- | --- |
| | Religious Exchange And Interchange |

216
(7)

| | |
| --- | --- |
| | Gnostic Christianity: The Secret Knowledge of Jesus |

216
(3)

| | |
| --- | --- |
| | Manichaeism: Enlightening the World |

| | |
| --- | --- |
| | The Parable about the World-Ocean |

219
(4)

| | |
| --- | --- |
| | Islam: Universal Submission to God |

223
(30)

| | |
| --- | --- |
| | The Foundations Of Islamic Life |

225
(8)
225
(4)
229
(4)

| | |
| --- | --- |
| | Variety and Unity In Islam |

233
(12)

| | |
| --- | --- |
| | God's Martyrs: The Party of Ali |

| | |
| --- | --- |
| | Ibn Babawayh al-Saduq, Creed Concerning the Imams |

234
(3)

| | |
| --- | --- |
| | God's Vice-Regent on Earth |

| | |
| --- | --- |
| | Book of the Principles of Government |

237
(3)

| | |
| --- | --- |
| | Abu'l Hasan Ali al-Mawardi |

240
(2)

| | |
| --- | --- |
| | Abu Hamid Muhammad al-Ghazali |

| | |
| --- | --- |
| | An African Pilgrim to Mecca |

| | |
| --- | --- |
| | The Chronicle of the Seeker |

242
(3)
245
(8)

| | |
| --- | --- |
| | The Dhimma: A Contract with the People of the Book |

245
(2)

| | |
| --- | --- |
| | The Jewish Community of Twelfth-Century Baghdad |

247
(3)

| | |
| --- | --- |
| | Fourteenth-Century Hindu Dhimmis |

| | |
| --- | --- |
| | The Deeds of Sultan Firuz Shah |

250
(3)
Part Three Continuity, Change, and Interchange: 500--1500
253
(144)

| | |
| --- | --- |
| | Asia: Change in the Context of Tradition |

255
(60)

| | |
| --- | --- |
| | Japan: Creating A Distinctive Civilization |

256
(13)

| | |
| --- | --- |
| | The Constitution of Prince Shotoku |

257
(3)
260
(4)

| | |
| --- | --- |
| | Chronicle of the Grand Pacification |

264
(5)

| | |
| --- | --- |
| | China: The Ages Of Tang And Song |

269
(15)

| | |
| --- | --- |
| | Open to the World: Christianity in Tang China |

271
(4)
275
(2)

| | |
| --- | --- |
| | The Dao of Agriculture in Song China |

277
(3)

| | |
| --- | --- |
| | Thirteenth-Century Hangzhou |

| | |
| --- | --- |
| | A Record of Musings on the Eastern Capital |

280
(4)

| | |
| --- | --- |
| | Buddhism In East Asia: Acceptance, Rejection, And Accommodation |

284
(7)

| | |
| --- | --- |
| | A Conflict of Values: Foreign Religions in Late Tang China |

| | |
| --- | --- |
| | Memorial on Buddhism, and Emperor Tang Wuzong, Proclamation Ordering the Destruction of the Buddhist Monasteries |

285
(4)
289
(2)

| | |
| --- | --- |
| | Southwest Asia: Crossroads Of The Afro-Eurasian World |

291
(14)

| | |
| --- | --- |
| | Al-Jahiz, The Merits of the Turks and of the Imperial Army as a Whole |

292
(4)

| | |
| --- | --- |
| | The Arrival of the Franks |

296
(4)

| | |
| --- | --- |
| | A Thousand and One Arabian Nights |

300
(5)

| | |
| --- | --- |
| | India: Continuity And Change |

305
(10)

| | |
| --- | --- |
| | Islam and Hindu Civilization: Cultures in Conflict |

| | |
| --- | --- |
| | Abu'l Raihan al-Biruni, Description of India |

306
(4)
310
(2)
312
(3)

| | |
| --- | --- |
| | Two Christian Civilizations: Byzantium and Western Europe |

315
(48)

| | |
| --- | --- |
| | Byzantium and Its Neighbors |

317
(14)

| | |
| --- | --- |
| | The Mosaics of San Vitale |

318
(4)

| | |
| --- | --- |
| | Emperor Basil II and the Apogee of Byzantine Power |

322
(3)
325
(2)

| | |
| --- | --- |
| | Bringing Christianity to the Rus' |

327
(4)

| | |
| --- | --- |
| | Western Europe: The Emergence Of A New Civilization |

331
(24)

| | |
| --- | --- |
| | Charlemagne: Europe's First Emperor |

| | |
| --- | --- |
| | The Life of Charles the Great |

332
(5)

| | |
| --- | --- |
| | A Papal Portrait: Leo III and Charles the Great |

337
(1)
338
(4)

| | |
| --- | --- |
| | Bringing Christianity to the Magyars |

| | |
| --- | --- |
| | Letter to St. Stephen of Hungary |

342
(3)

| | |
| --- | --- |
| | A Conflict of Authorities |

| | |
| --- | --- |
| | Four Documents from the Investiture Controversy |

345
(6)

| | |
| --- | --- |
| | The Merchants of Southampton |

| | |
| --- | --- |
| | Ordinances of the Merchant Guild of Southampton |

351
(4)

| | |
| --- | --- |
| | Byzantium And The West: The Dividing Of Christendom |

355
(8)

| | |
| --- | --- |
| | The West and the First Crusade from a Byzantine Perspective |

356
(3)

| | |
| --- | --- |
| | Byzantium and the Fourth Crusade from a Western Perspective |

| | |
| --- | --- |
| | A Constantinopolitan History |

359
(4)
363
(34)
365
(15)

| | |
| --- | --- |
| | The Land of Zanj: Tenth-Century East Africa |

366
(4)

| | |
| --- | --- |
| | Abu'l-Hasan Ali al-Mas'udi |

| | |
| --- | --- |
| | The Land of Ghana: Eleventh-Century Western Sudan |

| | |
| --- | --- |
| | The Book of Routes and Realms |

370
(4)

| | |
| --- | --- |
| | The Land of Seyon: Fourteenth-Century Ethiopia |

| | |
| --- | --- |
| | The Glorious Victories of Amda Seyon |

374
(4)

| | |
| --- | --- |
| | A Yoruba Woman of Authority? |

378
(2)
380
(17)

| | |
| --- | --- |
| | The God Who Descended from the Mountains |

381
(2)

| | |
| --- | --- |
| | Ramon Pane, A Report Concerning the Antiquities of the Indians |

383
(6)

| | |
| --- | --- |
| | Quiche Mayan Gods and Monarchs |

| | |
| --- | --- |
| | The Book of the Community |

389
(3)

| | |
| --- | --- |
| | Governing the Inca Empire |

392
(5)
Part Four Travel, Encounter, and Exchange: 1000--1700
397
(84)

| | |
| --- | --- |
| | Adventurers, Merchants, Diplomats, Pilgrims, and Missionaries: A Half Millennium of Travel and Encounter: 1000-1500 |

399
(46)

| | |
| --- | --- |
| | Pilgrims And Merchants Before The Mongol Age |

401
(1)

| | |
| --- | --- |
| | The Marvels of the City of Rome |

402
(5)

| | |
| --- | --- |
| | A Jewish Merchant Writes Home |

| | |
| --- | --- |
| | A Letter from the Cairo Geniza |

407
(3)

| | |
| --- | --- |
| | Travel In The Age Of The Pax Mongolica |

410
(18)

| | |
| --- | --- |
| | Journey to the Land of the Tartars |

410
(5)

| | |
| --- | --- |
| | Another View of Mongol Society |

415
(3)

| | |
| --- | --- |
| | A European Missionary in China |

418
(5)

| | |
| --- | --- |
| | Khmer Society in Chinese Eyes |

| | |
| --- | --- |
| | Recollection of the Customs of Cambodia |

423
(3)

| | |
| --- | --- |
| | Advice for Merchants Traveling to Cathay |

| | |
| --- | --- |
| | The Book of Description of Countries |

426
(2)

| | |
| --- | --- |
| | Travel Beyond The Mongol Ecumene |

428
(17)

| | |
| --- | --- |
| | A Moroccan Visitor in Sub-Saharan Africa |

| | |
| --- | --- |
| | A Donation to Those Interested in Curiosities |

429
(4)

| | |
| --- | --- |
| | A European View of the World |

433
(5)

| | |
| --- | --- |
| | Zheng He's Western Voyages |

| | |
| --- | --- |
| | The Overall Survey of the Ocean's Shores |

438
(4)

| | |
| --- | --- |
| | The Origins of Portugal's Overseas Empire |

442
(3)

| | |
| --- | --- |
| | Transoceanic Encounters: 1500--1700 |

445
(36)

| | |
| --- | --- |
| | Europeans In The Americas |

446
(12)

| | |
| --- | --- |
| | The Battle for Tenochtitlan: An Aztec Perspective |

| | |
| --- | --- |
| | Bernardino de Sahagun, General History of the Things of New Spain |

447
(6)

| | |
| --- | --- |
| | The Mountain of Silver and the Mita System |

| | |
| --- | --- |
| | Compendium and Description of the West Indies |

| | |
| --- | --- |
| | Antonio Vazquez de Espinosa |

453
(5)

| | |
| --- | --- |
| | African Reactions To The European Presence |

458
(9)

| | |
| --- | --- |
| | An African Voice of Protest |

| | |
| --- | --- |
| | Letters to the King of Portugal |

459
(3)

| | |
| --- | --- |
| | Images of the Portuguese in the Art of Benin |

| | |
| --- | --- |
| | A Benin-Portuguese Saltcellar and A Benin Wall Plaque |

462
(3)

| | |
| --- | --- |
| | The Economics of the West African Slave Trade |

| | |
| --- | --- |
| | A Voyage to New Calabar River in the Year 1699 |

465
(2)

| | |
| --- | --- |
| | Chinese And Japanese Reactions To The West |

467
(8)
468
(4)

| | |
| --- | --- |
| | Tokugawa Iemitsu, Closed Country Edict of 1635 and Exclusion of the Portuguese, 1639 |

472
(3)

| | |
| --- | --- |
| | The Great Mughals And The West |

475
(6)

| | |
| --- | --- |
| | Dealing with the Faringis |

476
(2)

| | |
| --- | --- |
| | Seventeenth-Century Commerce in India |

478
(3)
Sources
481