Note: Supplemental materials are not guaranteed with Rental or Used book purchases.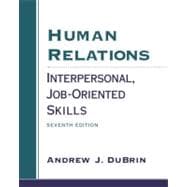 Human Relations : Interpersonal, Job-Oriented Skills
ISBN13:
9780130105783
by
Dubrin, Andrew J.
Questions About This Book?
What version or edition is this?
This is the 7th edition with a publication date of 6/1/2000.
What is included with this book?
The New copy of this book will include any supplemental materials advertised. Please check the title of the book to determine if it should include any CDs, lab manuals, study guides, etc.
Summary
For courses in Interpersonal Relations, Interpersonal Skills, Human Relations and Professional Development.Designed to help students enhance their interpersonal skills in the workplace, this text explores a blend of current and traditional interpersonal concepts and features a heavy emphasis on skill development and self-assessment through an extensive variety of skill-building suggestions, exercises, and cases related to specific topics. It offers a more personal and job-oriented, and less managerial approach than other texts on the subject.
Author Biography
Dr. Andrew DuBrin holds a full professorship at the Rochester Institute of Technology. He has published hundreds of articles in scholarly journals, national magazines, and newspapers. He has appeared on over 350 television shows and radio programs
Table of Contents
Preface
xiii

| | |
| --- | --- |
| | A Framework for Interpersonal Skill Development |

1
(14)
2
(1)

| | |
| --- | --- |
| | A Model for Improving Interpersonal Skills |

3
(3)

| | |
| --- | --- |
| | Identification of Developmental Needs |

6
(4)

| | |
| --- | --- |
| | Universal Needs for Improving Interpersonal Relations |

7
(3)

| | |
| --- | --- |
| | Developing Interpersonal Skills on the Job |

10
(2)
10
(1)

| | |
| --- | --- |
| | Specific Developmental Experiences |

11
(1)
12
(2)

| | |
| --- | --- |
| | Questions for Discussion and Review |

14
(1)

| | |
| --- | --- |
| | Understanding Individual Differences |

15
(24)
16
(3)

| | |
| --- | --- |
| | Six Major Personality Factors and Traits |

17
(2)

| | |
| --- | --- |
| | Cognitive Styles and Personality Types |

19
(4)
19
(2)

| | |
| --- | --- |
| | Guidelines for Dealing with Different Personality Types |

21
(2)
23
(7)

| | |
| --- | --- |
| | Components of Traditional Intelligence |

24
(1)
25
(2)
27
(1)
28
(1)

| | |
| --- | --- |
| | Guidelines for Relating to People of Different Levels and Types of Intelligence |

29
(1)

| | |
| --- | --- |
| | Values as a Source of Individual Differences |

30
(4)
31
(1)
31
(1)

| | |
| --- | --- |
| | The Mesh Between Individual and Job Values |

32
(1)

| | |
| --- | --- |
| | Guidelines for Using Values to Enhance Interpersonal Relations |

32
(2)
34
(1)

| | |
| --- | --- |
| | Questions for Discussion and Review |

35
(4)

| | |
| --- | --- |
| | Interpersonal Communications |

39
(24)

| | |
| --- | --- |
| | Steps in the Communication Process |

40
(2)

| | |
| --- | --- |
| | Nonverbal Communication in Organizations |

42
(1)

| | |
| --- | --- |
| | Modes of Transmission of Nonverbal Communication |

43
(2)
43
(1)
43
(1)
43
(1)
44
(1)
44
(1)
45
(1)
45
(1)

| | |
| --- | --- |
| | Guidelines for Improving Nonverbal Communication |

45
(3)

| | |
| --- | --- |
| | Guidelines for Overcoming Communication Problems and Barriers |

48
(11)
48
(1)

| | |
| --- | --- |
| | Discuss Differences in Paradigms |

49
(1)

| | |
| --- | --- |
| | Minimize Defensive Communication |

50
(1)
50
(1)

| | |
| --- | --- |
| | Use Verbal and Nonverbal Feedback |

50
(1)

| | |
| --- | --- |
| | Display a Positive Attitude |

51
(1)

| | |
| --- | --- |
| | Use Persuasive Communication |

51
(2)

| | |
| --- | --- |
| | Engage in Active Listening |

53
(1)

| | |
| --- | --- |
| | Engage in Complementary Transactions with People |

54
(3)

| | |
| --- | --- |
| | Recognize Gender Differences in Communication Style |

57
(2)

| | |
| --- | --- |
| | Engage in Metacommunications |

59
(1)
59
(2)

| | |
| --- | --- |
| | Questions for Discussion and Review |

61
(2)

| | |
| --- | --- |
| | Developing Teamwork Skills |

63
(23)
64
(4)
65
(2)
67
(1)
67
(1)

| | |
| --- | --- |
| | The Advantages and Disadvantages of Teams and Teamwork |

68
(2)

| | |
| --- | --- |
| | Advantages of Group Work and Teamwork |

68
(1)

| | |
| --- | --- |
| | Disadvantages of Group Work and Teamwork |

69
(1)
70
(7)
71
(1)
71
(1)
71
(3)
74
(1)
74
(1)
75
(1)
76
(1)
76
(1)

| | |
| --- | --- |
| | Guidelines for the Interpersonal Aspects of Team Play |

77
(4)
77
(1)

| | |
| --- | --- |
| | Displaying a High Level of Cooperation and Collaboration |

77
(2)

| | |
| --- | --- |
| | Recognizing the Interests and Achievements of Others |

79
(1)
80
(1)
80
(1)

| | |
| --- | --- |
| | Taking Care Not to Rain on Another Person's Parade |

80
(1)

| | |
| --- | --- |
| | Guidelines for the Task Aspects of Team Play |

81
(1)

| | |
| --- | --- |
| | Technical Expertise (or Knowledge of the Task) |

81
(1)

| | |
| --- | --- |
| | Assuming Responsibility for Problems |

81
(1)
81
(1)
82
(1)

| | |
| --- | --- |
| | Helping Team Members Do Their Jobs Better |

82
(1)
82
(2)

| | |
| --- | --- |
| | Questions for Discussion and Review |

84
(2)

| | |
| --- | --- |
| | Group Problem Solving and Decision Making |

86
(19)

| | |
| --- | --- |
| | Rational versus Political Decision Making in Groups |

87
(2)

| | |
| --- | --- |
| | Guidelines for Using General Problem-Solving Groups |

89
(3)

| | |
| --- | --- |
| | Guidelines for Brainstorming |

92
(2)

| | |
| --- | --- |
| | Guidelines for Electronic Brainstorming |

94
(2)

| | |
| --- | --- |
| | Limitations to Verbal Brainstorming |

94
(1)

| | |
| --- | --- |
| | The Electronic Brainstorming Procedure |

95
(1)

| | |
| --- | --- |
| | Guidelines for the Nominal Group Technique |

96
(2)

| | |
| --- | --- |
| | Using Stand-Up Meetings to Facilitate Problem Solving |

98
(2)

| | |
| --- | --- |
| | Using E-Mail and Groupware to Facilitate Group Decision Making |

100
(1)

| | |
| --- | --- |
| | Using E-Mail to Facilitate Meetings |

100
(1)

| | |
| --- | --- |
| | Using Groupware to Facilitate Group Problem Solving |

101
(1)
101
(3)

| | |
| --- | --- |
| | Questions for Discussion and Review |

104
(1)

| | |
| --- | --- |
| | Cross-Cultural Relations and Diversity |

105
(22)
106
(2)

| | |
| --- | --- |
| | Understanding Cultural Differences |

108
(7)
108
(2)

| | |
| --- | --- |
| | Dimensions of Differences in Cultural Values |

110
(3)
113
(2)

| | |
| --- | --- |
| | Overcoming Cross-Cultural Communication Barriers |

115
(3)

| | |
| --- | --- |
| | Business Implications of Understanding Cultural Differences |

118
(1)

| | |
| --- | --- |
| | Techniques for Improving Cross-Cultural Relations and Valuing Differences |

119
(4)
119
(1)
120
(2)

| | |
| --- | --- |
| | Diversity Training (Training in Valuing Differences) |

122
(1)
123
(2)

| | |
| --- | --- |
| | Questions for Discussion and Review |

125
(2)

| | |
| --- | --- |
| | Resolving Conflicts with Others |

127
(26)

| | |
| --- | --- |
| | Sources of Interpersonal Conflict in Organizations |

128
(5)

| | |
| --- | --- |
| | Competition for Limited Resources |

128
(3)
131
(1)
132
(1)
132
(1)

| | |
| --- | --- |
| | Aggressive Personalities, Including Bullies |

133
(1)

| | |
| --- | --- |
| | Conflict-Management Styles |

133
(2)

| | |
| --- | --- |
| | Guidelines and Techniques for Resolving Conflicts |

135
(4)

| | |
| --- | --- |
| | Confrontation and Problem Solving |

136
(1)

| | |
| --- | --- |
| | Constructive Handling of Criticism |

137
(1)
138
(1)
139
(1)

| | |
| --- | --- |
| | Negotiating and Bargaining |

139
(5)

| | |
| --- | --- |
| | Combatting Sexual Harassment: A Special Type of Conflict |

144
(4)

| | |
| --- | --- |
| | Types and Frequency of Harassment |

144
(1)

| | |
| --- | --- |
| | Recent Supreme Court Rulings on Sexual Harassment |

145
(1)

| | |
| --- | --- |
| | The Adverse Effects of Sexual Harassment |

146
(1)

| | |
| --- | --- |
| | Guidelines for Preventing and Dealing with Sexual Harassment |

146
(2)
148
(3)

| | |
| --- | --- |
| | Questions for Discussion and Review |

151
(2)

| | |
| --- | --- |
| | Becoming an Effective Leader |

153
(24)

| | |
| --- | --- |
| | Key Leadership Traits to Develop |

154
(9)
156
(1)
157
(1)
157
(1)
158
(1)
158
(4)

| | |
| --- | --- |
| | Self-Awareness and Self-Objectivity |

162
(1)
162
(1)
163
(1)

| | |
| --- | --- |
| | Suggestions for Developing Charisma |

163
(3)

| | |
| --- | --- |
| | Developing Team Leadership Skills |

166
(4)

| | |
| --- | --- |
| | Build a Mission Statement |

166
(1)

| | |
| --- | --- |
| | Establish a Sense of Urgency and High Performance Standards |

166
(2)

| | |
| --- | --- |
| | Encourage Honest Criticism |

168
(1)
169
(1)
169
(1)

| | |
| --- | --- |
| | Minimize Formation of In-Groups and Out-Groups |

170
(1)

| | |
| --- | --- |
| | Developing Your Leadership Potential |

171
(2)
173
(3)

| | |
| --- | --- |
| | Questions for Discussion and Review |

176
(1)
177
(22)

| | |
| --- | --- |
| | Motivation Skill Based on the Principle of ``What's in It for Me?'' |

178
(3)

| | |
| --- | --- |
| | Using Behavior Modification to Motivate Others |

181
(7)

| | |
| --- | --- |
| | Behavior Modification Strategies |

182
(2)

| | |
| --- | --- |
| | Rules for the Use of Behavior Modification |

184
(4)

| | |
| --- | --- |
| | Using Recognition to Motivate Others |

188
(1)

| | |
| --- | --- |
| | Using Expectancy Theory to Motivate Others |

189
(4)

| | |
| --- | --- |
| | Capsule Overview of Expectancy Theory |

189
(1)

| | |
| --- | --- |
| | Basic Components of Expectancy Theory |

190
(3)

| | |
| --- | --- |
| | Diagnosing Motivation with Expectancy Theory |

193
(2)
195
(1)

| | |
| --- | --- |
| | Questions for Discussion and Review |

196
(3)

| | |
| --- | --- |
| | Helping Others Develop and Grow |

199
(22)

| | |
| --- | --- |
| | Being a Nurturing, Positive Person |

200
(3)

| | |
| --- | --- |
| | Being a Mentor to Coworkers |

203
(2)

| | |
| --- | --- |
| | Coaching and Training Others |

205
(1)

| | |
| --- | --- |
| | Coaching Skills and Techniques |

206
(6)
208
(3)
211
(1)
212
(5)

| | |
| --- | --- |
| | Types of Difficult People |

213
(2)

| | |
| --- | --- |
| | Tactics for Dealing with Difficult People |

215
(2)
217
(3)

| | |
| --- | --- |
| | Questions for Discussion and Review |

220
(1)

| | |
| --- | --- |
| | Positive Political Skills |

221
(24)

| | |
| --- | --- |
| | Impression Management and Etiquette |

225
(6)

| | |
| --- | --- |
| | Tactics of Impression Management |

225
(1)
225
(6)

| | |
| --- | --- |
| | Building Relationships with Managers |

231
(4)

| | |
| --- | --- |
| | Building Relationships with Coworkers and Other Work Associates |

235
(4)

| | |
| --- | --- |
| | Avoiding Political Blunders |

239
(2)
241
(1)

| | |
| --- | --- |
| | Questions for Discussion and Review |

242
(3)

| | |
| --- | --- |
| | Customer Satisfaction Skills |

245
(24)

| | |
| --- | --- |
| | General Principles of Customer Satisfaction |

246
(10)

| | |
| --- | --- |
| | Satisfied Employees Provide Better Customer Service |

248
(2)

| | |
| --- | --- |
| | Understand Customer Needs and Put Them First |

250
(1)

| | |
| --- | --- |
| | Focus on Solving Problems, Not Just Taking Orders |

251
(1)

| | |
| --- | --- |
| | Respond Positively to Moments of Truth |

252
(1)

| | |
| --- | --- |
| | Be Ready to Accept Empowerment |

252
(1)

| | |
| --- | --- |
| | Enhance Customer Service Through Information Technology |

253
(1)
254
(2)

| | |
| --- | --- |
| | Creating a Bond with Your Customer |

256
(2)

| | |
| --- | --- |
| | Dealing with Customer Dissatisfaction |

258
(4)

| | |
| --- | --- |
| | Deal Constructively with Customer Complaints and Anger |

259
(2)

| | |
| --- | --- |
| | Involve the Customer in Working Out the Problem |

261
(1)

| | |
| --- | --- |
| | Anticipate How to Handle an Unreasonable Request |

262
(1)

| | |
| --- | --- |
| | Customer Service Training at a Luxury Hotel Chain |

262
(3)
265
(1)

| | |
| --- | --- |
| | Questions for Discussion and Review |

266
(3)

| | |
| --- | --- |
| | Enhancing Ethical Behavior |

269
(21)

| | |
| --- | --- |
| | Why Be Concerned About Business Ethics? |

270
(3)
273
(7)

| | |
| --- | --- |
| | A Survey of the Extent of Ethical Problems |

273
(1)

| | |
| --- | --- |
| | Frequent Ethical Dilemmas |

274
(3)

| | |
| --- | --- |
| | Choosing Between Two Rights: Dealing with Defining Moments |

277
(3)

| | |
| --- | --- |
| | Guidelines for Behaving Ethically |

280
(1)

| | |
| --- | --- |
| | Developing the Right Character Traits |

280
(1)

| | |
| --- | --- |
| | Using Corporate Ethics Programs |

281
(6)

| | |
| --- | --- |
| | Following a Guide to Ethical Decision Making |

282
(4)

| | |
| --- | --- |
| | Developing Closer Relationships with Work Associates |

286
(1)
287
(1)

| | |
| --- | --- |
| | Questions for Discussion and Review |

288
(2)

| | |
| --- | --- |
| | Personal Productivity and Stress Management |

290
(24)

| | |
| --- | --- |
| | Improving Personal Productivity |

291
(9)

| | |
| --- | --- |
| | Dealing with Procrastination |

292
(2)

| | |
| --- | --- |
| | Attitudes and Values That Enhance Personal Productivity |

294
(3)

| | |
| --- | --- |
| | Work Habits and Skills That Enhance Personal Productivity |

297
(2)
299
(1)

| | |
| --- | --- |
| | Understanding and Managing Stress |

300
(8)

| | |
| --- | --- |
| | Symptoms and Consequences of Stress |

300
(4)

| | |
| --- | --- |
| | Personality and Job Factors Contributing to Stress |

304
(3)

| | |
| --- | --- |
| | Methods and Techniques for Stress Management |

307
(1)
308
(3)

| | |
| --- | --- |
| | Questions for Discussion and Review |

311
(3)

| | |
| --- | --- |
| | Job Search and Career Management Skills |

314
(29)
315
(12)
315
(6)

| | |
| --- | --- |
| | The Job Resume and Cover Letter |

321
(3)

| | |
| --- | --- |
| | Performing Well in a Job Interview |

324
(3)

| | |
| --- | --- |
| | The Vertical and Horizontal Career Paths |

327
(3)

| | |
| --- | --- |
| | The Vertical (Traditional) Career Path |

327
(1)

| | |
| --- | --- |
| | The Horizontal Career Path |

328
(2)

| | |
| --- | --- |
| | Using Career Advancement Strategies and Tactics |

330
(6)

| | |
| --- | --- |
| | Overcoming Career Barriers |

336
(1)
336
(1)

| | |
| --- | --- |
| | Dealing with the Glass Ceiling |

337
(1)
337
(2)

| | |
| --- | --- |
| | Questions for Discussion and Review |

339
(4)
Glossary
343
(4)
References
347
(8)
Index
355