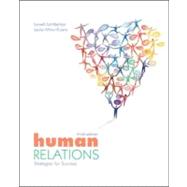 Human Relations : Strategies for Success
by
LAMBERTON
Questions About This Book?
What version or edition is this?
This is the 3rd edition with a publication date of 1/9/2006.
What is included with this book?
The Used copy of this book is not guaranteed to include any supplemental materials. Typically, only the book itself is included.
Summary
What strategies and techniques can we teach our students to encourage their growth in human relations success on and off the job? How can students tap into the power that comes from working well in one-on-one situations, in groups, and in organizations both big and small?Human Relations: Strategies for Success attempts to provide answers to these questions and guidance toward developing human relations skills that transfer from the classroom to the real world of work. The authors' commitment to the creation of a book that is at once interesting to read, motivating to study, and relevant to a wide variety of students has been the driving force behind the book.The text covers time-tested, research-based psychology and management principles, as well as newer theories and philosophies of human relations drawn from management theory, group theory, personality theory, and relationship theory. More than ever, effective human relations skills are crucial to business success as organizations grow and compete in a global business environment. Employees must have the knowledge and skill to adapt to a workplace where change is frequent and inevitable.
Table of Contents
| | |
| --- | --- |
| | Part One Human Relations and You |

1
(172)

| | |
| --- | --- |
| | Human Relations: A Background |

2
(26)
4
(1)

| | |
| --- | --- |
| | The Importance of Human Relations Skills |

4
(2)

| | |
| --- | --- |
| | Current Challenges in Human Relations |

6
(2)

| | |
| --- | --- |
| | A Brief History of Human Relations |

8
(7)

| | |
| --- | --- |
| | What Human Relations Is Not |

15
(1)
16
(12)

| | |
| --- | --- |
| | Strategy 1.1 Develop Mutual Respect |

19
(1)

| | |
| --- | --- |
| | Strategy 1.2 Build Your Communication Skills |

20
(1)
21
(7)

| | |
| --- | --- |
| | Self-Esteem in Human Relations |

28
(30)
30
(1)

| | |
| --- | --- |
| | Self-Esteem and Work Performance |

31
(1)
32
(1)
32
(2)
34
(3)

| | |
| --- | --- |
| | Focusing on the Real and Ideal Selves |

37
(1)

| | |
| --- | --- |
| | Pleasing Yourself and Pleasing Others |

38
(20)

| | |
| --- | --- |
| | Strategy 2.1 Steps Toward Achieving Higher Self-Esteem |

39
(6)

| | |
| --- | --- |
| | Strategy 2.2 Steps Toward Combating Low Self-Esteem |

45
(3)
48
(10)

| | |
| --- | --- |
| | Self-Awareness and Self-Disclosure |

58
(30)
60
(1)

| | |
| --- | --- |
| | Barriers to Effective Human Relations |

60
(1)
61
(4)
65
(1)
66
(3)
69
(4)

| | |
| --- | --- |
| | Making Assumptions About Other People |

73
(1)
74
(14)

| | |
| --- | --- |
| | Strategy 3.1 Know When to Stop |

76
(1)

| | |
| --- | --- |
| | Strategy 3.2 Pay Attention to Differences |

77
(1)

| | |
| --- | --- |
| | Strategy 3.3 Facing Fear of Self-Disclosure |

78
(2)
80
(8)
88
(26)
90
(1)

| | |
| --- | --- |
| | What Makes a Good Attitude? |

90
(5)
95
(1)

| | |
| --- | --- |
| | Positive Attitudes and Optimal Experiences |

96
(1)

| | |
| --- | --- |
| | ``Flow'' in Our Everyday Lives |

97
(2)

| | |
| --- | --- |
| | Attitudes and Job Satisfaction |

99
(1)

| | |
| --- | --- |
| | Positive Attitudes and Managers: Theory X and Theory Y |

99
(15)

| | |
| --- | --- |
| | Strategy 4.1 Changing Pessimism to Optimism |

103
(1)

| | |
| --- | --- |
| | Strategy 4.2 Building Positive Attitudes |

104
(2)
106
(8)

| | |
| --- | --- |
| | Personal and Organizational Values |

114
(28)
116
(1)
116
(1)
116
(3)
119
(2)
121
(2)
123
(1)
124
(1)
125
(2)

| | |
| --- | --- |
| | Values in an International Economy |

127
(15)

| | |
| --- | --- |
| | Strategy 5.1 Redefining Your Personal Values: The Rath Test |

131
(1)

| | |
| --- | --- |
| | Strategy 5.2 Building a Character Ethic for Integrity |

132
(2)
134
(8)

| | |
| --- | --- |
| | Motivation: Increasing Productivity |

142
(31)
144
(1)

| | |
| --- | --- |
| | General Theories of Motivation |

145
(3)

| | |
| --- | --- |
| | Need-Based Theories of Motivation |

148
(8)

| | |
| --- | --- |
| | Behavior-Based Theories of Motivation |

156
(1)

| | |
| --- | --- |
| | Reinforcement Theory and Behavior Modification |

157
(2)

| | |
| --- | --- |
| | Motivation and Self-Esteem |

159
(14)

| | |
| --- | --- |
| | Strategy 6.1 Applying McClelland's Theory |

161
(1)

| | |
| --- | --- |
| | Strategy 6.2 Changing Your Behavior |

162
(1)
163
(10)

| | |
| --- | --- |
| | Part Two Human Relations in Groups |

173
(134)

| | |
| --- | --- |
| | Communication and Human Relations |

174
(30)

| | |
| --- | --- |
| | Communication and Miscommunication |

176
(1)

| | |
| --- | --- |
| | Listening---and How It Can Fail |

177
(3)
180
(2)

| | |
| --- | --- |
| | Communicating Without Words |

182
(2)

| | |
| --- | --- |
| | Functions of Nonverbal Messages |

184
(4)

| | |
| --- | --- |
| | Communicating in an Organization |

188
(2)

| | |
| --- | --- |
| | International and Intercultural Communication |

190
(14)

| | |
| --- | --- |
| | Strategy 7.1 Become a Better Listener |

193
(1)

| | |
| --- | --- |
| | Strategy 7.2 Practice High-Context Communication |

194
(2)
196
(8)

| | |
| --- | --- |
| | People, Groups, and Their Leaders |

204
(32)

| | |
| --- | --- |
| | Why Do People Join Groups? |

206
(1)
207
(1)

| | |
| --- | --- |
| | Formal Groups and Their Development |

208
(2)

| | |
| --- | --- |
| | Status and Conformity in Groups |

210
(2)
212
(1)

| | |
| --- | --- |
| | Barriers to Group Effectiveness |

213
(4)

| | |
| --- | --- |
| | Leadership: What It Is and What It Requires |

217
(1)
218
(18)

| | |
| --- | --- |
| | Strategy 8.1 Watching for Hidden Agendas |

223
(1)

| | |
| --- | --- |
| | Strategy 8.2 Strengthening Your Leadership Power |

224
(2)
226
(10)

| | |
| --- | --- |
| | Teams in Quality Organizations |

236
(34)

| | |
| --- | --- |
| | Quality Organizations and Work Teams |

238
(3)
241
(3)
244
(1)

| | |
| --- | --- |
| | Organizational Climate: The Weather of the Workplace |

245
(2)

| | |
| --- | --- |
| | Corporate Culture: Shared Values |

247
(2)

| | |
| --- | --- |
| | Types of Corporate Culture |

249
(2)

| | |
| --- | --- |
| | The ``New'' Corporate Culture: The Importance of Self-Esteem |

251
(1)

| | |
| --- | --- |
| | The Importance of Fairness |

252
(18)

| | |
| --- | --- |
| | Strategy 9.1 Building a Successful Team |

256
(1)

| | |
| --- | --- |
| | Strategy 9.2 Changing Your Workplace Climate |

257
(1)

| | |
| --- | --- |
| | Strategy 9.3 Creating Fairness in the Workplace |

258
(2)
260
(10)

| | |
| --- | --- |
| | Transactions and Relationships |

270
(37)
272
(1)

| | |
| --- | --- |
| | Transactional Analysis as a Whole System |

273
(1)

| | |
| --- | --- |
| | Three People Types: Child, Parent, and Adult |

274
(3)
277
(8)
285
(2)
287
(3)
290
(1)
291
(3)

| | |
| --- | --- |
| | Assertiveness Versus Aggressiveness |

294
(13)

| | |
| --- | --- |
| | Strategy 10.1 Stopping Games Before They Start |

295
(2)
297
(10)

| | |
| --- | --- |
| | Part Three Building Your Human Relations Skills |

307
(166)

| | |
| --- | --- |
| | Individual and Organizational Change |

308
(32)
310
(1)

| | |
| --- | --- |
| | The Seven Major Life Changes |

310
(2)

| | |
| --- | --- |
| | The Seven Stages of Personal Change |

312
(5)

| | |
| --- | --- |
| | Models of Organizational Change |

317
(5)

| | |
| --- | --- |
| | Why Employees Resist Change |

322
(3)
325
(2)

| | |
| --- | --- |
| | Organizational Development |

327
(13)

| | |
| --- | --- |
| | Strategy 11.1 Managing Personal Change in the Workplace |

328
(1)

| | |
| --- | --- |
| | Strategy 11.2 Breaking Down the Resistance to Change in Your Organization |

329
(1)
330
(10)

| | |
| --- | --- |
| | Creativity and Human Relations |

340
(34)

| | |
| --- | --- |
| | The Creativity Connection |

342
(1)
342
(2)

| | |
| --- | --- |
| | Perception and Creativity |

344
(4)

| | |
| --- | --- |
| | Creativity and Intelligence---or Creative Intelligence |

348
(4)

| | |
| --- | --- |
| | Creativity in the Workplace |

352
(2)

| | |
| --- | --- |
| | Creative Methods for Groups |

354
(20)

| | |
| --- | --- |
| | Strategy 12.1 The Creative Process: Hatching a New Idea |

358
(1)

| | |
| --- | --- |
| | Strategy 12.2 Increase Your Creativity |

358
(7)
365
(9)
374
(32)
376
(1)
377
(5)
382
(1)
383
(1)

| | |
| --- | --- |
| | Styles of Conflict Management |

384
(4)

| | |
| --- | --- |
| | Dealing with Special Conflict Cases |

388
(1)
388
(18)

| | |
| --- | --- |
| | Strategy 13.1 Negotiate Win-Win Solutions |

394
(2)

| | |
| --- | --- |
| | Strategy 13.2 Making Collaboration Work |

396
(1)

| | |
| --- | --- |
| | Strategy 13.3 Stop Conflicts Before They Start |

397
(1)
398
(8)

| | |
| --- | --- |
| | Stress and Stress Management |

406
(36)
408
(8)

| | |
| --- | --- |
| | Type A and Type B Personality Behavior |

416
(2)

| | |
| --- | --- |
| | The Physical Effects of Stress |

418
(4)

| | |
| --- | --- |
| | The Cost of Stress in the Workplace |

422
(20)

| | |
| --- | --- |
| | Strategy 14.1 Discard Irrational Beliefs |

425
(1)

| | |
| --- | --- |
| | Strategy 14.2 Change Your Personality |

426
(2)

| | |
| --- | --- |
| | Strategy 14.3 Take Care of Yourself |

428
(3)
431
(11)

| | |
| --- | --- |
| | Winning and Keeping Your Customers |

442
(31)

| | |
| --- | --- |
| | What Do Customers Really Want? |

444
(1)

| | |
| --- | --- |
| | Customer Service: A Definition |

445
(1)

| | |
| --- | --- |
| | The Two Simplest Principles of Customer Service |

445
(3)

| | |
| --- | --- |
| | Issues in Customer Service |

448
(5)

| | |
| --- | --- |
| | Handling the Difficult Customer |

453
(2)
455
(1)
456
(1)

| | |
| --- | --- |
| | Who Is Running the Business? |

456
(17)

| | |
| --- | --- |
| | Strategy 15.1 Establish a Bond With the Customer |

458
(1)

| | |
| --- | --- |
| | Strategy 15.2 Support the Customer's Self-Esteem |

459
(1)

| | |
| --- | --- |
| | Strategy 15.3 Handling the Difficult Customer Professionally |

460
(3)
463
(10)

| | |
| --- | --- |
| | Part Four Thriving in a Changing World |

473
(144)

| | |
| --- | --- |
| | Human Relations in a World of Diversity |

474
(38)
476
(3)
479
(1)
480
(4)
484
(5)

| | |
| --- | --- |
| | Targets of Discrimination |

489
(5)
494
(3)

| | |
| --- | --- |
| | Prejudice, Discrimination, and Self-Esteem |

497
(1)
498
(14)

| | |
| --- | --- |
| | Strategy 16.1 Assess Your Knowledge |

499
(2)

| | |
| --- | --- |
| | Strategy 16.2 Reducing Sexual Harassment |

501
(1)
502
(10)

| | |
| --- | --- |
| | Business Ethics and Social Responsibility |

512
(32)
514
(3)
517
(4)

| | |
| --- | --- |
| | Rationalizing Unethical Behavior |

521
(1)
522
(1)

| | |
| --- | --- |
| | The Influence of Group Goals |

523
(1)
524
(3)
527
(2)
529
(15)

| | |
| --- | --- |
| | Strategy 17.1 Making Ethical Decisions: A Quick Ethics Test from Texas Instruments |

533
(1)

| | |
| --- | --- |
| | Strategy 17.2 Becoming Culturally Aware of Ethical Conduct |

534
(1)
535
(9)

| | |
| --- | --- |
| | Maintaining Workplace Health |

544
(38)

| | |
| --- | --- |
| | Defining Personal Problems |

546
(1)

| | |
| --- | --- |
| | Employee Assistance Programs (EAPs) |

547
(2)

| | |
| --- | --- |
| | Substance Abuse: Alcohol and Drugs |

549
(9)

| | |
| --- | --- |
| | The Effects of Substance Abuse in the Workplace |

558
(1)

| | |
| --- | --- |
| | Responses to Substance Abuse |

559
(1)

| | |
| --- | --- |
| | Substance Abuse Management Policies |

560
(2)

| | |
| --- | --- |
| | Marital, Family, and Other Personal Problems |

562
(2)
564
(2)

| | |
| --- | --- |
| | Medical Disorders That Affect Mental Health |

566
(4)

| | |
| --- | --- |
| | AIDS and HIV in the Workplace |

570
(12)

| | |
| --- | --- |
| | Strategy 18.1 Look for Warning Signs |

571
(1)

| | |
| --- | --- |
| | Strategy 18.2 Know When to Intervene |

572
(1)
572
(10)

| | |
| --- | --- |
| | Human Relations and Your Future Success |

582
(35)

| | |
| --- | --- |
| | Human Relations in Your Future |

584
(4)

| | |
| --- | --- |
| | Self-Motivation, Self-Direction, and Success |

588
(1)

| | |
| --- | --- |
| | Fear: The Enemy of Success |

589
(1)
590
(2)
592
(1)

| | |
| --- | --- |
| | Prepare for a Career Choice |

592
(3)

| | |
| --- | --- |
| | Prepare Your Application Materials |

595
(4)

| | |
| --- | --- |
| | Prepare for the Job Interview |

599
(1)
600
(17)

| | |
| --- | --- |
| | Strategy 19.1 Practice a Job Interview |

602
(1)

| | |
| --- | --- |
| | Strategy 19.2 Make an Inventory of Your Skills |

603
(2)

| | |
| --- | --- |
| | Strategy 19.3 Move Toward a Happier Life |

605
(12)
Glossary
617
(13)
Photo Credits
630
(2)
Index
632