Note: Supplemental materials are not guaranteed with Rental or Used book purchases.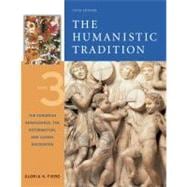 The Humanistic Tradition, Book 3: The European Renaissance, The Reformation, and Global Encounter
ISBN13:
9780072910117
by
Fiero, Gloria
McGraw-Hill Humanities/Social Sciences/Languages
Questions About This Book?
What version or edition is this?
This is the 5th edition with a publication date of 12/5/2005.
What is included with this book?
The Used copy of this book is not guaranteed to include any supplemental materials. Typically, only the book itself is included.
Summary
"The Humanistic Traditionis quite simply the finest book of its type. Fiero manages to integrate the political, cultural, and social history of the world into one coherent and fascinating whole. It is a masterpiece of scholarship . . . balanced, interesting, easy to read, and consummately beautiful. Our professors praise its accuracy and scope and our students unanimously say it is their favorite textbook." Sonia Sorrell, Pepperdine UniversityThe Humanistic Traditionfeatures a flexible, topical approach that helps students understand humankind's creative legacy as a continuum rather than as a series of isolated events. This widely acclaimed interdisciplinary survey offers a global perspective, countless illustrations, and more than 150 literary sources. Available in multiple formats,The Humanistic Traditionexplores the political, economic, and social contexts of human culture, providing a global and multicultural perspective which helps students better understand the relationship between the West and other world cultures.
Table of Contents
Preface
ix

| | |
| --- | --- |
| | PART ONE The Age of the Renaissance |

1
(82)
2
(1)

| | |
| --- | --- |
| | Adversity and Challenge: The Fourteenth-Century Transition |

3
(20)
3
(1)

| | |
| --- | --- |
| | Reading 3.1 From Boccaccio's Introduction to the Decameron (1351) |

3
(3)

| | |
| --- | --- |
| | The Effects of the Black Death |

5
(1)
6
(4)

| | |
| --- | --- |
| | The Rise of Constitutional Monarchy |

6
(1)
7
(1)

| | |
| --- | --- |
| | The Decline of the Church |

8
(1)

| | |
| --- | --- |
| | Anticlericalism and the Rise of Devotional Piety |

8
(2)
10
(1)

| | |
| --- | --- |
| | The Social Realism of Boccaccio |

10
(1)

| | |
| --- | --- |
| | Reading 3.2 From Boccaccio's ``Tale of Filippa'' from the Decameron (1351) |

10
(2)

| | |
| --- | --- |
| | The Feminism of Christine de Pisan |

11
(1)

| | |
| --- | --- |
| | Reading 3.3 From Christine de Pisan's Book of the City of Ladies (1405) |

12
(1)

| | |
| --- | --- |
| | The Social Realism of Chaucer |

13
(1)

| | |
| --- | --- |
| | Reading 3.4 From Chaucer's ``Prologue'' and ``The Miller's Tale'' in the Canterbury Tales (ca. 1390) |

13
(2)

| | |
| --- | --- |
| | Art and Music in Transition |

15
(7)
15
(2)

| | |
| --- | --- |
| | Devotional Realism and Portraiture |

17
(2)
19
(3)
22
(1)

| | |
| --- | --- |
| | Music Listening Selections |

22
(1)
22
(1)

| | |
| --- | --- |
| | Classical Humanism in the Age of the Renaissance |

23
(21)

| | |
| --- | --- |
| | Italy: Birthplace of the Renaissance |

23
(3)

| | |
| --- | --- |
| | Petrarch: ``Father of Humanism'' |

26
(1)

| | |
| --- | --- |
| | Reading 3.5 From Petrarch's Letter to Lapo da Castiglionchio (ca. 1351) |

26
(1)

| | |
| --- | --- |
| | Reading 3.6 From Petrarch's Canzoniere (ca. 1350) |

27
(1)

| | |
| --- | --- |
| | Italian Renaissance Humanism |

28
(2)

| | |
| --- | --- |
| | Alberti and Renaissance Virtu |

29
(1)

| | |
| --- | --- |
| | Reading 3.7 From Alberti's On the Family (1443) |

30
(1)

| | |
| --- | --- |
| | Reading 3.8 From Pico's Oration on the Dignity of Man (1486) |

31
(3)

| | |
| --- | --- |
| | Castiglione: The Well-Rounded Person |

33
(1)

| | |
| --- | --- |
| | Reading 3.9 From Castiglione's The Book of the Courtier (1518) |

34
(4)
36
(2)

| | |
| --- | --- |
| | Reading 3.10 From Marinella's The Nobility and Excellence of Women and the Defects of Men (1600) |

38
(3)

| | |
| --- | --- |
| | Machiavelli and Power Politics |

40
(1)

| | |
| --- | --- |
| | Reading 3.11 From Machiavelli's The Prince (1513) |

41
(2)
43
(1)
43
(1)

| | |
| --- | --- |
| | Renaissance Artists: Disciples of Nature, Masters of Invention |

44
(39)

| | |
| --- | --- |
| | Renaissance Art and Patronage |

44
(1)
45
(10)

| | |
| --- | --- |
| | The Revival of the Classical Nude |

45
(3)

| | |
| --- | --- |
| | Early Renaissance Architecture |

48
(5)
53
(2)

| | |
| --- | --- |
| | Early Renaissance Artist-Scientists |

55
(3)

| | |
| --- | --- |
| | Leonardo da Vinci as Artist-Scientist |

58
(3)

| | |
| --- | --- |
| | Reading 3.12 From Leonardo da Vinci's Notes (ca. 1510) |

61
(2)
63
(1)
63
(1)

| | |
| --- | --- |
| | Reading 3.13 From Vasari's Lives of the Most Excellent Painters, Architects, and Sculptors (1550) |

64
(2)
65
(1)

| | |
| --- | --- |
| | Architecture of the High Renaissance: Bramante and Palladio |

66
(11)

| | |
| --- | --- |
| | Michelangelo and Heroic Idealism |

68
(3)

| | |
| --- | --- |
| | The High Renaissance in Venice |

71
(6)

| | |
| --- | --- |
| | The Music of the Renaissance |

77
(4)

| | |
| --- | --- |
| | Early Renaissance Music: Dufay |

78
(1)

| | |
| --- | --- |
| | High Renaissance Music: Josquin |

79
(1)
79
(1)

| | |
| --- | --- |
| | Instrumental Music of the Renaissance |

80
(1)
80
(1)
81
(2)

| | |
| --- | --- |
| | Music Listening Selections |

81
(1)
81
(2)

| | |
| --- | --- |
| | PART TWO A Brave New World |

83
(70)
84
(1)

| | |
| --- | --- |
| | Africa, the Americas, and Cross-Cultural Encounter |

85
(36)
85
(1)

| | |
| --- | --- |
| | The African Cultural Heritage |

86
(5)
89
(1)
90
(1)

| | |
| --- | --- |
| | Reading 3.14 From Sundiata: An Epic of Old Mali |

91
(3)

| | |
| --- | --- |
| | Reading 3.15 Three African Myths on the Origin of Death |

94
(2)
95
(1)

| | |
| --- | --- |
| | Reading 3.16 Selections from African Poetry |

96
(4)
97
(1)
97
(2)
99
(1)
100
(1)

| | |
| --- | --- |
| | Ibn Battuta in West Africa |

100
(1)

| | |
| --- | --- |
| | Reading 3.17 From Ibn Battuta's Book of Travels (1354) |

100
(3)
102
(1)
103
(4)
103
(1)

| | |
| --- | --- |
| | The Arts of Native North America |

103
(4)

| | |
| --- | --- |
| | Reading 3.18 ``A Prayer of the Night Chant'' (Navajo) |

107
(1)

| | |
| --- | --- |
| | Reading 3.19 Two Native American Tales |

108
(8)

| | |
| --- | --- |
| | The Arts of Meso- and South America |

109
(1)
110
(3)

| | |
| --- | --- |
| | The Empires of the Inkas and the Aztecs |

113
(3)
116
(1)

| | |
| --- | --- |
| | The Spanish in the Americas |

116
(1)

| | |
| --- | --- |
| | Reading 3.20 From Cortes' Letters from Mexico (1520) |

116
(4)

| | |
| --- | --- |
| | The Aftermath of Conquest |

118
(1)
119
(1)
120
(1)

| | |
| --- | --- |
| | Music Listening Selections |

120
(1)
120
(1)

| | |
| --- | --- |
| | Protest and Reform: The Waning of the Old Order |

121
(32)
121
(1)
121
(1)

| | |
| --- | --- |
| | Christian Humanism and the Northern Renaissance |

121
(1)

| | |
| --- | --- |
| | Luther and the Protestant Reformation |

122
(3)

| | |
| --- | --- |
| | Reading 3.21 From Luther's Address to the German Nobility (1520) |

125
(1)

| | |
| --- | --- |
| | The Spread of Protestantism |

125
(1)

| | |
| --- | --- |
| | Music and the Reformation |

126
(1)
126
(9)
127
(2)

| | |
| --- | --- |
| | The Paintings of Grunewald, Bosch, and Brueghel |

129
(6)

| | |
| --- | --- |
| | Sixteenth-Century Literature |

135
(1)

| | |
| --- | --- |
| | Erasmus: The Praise of Folly (1511) |

135
(1)

| | |
| --- | --- |
| | Reading 3.22 From Erasmus' The Praise of Folly |

136
(2)
137
(1)

| | |
| --- | --- |
| | Reading 3.23 From More's Utopia (1516) |

138
(1)
139
(1)

| | |
| --- | --- |
| | Reading 3.24 From Cervantes' Don Quijote (1613) |

139
(2)
140
(1)

| | |
| --- | --- |
| | Reading 3.25 From Montaigne's On Cannibals (1580) |

141
(3)

| | |
| --- | --- |
| | The Genius of Shakespeare |

143
(1)

| | |
| --- | --- |
| | Reading 3.26 From Shakespeare's Sonnets (1609) |

144
(4)
144
(1)
145
(3)

| | |
| --- | --- |
| | Reading 3.27 From Shakespeare's Hamlet (1602) |

148
(2)

| | |
| --- | --- |
| | Reading 3.28 From Shakespeare's Othello (1604) |

150
(2)
152
(1)
152
(1)
Suggestions for Reading
153
(2)
Credits
155
(1)
Index
156