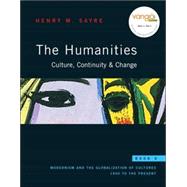 Humanities: Culture, Continuity and Change, Book 6 : Modernism and the Globalization of Cultures: 1900 to the Present
by
Sayre, Henry M.
Summary
The Humanitiesby Henry M. Sayre helps the reader see context and make connections across the humanities by tying together the entire cultural experience through a narrative storytelling approach.
Table of Contents
Modernism and the Globalization of Cultures: 1900 to the Present
The Era of Invention: Paris and the Modern World
The Great War and its Impact: A Lost Generation
New York and Skyscraper Culture: City on the Rise
Between the Wars: The Age of Anxiety
World War II and its Aftermath: Devastation and Recovery
The Turbulent rsquo;60s: Decade of Change
The Postmodern Scene: Multiplicity and Diversity
Without Boundaries: The Global Village in the Information Age
Table of Contents provided by Publisher. All Rights Reserved.