Note: Supplemental materials are not guaranteed with Rental or Used book purchases.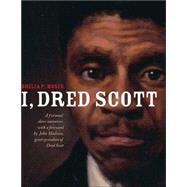 I, Dred Scott : A Fictional Slave Narrative Based on the Life and Legal Precedent of Dred Scott
ISBN13:
9780689859755
by
Moses, Shelia P.
;
Christensen, Bonnie
Margaret K. McElderry Books
Summary
Born into slavery in Virginia in the late 1700s, Dred Scott had little to look forward to in life. But he was fortunate in two ways: His first owner was fairly kind to him, and he grew up with his owner's children, forming friendships that he would come to depend on years later. For on April 6, 1846, Dred Scott and his wife, Harriett -- their ownership having changed hands several times during adulthood -- took the dangerous and courageous step to sue for their freedom, entering into legal battles that would last for eleven years. During this time Dred Scott would need all the help and support he could get -- from folks in the community all the way back to the people with whom he had been raised.With a foreword by Dred Scott's great-grandson, Shelia P. Moses' stunning story chronicles Dred Scott's experiences as a slave, as a plaintiff in one of the most important legal cases in American history, and -- at last -- as a free man. Dred Scott's story is one of tremendous courage and fierce determination. His is a life that should be known by -- and should inspire -- all Americans.
Excerpts
Foreword
When I first found out that Shelia Moses was writing a book based on the life and times of my great-grandfather, Dred Scott, I must say I was not sure about how it would turn out. I knew she had written Dick Gregory's autobiography, but Mr. Gregory was alive to speak for himself. My great-grandfather died without ever even learning to read or write. His wife and children were denied the right to any form of education. None of them had ever recorded their journey to freedom. How would Shelia Moses write about them and tell their story?
It occurred to me later that how she did it was not as important as simply telling his story. And she does tell his story -- not the story of a court decision or a slave, but rather the story of a man, a husband, a father; and, yes, my great-grandfather.
My grandmother Lizzie Scott was Dred Scott's second-born child. She married my grandfather Henry Madison in the late 1800s, and they had a son, John Madison Sr., who was my father. All my life I have lived proudly as the descendant of a family that helped to change the course of the Civil War and the history of slavery.
Many books have been written about the Dred Scott Decision and all the judges, lawyers, and slave owners who played a part in what would happen to my ancestors. However, this book is different in that it is fiction based on facts that Shelia Moses uses to give depth to the story of my forefather and his family.
This book holds true to my great-grandfather's life; my great-grandmother's support; and my grandmother and her sister, who sat on the sidelines, probably in fear.
I hope that people all over the world will read and love the characters to which Shelia Moses has given so much love. I hope you will finish this book knowing that Dred Scott was different from the court ruling that said he was only one-fourth of a man. He was my great-grandfather -- and the start of our legacy.
-- John A. Madison Jr., great-grandson of Dred Scott
Foreword copyright © 2005 by John A. Madison Jr.
---

Excerpted from I, Dred Scott: A Fictional Slave Narrative Based on the Life and Legal Precedent of Dred Scott by Shelia P. Moses
All rights reserved by the original copyright owners. Excerpts are provided for display purposes only and may not be reproduced, reprinted or distributed without the written permission of the publisher.