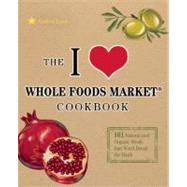 The I Love Whole Foods Market Cookbook; 150 Natural and Organic Meals that Won't Break the Bank
by
Andrea Lynn
This title is currently not available.
Summary
Complete with more than 100 color photos, this unique cookbook offers 120 creative recipes that stir the stores' amazing offerings into gourmet meals. Thanks to the author's carefully selected ingredients and smart shopper tips, readers will learn how to treat Whole Foods Market as their one-stop shopping spot without spending an entire paycheck. 220 pp.
Author Biography
Andrea Lynn is a professional chef and Institute of Culinary Education graduate. She is a recipe developer and food writer. She is the author of the upcoming College Cooking at Trader Joe's.