Note: Supplemental materials are not guaranteed with Rental or Used book purchases.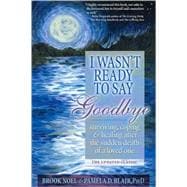 I Wasn't Ready to Say Goodbye: Surviving, Coping and Healing After the Sudden Death of a Loved One
ISBN13:
9781402212215
by
Noel, Brook
Questions About This Book?
What version or edition is this?
This is the Revised edition with a publication date of 5/1/2008.
What is included with this book?
The New copy of this book will include any supplemental materials advertised. Please check the title of the book to determine if it should include any CDs, lab manuals, study guides, etc.
Summary
This updated edition of the best-selling bereavement classic (more than 75,000 copies in print) explores tragic and sudden loss, authored by two women who have lost someone firsthand. Featured on ABC World News, Fox and Friends and many other shows, this book acts as a touchstone of sanity through difficult times. I Wasn't Ready to Say Goodbye covers such difficult topics as the first few weeks, suicide, death of a child, children and grief, funerals and rituals, physical effects, homicide and depression. With new material covering the unique circumstances of loss, men and women's grieving styles, religion and faith, myths and misunderstandings, I Wasn't Ready to Say Goodbye reflects the shifting face of grief. Each year about eight million Americans suffer the death of a close family member. Such incomprehensible loss must be dealt with daily-for those who face the challenges of a sudden death, I Wasn't Ready to Say Goodbye can be a comforting hand to hold.
Table of Contents
Introduction
An Unfamiliar World: The Journey into Grief
The Starting Point: Notes from the Austhors Pam's Story Brook's Story Sudden Loss Comes Again
Notes for the First Few Weeks
Treat Yourself as if You Were in Intensive Care Expect to Be Distracted
Have Someone Near You Accept the Help of Friends Caring for Your Children
Someone to Take Calls and Check Email Seek Assistance with Final Arrangements Don't Worry about Contacting People
Let Your Body Lead You Religious Traditions Wills and Arrangements Cultural
Differences Going Back to Work Grief Sessions A Guide for Those Helping Others with Grief
Understanding the Emotional and Physical Effects of Grief Exhaustion
Days of Distraction Denying Our New Reality Anger . . . a Normal Response Grief Knows No Schedule Physical Symptoms
Emotional Ambushes Grief and Dreams
If You Don't Dream If You Do Dream
Important Things to Remember on the Pathway Feeling the Presence of the Deceased
When You Don't Feel the Presence of the Deceased Communicating with Your Loved One (and If You Haven't)
The World Becomes Dreamlike
A Time to Withdraw Hurtful Self-talk Impulsive Living Instant Replays and Obsessive Thoughts The "If Only" Mind Game Fear
Myths and Misunderstandings of the Grieving Process Myth
Death is death, sudden or long-term, and we all grieve the same way Myth
By keeping busy I can lessen or eliminate my grief. Myth
I must be going crazy or "losing it." Myth
I will need to make sure I don't grieve for too long - one year should be enough Myth
If I express my anger at God or the circumstances of thedeath, I am a bad person and will "pay" for it. Myth
My friends tell me it is time to let go. Since others haveacclimated to life again, I should too Myth
I must wear black for a designated time period or I willdishonor the person who died Myth
I won't have to grieve as much and I will feel better if Iuse alcohol or medication to alleviate my sadness Myth
If I talk about the loss of my loved one I'll feel worse Myth
Shouldn't I be strong enough to "tough it out" by myself? Myth
I've done something wrong because some of my family and friends are turning away from me Myth
I should be relieved that they didn't suffer a long and lingering illness Myth
Someday I'll have another (spouse, child, parent, lover...) and that person will erase the pain and replace what I have lost. Myth
Once I am done with one stage of grief, I will simply move on to the next Myth
If I relive the good times, I'll stay stuck in the pain Myth
Children really don't understand death and probably don't need to be included in the funeral plans or memorial services Myth
To properly honor the deceased, I must have the standard wake and burial Myth
I am scared that if I grieve, I'll "get over my loss." I don't want to forget him! Myth
Help, I'm stuck on instant replay. I can't get this out of my thoughts - something is wrong with me Myth
This kind of thing doesn't
Table of Contents provided by Publisher. All Rights Reserved.
Excerpts
Excerpt from Chapter Two: Notes for the First Few Weeks"And people answered the phone for me. And people cooked for me. And people understood for me. My dearest friends cared for me when I didn't care." - Wendy FeiereisenAt this moment, in the direct aftermath of losing someone tragically, there is so little anyone can say. We cannot find the words to offer you peace - though we wish it were a gift we could give you. We promise you now that we will give you everything we can to help you make your way through this. We will help you wind a path through the haze, the confusion, and the pain that is gripping at your core.For the first few weeks, do not concern yourself with what you will do, where you will go, or what lies in the future. For now, we ask that you simply follow the guidelines in this chapter. There will be time to cope, to understand, to process - later. Right now, you simply need to take care of you.Treat Yourself as if You Were in Intensive Care You are in the process of going through one of the most traumatic experiences a person can endure. The challenges you have already faced, both physically and mentally, will leave you vulnerable, exhausted, and weak. It is imperative that you focus directly on yourself and on any dependents. Find ways to get your needs met first in these few weeks.In the first week or so you will probably feel stunned and overwhelmed. You may also feel numb or hysterical. Your emotional system shuts down, providing temporary insulation from the full impact of your loss. You will go through the motions; it will look like you're coping well sometimes.In her book, The Worst Loss, Barbara D. Rosof writes, "In shock you may be unable to move or speak coherently; people report that they cannot think. Shock responses may also be active and intense; you may have screamed, or run from the room, or physically attacked the bringer of the news. All of these behaviors are means of shutting down, or distancing yourself from a reality that you do not yet have a way to deal with. As you look back, your behavior may seem bizarre and totally out of character for you. Remember that your entire world had been knocked out from under you. You were in free fall, and your first task was to find any way to stop the fall."When the funeral is over and your relatives and friends have gone home, the shock begins to wear off. It is important not to make any decisions that will have a lasting impact on your life (for example, sell the house, give away the person's belongings, etc.) while you are in shock.Expect to Be Distracted During the first few weeks, your mind will be filled with racing thoughts and unfamiliar emotions. Many people report having difficulty with simple tasks. Losing one's keys, forgetting where you are while driving, and sluggish reaction time are all commonly reported problems. With everything you are mentally and physically trying to process, it's normal to be distracted. Take special caution. Try to avoid driving and other activities where these symptoms may cause injury.Have Someone Near You If possible, choose a close friend to keep near you through the first week or two. Let this person help you make decisions, hear your fears or concerns, and be the shoulder for you to lean on. Give them a copy of this book. Later, as you move through the grieving process, it will be very helpful to have someone who has "been there" and understands thoroughly what you are talking about.Accept the Help of Friends Our energy is so depleted in the first few weeks after loss, it's hard to even ask for help. We have included a handout at the end of this chapter that can be photocopied freely a