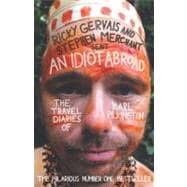 An Idiot Abroad; The Travel Diaries of Karl Pilkington
by
Unknown
Summary
Presenting the Travel Diaries of Karl Pilkington: Adventurer. Philosopher. Idiot.Karl Pilkington isn't keen on travelling. Given the choice, he'll go on holiday to Devon or Wales or, at a push, eat English food on a package holiday in Majorca. Which isn't exactly Michael Palin, is it? So what happened when he was convinced by Ricky Gervais and Stephen Merchant to go on an epic adventure to see the Seven Wonders of the World?Travel broadens the mind, right? You'd think so...Find out in Karl Pilkington's hilarious travel diaries. ;He is a moron. A completely round, empty-headed, part-chimp Manc.' RICKY GERVAIS ;He'd have been happier in medieval times in a village where you didn't travel beyond the local community.' STEPHEN MERCHANT
Author Biography
Karl Pilkington is a Sony Award–winning, Emmy Award–nominated radio producer, best known for producing and cohosting The Ricky Gervais Show on the radio and later in the form of podcasts and an HBO television show. He is the author of Happyslapped by a Jellyfish, Karlology, and Ricky Gervais Presents: The World of Karl Pilkington. Ricky Gervais and Stephen Merchant revolutionized television with their contemporary comic classic The Office, and later collaborated again on Extras. Gervais's many awards include three Golden Globe Awards and two Emmys, and he was on Time's 2010 list of the world's 100 most influential people.
Table of Contents
Introduction
p. 1
The Pyramids
p. 7
Christ The Redeemer
p. 33
The Taj Mahal
p. 61
Chichen Itza
p. 93
The Great Wall
p. 125
Petra
p. 153
Machu Picchu
p. 187
The Final Questionnaire
p. 219
Acknowledgements
p. 225
Table of Contents provided by Ingram. All Rights Reserved.