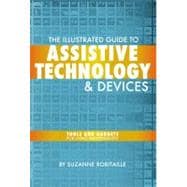 The Illustrated Guide to Assistive Technology and Devices; Tools and Gadgets for Living Independently
by
Suzanne Robitaille
Summary
Journalist and author Suzanne Robitaille writes extensively on disability issues. She is the farmer assistive technology columnist for BusinessWeek.com, and has also written for The Wall Street Journal, Disohoom.com, Ability Magazine, and more. Book jacket.
Author Biography
Suzanne Robitaille is the founder and editor of Abledbody.com, a website that covers disability news and assistive technology. Growing up profoundly deaf, Suzanne learned firsthand that people with disabilities can benefit from these type of technologies both professionally and socially. She began her journalism career in 2000 at the Wall Street Journal's interactive operations in New York. A year later, she became a technology columnist for Business Week Online, writing a weekly column on assistive devices and technology. Suzanne has written for various consumer publications and websites, including the Wall Street Journal, BusinessWeek Online, and Media Post, among others.
Table of Contents
Foreword
p. ix
Preface
p. xv
What Is Assistive Technology?
p. 1
History of Assistive Technology
p. 9
Technologies for People with Visual Disabilities
p. 15
Technologies for People with Hearing Disabilities
p. 51
Technologies for People with Physical Disabilities
p. 93
Technologies for People with Cognitive Disabilities and Learning Disorders
p. 123
Technologies for People with Communications Disabilities
p. 143
Assistive Technology and the Americans With Disabilities Act
p. 161
How to Pay for Assistive Technology
p. 169
The Future of Assistive Technology
p. 177
Resources
p. 185
Index
p. 197
Table of Contents provided by Ingram. All Rights Reserved.