Note: Supplemental materials are not guaranteed with Rental or Used book purchases.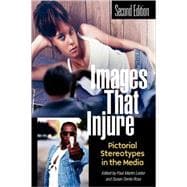 Summary
Images That Injure provides an examination of a particular set of pictures that do harm to others, and in turn to all of us. These images--media-promulgated stereotypes of various and diverse groups of people--cause harm in both direct and indirect ways by presenting oversimplified, mostly negative, and often deceptive depictions. In this collection of new and revised essays, noted scholars explore the ways in which these images are created, viewed, and ultimately ingrained into the American culture, examining newspapers, books, films, advertisements, commercials, television shows, magazines, and the Internet. Groups as diverse as African-Americans, women, the elderly, the physically disabled, gays and lesbians, and Jewish Americans are considered here; also included is a special section on post-9/11 stereotyping in the media. These discussions illuminate how each of these media and each of us individually and collectively participate in a sea of meaning that is simultaneously personal and social, unique and shared, linked and independent.
Author Biography
PAUL MARTIN LESTER is a Professor of Communications at California State University at Fullerton. He co-authors the monthly column "Ethics Matters" for News Photographer, the journal of the National Press Photographers Association. He has given keynote speeches, presentations, and workshops throughout the United States and in Australia, Canada, South Africa, Spain, Sweden, and the Netherlands.SUSAN DENTE ROSS is an Associate Professor at the Edward R. Murrow School of Communication at Washington State University, where she directs the undergraduate program in Media and the Law. In addition to conducting research on media portrayals of minorities, she is a First Amendment scholar and the former head of the Law Division of the Association for Education in Journalism and Mass Communication.
Table of Contents
| | |
| --- | --- |
| Foreword by Everette E. Dennis<BR> | |
| Introduction by Paul Martin Lester and Susan Dente Ross<BR> | |
| A General Overview<BR> | |
| Moral Responsibilities and the Power of Pictures by Deni Elliot<BR> | |
| Stereotyping, Prejudice, and Discrimination by Willard F. Enteman<BR> | |
| Media Methods that Lead to Stereotypes by Travis Linn<BR> | |
| Unconscious, Ubiquitous Frames by Susan Dente Ross<BR> | |
| Images that Heal by J.B. Colson<BR> | |
| Stereotypes from September 11, 2001<BR> | |
| Visual Symbolism and Stereotypes in the Wake of 9/11 by Paul Martin Lester<BR> | |
| Terrorists We Like and Terrorists We Don't Like by Deni Elliott<BR> | |
| Unequal Combatants on an Uneven Media Battlefield: Palestine and Israel Susan Dente Ross<BR> | |
| Post 9/11 Discrimination Against Arabs and Muslims by James W. Brown<BR> | |
| Arabs and Arab Americans: Ancient Middle East Conflicts Hit Home by Nancy Beth Jackson<BR> | |
| Ethnic Stereotypes<BR> | |
| Media Stereotypes of African Americans by Linus Abraham<BR> | |
| Ethnic Stereotypes: Hispanics and Mexican Americans by Ramon Chavez<BR> | |
| Exotics, Erotics, and Coco-Nuts: Stereotypes of Pacific Islanders by Tom Brislin<BR> | |
| Native American Stereotypes by Lucy A. Ganje<BR> | |
| Jewish Images that Injure by Marsha Woodbury<BR> | |
| Images of Irish-Americans: Invisible, Inebriated, or Irascible by Susan Dente Ross<BR> | |
| Gender Stereotypes<BR> | |
| Women as Sex Partners by Kim Walsh-Childers<BR> | |
| We've Come a Long Way Maybe: An Analysis of the Portrayal of Women in Super Bowl Commercials From 1989-2002 by Bonnie Drewniany<BR> | |
| Age Stereotypes<BR> | |
| The Child as Image: Media Stereotypes of Children by Kathy Brittain McKee<BR> | |
| Growing Old in Commercials: Not Always a Laughing Matter by Ted Curtis Smythe<BR> | |
| Physical Stereotypes<BR> | |
| The Invisible Cultural Group: Images of Disability by Jack A. Nelson<BR> | |
| The Blind in the Media: A Vision of Stereotypes in Action by Lee Wilkins<BR> | |
| Sexual Orientation Stereotypes<BR> | |
| Recapturing the Archetype: An Inclusive Vision of Sexuality and Gender by Marguerite Moritz<BR> | |
| The Avocado and the Asparagus: Searching for Masculine and Feminine Archetypes within the Stereotyping Theater of Sexualized Mediatypes by Julianne H. Newton and Rick Williams<BR> | |
| Miscellaneous Stereotypes<BR> | |
| Drawing Blood: Images, Stereotypes, and the Political Cartoon by Keith Kenny and Michael Colgan<BR> | |
| Transformation of a Stereotype: Geeks, Nerds, Wiz Kids, and Hackers by Olan Farnall<BR> | |
| Stereotyping of Media Personnel by Walter B. Jaehnig<BR> | |
| Conclusion<BR> | |
| Common Ground and Future Hopes by Clifford G. Christians<BR> | |
| Notes<BR> | |
| Bibliography<BR> | |
| Index<BR> | |
| About the Contributors | |