Note: Supplemental materials are not guaranteed with Rental or Used book purchases.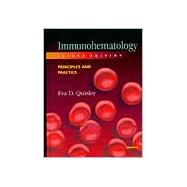 Immunohematology Principles and Practice
ISBN13:
9780397554690
by
Quinley, Eva D.
Questions About This Book?
What version or edition is this?
This is the 2nd edition with a publication date of 2/6/1998.
What is included with this book?
The Used copy of this book is not guaranteed to include any supplemental materials. Typically, only the book itself is included.
Summary
If your Med Tech and Med Lab Tech students buy one book this should be it! The second edition of this respected text provides a well-rounded introduction to immunohematology that includes superior explanations of procedures. Utilizing an easy-to-read, user-friendly format, the text successfully conveys the complex principles and practices of blood banking. Following a clear progression from basic to complex concepts, coverage more than meets the most current requirements of the AABB. Actual work experience references provide an accurate look at the field. New in this edition: 3 New Chapters -- Hemapheresis, Regulatory Overview, and Process Control; 2 New Sections -- Quality Assurance/Regulatory Issues, and Serologic Techniques; Two-Color Format; 40 New Illustrations; 8-Page, 4-Color Insert; includes Chapter Outlines, Summaries, Summary Boxes, Tables and Case Studies.
Table of Contents
UNIT 1 Blood and Blood Components
1
(44)

| | |
| --- | --- |
| | 1 BLOOD COLLECTION AND PROCESSING |

3
(19)
4
(1)

| | |
| --- | --- |
| | Educational Material Provided to the Prospective Donor |

5
(1)
5
(8)
5
(7)

| | |
| --- | --- |
| | Confidential Unit Exclusion |

12
(1)
12
(1)
13
(2)
13
(1)
14
(1)
14
(1)

| | |
| --- | --- |
| | Selection of Vein and Arm Preparation |

14
(1)

| | |
| --- | --- |
| | Phlebotomy and Collection of Samples |

14
(1)
15
(1)
15
(1)
15
(1)
16
(1)
16
(2)
16
(1)
16
(1)

| | |
| --- | --- |
| | Detection of Unexpected Antibodies to Red Cell Antigens |

16
(1)

| | |
| --- | --- |
| | Serologic Test for Syphilis |

16
(1)
17
(1)
18
(1)
18
(1)
19
(1)
19
(1)
19
(3)
22
(9)
23
(3)

| | |
| --- | --- |
| | Separation by Centrifugation |

23
(1)
23
(1)

| | |
| --- | --- |
| | Continuous-Flow Technology |

24
(2)

| | |
| --- | --- |
| | Separation by Membrane Filtration |

26
(1)
26
(1)
26
(2)
27
(1)
27
(1)
28
(1)

| | |
| --- | --- |
| | Hematopoietic Progenitor Cells |

28
(1)

| | |
| --- | --- |
| | Therapeutic Applications of Apheresis |

28
(1)

| | |
| --- | --- |
| | Therapeutic Plasmapheresis |

28
(1)
28
(1)

| | |
| --- | --- |
| | Use of Therapeutic Apheresis in Disease |

29
(1)
29
(2)

| | |
| --- | --- |
| | 3 BLOOD COMPONENTS: PREPARATION, STORAGE, AND TRANSPORTATION |

31
(14)
32
(1)
32
(1)
32
(1)
33
(1)
34
(1)
34
(2)

| | |
| --- | --- |
| | Leukocyte-Reduced Red Blood Cells |

34
(1)
35
(1)

| | |
| --- | --- |
| | Frozen, Thawed, Deglycerolized Red Blood Cells |

35
(1)
36
(1)
36
(1)
36
(1)

| | |
| --- | --- |
| | Cryoprecipitated Antihemophilic Factor |

37
(1)
37
(1)

| | |
| --- | --- |
| | Leukocyte-Reduced Platelets |

38
(1)
38
(1)
38
(1)
39
(1)

| | |
| --- | --- |
| | Irradiation of Blood Components |

39
(1)

| | |
| --- | --- |
| | Storage of Blood Components |

40
(1)

| | |
| --- | --- |
| | Transportation of Blood Components |

41
(1)

| | |
| --- | --- |
| | Whole Blood and Red Blood Cell Components |

41
(1)
41
(1)

| | |
| --- | --- |
| | Platelets and Granulocytes |

41
(1)
42
(1)
42
(3)
UNIT 2 Genetic and Immunologic Principles
45
(44)
47
(11)
48
(3)
51
(1)
51
(2)

| | |
| --- | --- |
| | Contribution of Blood Group Genetics to the Field of Human Genetics |

53
(1)
53
(1)
53
(1)

| | |
| --- | --- |
| | Crossing Over and Recombination |

54
(1)

| | |
| --- | --- |
| | Positional or Modifier Effects of Genes |

54
(1)
54
(1)
55
(1)
55
(1)
56
(1)

| | |
| --- | --- |
| | Blood Group Genes as Genetic Markers |

56
(1)
56
(2)
58
(21)

| | |
| --- | --- |
| | Background and Early History of Immunology |

59
(1)

| | |
| --- | --- |
| | Cellular and Humoral Immunity |

59
(1)

| | |
| --- | --- |
| | Leukocytes: Cells of the Immune System |

60
(6)
60
(1)

| | |
| --- | --- |
| | Lymphocytes and Specific Antigen Binding by Cell Surface Receptors |

61
(1)
62
(3)
65
(1)

| | |
| --- | --- |
| | Immunogens Versus Antigens |

66
(1)
67
(1)
67
(1)
67
(4)

| | |
| --- | --- |
| | Structure and Physiochemistry |

68
(2)

| | |
| --- | --- |
| | IgG Subclass and Function |

70
(1)

| | |
| --- | --- |
| | Hybridomas and Monoclonal Antibodies |

71
(1)

| | |
| --- | --- |
| | Antigen-Antibody Reactions |

71
(1)
71
(1)

| | |
| --- | --- |
| | Hydration and Surface Tension |

72
(1)

| | |
| --- | --- |
| | Immune Response to Blood Products and Subsequent Hemagglutination |

72
(2)

| | |
| --- | --- |
| | Mechanisms of Agglutination |

72
(2)
74
(3)

| | |
| --- | --- |
| | Components of the Complement System |

74
(3)

| | |
| --- | --- |
| | Effects of Complement Activation |

77
(1)
77
(2)
79
(10)

| | |
| --- | --- |
| | History of Antiglobulin Testing |

79
(1)

| | |
| --- | --- |
| | Principle of the Antiglobulin Test |

80
(1)

| | |
| --- | --- |
| | Indirect Antiglobulin Test |

81
(1)

| | |
| --- | --- |
| | Factors Affecting the Indirect Antiglobulin Test |

81
(1)
81
(1)
82
(1)
82
(1)

| | |
| --- | --- |
| | Anti-Human Globulin Reagents |

83
(1)

| | |
| --- | --- |
| | Polyspecific Anti-Human Globulin Serum |

84
(1)

| | |
| --- | --- |
| | Monospecific Anti-Human Globulin Sera |

84
(1)

| | |
| --- | --- |
| | Traditional Antiglobulin Testing |

84
(1)

| | |
| --- | --- |
| | Indirect Antiglobulin Testing |

84
(1)

| | |
| --- | --- |
| | Direct Antiglobulin Testing |

84
(1)

| | |
| --- | --- |
| | Sources of Error in Antiglobulin Testing |

85
(1)
85
(1)
85
(1)

| | |
| --- | --- |
| | Nontraditional Antiglobulin Testing |

85
(4)

| | |
| --- | --- |
| | Enzyme-Linked Immunosorbent Assay |

86
(1)

| | |
| --- | --- |
| | Solid-Phase Red Cell Adherence |

86
(1)
86
(3)
UNIT 3 Red Blood Cell Groups
89
(72)

| | |
| --- | --- |
| | 7 THE ABO BLOOD GROUP SYSTEM |

91
(20)
92
(2)
94
(1)

| | |
| --- | --- |
| | Inheritance of the Bombay Phenotype |

95
(1)
95
(1)
95
(2)

| | |
| --- | --- |
| | Antibodies of the ABO System |

97
(3)
97
(1)
98
(1)
98
(1)
98
(1)
99
(1)
99
(1)

| | |
| --- | --- |
| | Microplate and Miscellaneous Testing |

99
(1)
99
(1)
100
(1)
100
(1)
101
(1)
101
(1)

| | |
| --- | --- |
| | Discrepancies in ABO Grouping |

102
(4)
102
(1)

| | |
| --- | --- |
| | Weak or Missing Antibodies |

103
(1)
103
(1)

| | |
| --- | --- |
| | Unexpected Cold-Reactive Autoantibodies |

104
(1)

| | |
| --- | --- |
| | Unexpected Cold-Reactive Antibodies |

104
(1)
104
(1)
105
(1)
106
(5)

| | |
| --- | --- |
| | 8 The Rh Blood Group System |

111
(13)
112
(2)

| | |
| --- | --- |
| | The Fisher-Race Terminology |

112
(1)
112
(1)

| | |
| --- | --- |
| | The Rosenfield Terminology |

113
(1)
113
(1)
114
(1)
114
(1)

| | |
| --- | --- |
| | Weakened Expression of the D Antigen |

114
(1)

| | |
| --- | --- |
| | Other Rh Antigens Encoded at the D Locus |

115
(1)
115
(6)

| | |
| --- | --- |
| | Other Antigens Encoded at the Cc Locus |

115
(1)
115
(1)

| | |
| --- | --- |
| | Other Antigens Encoded at the Ee Locus |

115
(1)
116
(1)
116
(1)
116
(1)
116
(1)
116
(1)
117
(1)

| | |
| --- | --- |
| | Rh System Antibodies' Characteristics and Reactivity |

118
(1)
119
(1)
119
(1)
120
(1)
121
(3)

| | |
| --- | --- |
| | 9 OTHER BLOOD GROUP SYSTEMS |

124
(37)

| | |
| --- | --- |
| | Nomenclature and Classification |

127
(1)

| | |
| --- | --- |
| | The Lewis Blood Group System |

128
(4)

| | |
| --- | --- |
| | The Lewis System Phenotypes and Antigenic Expression |

128
(1)

| | |
| --- | --- |
| | Genetics and Biochemistry of the Lewis System |

129
(1)

| | |
| --- | --- |
| | Biochemistry of the Lewis Antigens |

129
(2)

| | |
| --- | --- |
| | Acquisition of Lewis Antigens by Red Blood Cells |

131
(1)
131
(1)
131
(1)

| | |
| --- | --- |
| | Clinical Significance of Lewis System Antibodies |

132
(1)

| | |
| --- | --- |
| | Reagents and Testing Methods |

132
(1)

| | |
| --- | --- |
| | Lewis Antibody Neutralization |

132
(1)
132
(2)

| | |
| --- | --- |
| | Biochemistry of the Ii Antigens |

132
(1)

| | |
| --- | --- |
| | Development of I and i Antigens |

132
(1)

| | |
| --- | --- |
| | Antibodies Defining the I System Antigens |

133
(1)

| | |
| --- | --- |
| | Clinical Significance of Anti-I and Anti-i |

133
(1)

| | |
| --- | --- |
| | I Blood Group System Disease Associations |

134
(1)

| | |
| --- | --- |
| | Reagents and Testing Methods |

134
(1)
134
(3)

| | |
| --- | --- |
| | P System Phenotypes and Antigen Expression |

134
(1)

| | |
| --- | --- |
| | Genetics and Biochemistry of the P Blood Group System |

135
(1)

| | |
| --- | --- |
| | Antibodies of the P Blood Group System |

135
(1)

| | |
| --- | --- |
| | Clinical Significance of P System Antibodies |

136
(1)

| | |
| --- | --- |
| | P Blood Group System Disease Associations |

137
(1)

| | |
| --- | --- |
| | Reagents and Testing Methods |

137
(1)

| | |
| --- | --- |
| | The MNSs Blood Group System |

137
(5)

| | |
| --- | --- |
| | Genetics and Biochemistry of the MNSs Blood Group System |

137
(3)

| | |
| --- | --- |
| | MNSs Blood Group Antigens in Paternity Testing |

140
(1)

| | |
| --- | --- |
| | Antibodies of the MNSs Blood Group System |

140
(1)

| | |
| --- | --- |
| | Clinical Significance of MNSs System Antibodies |

141
(1)

| | |
| --- | --- |
| | Reagents and Testing Methods |

141
(1)

| | |
| --- | --- |
| | The Kell Blood Group System |

142
(3)

| | |
| --- | --- |
| | Kell Blood Group System Antigens and Genetics |

142
(1)

| | |
| --- | --- |
| | The McLeod Syndrome and Chronic Granulomatous Disease |

143
(1)

| | |
| --- | --- |
| | Other Weak Kell Phenotypes |

144
(1)
144
(1)

| | |
| --- | --- |
| | Antibodies of the Kell Blood Group System |

144
(1)

| | |
| --- | --- |
| | Clinical Significance of Kell System Antibodies |

145
(1)

| | |
| --- | --- |
| | Reagents and Testing Methods |

145
(1)

| | |
| --- | --- |
| | The Duffy Blood Group System |

145
(2)

| | |
| --- | --- |
| | Antibodies Defining the Duffy System |

145
(1)

| | |
| --- | --- |
| | Genetics and Biochemistry of the Duffy System |

146
(1)

| | |
| --- | --- |
| | Clinical Significance of Duffy System Antibodies |

147
(1)

| | |
| --- | --- |
| | Reagents and Testing Methods |

147
(1)
147
(2)

| | |
| --- | --- |
| | Antibodies Defining the Kidd System |

147
(1)

| | |
| --- | --- |
| | Genetics and Biochemistry of the Kidd Blood Group System |

148
(1)

| | |
| --- | --- |
| | Clinical Significance of Kidd System Antibodies |

148
(1)

| | |
| --- | --- |
| | Reagents and Testing Methods |

149
(1)

| | |
| --- | --- |
| | The Lutheran Blood Group System |

149
(2)

| | |
| --- | --- |
| | Lutheran System Antigens and Genetics |

149
(1)

| | |
| --- | --- |
| | Antibodies Defining the Lutheran Blood Group System |

150
(1)

| | |
| --- | --- |
| | Biochemistry of the Lutheran System Antigens |

150
(1)

| | |
| --- | --- |
| | Clinical Significance of Lutheran System Antibodies |

151
(1)

| | |
| --- | --- |
| | Reagents and Testing Methods |

151
(1)

| | |
| --- | --- |
| | Miscellaneous Blood Group Systems |

151
(3)
151
(1)
151
(1)
151
(1)
152
(1)
152
(1)
153
(1)
153
(1)
153
(1)
154
(1)

| | |
| --- | --- |
| | Other Blood Group Antigens |

154
(7)
154
(1)
154
(1)

| | |
| --- | --- |
| | Antigens Detected by High-Titer, Low-Avidity Antibodies |

155
(1)

| | |
| --- | --- |
| | Independent High-Frequency Antigens |

155
(1)

| | |
| --- | --- |
| | Independent Low-Frequency Antigens |

155
(6)
UNIT 4 Transfusion Practices
161
(78)

| | |
| --- | --- |
| | 10 ANTIBODY DETECTION AND IDENTIFICATION |

163
(39)
164
(1)
164
(1)

| | |
| --- | --- |
| | Indirect Antiglobulin Test |

164
(2)
164
(1)
165
(1)

| | |
| --- | --- |
| | Identification of Antibodies |

166
(6)
166
(1)
166
(2)

| | |
| --- | --- |
| | Categoric Identification of Antibodies |

168
(4)
172
(1)
172
(5)
172
(1)
172
(5)
177
(1)
177
(1)
177
(1)
178
(1)
178
(1)
178
(1)
178
(3)
178
(1)
178
(3)
181
(3)
181
(1)
182
(2)
184
(2)
184
(1)
184
(2)
186
(3)
186
(1)
186
(3)
189
(2)
189
(1)
189
(2)
191
(1)
191
(1)
191
(1)
192
(10)

| | |
| --- | --- |
| | 11 PRETRANSFUSION TESTING |

202
(12)
203
(2)
204
(1)
204
(1)
204
(1)
204
(1)
205
(2)
205
(1)
205
(1)

| | |
| --- | --- |
| | Antibody Detection (Antibody Screen) |

206
(1)

| | |
| --- | --- |
| | Blood Selection Guidelines |

207
(1)
207
(2)

| | |
| --- | --- |
| | The Immediate-Spin Crossmatch |

208
(1)

| | |
| --- | --- |
| | The Indirect Antiglobulin Test Crossmatch |

208
(1)

| | |
| --- | --- |
| | Additional Considerations for Patients with Antibodies |

208
(1)

| | |
| --- | --- |
| | Interpretation of Crossmatches |

208
(1)

| | |
| --- | --- |
| | Special Considerations for Infants Younger than 4 Months of Age |

209
(1)
209
(1)
209
(1)
209
(1)

| | |
| --- | --- |
| | The Electronic "Computer" Crossmatch |

210
(1)

| | |
| --- | --- |
| | Blood Requests for Surgery |

210
(1)
210
(1)
210
(1)

| | |
| --- | --- |
| | Emergency Requests for Blood |

211
(1)

| | |
| --- | --- |
| | Autoimmune Hemolytic Anemia |

211
(1)
211
(1)
211
(3)
214
(25)

| | |
| --- | --- |
| | Red Blood Cell Component Transfusion |

216
(2)

| | |
| --- | --- |
| | Description of Components |

216
(1)

| | |
| --- | --- |
| | Red Blood Cell Component Indications |

216
(1)

| | |
| --- | --- |
| | Contraindications to Red Blood Cell Component Transfusion |

216
(1)

| | |
| --- | --- |
| | Administration of Red Blood Cell Components |

217
(1)

| | |
| --- | --- |
| | Platelet Transfusion Therapy |

218
(3)

| | |
| --- | --- |
| | Description of Platelet Components |

218
(1)

| | |
| --- | --- |
| | Platelet Transfusion and ABO Compatibility |

218
(1)

| | |
| --- | --- |
| | Indications for Platelet Transfusion |

218
(1)

| | |
| --- | --- |
| | Contraindications to Platelet Transfusion |

219
(1)

| | |
| --- | --- |
| | Administration of Platelet Components and Assessment of Response to Transfusion |

220
(1)

| | |
| --- | --- |
| | Prevention and Management of Platelet Refractoriness |

220
(1)
221
(1)
221
(1)

| | |
| --- | --- |
| | Indications for Granulocyte Transfusions |

221
(1)

| | |
| --- | --- |
| | Contraindications to Granulocyte Transfusions |

221
(1)

| | |
| --- | --- |
| | Administration of Granulocytes |

222
(1)
222
(1)
222
(1)

| | |
| --- | --- |
| | Indications for Fresh Frozen Plasma |

223
(1)

| | |
| --- | --- |
| | Contraindications to Fresh Frozen Plasma |

223
(1)

| | |
| --- | --- |
| | Administration of Fresh Frozen Plasma |

223
(1)

| | |
| --- | --- |
| | Assessment of Response to Transfusion |

223
(1)

| | |
| --- | --- |
| | Cryoprecipitated Antihemophilic Factor (Cryoprecipitate) |

223
(2)
223
(1)

| | |
| --- | --- |
| | Indications for Transfusion |

223
(1)

| | |
| --- | --- |
| | Contraindications to Transfusion |

223
(1)

| | |
| --- | --- |
| | Administration of Cryoprecipitate |

223
(1)

| | |
| --- | --- |
| | Assessment of Response to Transfusion |

224
(1)

| | |
| --- | --- |
| | Clotting Factor Concentrates |

224
(1)
225
(1)

| | |
| --- | --- |
| | Guidelines for Pediatric Transfusion |

225
(2)

| | |
| --- | --- |
| | Whole Blood, Reconstituted Whole Blood, or Modified Whole Blood Transfusion |

225
(1)
225
(1)

| | |
| --- | --- |
| | Platelet Concentrate Transfusions |

226
(1)

| | |
| --- | --- |
| | Transfusion of Fresh Frozen Plasma |

226
(1)

| | |
| --- | --- |
| | Transfusion of Cryoprecipitate |

227
(1)
227
(1)

| | |
| --- | --- |
| | Alternatives to Homologous Component Transfusions |

227
(7)

| | |
| --- | --- |
| | Autologous Transfusion Therapy |

227
(1)

| | |
| --- | --- |
| | Preoperative Autologous Blood Donation |

228
(1)
228
(1)

| | |
| --- | --- |
| | Limitations of Preoperative Autologous Donation |

229
(1)

| | |
| --- | --- |
| | Use of Autologous Components |

229
(1)

| | |
| --- | --- |
| | Acute Normovolemic Hemodilution |

230
(2)

| | |
| --- | --- |
| | Intraoperative Blood Salvage |

232
(1)

| | |
| --- | --- |
| | Postoperative Blood Salvage |

233
(1)
234
(1)

| | |
| --- | --- |
| | Pharmacologic Agents Used in Transfusion Therapy |

234
(1)
234
(1)
234
(1)
235
(1)

| | |
| --- | --- |
| | Other Pharmacologic Agents |

235
(1)
235
(1)

| | |
| --- | --- |
| | Recombinant Human Erythropoietin |

235
(1)
236
(1)
236
(3)
UNIT 5 Clinical Conditions Associated with Immunohematology
239
(76)

| | |
| --- | --- |
| | 13 ADVERSE EFFECTS OF TRANSFUSION |

241
(12)

| | |
| --- | --- |
| | Red Blood Cell Antigen-Antibody Reactions |

242
(1)

| | |
| --- | --- |
| | Immediate Intravascular Hemolysis |

242
(1)
243
(1)
243
(1)
243
(1)

| | |
| --- | --- |
| | Delayed Extravascular Hemolysis |

244
(1)
244
(1)
244
(1)
244
(1)

| | |
| --- | --- |
| | Pseudohemolytic Reactions |

245
(1)
245
(1)
245
(1)
246
(1)

| | |
| --- | --- |
| | White Blood Cell Antigen-Antibody Reactions |

246
(1)
246
(1)
246
(1)
246
(1)
246
(1)
247
(1)
247
(1)

| | |
| --- | --- |
| | Plasma Component Reactions |

248
(1)
248
(1)
248
(1)

| | |
| --- | --- |
| | Graft-versus-Host Reactions |

248
(1)
248
(1)
248
(1)

| | |
| --- | --- |
| | Transfusion Hemosiderosis |

249
(1)
249
(1)
249
(1)
249
(1)
249
(1)
249
(1)

| | |
| --- | --- |
| | Cell-Mediated Alloimmunization |

249
(1)

| | |
| --- | --- |
| | Inhibition of Immune Response |

250
(1)

| | |
| --- | --- |
| | Transfusion of ABO-Incompatible Plasma |

250
(1)
250
(1)
250
(1)
250
(1)

| | |
| --- | --- |
| | Investigation of Adverse Reactions |

250
(1)
250
(1)

| | |
| --- | --- |
| | Investigation of Disease Transmission |

251
(1)
251
(2)

| | |
| --- | --- |
| | 14 TRANSFUSION-TRANSMITTED DISEASES |

253
(29)
254
(19)
254
(10)
264
(6)
270
(2)
272
(1)
273
(1)
273
(2)
273
(1)

| | |
| --- | --- |
| | Lyme Disease (Borreliosis) |

274
(1)
275
(3)
275
(1)
276
(1)
277
(1)
277
(1)
278
(1)
278
(4)

| | |
| --- | --- |
| | 15 HEMOLYTIC DISEASE OF THE NEWBORN |

282
(13)
283
(1)
283
(1)
283
(1)
283
(1)

| | |
| --- | --- |
| | Red Blood Cell Antibodies That Cause HDN |

284
(1)
284
(1)
284
(1)
284
(1)

| | |
| --- | --- |
| | Antibodies Outside of the Rh System |

284
(1)
285
(1)

| | |
| --- | --- |
| | In Vitro Assays to Predict the Severity of HDN |

285
(2)
287
(1)
288
(2)
288
(1)

| | |
| --- | --- |
| | Serologic Problems Seen in HDN |

288
(1)
288
(1)
288
(2)

| | |
| --- | --- |
| | Detecting and Quantifying Fetal-Maternal Hemorrhage |

290
(1)
290
(1)
290
(1)
290
(1)
291
(1)
291
(1)

| | |
| --- | --- |
| | Intravenous Immune Globulin |

292
(1)

| | |
| --- | --- |
| | Maternal Immunization to Other Blood Proteins |

292
(1)
292
(3)

| | |
| --- | --- |
| | 16 AUTOIMMUNE HEMOLYTIC ANEMIAS AND DRUG-INDUCED HEMOLYTIC ANEMIAS |

295
(20)

| | |
| --- | --- |
| | Production of Autoantibodies |

296
(1)

| | |
| --- | --- |
| | Classification of Immune Hemolytic Anemias |

296
(1)

| | |
| --- | --- |
| | Pathophysiology of Immune Hemolysis |

296
(1)

| | |
| --- | --- |
| | Laboratory Investigation of Immune Hemolysis |

297
(2)
298
(1)
298
(1)
298
(1)
298
(1)

| | |
| --- | --- |
| | Warm Autoimmune Hemolytic Anemia |

299
(3)
299
(1)
299
(1)
300
(1)
300
(2)

| | |
| --- | --- |
| | Cold Hemagglutinin Syndrome and Cold Hemagglutinin Disease |

302
(2)
302
(1)
303
(1)

| | |
| --- | --- |
| | Etiology of Cold Hemagglutinin Syndrome |

303
(1)
303
(1)

| | |
| --- | --- |
| | Paroxysmal Cold Hemoglobinuria |

304
(1)
304
(1)
304
(1)
304
(1)

| | |
| --- | --- |
| | Drug-Induced Immune Hemolytic Anemia |

305
(1)

| | |
| --- | --- |
| | Mechanisms of Drug-Induced Hemolytic Anemia |

306
(5)

| | |
| --- | --- |
| | Drug Adsorption or Passive Agglutination |

306
(2)

| | |
| --- | --- |
| | Immune Complex or Drug-Dependent Antibody Mechanism |

308
(1)

| | |
| --- | --- |
| | Membrane Modification Mechanism |

309
(1)

| | |
| --- | --- |
| | "True" Drug-Induced Autoimmune Hemolytic Anemia |

310
(1)
310
(1)
311
(4)
UNIT 6 Quality Assurance/Regulatory Issues
315
(46)

| | |
| --- | --- |
| | 17 QUALITY ASSURANCE AND SAFETY IN IMMUNOHEMATOLOGY |

317
(21)
318
(12)

| | |
| --- | --- |
| | Quality Assurance Department |

319
(1)
319
(1)

| | |
| --- | --- |
| | Standard Operating Procedures |

320
(2)

| | |
| --- | --- |
| | Documentation and Records |

322
(1)
323
(1)
324
(1)
324
(1)
324
(1)
325
(1)

| | |
| --- | --- |
| | Facilities, Equipment, and Process Activities |

325
(2)
327
(1)
327
(1)
327
(2)
329
(1)
329
(1)
330
(1)

| | |
| --- | --- |
| | Biosafety in the Blood Center and Transfusion Service |

330
(6)
330
(1)

| | |
| --- | --- |
| | Classification of Work Activity |

330
(1)

| | |
| --- | --- |
| | Standard Operating Procedures and Training |

331
(1)
331
(1)

| | |
| --- | --- |
| | Personal Protective Equipment |

331
(1)
332
(1)
333
(1)
333
(1)
334
(1)
334
(1)
335
(1)
336
(1)
336
(2)

| | |
| --- | --- |
| | 18 REGULATIONS AND STANDARDS |

338
(11)

| | |
| --- | --- |
| | American Association of Blood Banks |

339
(1)
339
(1)
340
(1)

| | |
| --- | --- |
| | The Food and Drug Administration |

340
(2)
340
(1)
340
(2)

| | |
| --- | --- |
| | Health Care Finance Administration |

342
(4)

| | |
| --- | --- |
| | Clinical Laboratory Improvement Amendments of 1988 |

342
(2)

| | |
| --- | --- |
| | Joint Commission on Accreditation of Healthcare Organizations |

344
(1)

| | |
| --- | --- |
| | College of American Pathologists |

345
(1)
346
(1)

| | |
| --- | --- |
| | International Organization for Standardization |

346
(1)

| | |
| --- | --- |
| | Nuclear Regulatory Commission |

346
(1)

| | |
| --- | --- |
| | Department of Transportation |

346
(1)

| | |
| --- | --- |
| | Environmental Protection Agency |

346
(1)

| | |
| --- | --- |
| | Occupational Safety and Health Administration |

347
(1)
347
(2)
349
(12)
349
(1)
350
(1)

| | |
| --- | --- |
| | Standard Operating Procedures |

350
(1)
350
(1)

| | |
| --- | --- |
| | Instrument and Equipment Monitors |

350
(1)
350
(1)
351
(1)
351
(1)

| | |
| --- | --- |
| | Statistical Process Control |

351
(1)
351
(1)
351
(7)
352
(1)
352
(1)
352
(2)
354
(1)
355
(1)
355
(1)

| | |
| --- | --- |
| | Cause-and-Effect Diagrams |

356
(2)
358
(1)
358
(1)
358
(1)
359
(1)
359
(2)
UNIT 7 Additional Topics to Consider
361
(24)

| | |
| --- | --- |
| | 20 HUMAN LEUKOCYTE ANTIGENS |

363
(22)

| | |
| --- | --- |
| | Nomenclature and Genetics |

364
(3)
367
(2)

| | |
| --- | --- |
| | Histocompatibility Typing Procedure |

369
(6)

| | |
| --- | --- |
| | Microlymphocytotoxicity Assay for HLA-A, HLA-B, and HLA-C |

369
(1)

| | |
| --- | --- |
| | Mixed Lymphocyte Reaction for HLA-D |

370
(1)

| | |
| --- | --- |
| | HLA Typing by DNA Analysis |

371
(4)

| | |
| --- | --- |
| | Applications of HLA Testing |

375
(4)
375
(1)

| | |
| --- | --- |
| | HLA in Platelet Transfusion |

376
(1)
377
(1)
378
(1)
379
(6)
Answers to Review Questions
385
(2)
Glossary
387
(10)
Appendix A/Study Aid
397
(52)
Index
449