Note: Supplemental materials are not guaranteed with Rental or Used book purchases.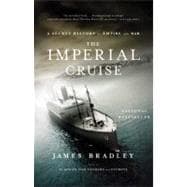 Imperial Cruise : A Secret History of Empire and War
by
Bradley, James
Little, Brown and Company
Summary
On the success of his two bestselling books about World War II, James Bradley began to wonder what the real catalyst was for the Pacific War. What he discovered shocked him.
In 1905 President Teddy Roosevelt dispatched Secretary of War William Taft, his daughter Alice, and a gaggle of congressmen on a mission to Japan, the Philippines, China, and Korea with the intent of forging an agreement to divide up Asia. This clandestine pact lit the fuse that would-decades later-result in a number of devastating wars: WWII, the Korean War, and the communist revolution in China.
In 2005, James Bradley retraced that epic voyage and discovered the remarkable truth about America's vast imperial past. Full of fascinating characters brought brilliantly to life, The Imperial Cruise will powerfully revise the way we understand U.S. history.
"Incendiary...The Imperial Cruise is startling enough to reshape conventional wisdom about Roosevelt's presidency." -New York Times Janet Maslin
"A provocative study...What is fascinating about Bradley's reconstruction of a largely neglected aspect of Roosevelt's legacy is the impact that his racial theories and his obsession with personal and national virility had on his diplomacy. Engrossing and revelatory, The Imperial Cruise is revisionist history at its best." -New York Times Book Review Ronald Steel
"Bradley's ingenious narrative thread is to track an across-the-pacific 1905 goodwill voyage by Roosevelt's emissaries....his indictment of Roosevelt raises tantalizing questions." -American History Gene Santoro
"For readers under the impression that history is the story of good guys and bad guys...this book could be useful medicine." -USA Today
"A page-turner." -Associated Press
Author Biography
James Bradley is the author of the New York Times bestsellers Flyboys and Flags of Our Fathers and the son of one of the men who raised the American flag on Iwo Jima. He lives in New York.