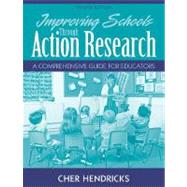 Improving Schools Through Action Research : A Comprehensive Guide for Educators
by
Hendricks, Cher C.
Summary
This brief, user-friendly text provides everything a pre-service or in-service educator needs to know to follow the research cycle and conduct an action research project.Key Benefit: Guides students through the action research processKey Topics: Processes used in planning and conduction an action research project. Market:Pre-service and in-service teachers at all levels.
Table of Contents
Preface to the Second Edition
p. v
Preface to the First Edition
p. vi
Research Methods in Education
p. 1
Ways Research Advances Knowledge About Education
p. 1
The Origin of Action Research
p. 5
The Action Research Process
p. 8
Types Of Action Research
p. 9
The Importance of Action Research for Improving Schools
p. 10
Becoming Familiar with the Language and Process of Action Research
p. 13
Summary
p. 14
Additional Reading Materials
p. 14
Action Research Resources
p. 14
Generating Research Ideas Through Reflection
p. 23
Reflection: Its History and Definitions
p. 25
Types of Reflection
p. 25
Reflection in Action Research
p. 29
Reflecting to Identify a Research Focus
p. 30
Reflective Journals
p. 33
Summary
p. 36
Connecting Theory and Action: Reviewing the Literature
p. 37
Reviewing Literature as a Professional, Intellectual Activity
p. 38
Sources of Topic-Specific Literature
p. 39
Searching for Literature to Review
p. 41
Choosing, Evaluating, and Synthesizing Reviewed Literature for Action Research Studies
p. 49
Organizing and Writing the Literature Review
p. 52
Summary
p. 59
Initial Planning of the Action Research Study
p. 67
Articulating Research Questions
p. 67
Planning the Intervention
p. 71
Summary
p. 78
Strategies for Collecting Data
p. 79
Collecting Multiple Forms of Data to Establish Credibility and Validity
p. 79
Methods of Data Collection: Artifacts, Observational Data, and Inquiry Data
p. 81
The Importance of Collecting Baseline Data
p. 106
Aligning Data Collection Strategies with Research Questions
p. 107
Summary
p. 109
Final Planning Before Implementation of the Study
p. 111
Definitions of Validity
p. 111
Determining Ways to Increase Validity
p. 112
Ethical Guidelines for Action Research Studies
p. 117
Engaging in Continuous, Ongoing Reflective Planning Throughout the Study
p. 121
Creating a Timeline for the Project
p. 122
Summary
p. 124
Strategies for Data Analysis
p. 127
Interim Data Analysis
p. 127
Using Software Packages to Analyze Large Amounts of Data
p. 128
Analysis of Quantitative Data: Reporting, Comparing, and Displaying
p. 129
Analysis of Qualitative Data: Looking for Themes and Patterns
p. 143
Triangulating Data Sources and Drawing Conclusions from Data
p. 155
Summary
p. 158
Writing and Disseminating the Action Research Report
p. 159
Guidelines for Writing the Final Action Research Report
p. 159
Disseminating Action Research Findings
p. 165
Other Ways to Write Up Research
p. 169
Concluding Comments
p. 170
Action Research Articles
p. 171
References
p. 209
Index
p. 213
Table of Contents provided by Ingram. All Rights Reserved.