Note: Supplemental materials are not guaranteed with Rental or Used book purchases.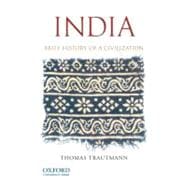 Summary
India: Brief History of a Civilization provides a brief overview of a very long period, allowing students to acquire a mental map of the entire history of Indian civilization in a short book. Most comprehensive histories devote a few chapters to the early history of India and an increasing number of pages to the more recent period, giving an impression that early history is mere background and that Indian civilization finds its fulfillment in the nation-state. Thomas R. Trautmann believes that the deep past lives on and is a valuable resource for understanding the present day and for creating a viable future. The result is a book that is short enough to read in a few sittings, but comprehensive in coverage--5,000 years of India in brief.
Author Biography

Thomas R. Trautmann is Professor of History and Anthropology at the University of Michigan. He is the author of several books, including Languages and Nations: The Dravidian Proof in Colonial Madras (2006) and Aryans and British India (2004), and is the editor of The Aryan Debate (OUP, 2008).

Table of Contents
Illustrations
p. vi
About the Book
p. viii
Introduction
p. 1
India, Indians, Indian Civilization
p. 1
The History of Indian Civilization
p. 8
The Landscape of Indian Civilization
p. 9
The Beginnings of Indian Civilization
p. 16
Mohenjo-daro and Harappa
p. 17
Economy, Technology, Writing
p. 22
Religion
p. 26
Origin and Destiny of the Indus Civilization
p. 27
The Vedic Age
p. 32
The Rig Veda
p. 32
Indo-European, Indo-Iranian, Indo-Aryan
p. 36
The Later Veda
p. 40
New Religions, New Empires
p. 48
Religions of Renunciation
p. 50
The Rise of Magadha
p. 55
The Mauryas
p. 56
Classical India
p. 62
The Formation of Classical Indian Civilization (187 BCE-320 CE)
p. 62
The Classical Age (320-600 CE)
p. 72
Late Classical Indian Civilization (600-1000 CE)
p. 80
Family, Society, Polity
p. 85
Family
p. 85
Society
p. 93
Polity
p. 97
Mentalities
p. 102
Religion
p. 102
Law
p. 115
Science
p. 119
Classical Arts and Letters
p. 126
The World That India Made
p. 128
Central Asia
p. 129
East Asia
p. 130
Southeast Asia
p. 132
The Middle East and Europe
p. 137
Turks and Mughals
p. 142
Islam and India
p. 143
Turks
p. 148
Mughals
p. 154
Europeans
p. 163
European Merchants
p. 163
British Rule
p. 169
India and European Civilization
p. 175
The Nation-State
p. 183
The Emergence of Indian Nationalism
p. 184
Gandhi and Jinnah
p. 191
Partition and Independence
p. 200
New Nations
p. 201
The Republic of India
p. 203
Pakistan and Bangladesh
p. 208
Nepal, Sri Lanka, Bhutan, and the Maldives
p. 212
Indian Civilization and the Future
p. 215
Further Reading
p. 220
Notes
p. 224
Bibliography
p. 227
Index
p. 233
Table of Contents provided by Ingram. All Rights Reserved.