Note: Supplemental materials are not guaranteed with Rental or Used book purchases.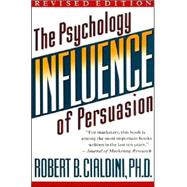 Influence: The Psychology of Persuasion
ISBN13:
9780688128166
by
Cialdini, Robert B.
HarperCollins Publications
Summary
Some people just won't take no for an answer. In Influence, Dr. Robert Cialdini explains the six psychological principles that drive our powerful impulse to comply to the pressures of others and shows how we can defend ourselves against manipulation (or put the principles to work in our own interest). Influence guarantees two things: Readers will never say yes again when they really mean no, and they'll be more persuasive than ever before.
Table of Contents
Introduction
xi
1
(16)

| | |
| --- | --- |
| | Reciprocation: The Old Give and Take...and Take |

17
(40)

| | |
| --- | --- |
| | Commitment and Consistency: Hobgoblins of the Mind |

57
(57)

| | |
| --- | --- |
| | Social Proof: Truths Are Us |

114
(53)

| | |
| --- | --- |
| | Liking: The Friendly Thief |

167
(41)

| | |
| --- | --- |
| | Authority: Directed Deference |

208
(29)

| | |
| --- | --- |
| | Scarcity: The Rule of the Few |

237
(44)

| | |
| --- | --- |
| | Epilogue Instant Influence: Primitive Consent for an Automatic Age |

273
(8)
Notes
281
(12)
Bibliography
293
(18)
Index
311
Excerpts
Influence (rev)
The Psychology of Persuasion
Chapter One
One of the reasons reciprocation can be used so effectively as a device for gaining another's compliance is its power. The rule possesses awesome strength, often producing a "yes" response to a request that, except for an existing feeling of indebtedness, would have surely been refused. Some evidence of how the rule's force can overpower the influence of other factors that normally determine whether a request will be complied with can be seen in a second result of the Regan study, Besides his interest in the impact of the reciprocate rule on compliance Regan was also interested in how liking for person affects the tendency to comply with that person's request. To measure how liking toward how affected the subjects' decisions to buy his raffle tickets, Regan had them fill out several rating scales indicating how much they liked Joe. He then compared their liking responses with the number of tickets they had purchased from Joe. There was significant tendency for subjects to by more raffle tickets from Hoe the more they liked him. But this alone is hardly a startling finding. Most of us would have guessed that people are more willing to do a favor for someone they like.
The interesting thing about the Regan experiment, however, is that the relationship between liking and compliance was completely wiped out in the condition under which subjects had been given a Coke by Joe. For those who owed him a favor, it made no difference whether they liked him or not; they felt a sense of obligation to repay him, and they did. The subjects in that condition who indicated that they disliked Joe bought just as many of his tickets as did those who indicated that they liked him. The rule for reciprocity was so strong that it simply overwhelmed the influence of a factor—liking for the requester—that normally affects the decision to comply.
Influence (rev)
The Psychology of Persuasion
. Copyright © by Robert Cialdini. Reprinted by permission of HarperCollins Publishers, Inc. All rights reserved. Available now wherever books are sold.
---

Excerpted from Influence: The Psychology of Persuasion by Robert B. Cialdini
All rights reserved by the original copyright owners. Excerpts are provided for display purposes only and may not be reproduced, reprinted or distributed without the written permission of the publisher.