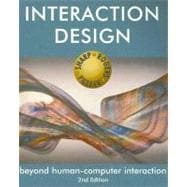 Questions About This Book?
What version or edition is this?
This is the 2nd edition with a publication date of 3/1/2007.
What is included with this book?
The Used copy of this book is not guaranteed to include any supplemental materials. Typically, only the book itself is included.
Related Products
Summary
The classic text, 'Interaction Design' by Sharp, Preece and Rogers is back in a fantastic new 2 nd Edition! New to this edition: Completely updated to include new chapters on Interfaces, Data Gathering and Data Analysis and Interpretation, the latest information from recent research findings and new examples Now in full colour A lively and highly interactive Web site that will enable students to collaborate on experiments, compete in design competitions, collaborate on designs, find resources and communicate with others A new practical and process-oriented approach showing not just what principals ought to apply, but crucially how they can be applied "The best basis around for user-centered interaction design, both as a primer for students as an introduction to the field, and as a resource for research practitioners to fall back on. It should be labelled \'start here\'." Pieter Jan Stappers, ID-StudioLab, Delft University of Technology
Author Biography
Helen Sharp
: Responsible for developing distance education courses in software engineering, co-founder of the International Pedagogical Patterns project, she is also a Senior Visiting Fellow at the Centre for Human-Computer Interaction Design at City University.  Her main research interest focus on the overlap between Interaction Design and Software Engineering, in particular, how to ensure that good HCI design principles are incorporated into the design of interactive products.
Jenny Preece: Professor of Information Systems at UMBC, Regular keynote and invited speaker at SIGCHI and other conferences, prolific author and commentator.  Her research focuses on online communities and social computing.
Yvonne Rogers: Professor of Informatics and Cognitive Science at Indianna University and teaches mainly in the areas of HCI, CSCW, ubiquitous computing.  Her research focuses on augmenting and extending everyday learning and work activities with interactive activities that move "beyond the desktop".
Table of Contents
What is interaction design?
Introduction
Good and poor design
What is interaction design?
The user experience
The process of interaction design
Interaction design and the user experience
Interview with Gitta Salomon
Understanding and conceptualizing interaction
Introduction
Understanding the problem space
Conceptualizing the design space
Theories, models and frameworks
Interview with Terry Winograd
Understanding users
Introduction
What is cognition?
Applying knowledge from the physical world to the digital world
Conceptual frameworks for cognition
Designing for collaboration and communication
Introduction
Social mechanisms in communication and collaboration
Technology-mediated social phenomena
Interview with Abigail Sellen
Affective aspects
Introduction
What are affective aspects?
Expressive interfaces and positive emotions
Frustrating interfaces and negative emotions
Persuasive technologies
Anthropomorphism
Interface agents, virtual pets and interactive toys
Models of emotion and pleasure
Interfaces and interactions
Introduction
Paradigms
Interface types
Which interface?
Data Gathering
Introduction
Four key issues
Data recording
Interviews
Questionnaires
Observation
Choosing and combining techniques
Interview with Sara Bly
Data analysis, interpretation and presentation
Introduction
Qualitative and quantitative
Simple quantitative analysis
Simple qualitative analysis
Using Theoretical Frameworks
Tools to support analysis
Presenting your findings
The process of interaction design
Introduction
What is involved in interaction design?
Some practical issues
Lifecycle models: showing how the activities are related
Interview with Gillian Crampton Smith
Identifying needs and establishing requirements
Introduction
What, how, and why?
What are requirements?
Data gathering for requirements
Data analysis
Task description
Task analysis
Interview with Suzanne Robertson
Design, prototyping and construction
Introduction
Prototyping and construction
Conceptual design: moving from requirements to first design
Physical design: getting concrete
Using scenarios in design
Using prototypes in design.Tool support
Interview with Karen Holtzblatt
Introducing evaluation
Introduction
The why, what,, where and when of evaluation
The language used to describe evaluation
Evaluation approaches and methods
Evaluation studies
What did we learn from the case studies?
An evaluation framework
Introduction
D E C I D E: A framework to guide evaluation
Usability testing and field studies
Introduction
Usability testing
Usability testing of a large website
Conducting experiments
Field studies
Interview with Ben Shneiderman
Analytical evaluation
Introduction
Inspections: heuristic evaluation
Inspections: walkthroughs
Predictive models
Interview with Jakob Nielsen
Table of Contents provided by Publisher. All Rights Reserved.