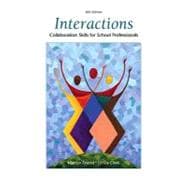 Questions About This Book?
What version or edition is this?
This is the 6th edition with a publication date of 3/27/2009.
What is included with this book?
The Used copy of this book is not guaranteed to include any supplemental materials. Typically, only the book itself is included.
Summary
Written by the expert on school collaboration,Interactionsis a guide for pre-service and in-service educators to help them understand and participate effectively in their interactions with other school professionals and parents. The book addresses collaboration as a style, with accompanying knowledge and skills, that guides practices in many education efforts. Interactionsprovides a cutting-edge look at how school teams- special educators, general educators and related support personnel-can effectively work together to provide a necessary range of services to students with special needs. As a result, teachers learn how to collaborate with school professionals and families to help special education students who are more often being placed in general education settings.
Table of Contents
The Fundamentals of Collaboration
Collaboration Concepts
Definition
Defining Characteristics for Collaboration
Emergent Characteristics
The Dilemmas of Collaboration
Collaboration in a Contemporary Context
Societal Trends
School Collaboration
Special Education Collaboration
A Framework for Learning about Collaboration
Summary
A Case for Collaboration
Collaborative Activities
Interpersonal Problem Solving
A Context for Interpersonal Problem Solving
Reactive and Proactive Problem Solving
Deciding Whether to Problem Solve
Steps in Interpersonal Problem Solving
Identifying the Problem
Generating Potential Solutions
Evaluating Potential Solutions
Selecting the Solution
Implementing the Solution
Evaluating the Outcome
Putting the Problem-Solving Pieces Together
Summary
A Case for Collaboration
Collaborative Activities
Teams
Team Concepts
Characteristics of Teams
Developmental Stages for Teams
Rationale for and Benefits of Teams
Team Models
Disciplinary Relationships on Teams
Types of Student-Centered Teams
Effectiveness of Teams
The Team's Goals Are Clear
Members' Needs Are Met
Members Have Individual Accountability
Group Processes Maintain the Team
Team Members Have Leadership Skills
Conducting Meetings
Prior to the Meeting
During the Meeting
After the Meeting
Collaboration and Teams
S ummary
A Case for Collaboration
Collaborative Activities
Consultation
Consultation Concepts
Characteristics of Consultation
Rationale for and Benefits of Consultation
Consultation Models
Behavioral Consultation
Clinical Consultation
Choosing and Using Consultation Models
Consultation and Collaboration
The Consulting Relationship
Issues in Consultation as Collaborative Service Delivery
Summary
A Case for Collaboration
Collaborative Activities
Co-Teaching
Co-Teaching Concepts
Defining Characteristics of Co-Teaching
Rationale for Co-Teaching
Co-Teaching Approaches
One Teaching, One Observing
Station Teaching
Parallel Teaching
Alternative Teaching
Teaming
One Teaching, One Assisting
Co-Teaching and Collaboration
The Co-Teaching Relationship
Maintaining Collaborative Relationships in Co-Teaching
Administrative and Pragmatic Matters Related to Co-Teaching
Use of Planning Time
Summary
A Case for Collaboration
Collaborative Activities
Paraeducators
Paraeducators in Public Schools
Paraeducator Qualifications
The Prevalence of Paraeducators
Paraeducator Roles and Responsibilities
Instructional Responsibilities
Noninstructional Responsibilities
Ethical Considerations
Paraeducators Supplement Instruction
Parent Communication and Input
The Problem of Proximity
Working with Paraeducators
Training Paraeducators
Planning with Paraeducators
Assigning Responsibilities to Paraeducators
Communicating with Paraeducators
Supervising Paraeducators
Paraeducators and Collaboration
Summary
A Case for Collaboration
Collaborative Activities
Practical Matters
Time for Planning
Options for Creating Shared Planning Time
Scheduling and Coordinating Services
Establishing Schedules in a Collaborative School
Coordinating Services for Collaboration
Roles and Role Responsibilities
School as a Professional Workplace
Role Management
Stress and Stress Management
Dealing with Stress
Professional Development
Types of Professional Development
Participant Involvement
Design and Delivery
Collaboration Embedded in Shared Improvement Planning
Shared Leadership
Leadership and Teacher Teams
Parent Involvement
Summary
A Case for Collaboration
Collaborative Activities
Families
Understanding Families
Family Systems Theory
Family Life Cycles
Cultural Influences
Unique Factors and Barriers to Collaboration
Facilitating Family Participation in Decision Making
Providing Information to Families
Assisting Families to Participate in Student-Centered Meetings
Summary
A Case for Collaboration
Collaborative Activities
Interpersonal Communication
The Process of Communication
A Model of Communication
Concepts Reflected in the Communication Process
Communication Types
Prerequisites to Effective Interactions
Frame of Reference
Communication Skills
Listening
Nonverbal Communication
Developing Effective Communication Skills
Principles for Effective Interpersonal
Communication
Suggestions for Improving Your Communication
Skills
Summary
A Case for Collaboration
Collaborative Activities
Appendix: A Cultural Self-Awareness Journey
Using Statements
Purposes of Statements
Statements That Provide Information
Statements That Seek Information
Statements That Confirm or Clarify Information
Giving Verbal Feedback
Characteristics of Effective Interpersonal Feedback
Guidelines for Giving Effective Feedback
Summary
A Case for Collaboration
Collaborative Activities
For Further Reading
Asking Questions
Purposes of Questions
Questions That Seek Information
Questions That Provide Information
Questions That Clarify or Confirm Information
Characteristics of Questions
Question Format
Degree of Concreteness
Suggestions for Effectively Asking Questions
Use Pauses Effectively
Monitor Question-Asking Interactions
Attend to the Cultural Context
Make Questions Meaningful
Conducting Interviews
Prior to the Interview
During the Interview
After the Interview
Final Thoughts on Interviewing
Summary
A Case for Collaboration
Collaborative Activities
Difficult Interactions
Understanding Conflict
Causes of Conflict
The Influence of Organizational Variables
School Administration and Organization
Conflict Response Styles
Resolving Conflict through Negotiation
Resolving Conflict through Mediation
Conflict and Diversity
Understanding Resistance
Causes of Resistance
Indicators of Resistance
Assessing Whether to Address Resistance
Persuasion as a Strategy for Responding to Resistance
Putting the Pieces Together
Summary
A Case for Collaboration
Collaborative Activities and Assignments
Appendix: Conflict Management Style Survey
Perspectives and Issues
Role-Specific Considerations in Collaboration
Working with Administrators
Working with General Education Teachers
Working with Professionals from Other Disciplines
Context Considerations for Collaboration
Interagency Contexts
Early Intervention and Preschool Settings
Vocational and Community-Based Services
Multicultural Contexts
Technology Based Contexts
Student-to-Student Collaboration
Ethics in Collaborative Practice
Common Ethical Issues
Responding to Ethical Issues
Summary
A Case for Collaboration
Collaborative Activities
Table of Contents provided by Publisher. All Rights Reserved.