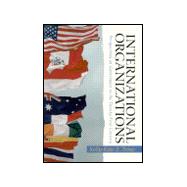 International Organizations : Perspectives on Governance in the Twenty-First Century
by
Pease, Kelly-Kate S.
List Price: $54.00

More New and Used
from Private Sellers
Related Products
Summary
For undergraduate and graduate courses in International Organizations, United Nations and International Relations Theory. This text not only provides a nuts and bolts overview of International Organizations, but it examines the principles and policies of international organizations from the paradigmatic views of Liberalism, Realism, Marxism and Feminism. Using actual case studies, it challenges students to critically compare and contrast their own views against widely held and competing world views.
Table of Contents
Preface
xi
1
(17)

| | |
| --- | --- |
| | Prior Studies of International Organizations: An Overview |

2
(3)
5
(13)
6
(1)
7
(2)
9
(1)
10
(2)
12
(6)

| | |
| --- | --- |
| | International Organizations: Nuts and Bolts |

18
(19)

| | |
| --- | --- |
| | Intergovernmental Organizations |

18
(13)
18
(2)
20
(4)

| | |
| --- | --- |
| | The Principles of the United Nations |

24
(1)
25
(3)
28
(1)
29
(2)

| | |
| --- | --- |
| | Nongovernmental Organizations |

31
(2)

| | |
| --- | --- |
| | Multinational Corporations |

33
(2)
35
(2)
37
(33)
37
(17)

| | |
| --- | --- |
| | Philosophic Roots of Realism |

38
(4)
42
(3)

| | |
| --- | --- |
| | Realism and the Nature of International Organizations |

45
(4)
49
(2)

| | |
| --- | --- |
| | Realism and the Role of International Organizations |

51
(1)

| | |
| --- | --- |
| | Criticisms of the Realist Approach |

52
(2)
54
(16)

| | |
| --- | --- |
| | Philosophic Roots of Liberalism |

56
(3)
59
(2)

| | |
| --- | --- |
| | Liberalism and the Nature of International Organizations |

61
(2)

| | |
| --- | --- |
| | Liberalism and the Role of International Organizations |

63
(4)

| | |
| --- | --- |
| | Liberalism and Its Critics |

67
(3)
70
(29)
70
(16)

| | |
| --- | --- |
| | Philosophic Roots of Marxism |

71
(5)
76
(3)

| | |
| --- | --- |
| | Marxism and the Nature of International Organizations |

79
(2)

| | |
| --- | --- |
| | Marxism and the Role of International Organizations |

81
(4)
85
(1)
86
(13)
87
(3)
90
(3)

| | |
| --- | --- |
| | Feminism and Theories of International Organizations |

93
(3)

| | |
| --- | --- |
| | Gendering International Organizations |

96
(3)
99
(24)
100
(7)
101
(3)
104
(1)
105
(1)
106
(1)

| | |
| --- | --- |
| | Case Study 1: The Persian Gulf Crisis |

107
(12)
108
(4)
112
(2)
114
(3)
117
(2)

| | |
| --- | --- |
| | The Security Council after the Gulf War |

119
(2)
121
(2)
123
(18)

| | |
| --- | --- |
| | Post--World War II Security Alliances |

123
(1)

| | |
| --- | --- |
| | NATO: History, Membership, and Structure |

124
(7)

| | |
| --- | --- |
| | Case Study 2: NATO Expansion |

131
(8)
131
(3)
134
(1)
135
(2)
137
(2)
139
(2)
141
(17)

| | |
| --- | --- |
| | The History of International Trade |

141
(4)

| | |
| --- | --- |
| | The World Trade Organization (WTO) |

145
(3)

| | |
| --- | --- |
| | Multinational Corporations (MNCs) |

148
(2)

| | |
| --- | --- |
| | Case Study 3: The U. S. Clean Air Act |

150
(5)
151
(1)
152
(1)
153
(1)
154
(1)
155
(3)
158
(25)
158
(2)
160
(2)
162
(3)

| | |
| --- | --- |
| | The International Monetary Fund (IMF) |

165
(2)

| | |
| --- | --- |
| | The UN Conference on Trade and Development (UNCTAD) |

167
(3)

| | |
| --- | --- |
| | The UN Development Program (UNDP) |

170
(1)

| | |
| --- | --- |
| | Case Study 4: The Mexican Peso Crisis |

171
(10)
172
(2)
174
(3)
177
(2)
179
(2)
181
(1)
182
(1)
183
(22)

| | |
| --- | --- |
| | The Tragedy of the Commons |

183
(3)
186
(2)

| | |
| --- | --- |
| | The Stockholm Conference (1972) |

188
(1)

| | |
| --- | --- |
| | The UN Conference on the Law of the Sea (UNCLOS) |

189
(1)

| | |
| --- | --- |
| | Efforts to Protect Biodiversity |

190
(1)

| | |
| --- | --- |
| | The Vienna Convention of the Protection of the Ozone and the Montreal Protocol (1985) |

191
(1)
192
(2)

| | |
| --- | --- |
| | Case Study 5: Global Warming |

194
(10)
196
(2)
198
(3)
201
(2)
203
(1)
204
(1)
205
(21)

| | |
| --- | --- |
| | Major Human Rights Agreements |

206
(2)

| | |
| --- | --- |
| | UN Agencies and Human Rights |

208
(2)

| | |
| --- | --- |
| | Regional Human Rights Accords and Agencies |

210
(1)
211
(1)

| | |
| --- | --- |
| | Humanitarian Intervention |

212
(4)

| | |
| --- | --- |
| | Case Study 6: The International Criminal Tribunal for the Former Yugoslavia |

216
(9)
219
(3)
222
(1)
223
(1)
224
(1)
225
(1)

| | |
| --- | --- |
| | Global Governance in 2075 |

226
(15)
226
(5)
231
(4)
235
(3)
238
(1)
239
(2)
Appendix A: Covenant of the League of Nations
241
(10)
Appendix B: Charter of the United Nations
251
(24)
Appendix C: Universal Declaration of Human Rights
275
(6)
Appendix D: Purposes of the International Monetary Fund
281
(2)
Bibliography
283
(12)
Index
295