Note: Supplemental materials are not guaranteed with Rental or Used book purchases.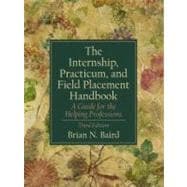 Internship, Practicum, and Field Placement Handbook, The: A Guide for the Helping Professions
ISBN13:
9780130330253
by
Baird, Brian N.
Summary
A core text/reference for Internships, Practicums, and Field Placements in Psychology, Social Work, Counseling, and related helping disciplines. Acknowledging, anticipating, and addressing the everyday questions, anxieties, fears, and concerns of interns, this practical handbook bridges the gap between academic coursework and the knowledge, skills, and emotional challenges that are found in the real world of the helping professions. Organized both chronologically and topically, the text begins with practical suggestions for how one finds an internship and concludes with how one terminates cases and looks ahead to career options.
Table of Contents
Preface
ix
Foreword
xi
1
(17)
1
(1)
2
(1)

| | |
| --- | --- |
| | Finding and Selecting a Placement |

2
(1)

| | |
| --- | --- |
| | Meeting with Your Instructor |

3
(1)

| | |
| --- | --- |
| | Peers and Campus Resources for Locating Internships |

3
(1)
4
(1)
4
(4)

| | |
| --- | --- |
| | Portfolios, Interviews, and Letters |

8
(2)
10
(1)
10
(1)
11
(1)

| | |
| --- | --- |
| | Making the Most of Your Internship |

12
(1)

| | |
| --- | --- |
| | Get Help When You Need It |

13
(1)
14
(1)

| | |
| --- | --- |
| | Introduction to Journal Work |

14
(2)
16
(2)
18
(11)
18
(1)

| | |
| --- | --- |
| | Enthusiasm Meets Experience |

19
(1)
20
(1)

| | |
| --- | --- |
| | The Role of the Professional |

20
(1)
21
(1)

| | |
| --- | --- |
| | Age and Experience Issues with Clients |

21
(1)
22
(1)
23
(1)
23
(1)
24
(1)

| | |
| --- | --- |
| | Clinical and Ethical Issues Pertaining to Fees |

25
(1)

| | |
| --- | --- |
| | Inoculation: What Not to Learn |

26
(1)
27
(2)
29
(26)

| | |
| --- | --- |
| | Ethical Guidelines of the Helping Professions |

29
(2)
31
(2)
33
(1)
34
(2)

| | |
| --- | --- |
| | Exceptions to Confidentiality |

36
(5)

| | |
| --- | --- |
| | Confidentiality with Minors |

41
(1)
42
(6)
48
(1)
49
(1)
50
(1)
50
(5)

| | |
| --- | --- |
| | Internship Classes and Peer Groups |

55
(8)

| | |
| --- | --- |
| | Forming Internship Peer Groups |

55
(1)

| | |
| --- | --- |
| | Models of Peer Group Learning |

55
(1)

| | |
| --- | --- |
| | Elements of Successful Classes and Groups |

56
(3)

| | |
| --- | --- |
| | Video or Audio Recordings of Sessions |

59
(1)
59
(2)

| | |
| --- | --- |
| | Ethics in Classes and Groups |

61
(1)
62
(1)
63
(21)
63
(2)
65
(1)

| | |
| --- | --- |
| | Frequency and Timing of Supervision |

65
(1)
66
(1)
67
(1)
67
(1)
68
(1)
69
(1)

| | |
| --- | --- |
| | Observing the Supervisor in Therapy |

70
(1)
70
(2)

| | |
| --- | --- |
| | Supervision and Therapy---Differences and Similarities |

72
(3)

| | |
| --- | --- |
| | Transference and Countertransference |

75
(1)

| | |
| --- | --- |
| | Suggested Guidelines for Therapy and Supervision |

76
(1)
77
(1)
78
(2)

| | |
| --- | --- |
| | Planning for Future Supervision |

80
(1)
81
(3)
84
(16)

| | |
| --- | --- |
| | Reasons for the Resistance to Diversity Training |

84
(3)

| | |
| --- | --- |
| | Steps toward Working with Differences |

87
(1)

| | |
| --- | --- |
| | Knowing the Diversity within Us |

87
(2)

| | |
| --- | --- |
| | Confronting Our Biases and Acknowledging Our Ignorance |

89
(1)

| | |
| --- | --- |
| | The Historical Context Must Be Acknowledged |

90
(1)

| | |
| --- | --- |
| | The Current Context Must Be Acknowledged |

91
(1)

| | |
| --- | --- |
| | Strengths Must Be Recognized along with Problems |

91
(1)

| | |
| --- | --- |
| | Ethnic Identity Development |

92
(1)

| | |
| --- | --- |
| | One's Own Prejudices and Biases Must Be Acknowledged |

93
(1)

| | |
| --- | --- |
| | A Model of ``White'' Identity Development |

93
(1)

| | |
| --- | --- |
| | Assumptions, Models, and Techniques of Treatment |

94
(1)

| | |
| --- | --- |
| | The Culturally Sensitive Counselor |

95
(1)

| | |
| --- | --- |
| | Culturally Sensitive Intervention Approaches |

96
(1)
97
(1)
98
(2)
100
(9)
100
(1)

| | |
| --- | --- |
| | Focusing Reading to Learn Writing |

101
(1)
101
(1)
102
(1)
102
(1)
103
(4)
107
(2)

| | |
| --- | --- |
| | Records and Progress Notes |

109
(12)

| | |
| --- | --- |
| | The Function and Maintenance of Records |

109
(1)
110
(1)

| | |
| --- | --- |
| | What Stays Out of Records |

111
(2)
113
(1)
114
(1)
114
(2)
116
(1)
117
(1)

| | |
| --- | --- |
| | Process or Progress Notes |

117
(1)
117
(1)
118
(1)

| | |
| --- | --- |
| | Progress Notes and Supervision |

118
(1)
119
(1)
119
(1)
120
(1)

| | |
| --- | --- |
| | Stress and the Helping Professions |

121
(13)

| | |
| --- | --- |
| | Client after Client, Day after Day |

122
(1)

| | |
| --- | --- |
| | Home Common Is Stress among Helping Professionals? |

122
(1)
123
(2)
125
(3)
128
(4)
132
(2)
134
(12)
134
(2)
136
(1)
136
(3)
139
(2)
141
(1)
142
(1)
142
(1)
143
(1)

| | |
| --- | --- |
| | Positive Effects on Therapists |

144
(1)
144
(1)
145
(1)
146
(12)
147
(1)
147
(1)

| | |
| --- | --- |
| | Strange Behavior and Strange People Are Not Necessarily Dangerous |

148
(1)

| | |
| --- | --- |
| | Understand Developmental Differences |

148
(1)

| | |
| --- | --- |
| | Understand and Recognize Motivational Factors |

148
(1)

| | |
| --- | --- |
| | Situational Factors and Violence |

149
(2)

| | |
| --- | --- |
| | Recognize Potentially Dangerous Individuals |

151
(1)

| | |
| --- | --- |
| | Early Prevention of Violence |

152
(1)

| | |
| --- | --- |
| | Institutional Responses to Threats of Violence |

153
(1)

| | |
| --- | --- |
| | Prevention of Imminent Violence with Clients |

153
(1)
154
(1)

| | |
| --- | --- |
| | Assault Response Training |

155
(1)
156
(1)
156
(2)
158
(9)

| | |
| --- | --- |
| | Client and Intern Response to Termination |

158
(2)

| | |
| --- | --- |
| | Common Problems in Termination |

160
(1)

| | |
| --- | --- |
| | Toward Successful Termination or Transfer |

160
(3)

| | |
| --- | --- |
| | Issues to Address in Termination |

163
(1)

| | |
| --- | --- |
| | Techniques for Termination |

163
(1)

| | |
| --- | --- |
| | Transferring Clients to Other Therapists |

164
(2)
166
(1)
167
(6)

| | |
| --- | --- |
| | Concluding the Supervisory Relationship |

167
(2)

| | |
| --- | --- |
| | Letters of Recommendation |

169
(1)

| | |
| --- | --- |
| | Procedures for Those Seeking Letters of Recommendation |

170
(1)

| | |
| --- | --- |
| | Concluding Relationships with Staff |

170
(1)
171
(1)
171
(1)

| | |
| --- | --- |
| | Professional and Political Involvement |

172
(1)
172
(1)

| | |
| --- | --- |
| | Frustrations, Lessons, Discoveries, and Joy |

173
(6)

| | |
| --- | --- |
| | Learning from Whatever Happens |

173
(1)

| | |
| --- | --- |
| | Lessons We Wish Were Not True |

173
(2)

| | |
| --- | --- |
| | Lessons about the Lessons |

175
(1)
175
(1)
176
(3)
APPENDIX A: INTERNSHIP SELECTION CHECKLIST
179
(4)
APPENDIX B: PLACEMENT INFORMATION FORM
183
(2)
APPENDIX C: INTERNSHIP LEARNING AGREEMENT RECORD FORM
185
(2)
APPENDIX D: INTERN EVALUATION: SUPERVISOR FORM
187
(4)
APPENDIX E: INTERN EVALUATION: INTERN FORM
191
(4)
APPENDIX F: EMERGENCY CONTACT AND PROCEDURES INFORMATION
195
(2)
APPENDIX G: ETHICAL GUIDELINES
197
(2)
APPENDIX H: TREATMENT AGREEMENT AND INFORMED CONSENT
199
(2)
APPENDIX I: SUPERVISOR EVALUATION FORM
201
(4)
APPENDIX J: CLINICAL ACTIVITIES RECORD SHEET
205
(2)
INDEXES
207
207
210