Note: Supplemental materials are not guaranteed with Rental or Used book purchases.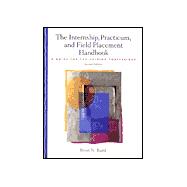 The Internship, Practicum, and Field Placement Handbook: A Guide for the Helping Professions
ISBN13:
9780139239625
by
Baird, Brian N.
Summary
A unique core text/reference for Internships, Practicums, and Field Placements in Psychology, Social Work, Counseling, and related helping disciplines. Acknowledging, anticipating, and addressing the everyday questions, anxieties, fears, and concerns of interns, this practical handbook bridges the gap between academic coursework and the knowledge, skills, and emotional challenges that are found in the real world of the helping professions. Organized both chronologically and topically, the text begins with practical suggestions for how one finds an internship and concludes with how one terminates cases and looks ahead to career options. Along the way students learn about ethics, diversity, supervision, clinical writing, liability issues, dangerousness, stress, self-care and other essential but often overlooked topics. It draws upon the latest research and information from psychology, psychiatry, social work, counseling, and other helping professions as well as extensive personal experience and includes exercises for self-exploration and discussion along with easily-removed forms for evaluations, critical information, ethics and other essential tasks.
Table of Contents
PREFACE
xi
(2)
FOREWORD BY BRUCE E. BENNETT, PH.D.
xiii
1
(16)
1
(1)
2
(1)

| | |
| --- | --- |
| | Field Placements, Practicums, or Internships? |

2
(1)

| | |
| --- | --- |
| | Therapy, Counseling, and Treatment |

2
(1)

| | |
| --- | --- |
| | Supervisors and Instructors |

2
(1)

| | |
| --- | --- |
| | Finding and Selecting a Placement |

2
(1)

| | |
| --- | --- |
| | Meeting with Your Instructor |

3
(1)

| | |
| --- | --- |
| | Peers and Campus Resources for Locating Internships |

3
(1)
3
(1)
4
(4)
4
(1)
5
(1)
6
(1)
6
(1)
6
(1)
6
(1)

| | |
| --- | --- |
| | Practical Issues: Location and Times |

7
(1)
7
(1)
7
(1)

| | |
| --- | --- |
| | Portfolios, Interviews, and Letters |

8
(1)
8
(1)
8
(1)
9
(1)

| | |
| --- | --- |
| | Letters of Application and Recommendation |

9
(1)
9
(2)
9
(2)

| | |
| --- | --- |
| | Individual Internship Agreements |

11
(1)
11
(1)

| | |
| --- | --- |
| | Making the Most of Your Internship |

11
(2)

| | |
| --- | --- |
| | Academia Meets the "Real World," |

11
(1)

| | |
| --- | --- |
| | Remember You Are a Student |

12
(1)

| | |
| --- | --- |
| | Make the Most of Ignorance |

12
(1)

| | |
| --- | --- |
| | Work Near Your "Learning Edge," |

12
(1)

| | |
| --- | --- |
| | Remember That You Do Know Some Things |

12
(1)
12
(1)

| | |
| --- | --- |
| | Get Help When You Need It |

13
(1)
13
(1)
13
(1)

| | |
| --- | --- |
| | Reading as Active Interaction |

13
(1)
13
(1)

| | |
| --- | --- |
| | Introduction to Journal Work |

14
(1)

| | |
| --- | --- |
| | A Record of Experiences, Reactions, and Thoughts |

14
(1)

| | |
| --- | --- |
| | Reflection and Exploration |

14
(1)

| | |
| --- | --- |
| | Noting Questions, Ideas, and Discoveries |

15
(1)
15
(1)
15
(1)
15
(2)

| | |
| --- | --- |
| | CHAPTER 2: GETTING STARTED |

17
(10)
17
(1)

| | |
| --- | --- |
| | Enthusiasm Meets Experience |

18
(1)
18
(1)
18
(1)

| | |
| --- | --- |
| | The Role of the Professional |

19
(1)
19
(1)
19
(1)

| | |
| --- | --- |
| | Age and Experience Issues with Clients |

20
(1)
21
(1)
22
(1)
22
(1)
23
(1)

| | |
| --- | --- |
| | Clinical and Ethical Issues Pertaining to Fees |

24
(1)

| | |
| --- | --- |
| | Inoculation: What Not to Learn |

24
(1)
25
(2)

| | |
| --- | --- |
| | CHAPTER 3: ETHICAL AND LEGAL ISSUES |

27
(24)

| | |
| --- | --- |
| | Ethical Guidelines of the Helping Professions |

27
(2)

| | |
| --- | --- |
| | Specific Ethical Guidelines |

28
(1)

| | |
| --- | --- |
| | Enforcement of Ethical Standards |

28
(1)
28
(1)

| | |
| --- | --- |
| | Ethical Agreement Forms for Interns |

28
(1)

| | |
| --- | --- |
| | Ongoing Ethics Study and Training |

28
(1)
29
(1)
29
(2)
30
(1)
31
(1)
31
(1)
32
(2)
32
(1)
33
(1)

| | |
| --- | --- |
| | Sharing Information with Colleagues |

33
(1)

| | |
| --- | --- |
| | Inadvertent Confidentiality Violations |

34
(1)

| | |
| --- | --- |
| | Effects of Confidentiality Violations |

34
(1)

| | |
| --- | --- |
| | Exceptions to Confidentiality |

34
(5)
35
(1)
36
(1)
36
(1)
37
(1)

| | |
| --- | --- |
| | Intent to Harm Others (Tarasoff Situations) |

37
(1)

| | |
| --- | --- |
| | Legal Proceedings and Court Orders |

37
(1)

| | |
| --- | --- |
| | Insurance Company Inquiries |

38
(1)

| | |
| --- | --- |
| | Confidentiality with Minors |

39
(1)
40
(5)

| | |
| --- | --- |
| | Sexual Relationships with Clients |

40
(2)

| | |
| --- | --- |
| | Maintaining Professional Boundaries and Dealing with Feelings of Attraction |

42
(1)

| | |
| --- | --- |
| | Nonsexual Dual Relationships |

43
(1)

| | |
| --- | --- |
| | Posttherapy Relationships |

43
(1)

| | |
| --- | --- |
| | Relationships between Educators, Supervisors, and Trainees |

44
(1)
45
(1)
45
(1)
45
(1)
46
(1)
46
(5)

| | |
| --- | --- |
| | CHAPTER 4: INTERNSHIP CLASSES AND PEER GROUPS |

51
(8)

| | |
| --- | --- |
| | Forming Internship Peer Groups |

51
(1)

| | |
| --- | --- |
| | Models of Peer Group Learning |

51
(1)

| | |
| --- | --- |
| | Elements of Successful Classes and Groups |

52
(3)
53
(1)

| | |
| --- | --- |
| | Offering Feedback to Peers |

53
(1)

| | |
| --- | --- |
| | The Importance of Empathy |

54
(1)
54
(1)

| | |
| --- | --- |
| | Acknowledging Imperfection |

54
(1)

| | |
| --- | --- |
| | Video or Audio Recordings of Sessions |

55
(1)
55
(1)
55
(2)

| | |
| --- | --- |
| | Ethics in Classes and Groups |

57
(1)
58
(1)
59
(20)
59
(2)

| | |
| --- | --- |
| | Hopes and Fears of Supervisors |

60
(1)
61
(1)
61
(1)

| | |
| --- | --- |
| | Frequency and Timing of Supervision |

61
(1)
62
(1)

| | |
| --- | --- |
| | How Supervisors Determine What to Do |

62
(1)
62
(1)
63
(1)
63
(1)

| | |
| --- | --- |
| | Empathy and Experiential Considerations |

63
(1)
64
(1)
65
(1)

| | |
| --- | --- |
| | Observing the Supervisor in Therapy |

65
(1)
66
(1)
66
(1)

| | |
| --- | --- |
| | Supervision and Therapy--Differences and Similarities |

67
(2)

| | |
| --- | --- |
| | Differences between Therapy and Supervision |

67
(1)

| | |
| --- | --- |
| | Exploring the Needs and Personal Qualities of Interns |

68
(1)
69
(1)

| | |
| --- | --- |
| | Resistance to Self-Awareness and Change |

69
(2)
71
(1)

| | |
| --- | --- |
| | Transference and Countertransference |

71
(1)
71
(1)

| | |
| --- | --- |
| | Suggested Guidelines for Therapy and Supervision |

71
(1)
72
(1)
72
(2)

| | |
| --- | --- |
| | Frequency and Resolution of Conflicts |

72
(1)

| | |
| --- | --- |
| | Guidelines for Dealing with Conflict |

73
(1)
74
(2)

| | |
| --- | --- |
| | Principles of Evaluations |

74
(1)

| | |
| --- | --- |
| | Evaluation of Supervisors |

75
(1)

| | |
| --- | --- |
| | Planning for Future Supervision |

76
(1)
76
(3)

| | |
| --- | --- |
| | CHAPTER 6: WORKING WITH DIVERSITY |

79
(16)

| | |
| --- | --- |
| | Reasons for and Resistance to Diversity Training |

79
(3)
80
(1)

| | |
| --- | --- |
| | A Reformulation of Diversity |

81
(1)

| | |
| --- | --- |
| | Steps toward Working with Differences |

82
(1)

| | |
| --- | --- |
| | Knowing the Diversity within Us |

82
(2)
82
(1)

| | |
| --- | --- |
| | Exercise: Knowing Yourself in Relation to Diversity |

83
(1)

| | |
| --- | --- |
| | Confronting Our Biases and Acknowledging Our Ignorance |

84
(1)

| | |
| --- | --- |
| | Exercise: Knowing What You Know and Don't Know about Others |

84
(1)

| | |
| --- | --- |
| | The Historical Context Must Be Acknowledged |

85
(1)

| | |
| --- | --- |
| | References to Multicultural History |

85
(1)
85
(1)

| | |
| --- | --- |
| | The Current Context Must Be Acknowledged |

86
(1)

| | |
| --- | --- |
| | Strengths Must Be Recognized along with Problems |

86
(1)

| | |
| --- | --- |
| | Ethnic Identity Development |

86
(1)

| | |
| --- | --- |
| | One's Own Prejudices and Biases Must Be Acknowledged |

87
(1)

| | |
| --- | --- |
| | A Model of "White" Identity Development |

88
(1)

| | |
| --- | --- |
| | Exercise: Personal Cultural Identity |

89
(1)

| | |
| --- | --- |
| | Assumptions, Models, and Techniques of Treatment |

89
(1)
90
(1)

| | |
| --- | --- |
| | The Culturally Sensitive Counselor |

90
(1)

| | |
| --- | --- |
| | Culturally Sensitive Intervention Approaches |

91
(1)

| | |
| --- | --- |
| | Culture-Specific Counseling |

91
(1)

| | |
| --- | --- |
| | Exercise: Exploring Culture-Specific Strategies |

91
(1)
92
(1)

| | |
| --- | --- |
| | Special Issues of Journals |

92
(1)
92
(1)
92
(3)

| | |
| --- | --- |
| | CHAPTER 7: CLINICAL WRITING |

95
(9)
95
(1)

| | |
| --- | --- |
| | Focusing Reading to Learn Writing |

95
(1)
96
(1)
96
(1)
97
(1)
97
(1)

| | |
| --- | --- |
| | Caution: Tastes, Supervisors, and Instructors Vary |

98
(1)
98
(4)

| | |
| --- | --- |
| | Simplify Your Writing but Not Your Clients |

98
(1)
99
(1)
100
(1)
100
(1)
101
(1)
102
(1)
102
(1)
102
(2)

| | |
| --- | --- |
| | CHAPTER 8: RECORDS AND PROGRESS NOTES |

104
(12)

| | |
| --- | --- |
| | The Function and Maintenance of Records |

104
(1)
105
(1)
105
(1)

| | |
| --- | --- |
| | What Stays Out of Records |

106
(2)
106
(1)
107
(1)
108
(1)
108
(1)

| | |
| --- | --- |
| | The Purpose of Progress Notes |

108
(1)
108
(1)
109
(1)
109
(1)
109
(1)
109
(2)
109
(1)
110
(1)
110
(1)
110
(1)
111
(1)
111
(1)
111
(1)
111
(1)

| | |
| --- | --- |
| | Process or Progress Notes |

112
(1)
112
(1)
113
(1)
113
(1)

| | |
| --- | --- |
| | Progress Notes and Supervision |

113
(1)
113
(1)
114
(1)
115
(1)

| | |
| --- | --- |
| | CHAPTER 9: STRESS AND THE HELPING PROFESSIONS |

116
(13)
116
(1)

| | |
| --- | --- |
| | Client after Client, Day after Day |

117
(1)

| | |
| --- | --- |
| | How Common Is Stress among Helping Professionals? |

117
(1)
118
(1)
118
(1)
119
(1)
119
(1)
119
(1)
119
(3)
120
(1)

| | |
| --- | --- |
| | The Effects on Social Relationships |

120
(1)
121
(1)

| | |
| --- | --- |
| | The Effects on Close Relationships and Families |

122
(1)
122
(1)
122
(4)
123
(1)
123
(1)
123
(1)
124
(1)
124
(1)
124
(1)
125
(1)

| | |
| --- | --- |
| | Recognizing and Understanding Your Own Situation and Burnout |

125
(1)

| | |
| --- | --- |
| | Personal and Environmental Burnout Proneness or Prevention |

126
(1)
126
(1)

| | |
| --- | --- |
| | Burnout as a Coping Mechanism |

126
(1)
126
(3)
129
(12)
129
(1)

| | |
| --- | --- |
| | Exercise: Tracking Where Time Goes |

129
(1)
130
(1)
130
(1)

| | |
| --- | --- |
| | Exercise: Setting Priorities |

130
(1)
130
(1)
131
(3)
131
(1)
132
(1)
132
(1)

| | |
| --- | --- |
| | Cognitions about the World |

133
(1)

| | |
| --- | --- |
| | Exercise: Cognitions Review |

134
(1)
134
(2)
134
(1)
134
(1)

| | |
| --- | --- |
| | Monitoring Stresses in the Body |

135
(1)

| | |
| --- | --- |
| | Healthy Eating and Habits |

135
(1)

| | |
| --- | --- |
| | Exercise: Personal Physical Health-Care Review |

136
(1)
136
(1)
136
(1)
136
(1)
137
(1)
137
(1)

| | |
| --- | --- |
| | Exercise: Emotional Coping |

137
(1)
137
(1)
138
(1)

| | |
| --- | --- |
| | Positive Effects on Therapists |

138
(1)

| | |
| --- | --- |
| | Exercise: Positive Effects of Clinical Work |

138
(1)
139
(1)
140
(1)

| | |
| --- | --- |
| | CHAPTER 11: ASSAULT AND OTHER RISKS |

141
(12)
142
(1)
142
(1)

| | |
| --- | --- |
| | Strange Behavior and Strange People Are Not Necessarily Dangerous |

143
(1)

| | |
| --- | --- |
| | Understand Developmental Differences |

143
(1)
143
(1)

| | |
| --- | --- |
| | Understand and Recognize Motivational Factors |

143
(1)

| | |
| --- | --- |
| | Situational Factors and Violence |

144
(2)

| | |
| --- | --- |
| | Similarities to Past Situations |

144
(1)
145
(1)

| | |
| --- | --- |
| | Controlled Substances and Medications |

145
(1)
145
(1)
146
(1)

| | |
| --- | --- |
| | Recognize Potentially Dangerous Individuals |

146
(1)

| | |
| --- | --- |
| | Early Prevention of Violence |

147
(1)

| | |
| --- | --- |
| | Institutional Responses to Threats of Violence |

148
(1)

| | |
| --- | --- |
| | Prevention of Imminent Violence with Clients |

148
(1)
149
(1)
149
(1)
149
(1)
149
(1)

| | |
| --- | --- |
| | Dangerous and Defensive Implements |

150
(1)

| | |
| --- | --- |
| | Assault Response Training |

150
(1)
150
(1)
151
(2)

| | |
| --- | --- |
| | CHAPTER 12: CLOSING CASES |

153
(9)

| | |
| --- | --- |
| | Client and Intern Response to Termination |

153
(2)

| | |
| --- | --- |
| | Understanding Client Reactions to Early Termination |

153
(1)
154
(1)

| | |
| --- | --- |
| | Understanding Intern Reactions to Termination |

154
(1)
154
(1)

| | |
| --- | --- |
| | Common Problems in Termination |

155
(1)

| | |
| --- | --- |
| | Toward Successful Termination or Transfer |

155
(3)

| | |
| --- | --- |
| | Challenges to Assumptions about Termination as Crisis |

155
(1)
156
(1)

| | |
| --- | --- |
| | Working with Supervisors to Prepare for Termination |

156
(1)
157
(1)

| | |
| --- | --- |
| | When and How to Notify Clients |

157
(1)

| | |
| --- | --- |
| | Issues to Address in Termination |

158
(1)

| | |
| --- | --- |
| | Techniques for Termination |

158
(1)
159
(1)

| | |
| --- | --- |
| | Transferring Clients to Other Therapists |

159
(2)

| | |
| --- | --- |
| | Toward Effective Transfers |

160
(1)
161
(1)

| | |
| --- | --- |
| | CHAPTER 13: FINISHING THE INTERNSHIP |

162
(6)

| | |
| --- | --- |
| | Concluding the Supervisory Relationship |

162
(2)

| | |
| --- | --- |
| | Ensuring Therapeutic Termination with Clients |

162
(1)
162
(1)

| | |
| --- | --- |
| | Reviewing the Intern's Progress and Areas for Further Growth |

163
(1)
163
(1)
163
(1)

| | |
| --- | --- |
| | Ending the Supervisory Relationship |

163
(1)

| | |
| --- | --- |
| | Letters of Recommendation |

164
(1)
164
(1)

| | |
| --- | --- |
| | Guidelines for Soliciting Letters |

165
(1)

| | |
| --- | --- |
| | Procedures for Those Seeking Letters of Recommendation |

165
(1)

| | |
| --- | --- |
| | Concluding Relationships with Staff |

165
(1)
166
(1)
166
(1)

| | |
| --- | --- |
| | Professional and Political Involvement |

167
(1)
167
(1)

| | |
| --- | --- |
| | CHAPTER 14: FRUSTRATIONS, LESSONS, DISCOVERIES, AND JOY |

168
(5)

| | |
| --- | --- |
| | Learning from Whatever Happens |

168
(1)
168
(1)

| | |
| --- | --- |
| | Lessons We Wish Were Not True |

168
(2)

| | |
| --- | --- |
| | The People in the Profession |

168
(1)

| | |
| --- | --- |
| | The Systems in Which We Work |

169
(1)

| | |
| --- | --- |
| | The Clients with Whom We Work |

169
(1)

| | |
| --- | --- |
| | The Nature of the Problems |

169
(1)

| | |
| --- | --- |
| | The Limits to Our Knowledge and Tools |

170
(1)
170
(1)

| | |
| --- | --- |
| | Lessons about the Lessons |

170
(1)
170
(1)
170
(1)

| | |
| --- | --- |
| | The Systems in Which We Work |

171
(1)

| | |
| --- | --- |
| | The Clients with Whom We Work |

171
(1)

| | |
| --- | --- |
| | The Nature of the Problems |

171
(1)

| | |
| --- | --- |
| | The Limits to Our Knowledge and Tools |

171
(1)
171
(1)
171
(2)
APPENDIX A: INTERNSHIP SELECTION CHECKLIST
173
(4)
APPENDIX B: PLACEMENT INFORMATION FORM
177
(2)
APPENDIX C: INTERNSHIP LEARNING AGREEMENT RECORD FORM
179
(2)
APPENDIX D: INTERN EVALUATION: SUPERVISOR FORM
181
(5)
APPENDIX E: INTERN EVALUATION: INTERN FORM
186
(5)
APPENDIX F: EMERGENCY CONTACT AND PROCEDURES INFORMATION
191
(2)
APPENDIX G: ETHICAL GUIDELINES
193
(2)
APPENDIX H: TREATMENT AGREEMENT AND INFORMED CONSENT
195
(3)
APPENDIX I: SUPERVISOR EVALUATION FORM
198
(5)
INDEXES
203
Author Index
203
(4)
Subject Index
207