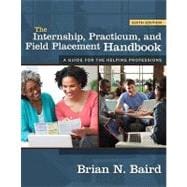 Questions About This Book?
What version or edition is this?
This is the 6th edition with a publication date of 7/1/2010.
What is included with this book?
The Used copy of this book is not guaranteed to include any supplemental materials. Typically, only the book itself is included.
Summary
A practical guide to the "real world" knowledge and skills that students need when they begin working in the field of mental health. The book guides interns through every phase of the internship process from finding placements to concluding relationships with clients and supervisors. Along the way students learn about ethics, clinical writing and record keeping, working with peers and supervisors, understanding diversity, self care and safety, and how to be successful in meeting the challenges and opportunities of the internship or field placement setting. Following an evidence and competency based approach, the latest research findings are reviewed from the fields of psychology, social work and counseling. Throughout the book are hands on practical exercises plus examples and illustrations to keep the material relevant and "user friendly" to students.
Author Biography
Brian Baird Ph.D. has more than 23 years of clinical experience including work in psychiatric hospitals, group homes, juvenile detention facilities, brain injury rehabilitation and cancer clinics. A Phi Beta Kappa graduate of University of Utah, Dr. Baird received his masters and doctorate degree in clinical psychology from the University of Wyoming. In addition to his clinical background, Dr. Baird chaired the Psychology Dept at Pacifiic Lutheran University where he also taught and supervised interns for many years. Additional courses taught included abnormal psychology, theories of personality, and graduate level assessment and psychotherapy classes. For the past 12 years, Dr. Baird has served as a Member of the United States House of Representatives, representing the 3rd Congressional District of Washington State. In Congress, Dr. Baird chairs the Energy and Environment subcommittee of the House Committee on Science and Technology. He also serves on the Transportation and Infrastructure committee and was previously a member of the House Committee on the Budget.
Table of Contents
Preface
Chapter 1: Preparation
Theory into Practice
Terminology
Meeting with Your Instructor
Finding and Selecting a Placement
Peers and Campus Resources for Locating Internships
Community Resources
Choosing a Placement
The Rights of Applicants and Character Requirements for Interns
Internship Agreements
Evaluation
Using This Book
References
Chapter 2: Getting Started
First Impressions
Enthusiasm Meets Experience
The Role of the Intern
The Role of the Professional
Meeting Clients
Age and Experience Issues with Clients and Supervisors
Time Limits
Fees for Service
Altruism versus Money
Is Treatment Effective?
Clinical and Ethical Issues Pertaining to Fees
Inoculation: What Not to Learn
Internship Classes And Peer Groups
Forming Internship Peer Groups
Models of Peer Group Learning
Elements of Successful Classes and Groups
Video or Audio Recordings of Sessions
Role Plays
Introduction to Journal Work
References
Chapter 3: Ethical And Legal Issues
Ethical Guidelines of the Helping Professions
Competence
Informed Consent
Confidentiality
Exceptions to Confidentiality
Insurance Company Inquiries, Managed Care, and Ethical Practice
Confidentiality with Minors
Dual Relationships and Boundary Issues
Ethics in Classes and Groups
Liability and Insurance
Technology and Ethics
Research Ethics
Summary
References
Chapter 4: Supervision
What is Supervision?
Hopes and Fears of Interns,
Hopes and Fears of Supervisors
Clarifying Expectations
Frequency and Timing of Supervision
Content of Supervision
Didactic Supervision
Case Notes and Discussions
Tapes and Role-Plays
Live Supervision
Observing the Supervisor in Therapy
Remote Supervision—Internet, Telephone, and Other Technologies
Theoretical Orientation
Supervision and Therapy: Differences and Similarities
Transference and Countertransference
Suggested Guidelines for Therapy and Supervision
Conflict in Supervision
Evaluation
Planning for Future Supervision
References
Chapter 5: Working With Diversity
Reasons for Diversity Training
Resistance to Diversity Training
Steps Toward Working with Differences
Self-Awareness: Knowing the Diversity within Us
Confronting Our Biases and Acknowledging Our Ignorance
The Historical Context Must Be Acknowledged
The Current Context Must Be Acknowledged
Strengths Must Be Recognized along with Problems
Ethnic-Identity Development
Developing Culturally Sensitive and Relevant Skills
The Culturally Sensitive Counselor
Culturally Sensitive Intervention Approaches
Cultural and Organizational Change
Summary
References
Chapter 6: Clinical Writing, Treatment Records, And Case Notes
Writing Skills
Writing Can Be Learned
Focusing Reading to Learn Writing
Practice and Feedback
Rewriting
Common Writing Problems
Keys to Good Writing
The Function and Maintenance of Records
What Goes into Records
What Stays Out of Records
Progress Notes and Psychotherapy Notes
Standard Formats
Progress Notes
Standard Formats
SOAP Notes
Time-Sequenced Notes
Process or Progress Notes
Signing Notes
Dictation
Progress Notes and Supervision
Using Your Notes
Other Guidelines
References
Chapter 7: Stress And Self-Care
Client after Client, Day after Day
How Common Is Stress among Helping Professionals?
Sources of Stress
The Effects of Stress
Secondary Trauma
Burnout
Self-Care
Cognitive Self-Care
Physical Self-Care
Emotional Self-Care
Organizational Measures and Peer Support
Multimodal Self-Care
Personal Therapy
Positive Effects on Therapists
Financial Self-Care
References
Chapter 8: Assault And Other Risks
The Risks of Assault
Coping with Aggression
Strange Behavior and Strange People Are Not Necessarily Dangerous
Understand Developmental Differences
Understand and Recognize Motivational Factors
Situational Factors and Violence
Recognize Potentially Dangerous Individuals
Early Prevention of Violence
Institutional Responses to Threats of Violence
Prevention of Imminent Violence with Clients
Responding to Assault
Assault-Response Training
Aftereffects
Stalking
Summary
References
Chapter 9: Closing Cases
Ethical Considerations and Termination
Understanding Client Reactions to Early Termination
Understanding Intern Reactions to Early Termination
Common Problems in Termination
Toward Successful Termination or Transfer
Issues to Address in Termination
Techniques for Termination
Transferring Clients to Other Therapists
References
Chapter 10: Finishing The Internship
Concluding the Supervisory Relationship
Letters of Recommendation
Procedures for Those Seeking Letters of Recommendation
Concluding Relationships with Staff
Letters of Thanks
Looking Ahead
Professional, Community, and Political Involvement
References
Chapter 11: Frustrations, Lessons, Discoveries, And Joy
Learning from Whatever Happens
Lessons We Wish Were Not True
Lessons about the Lessons
Discoveries and Joy
Closing Comments
Appendix A: Internship Selection Checklist
Appendix B: Placement Information Form
Appendix C: Internship Learning Agreement Record Form
Appendix D: Intern Evaluation: Supervisor Form
Appendix E: Intern Evaluation: Intern Form
Appendix F: Emergency Contact And Procedures Information
Appendix G: Ethical Guidelines
Appendix H: Treatment Agreement And Informed Consent
Appendix I: Supervisor Evaluation Form
Appendix J: Clinical Activities Record Sheet
Appendix K: Placement Evaluation Form
Indices
Author Index
Subject Index