Note: Supplemental materials are not guaranteed with Rental or Used book purchases.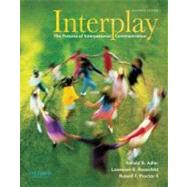 Questions About This Book?
What version or edition is this?
This is the 11th edition with a publication date of 2/4/2009.
What is included with this book?
The Used copy of this book is not guaranteed to include any supplemental materials. Typically, only the book itself is included.
Summary
Now in its eleventh edition, Interplay: The Process of Interpersonal Communication provides a comprehensive and engaging introduction to communication in interpersonal relationships. Blending topics of high student interest with rich pedagogy and an inviting visual format, this leading text shows how scholarship and research can help students understand their own relationships and communicate better in everyday life. NEW TO THE ELEVENTH EDITION * Revised and expanded material discusses hot-button issues including the influence of social networking websites on relationship formation, cultural differences as generalizations, neurobehavioral challenges in perception, linguistic convergence/divergence, the impact of new media on listening, communicating relational commitment, repairing damaged relationships, and constructive criticism. * New "Dark Side of Communication" sidebars--featured in each chapter--examine the more difficult and challenging issues of interpersonal communication, such as verbal abuse, compulsive talking, cyber-bullying, manipulation, the "silent treatment," and discrimination based on people's accents. * Focus on Research sidebars--twenty of which are new to this edition--highlight current scholarship on important and interesting issues, including the impact of TV makeover shows on viewers' self-images, impression management in online dating, the phenomenon known as "gaydar," gender differences in instant messaging habits, and "friends with benefits" relationships. * A new chapter, "Communication in Families and at Work"--drawn from the previous edition's appendices--looks at the dynamics of family and work relationships. * Film Clip sidebars--eighteen of which are new to this edition--profile recent feature films that illustrate communication concepts. Clips include Spanglish (culture and communication), Shark Tale (identity management), Lars and the Real Girl (constructing narratives), The Devil Wears Prada (poor listening habits), The Break-Up (relational stages), and Juno (managing conflict). SUPPLEMENTS * Instructor's Manual (available in paperback and CD-ROM): Includes an extensive Test Bank and suggested class activities. * Student Success Manual: Features study tips, chapter outlines and summaries, review questions, key terms, and critical thinking exercises. * Companion Website: Offers a wealth of resources for both students and instructors, including online self-testing and other study aids, links to a variety of communication-related websites, and "Now Playing" reviews of recent films.
Author Biography

Ronald B. Adler is Professor of Communication Emeritus at Santa Barbara City College.
Lawrence Rosenfeld is Professor of Communication at the University of North Carolina at Chapel Hill.
Russell F. Proctor II is Professor of Communication at Northern Kentucky University.

Table of Contents
Each Chapter ends with a Summary and a list of Activities
Foundations Of Interpersonal Communication
Interpersonal Process
Why We Communicate
Physical Needs
Identity Needs
Social Needs
Practical Needs
The Communication Process
A Model of Communication
Insights from the Communication
Model Communication Principles
Communication Misconceptions Interpersonal
Communication Defined Quantitative and Qualitative Definitions
Personal and Impersonal Communication: A Matter of Balance
Interpersonal Communication and Technology
Mediated vs. Face-to-Face Communication
Challenges of Mediated Communication
Choosing the Best Communication
Channel Communication Competence
Communication Competence
Defined Characteristics of Competent Communication
Culture and Communication Fundamental Concepts
Culture and Co-Culture
Intercultural Communication
Interpersonal and Intercultural Communication
Cultural Values and Norms High- versus Low-Context
Individualism versus Collectivism Power Distance Uncertainty
Avoidance Achievement versus
Nurturing Codes and Culture Verbal Codes
Nonverbal Codes Decoding Messages
Developing Intercultural Communication
Competence Motivation and Attitude
Tolerance for Ambiguity Open-mindedness Knowledge and Skill
Communication and the Self Communication and the Self-Concept How the Self-Concept Develops Characteristics of the Self-Concept The Self-Fulfilling Prophecy and Communication Changing Your Self-Concept Presenting the Self: Communication as Identity Management Public and Private Selves Characteristics of Identity Management Why Manage Impressions? How Do We Manage Impressions? Identity Management and Honesty Disclosing the Self: Choosing What to Reveal Models of Self-Disclosure Benefits and Risks of Self-Disclosure Alternatives to Self-Disclosure Guidelines for Self-Disclosure
Perceiving Others
The Perception Process Reality
Is Constructed Steps in the Perception
Process Influences on Perception
Physiological Influences
Psychological Influences
Social Influences Sex & Gender
Roles Cultural Influences
Common Tendencies in Perception
We Make Snap Judgments
We Cling to First Impressions
We Judge Ourselves More Charitably
Than We Do Others We Are Influenced by Our Expectations
We Are Influenced by the Obvious
We Assume Others Are Like
Us Synchronizing Our Perceptions Perception
Checking Building Empathy
Creating And Responding To Messages
Language The Nature of Language
Language Is Symbolic
Language Is Rule-Governed
Language Is Subjective
Language and Worldview
The Impact of Language
Naming and Identity Affiliation
Power Sexism and Racism Uses (and Abuses) of Language
Precision and Vagueness
The Language of Responsibility Disruptive Language
Gender and Language Extent of Gender Differences

Table of Contents provided by Publisher. All Rights Reserved.