Note: Supplemental materials are not guaranteed with Rental or Used book purchases.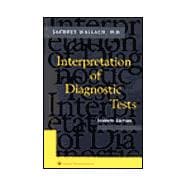 Related Products
Summary
"What tests do I order, and what do the results mean?" Here is the compendium that provides the answers--quickly and clearly--for a vast range of adult and pediatric conditions. This thoroughly updated Seventh Edition of Interpretation of Diagnostic Tests is a must for residents and practitioners in every specialty. Arranged by organ system, the book summarizes the available tests for most diseases, explains what the results would mean, and discusses differential diagnoses. This edition features major revisions in cardiovascular, gastrointestinal, hepatobiliary, metabolic and hereditary, and genitourinary chapters, plus highlighted "Key Diagnostic Finding" information to aid accessibility. Readers can search for information in the way that best suits their needs--by index, table of contents, test results, or specific disease. Also included are extensive tables of normal and panic values, tables comparing test results in similar diseases, and an appendix of conversion factors between conventional and SI units.
Table of Contents
Preface
p. ix
Preface to the First Edition
p. xi
Acknowledgments
p. xiii
Normal Values
Introduction to Normal Values (Reference Ranges)
p. 3
Critical Values
p. 29
Specific Laboratory Examinations
Core Blood Analytes: Alterations by Diseases
p. 35
Urine
p. 87
Diseases of Organ Systems
Cardiovascular Diseases
p. 113
Respiratory Diseases
p. 133
Gastrointestinal Diseases
p. 157
Hepatobiliary Diseases and Diseases of the Pancreas
p. 199
Central and Peripheral Nervous System Disorders
p. 263
Musculoskeletal and Joint Diseases
p. 293
Hematologic Diseases
p. 321
Metabolic and Hereditary Disorders
p. 489
Endocrine Diseases
p. 569
Genitourinary Diseases
p. 705
Infectious Diseases
p. 781
Miscellaneous Diseases
p. 887
Disorders due to Physical and Chemical Agents
p. 913
Therapeutic Drug Monitoring and Toxicology
p. 939
Body Substances
p. 951
Bibliography
p. 959
Appendices
Abbreviations and Acronyms
p. 963
Conversion Factors between Conventional and Systeme International Units
p. 969
Summary of Causes of and Diagnostic Tests for Spurious Laboratory Results
p. 979
Index
p. 985
Table of Contents provided by Syndetics. All Rights Reserved.