Note: Supplemental materials are not guaranteed with Rental or Used book purchases.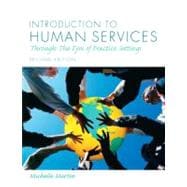 Introduction to Human Services : Through the Eyes of Practice Settings
ISBN13:
9780205795024
by
Martin, Michelle E
Questions About This Book?
What version or edition is this?
This is the 2nd edition with a publication date of 3/4/2010.
What is included with this book?
The Used copy of this book is not guaranteed to include any supplemental materials. Typically, only the book itself is included.
Related Products
Summary
Students will enjoy readingIntroduction to Human Services: Through the Eyes of Practice Settings, which explores relevant issues within the human services field by looking at them within the context of the most common practice settings. Ten practice settings are explored comprehensively, including the history and role of the human service professional, common clinical issues, as well as intervention strategies used in practice settings such as child welfare, mental health, substance abuse, the elderly, and domestic violence. Each chapter thoroughly explores recent research and policy, providing students with the most up-to-date information and perspective on important social issues and target populations. This is one of the only texts to include a chapter on faith-based agencies, which focuses on the long and distinguished history of religious organizations providing services to the needy. Native American issues are explored in-depth providing insight into this special population and its unique relationship to the federal government. A unique chapter on macro practice is also included; this is an often-neglected practice field that warrants increased attention. The International chapter focuses on human rights issues on a global level, exploring such issues as hate crimes, human sex trafficking, FGM, refugees and economic injustice in developing countries.
Author Biography
Michelle E. Martin is a professor in Dominican University's Graduate School of Social Work (GSSW) Michelle is a licensed social worker and has held a Type 73 certificate for school social work. She is currently enrolled in a doctoral program in public policy at the University of Bristol in England, where she is ABD and currently working on her dissertation. Her research is focused on forced migration and refugees in protracted situations. Michelle has over 25 years of experience in the human service field having worked in a variety of practice settings, including adolescent residential, child welfare, victim advocacy, hospice, school social work, and refugee resettlement. Michelle teaches courses in social work practice, field practicum, and domestic and global policy, and currently serves on the editorial board of the Journal of Global Social Work Practice. Michelle's research interests include comparative social welfare policy, human service practice and policy intersect, and the plight of refugees, including protracted refugees. Michelle lives in Wheaton with her 14-year old son, Xander, and their Golden Retriever, Sawyer.
Table of Contents
I. HUMAN SERVICES AS A PROFESSION.
1. INTRODUCTION TO THE HUMAN SERVICES PROFESSION: PURPOSE, PREPARATION, PRACTICE AND THEORETICAL ORIENTATIONS.
The Many Types of Human Service Professionals.
Why is Human Services Needed?
Human Service Education and Licensure.
Duties and Functions of a Human Service Professional.
How Do Human Service Professionals Practice?
Theoretical Frameworks used in Human Services.
Bronfenbenner's Ecological Systems Theory.
PIE – Person in Environment.
Eco-systems Theory.
Maslow's Hierarchy of Needs
Understanding Human Services through a Look at Practice Settings.
2. HISTORY AND EVOLUTION OF SOCIAL WELFARE POLICY IN THE HUMAN SERVICES PROFESSION.
The Feudal System of the Middle Ages.
Poor Laws of England.
The Elizabethan Poor Laws.
Protestant Reformation and Social Darwinism.
Charity Organization Societies.
Jane Addams and the Settlement House Movement.
The New Deal and the Social Security Act of 1935
Influences of African American Social Workers.
Welfare Reform and the Emergence of Neoliberal Economic Policies
A Time for Change: The Election of the First African American President
3. Professional Ethics and Values in Human Services
Moral, But by Whose Standards?
Ethical Values vs. Emotional Desires: "I Know It Was Wrong, But We Were in Love!"
When Our Values Collide: "I Value Honesty, But What If Lives Are at Stake?"
The Development of Moral Reasoning
Developing a Professional Code of Ethics
Resolving Ethical Dilemmas
Cultural Influences on the Perception of Ethical Behavior
Ethical Standards in Human Services and Related Fields
Closing Thoughts on Professional Ethics
II. GENERALIST PRACTICE AND THE ROLE OF THE HUMAN SERVICE PROFESSIONAL.
4. SKILLS AND INTERVENTION STRATEGIES FOR GENERALIST PRACTICE.
Informed Consent and Confidentiality
The Limits of Confidentiality
Skills and Competencies
Sympathy and Empathy
Boundary Setting
The Hallmarks of Personal Growth
The Clinical Assessment
Patience
Active Listening Skills
Observation Skills
Family Genograms
Psychological Testing
Clinical Diagnoses
Criticisms of the DSM-IV-TR
Continuum of Mental Health
Case Management and Counseling
Basic Counseling Techniques for Generalist Practice
Task-Centered Casework
Perceptual Reframing, Emotional Regulation, Networking and Advocacy
Cultural Competence and Diversity
5. CHILD WELFARE SERVICES
Overview and Purpose of Child Welfare Agencies
The History of the Foster Care System in the United States
The U.S. Orphan Problem
The Orphan Asylum
The Seeds of Foster Care: The Orphan Trains
Overview of the Current U.S. Child Welfare System
Getting into the System
Child Abuse Investigations
Mandated Reporters
Sequence of Events in the Reporting and Investigation of Child Abuse
Types of Child Maltreatment
The Forensic Interview
To Intervene, or Not Intervene: Models for Decision Making
Working with Children in Placement
Permanency Plans
Working with Biological Families
Biological Parents and their Children: Maintaining the Connection
Working with Foster Children: Common Clinical Issues
Separation
Loss, Grief and Mourning
Identity Issues
Continuity of Family Ties
Crisis
Working with Foster Parents
Reunification
Family Preservation
Ethnic Minority Populations and Multicultural Considerations
Placing Children of Color in Caucasian Homes
Native Americans and the U.S. Child Welfare System
Adoption Services
6. ADOLESCENT SERVICES
Adolescence: A New Stage of Development?
Developmental Perspectives
Common Clinical Issues and the Role of the Human Service Professional
Abstract Reasoning: A Dangerous Weapon in the Hands of an Adolescent
Adolescent Rebellion
Externalizing Behaviors
Internalizing Behaviors
Eating Disorders in the Adolescent Population
Schizophrenia in the Adolescent Population
Other Clinical Issues Affecting the Adolescent Population
Practice Settings Specific to Adolescent Treatment
Multicultural Considerations
7. AGING AND SERVICES FOR THE ELDERLY
The Aging of America: Changing Demographics
Old and Old-Old: A Developmental Perspective
Successful Aging
Current Issues Impacting the Elderly and the Role of the Human Service Professional
Ageism
Housing
Homelessness and the Elderly Population
Adjustment to Retirement
Grandparents Parenting
Depression
Dementia
Elder Abuse
Practice Settings Serving the Elderly
Special Populations
8. MENTAL HEALTH AND MENTAL ILLNESS
The History of Mental Illness: Perceptions and Treatment
The Deinstitutionalization of the Mentally Ill
Common Mental Illnesses and Clinical Issues
Serious Mental Disorders Diagnosed on Axis I
Psychotic Disorders
Affective Disorders
Serious Mental Disorders Diagnosed on Axis II
Mental Health Practice Settings and Counseling Interventions
Intervention Strategies
Common Practice Settings
Mental Illness and Special Populations
Mental Illness and the Homeless Population
Mental Illness and the Prison Population: The Criminalization of the Mentally Ill
Mental Health Courts
Multicultural Considerations
Current Legislation Affecting Access to Mental Health Services
Mental Health Parity
Other Federal Legislation
9. HOMELESSNESS
The Nature of Homelessness: A Snapshot of Homelessness in America
The Causes of Homelessness
History of Homelessness in the United States
The Contemporary Picture of Homelessness: The Rise of Single Parent Families
Homeless Shelter Living for Families with Children
Homeless Children: School Attendance and Academic Performance
Runaway Youth
Single Men, the Mentally Ill and Substance Abuse
The Elderly Homeless
Current Policies and Legislation
The Role of the Human Service Professional: Working with the Homeless Population: Common Clinical Issues
Common Practice Settings for Working with the Homeless Population
10. HEALTHCARE AND HOSPICE
Human Services in Hospitals
Crisis and Trauma Counseling
Working with Patients with HIV/AIDS
The Hospice Movement
The History of Hospice: The Neglect of the Dying
The Hospice Philosophy
The Hospice Team
The Role of the Hospice Human Services Worker
The Psychosocial Assessment
Intervention Strategies
Case Management and Counseling Services
Resisting the Reality of the Death
Planning for the Death
The Spiritual Component of Dying
Death and Dying: Effective Bereavement Counseling
The Journey Through Grief: A Task-Centered Approach
Multicultural Issues
Ethical Dilemmas in Hospice Care
11. SUBSTANCE ABUSE AND TREATMENT
History of the Substance Abuse Practice Setting
History of Use and Early Treatment Efforts within the United States
The Prohibition Movement
The Rise of Modern Addiction Treatment in the United States
Demographics, Prevalence, and Usage Patterns
Defining Terms and Concepts
Theoretical Models of Use and Abuse
Types of Substances Abused
Abuse of Prescription Drugs
The Presence of Substance Abuse Across All Practice Settings
Acceptance of Problem
Hitting Bottom
Clinical Interventions
Motivational Interviewing
Cultural Sensitivity
Defining Treatment Goals
Abstinence
Harm Reduction
Mode of Service Delivery
Availability of Treatment
Public Programs
Private Programs
Continuum of Care
Treatment Modalities
The Role of the Human Services Professional
Stages of Recovery
Relapse Prevention
Common Treatment Settings
Detoxification Programs
In-Patient Treatment Programs
Partial Hospitalization Programs
Residential Treatment Programs
Out-Patient Treatment
Pharmacological Treatments
Self-Help
Family Involvement
12. HUMAN SERVICES IN THE SCHOOLS
School Social Work
The School Social Work Model
School Social Work Roles, Functions, and Core Competencies
School Counseling
Historical Roots of School Counseling
School Counselors: Professional Identity
The Urban Problem
Common Roles and Functions of School Counselors
School Psychologists
Common Clinical Issues and Effective Responses by Human Services Personnel
Depression and other Mental Health Concerns
Diversity and Race
Gay, Lesbian, and Transgendered Youth
The Terrorism Threat and U.S. During Wartime
Substance Abuse
Child Abuse and Neglect
Teenage Pregnancy
ADD and ADHD
13. FAITH-BASED AGENCIES
Faith-Based versus Secular Organizations
Federal Funding of Faith-Based Human Service Agencies
Methods of Practice in Faith-Based Agencies
The Benefits of Faith-Based Services
Religious Diversity in Faith-Based Organizations
Faith-Based Agencies: Services and Intervention Strategies
Jewish Human Services: Agencies and the Role of the Human Services Professional
United Jewish Communities: The Federations of North America
Association of Jewish Family Services and Children's Agencies
Christian Human Services: Agencies and the Role of the Human Services Professional
Rural Communities and the Black Church
Catholic Charities
Prison Fellowship Ministries
Teen Challenge
Islamic Human Services: Agencies and the Role of the Human Services Professional
Islamic Social Services Association
Inner-City Muslim Action Network
Muslim Family Services
14. VIOLENCE, VICTIM ADVOCACY AND CORRECTIONS
Domestic Violence
The Nature of Domestic Violence: The Cycle of Violence
Counseling Victims of Domestic Violence
Whose Fault is it Anyway? Attributing Causality of Abuse in the Relationship
Does She Stay or Does She Go?
Domestic Violence Practice Settings
The Prosecution of Domestic Violence
Batterers Programs
Sexual Assault
Why People Commit Rape
The Psychological Impact of Sexual Assault
Male-on-Male Sexual Assault
Common Practice Settings: Rape Crisis Centers
Victims of Violent Crime
The Victims' Bill of Rights
Victim-Witness Assistance
Surviving Victims of Homicide
Common Clinical Issues when Working with Victims of All Violent Crime
Perpetrators of Crime
Gang Activity
Risk-factors of Gang Involvement
Human Services Practice Settings Focusing on Gang Involvement
Human Services in Prison Settings
The War on Drugs
Clinical Issues in the Prison Population: The Role of the Human Services Professional
Mental Health Programs in Correctional Facilities
Prison and Pregnancy
STDs and AIDS
Barriers to Treatment
III. MACRO PRACTICE, INTERNATIONAL HUMAN SERVICES AND FUTURE CONSIDERATIONS
15. MACRO PRACTICE AND INTERNATIONAL HUMAN SERVICES
Why Macro Practice?
Vulnerable and Oppressed Populations
Mobilizing for Change: Shared Goals of Effective Macro Practice Techniques
Common Aspects of Macro Practice
Community Development
Community Organizing
Policy Practice
The Global Community: International Human Services
HIV/AIDS Pandemic
Crimes Against Women and Children
Female Genital Mutilation
Human Sex Trafficking
Street Children
Child Labor and Economic Injustice
Indigenous People
Refugees
Torture and Abuse
Lesbian, Gay, Bisexual and Transgendered Rights
Macro Practice in Action
EPILOGUE: THE FUTURE OF HUMAN SERVICES
Avoiding Professional Burn-out
Human Services and Technology
The Effect of the Economic Crisis and a New Presidential Administration on Human Service Practice