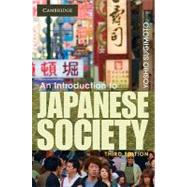 An Introduction to Japanese Society
by
Yoshio Sugimoto
Cambridge University Press
Summary
Essential reading for students of Japanese society, An Introduction to Japanese Society now enters its third edition. Here, internationally renowned scholar, Yoshio Sugimoto, writes a sophisticated, yet highly readable and lucid text, using both English and Japanese sources to update and expand upon his original narrative. The book challenges the traditional notion that Japan comprises a uniform culture, and draws attention to its subcultural diversity and class competition. Covering all aspects of Japanese society, it includes chapters on class, geographical and generational variation, work, education, gender, minorities, popular culture and the establishment. This new edition features sections on: Japan's cultural capitalism; the decline of the conventional Japanese management model; the rise of the 'socially divided society' thesis; changes of government; the spread of manga, animation and Japan's popular culture overseas; and the expansion of civil society in Japan.
Table of Contents
List of Figures
p. vi
List of Tables
p. vii
Preface to the Third Edition
p. x
Map of Japan
p. xii
The Japan Phenomenon and the Social Sciences
p. 1
Class and Stratification: An Overview
p. 37
Geographical and Generational Variations
p. 61
Forms of Work in Cultural Capitalism
p. 88
Diversity and Unity in Education
p. 124
Gender Stratification and the Family System
p. 156
'Japaneseness', Ethnicity, and Minority Groups
p. 189
Collusion and Competition in the Establishment
p. 219
Popular Culture and Everyday Life
p. 249
Civil Society and Friendly Authoritarianism
p. 278
References
p. 305
Index
p. 326
Table of Contents provided by Ingram. All Rights Reserved.