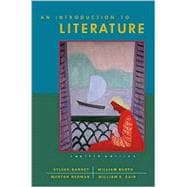 An Introduction to Literature: Fiction, Poetry, Drama
by
Barnet, Sylvan
;
Berman, Morton
;
Burto, William
;
Cain, William E.
;
Barnet, Sylvan
;
Berman, Morton
;
Burto, William
;
Cain, William E.
List Price: $73.00
Usually Ships in 2-3 Business Days
Questions About This Book?
What version or edition is this?
This is the 12th edition with a publication date of 7/1/2000.
What is included with this book?
The Used copy of this book is not guaranteed to inclue any supplemental materials. Typically, only the book itself is included.
Summary
A leader in the market for over 30 years, this paperback anthology continues to uphold the traditions that have made it a successclassic and contemporary selections with a range of multicultural voices as well as a non-intrusive apparatus that covers the elements of literature and the writing processwhile incorporating fresh new material. The new edition features "Writer's at Work", a novel, The Awakening by Kate Chopin, a new casebook on Hamlet, a 24-page color insert "Poems and Paintings" and more student writing throughout.
Table of Contents
Preface
xxi
Part One Reading, Thinking, and Writing Critically about Literature
1
(52)

| | |
| --- | --- |
| | Reading and Responding to Literature |

3
(21)
3
(5)

| | |
| --- | --- |
| | Looking at an Example: Robert Frost's Immigrants |

4
(3)

| | |
| --- | --- |
| | Looking at a Second Example: Pat Mora's, Immigrants |

7
(1)

| | |
| --- | --- |
| | Thinking About a Story: The Parable of the Prodigal Son |

8
(3)
11
(3)
12
(2)
14
(10)
15
(2)

| | |
| --- | --- |
| | Epitaph on an Army of Mercenaries |

17
(2)

| | |
| --- | --- |
| | Another Epitaph on an Army of Mercenaries |

19
(1)
20
(2)
22
(2)

| | |
| --- | --- |
| | Writing about Literature: From Idea to Essay |

24
(29)
24
(1)

| | |
| --- | --- |
| | Getting Ideas: Pre-Writing |

25
(8)
25
(1)

| | |
| --- | --- |
| | Brainstorming for Ideas for Writing |

26
(1)
26
(2)
28
(1)
29
(1)

| | |
| --- | --- |
| | Developing an Awareness of the Writer's Use of Language |

30
(1)
30
(1)
31
(1)
32
(1)
33
(5)

| | |
| --- | --- |
| | Sample Draft of an Essay on Kate Chopin's ``The Story of an Hour'': Ironies in an Hour |

34
(1)
35
(1)
36
(2)

| | |
| --- | --- |
| | The Final Version: ``Ironies of Life in Kate Chopin's The Story an Hour'' |

38
(2)

| | |
| --- | --- |
| | A Brief Overview of the Final Version |

39
(1)
40
(4)
41
(1)
41
(3)
44
(1)

| | |
| --- | --- |
| | Review: How to Write an Effective Essay |

45
(2)
47
(6)
47
(1)

| | |
| --- | --- |
| | For the Feeling of an Elm in the Harvard Yard |

48
(1)
49
(1)
50
(3)
Part Two Fiction
53
(586)

| | |
| --- | --- |
| | Approaching Fiction: Responding in Writing |

55
(11)
55
(3)

| | |
| --- | --- |
| | Responses: Annotations and Journal Entries |

58
(4)

| | |
| --- | --- |
| | A Sample Essay by a Student: ``Hemingway's American Wife'' |

62
(4)

| | |
| --- | --- |
| | Stories and Meanings: Plot, Character, Theme |

66
(19)

| | |
| --- | --- |
| | The Vixen and the Lioness |

66
(1)

| | |
| --- | --- |
| | The Appointment in Samara |

67
(1)
68
(1)
69
(7)
76
(4)
80
(5)
85
(24)

| | |
| --- | --- |
| | Participant (or First-Person) Points of View |

86
(1)

| | |
| --- | --- |
| | Nonparticipant (or Third-Person) Points of View |

87
(1)

| | |
| --- | --- |
| | The Point of a Point of View |

88
(21)
89
(6)
95
(14)
109
(21)
112
(18)
112
(1)
113
(6)
119
(11)

| | |
| --- | --- |
| | In Brief: Writing about Fiction |

130
(14)
130
(1)
130
(1)
131
(1)
131
(1)
132
(1)
132
(1)
132
(1)

| | |
| --- | --- |
| | A Story, Notes, and an Essay |

133
(5)
133
(5)

| | |
| --- | --- |
| | A Student's Written Response to a Story |

138
(6)
138
(2)

| | |
| --- | --- |
| | Essay:``Revenge, Noble and Ignoble'' |

140
(4)

| | |
| --- | --- |
| | A Fiction Writer at Work: Raymond Carver |

144
(7)
145
(1)
145
(2)
147
(2)
149
(2)

| | |
| --- | --- |
| | Thinking Critically about a Short Story: A Casebook on Ralph Ellison's ``Battle Royal'' |

151
(34)
151
(16)

| | |
| --- | --- |
| | Atlanta Exposition Address |

167
(3)

| | |
| --- | --- |
| | Of Our Spiritual Strivings |

170
(1)

| | |
| --- | --- |
| | Of Mr. Booker T. Washington and Others |

171
(3)
174
(4)

| | |
| --- | --- |
| | On Negro Folklore (Interview) |

178
(2)
180
(5)

| | |
| --- | --- |
| | Three Fiction Writers in Depth |

185
(97)

| | |
| --- | --- |
| | Three Stories and Remarks on Fiction |

186
(33)
186
(13)
199
(10)

| | |
| --- | --- |
| | The Minister's Black Veil |

209
(9)

| | |
| --- | --- |
| | Selections from the Notebooks |

218
(1)

| | |
| --- | --- |
| | Two Stories and Observations on Literature |

219
(33)

| | |
| --- | --- |
| | A Good Man Is Hard to Find |

220
(12)
232
(14)

| | |
| --- | --- |
| | On Fiction: Remarks from Essays and Letters |

246
(5)

| | |
| --- | --- |
| | On Interpreting A Good Man Is Hard to Find |

251
(1)

| | |
| --- | --- |
| | Two Stories and an Interview |

252
(30)
253
(9)
262
(17)

| | |
| --- | --- |
| | A Conversation (Interview) |

279
(3)

| | |
| --- | --- |
| | A Collection of Short Fiction |

282
(255)
285
(40)
325
(8)
333
(12)
345
(4)

| | |
| --- | --- |
| | The Horse Dealer's Daughter |

349
(12)
361
(12)

| | |
| --- | --- |
| | The Gospel According to Mark |

373
(4)
377
(8)
385
(6)
391
(5)
396
(7)
403
(5)
Contemporary Voices
408
(4)
412
(8)

| | |
| --- | --- |
| | Christ in the House of Martha and Mary |

420
(5)

| | |
| --- | --- |
| | Where Are You Going, Where Have You Been? |

425
(12)
437
(5)
442
(10)
452
(6)
458
(7)
465
(3)
468
(12)

| | |
| --- | --- |
| | The Man to Send Rain Clouds |

480
(4)
484
(1)
485
(6)
491
(9)
500
(10)
510
(5)
515
(7)
522
(15)
537
(102)

| | |
| --- | --- |
| | Observations on the Novel |

537
(102)

| | |
| --- | --- |
| | Reading Kate Chopin's The Awakening |

541
(1)

| | |
| --- | --- |
| | Picture Portfolio: Kate Chopin and New Orleans |

542
(4)
546
(93)
Part Three Poetry
639
(310)

| | |
| --- | --- |
| | Approaching Poetry: Responding in Writing |

641
(11)
641
(2)

| | |
| --- | --- |
| | Thinking about ``Harlem'' |

643
(1)
644
(1)
645
(2)
647
(1)
648
(1)

| | |
| --- | --- |
| | A Sample Essay by a Student: ``The Double Nature of Love'' |

649
(3)
652
(19)

| | |
| --- | --- |
| | Michael Row the Boat Ashore |

652
(1)
653
(1)
654
(1)
654
(1)
655
(1)

| | |
| --- | --- |
| | Stop All the Clocks, Cut Off the Telephone |

656
(1)
657
(1)
658
(1)
659
(1)

| | |
| --- | --- |
| | Didn't My Lord Deliver Daniel |

660
(1)
661
(1)
662
(1)
662
(1)
663
(1)

| | |
| --- | --- |
| | A Noiseless Patient Spider |

664
(1)
665
(2)

| | |
| --- | --- |
| | e. e. cummings, anyone lived in a pretty how town |

667
(2)
669
(1)
670
(1)

| | |
| --- | --- |
| | The Speaking Tone of Voice |

671
(21)
672
(2)
674
(1)
674
(1)

| | |
| --- | --- |
| | The Reader as the Speaker |

675
(3)
676
(1)
676
(2)
678
(2)
678
(2)
680
(7)

| | |
| --- | --- |
| | To the Virgins, to Make Much of Time |

681
(1)
682
(1)
683
(1)

| | |
| --- | --- |
| | Spring and Fall: To a Young Child |

684
(1)
685
(1)
685
(2)

| | |
| --- | --- |
| | The Voice of the Satirist |

687
(5)

| | |
| --- | --- |
| | e. e. cummings, next to of course god america i |

687
(1)
688
(1)
689
(3)

| | |
| --- | --- |
| | Figurative Language: Simile, Metaphor, Personification, Apostrophe |

692
(16)
693
(1)
694
(1)
695
(1)
695
(1)
696
(3)

| | |
| --- | --- |
| | On First Looking into Chapman's Homer |

697
(1)
698
(1)
699
(1)
699
(9)
700
(1)
701
(1)
702
(1)

| | |
| --- | --- |
| | On the Death of Mr. Robert Levet |

703
(1)
704
(1)
705
(3)
708
(26)
709
(1)

| | |
| --- | --- |
| | I Saw in Louisiana a Live-Oak Growing |

710
(3)

| | |
| --- | --- |
| | The Whale in the Blue Washing Machine |

713
(1)
713
(3)
716
(2)
718
(1)
719
(2)

| | |
| --- | --- |
| | Salvator Mundi: Via Crucis |

721
(2)

| | |
| --- | --- |
| | Thirteen Ways of Looking at a Blackbird |

723
(3)
726
(2)
726
(1)
726
(1)
726
(1)
727
(1)

| | |
| --- | --- |
| | After weeks of watching the roof leak |

727
(1)
727
(1)
728
(1)

| | |
| --- | --- |
| | Can Poetry be Translated? |

728
(6)

| | |
| --- | --- |
| | Looking at Translations of a Poem |

729
(1)
729
(2)
731
(3)
734
(12)
735
(1)
736
(2)
738
(1)
739
(1)

| | |
| --- | --- |
| | Holy Sonnet XIV (``Batter my heart, threepersoned God'') |

740
(1)
741
(2)

| | |
| --- | --- |
| | Tony Went to the Bodega but He Didn't Buy Anything |

743
(1)

| | |
| --- | --- |
| | Love Is Not All: It Is Not Meat nor Drink |

744
(2)
746
(18)
747
(2)
749
(1)
750
(1)

| | |
| --- | --- |
| | Do not go gentle into that good night |

751
(1)
752
(1)
753
(2)

| | |
| --- | --- |
| | Versification: A Glossary for Reference |

755
(9)
755
(2)
757
(2)
759
(1)
760
(1)

| | |
| --- | --- |
| | Nothing in Heaven Functions as It Ought |

761
(1)

| | |
| --- | --- |
| | Blank Verse and Free Verse |

762
(1)

| | |
| --- | --- |
| | When I Heard the Learn'd Astronomer |

763
(1)

| | |
| --- | --- |
| | In Brief: Writing about Poetry |

764
(10)
764
(1)
764
(1)
765
(1)
765
(1)

| | |
| --- | --- |
| | Center of Interest and Theme |

765
(1)
765
(1)
766
(1)
766
(1)

| | |
| --- | --- |
| | A Student's Written Response to a Poem |

767
(3)
767
(3)

| | |
| --- | --- |
| | Student Essay: ``A Memory Poem: Louise Gluck's `Gretal in Darkness''' |

770
(4)
774
(13)

| | |
| --- | --- |
| | Three Versions of ``Leda and the Swan'' |

774
(2)

| | |
| --- | --- |
| | Cathy Song: Two Versions of ``Out of Our Hands'' |

776
(3)

| | |
| --- | --- |
| | Two Versions of ``Enfans d' Adam, number 9'' |

779
(1)

| | |
| --- | --- |
| | Two Versions of ``Gesture, Possibly Archaic'' |

780
(2)

| | |
| --- | --- |
| | Two Versions of ``The Mercy'' |

782
(1)
783
(4)

| | |
| --- | --- |
| | Modern and Contemporary Perspectives on Multicultural America |

787
(18)

| | |
| --- | --- |
| | Pocahontas to Her English Husband, John Rolfe |

787
(2)
789
(1)
790
(1)
791
(1)
792
(3)

| | |
| --- | --- |
| | To live in the Borderlands means you |

795
(1)
796
(2)
798
(1)
798
(1)
799
(1)

| | |
| --- | --- |
| | So Mexicans Are Taking Jobs from Americans |

800
(1)
801
(1)

| | |
| --- | --- |
| | On the Amtrak from Boston to New York City |

802
(2)

| | |
| --- | --- |
| | My Mother, Who Came from China, Where She Never Saw Snow |

804
(1)

| | |
| --- | --- |
| | Variations on Themes: Poems and Paintings |

805
(24)

| | |
| --- | --- |
| | Writing About Poems and Paintings |

805
(1)

| | |
| --- | --- |
| | A Sample Student Essay: ``Two Ways of Looking at A Starry Night'' |

806
(23)
808
(2)
810
(2)

| | |
| --- | --- |
| | Cathy Song, Beauty and Sadness |

812
(2)
814
(2)
816
(2)
818
(2)

| | |
| --- | --- |
| | Nude Descending a Staircase |

820
(2)
822
(2)
824
(2)
826
(3)

| | |
| --- | --- |
| | Three Poets in Depth: Emily Dickinson, Robert Frost, and Langston Hughes |

829
(44)

| | |
| --- | --- |
| | On Reading Authors Represented in Depth |

829
(2)
831
(13)

| | |
| --- | --- |
| | These are the days when Birds come back |

832
(1)
832
(1)

| | |
| --- | --- |
| | Wild Nights---Wild Nights! |

832
(1)

| | |
| --- | --- |
| | There's a certain Slant of light |

833
(1)

| | |
| --- | --- |
| | I got so I could hear his name--- |

833
(1)

| | |
| --- | --- |
| | The Soul Selects her own Society |

834
(1)

| | |
| --- | --- |
| | This was a Poet---It is That |

834
(1)

| | |
| --- | --- |
| | I heard a Fly buzz---when I died |

835
(1)

| | |
| --- | --- |
| | This World is not Conclusion |

835
(1)

| | |
| --- | --- |
| | I like to see it lap the Miles |

836
(1)

| | |
| --- | --- |
| | Because I could not stop for Death |

836
(1)

| | |
| --- | --- |
| | A narrow Fellow in the Grass |

837
(1)

| | |
| --- | --- |
| | Further in Summer than the Birds |

837
(1)

| | |
| --- | --- |
| | Tell all the Truth but tell it slant |

838
(1)
838
(1)
839
(1)

| | |
| --- | --- |
| | Apparently with no surprise |

839
(1)

| | |
| --- | --- |
| | I felt a Funeral, in my Brain |

840
(2)

| | |
| --- | --- |
| | I felt a Funeral, in my Brain |

842
(1)

| | |
| --- | --- |
| | I felt a Cleaving in my Mind--- |

843
(1)

| | |
| --- | --- |
| | The Dust behind I strove to join |

843
(1)
844
(2)

| | |
| --- | --- |
| | Letter to Susan Gilbert (Dickinson) (1852) |

844
(1)

| | |
| --- | --- |
| | Letter to T. W. Higginson (1862) |

845
(1)

| | |
| --- | --- |
| | Letter to T. W. Higginson (1876) |

846
(1)
846
(10)
847
(1)
847
(1)
848
(1)
849
(1)
849
(1)
850
(1)

| | |
| --- | --- |
| | Stopping by Woods on a Snowy Evening |

850
(1)
851
(1)

| | |
| --- | --- |
| | The Need of Being Versed in Country Things |

852
(1)

| | |
| --- | --- |
| | Acquainted with the Night |

852
(1)
853
(1)
853
(1)
854
(1)
854
(1)
855
(1)
856
(2)
856
(2)

| | |
| --- | --- |
| | From ``The Constant Symbol'' |

858
(1)
858
(9)

| | |
| --- | --- |
| | The Negro Speaks of Rivers |

859
(1)
859
(1)
860
(1)
860
(1)
861
(1)

| | |
| --- | --- |
| | Let America Be America Again |

862
(2)
864
(1)
864
(1)
865
(1)
865
(1)
866
(1)
867
(1)

| | |
| --- | --- |
| | Langston Hughes on Poetry |

867
(6)

| | |
| --- | --- |
| | ``The Negro and the Racial Mountain'' |

867
(4)

| | |
| --- | --- |
| | On the Cultural Achievement of African-Americans |

871
(2)
873
(76)
873
(76)
874
(2)
876
(1)
877
(1)
878
(1)
879
(2)
881
(1)

| | |
| --- | --- |
| | (``When, in disgrace with Fortune and men's eyes'') |

882
(1)

| | |
| --- | --- |
| | (``That time of year thou mayst in me behold'') |

883
(1)

| | |
| --- | --- |
| | (``Let me not to the marriage of true minds'') |

883
(1)

| | |
| --- | --- |
| | (``Poor soul, the center of my sinful earth'') |

884
(1)

| | |
| --- | --- |
| | A Valediction: Forbidding Mourning |

884
(2)
886
(1)

| | |
| --- | --- |
| | When I consider how my light is spent |

886
(1)
887
(1)
888
(1)
888
(1)
888
(1)
889
(1)

| | |
| --- | --- |
| | The World Is Too Much with Us |

889
(1)

| | |
| --- | --- |
| | I Wandered Lonely as a Cloud |

890
(1)

| | |
| --- | --- |
| | On Being Brought from Africa to America |

891
(1)

| | |
| --- | --- |
| | The Indian's Welcome to the Pilgrim Fathers |

892
(2)

| | |
| --- | --- |
| | Lydia Howard Huntley Sigourney |

894
(1)
895
(2)
897
(2)
899
(1)

| | |
| --- | --- |
| | The Convergence of the Twain |

900
(2)
902
(1)

| | |
| --- | --- |
| | Shropshire Lad #19 (To an Athlete Dying Young) |

903
(1)
904
(1)
905
(1)
906
(1)
906
(1)

| | |
| --- | --- |
| | The River-Merchant's Wife: A Letter |

907
(2)

| | |
| --- | --- |
| | In a Station of the Metro |

909
(1)
909
(1)

| | |
| --- | --- |
| | The Love Song of J. Alfred Prufrock |

910
(3)
913
(1)
914
(1)
915
(1)
916
(1)
917
(2)
919
(1)
920
(1)
921
(1)
Contemporary Voices
922
(1)
923
(1)

| | |
| --- | --- |
| | A Supermarket in California |

924
(1)

| | |
| --- | --- |
| | Lying in a Hammock at William Duffy's Farm in Pine Island, Minnesota |

925
(1)
926
(1)
927
(1)
927
(1)
928
(1)
928
(1)
929
(1)
930
(1)
931
(3)
934
(1)
935
(1)
936
(1)

| | |
| --- | --- |
| | The Times They Are A-Changin' |

936
(2)
938
(1)

| | |
| --- | --- |
| | But He Was Cool or: he even stopped for green lights |

939
(1)
940
(1)
940
(1)
941
(1)
942
(1)
943
(1)

| | |
| --- | --- |
| | Three Thousand Dollar Death Song |

944
(2)
946
(1)
946
(1)

| | |
| --- | --- |
| | My Father in the Navy: A Childhood Memory |

947
(2)
Part Four Drama
949
(638)
951
(17)

| | |
| --- | --- |
| | Thinking About the Language of Drama |

951
(4)
955
(13)
957
(11)
968
(210)
972
(66)
973
(37)
1010
(28)
1038
(1)

| | |
| --- | --- |
| | A Note on the Elizabethan Theater |

1038
(1)

| | |
| --- | --- |
| | A Note on the text of Halmet |

1038
(7)
1045
(133)

| | |
| --- | --- |
| | Hamlet, Prince of Denmark |

1048
(112)

| | |
| --- | --- |
| | Hamlet and the Oedipus Complex |

1160
(2)
1162
(2)
1164
(1)

| | |
| --- | --- |
| | Playing Gertrude on Television |

1165
(1)

| | |
| --- | --- |
| | ``Praised Be Rashness'': Hamlet's Chance Encounter with the Pirates (student essay) |

1166
(7)

| | |
| --- | --- |
| | The BBC Hamlet: A Television Production |

1173
(2)

| | |
| --- | --- |
| | Branagh's Film of Hamlet (student essay) |

1175
(3)
1178
(68)
1181
(6)

| | |
| --- | --- |
| | A Midsummer Night's Dream |

1187
(59)

| | |
| --- | --- |
| | In Brief: Writing about Drama |

1246
(14)
1246
(1)
1247
(1)
1247
(1)
1247
(1)
1248
(1)
1248
(1)

| | |
| --- | --- |
| | A Sample Student Essay, Using Sources |

1249
(1)

| | |
| --- | --- |
| | ``The Women in Death of a Salesman'' (student essay) |

1250
(10)

| | |
| --- | --- |
| | A Playwright at Work: Joyce Carol Oates |

1260
(36)
1261
(31)
1292
(2)

| | |
| --- | --- |
| | Further Thoughts on Tone Clusters |

1294
(2)

| | |
| --- | --- |
| | A Collection of Plays in Contexts |

1296
(291)
1296
(52)

| | |
| --- | --- |
| | Contexts for a Doll's House |

| | |
| --- | --- |
| | Notes for the Tragedy of Modern Times |

1348
(1)

| | |
| --- | --- |
| | Adaptation of A Doll's House for a German Production |

1349
(1)

| | |
| --- | --- |
| | Speech at the Banquet of the Norwegian League for Women's Rights |

1350
(1)
1350
(47)

| | |
| --- | --- |
| | A Context for the Glass Menagerie |

1397
(2)
Contemporary Voices
1399
(69)

| | |
| --- | --- |
| | A Context for Death of a Salesman |

| | |
| --- | --- |
| | Tragedy and the Common Man |

1468
(3)
1471
(11)

| | |
| --- | --- |
| | A Context for Los Vendidos |

1482
(1)
1483
(18)
1501
(51)
1552
(3)
1555
(29)
1584
(3)
Part Five Critical Perspectives
1587
(107)

| | |
| --- | --- |
| | Critical Approaches: The Nature of Criticism |

1589
(24)

| | |
| --- | --- |
| | Critical Perspectives on Joseph Conrad: Heart of Darkness: A Casebook |

1613
(81)
1613
(60)
1673
(2)

| | |
| --- | --- |
| | An Image of Africa: Racism in Conrad's Heart of Darkness |

1675
(7)

| | |
| --- | --- |
| | The Double Worlds of Men and Women |

1682
(4)

| | |
| --- | --- |
| | The Symbolism of the Two Knitters |

1686
(3)
1689
(1)

| | |
| --- | --- |
| | Teaching the Politics of Heart of Darkness |

1690
(4)
Appendix A Remarks about Manuscript Form
1694
(6)
1694
(1)

| | |
| --- | --- |
| | Corrections in the Final Copy |

1695
(1)

| | |
| --- | --- |
| | Quotations and Quotation Marks |

1696
(4)

| | |
| --- | --- |
| | Quotations Marks or Underlining? |

1699
(1)
1699
(1)
Appendix B Writing a Research Paper
1700
(19)

| | |
| --- | --- |
| | What Research is Not and What Research is |

1700
(1)

| | |
| --- | --- |
| | Primary and Secondary materials |

1700
(2)

| | |
| --- | --- |
| | Locating Materials: First Steps |

1701
(1)
1702
(1)
1703
(2)

| | |
| --- | --- |
| | Two Mechanical Aids: The Photocopier and the Word Processor |

1703
(1)
1704
(1)

| | |
| --- | --- |
| | Drafting the Paper: Organizing the Material, and Leading into Quotations |

1705
(1)
1706
(1)
1706
(13)

| | |
| --- | --- |
| | What to Document: Avoiding Plagiarism |

1706
(2)

| | |
| --- | --- |
| | How to Document: Footnotes and Internal Parenthetical Citations, and a List of Works Cited (MLA Format) |

1708
(11)
Appendix C New Approaches to the Research Paper: Literature, History, and the World Wide Web
1719
(28)

| | |
| --- | --- |
| | Case Study on Literature and History: The Internment of Japanese Americans |

1720
(1)
1720
(4)
1720
(1)
1721
(3)
1724
(8)

| | |
| --- | --- |
| | Basic Reference Books (Short Paper) |

1724
(2)

| | |
| --- | --- |
| | Getting Deeper (Medium-Length Paper) |

1726
(3)

| | |
| --- | --- |
| | Other Reference Sources (Long Paper) |

1729
(2)
1731
(1)

| | |
| --- | --- |
| | Using the On-Line Catalog |

1732
(1)
1733
(8)

| | |
| --- | --- |
| | Encyclopedias: Print and Electronic Versions |

1733
(3)

| | |
| --- | --- |
| | The Internet/World Wide Web |

1736
(5)

| | |
| --- | --- |
| | Evaluating Sources on the World Wide Web |

1741
(1)

| | |
| --- | --- |
| | Documentation: Citing a www Source |

1742
(1)

| | |
| --- | --- |
| | Additional Print and Electronic Sources |

1743
(4)
1743
(1)

| | |
| --- | --- |
| | Print Articles on Literature, History, and the www |

1744
(1)

| | |
| --- | --- |
| | Online Writing Centers and Labs |

1745
(1)

| | |
| --- | --- |
| | English Departments, Curricula, and Courses Online |

1746
(1)
Appendix D Literary Research: Print and Electronic Resources
1747
(16)

| | |
| --- | --- |
| | Literature---Print Reference Sources |

1747
(4)

| | |
| --- | --- |
| | Other Reference Resources |

1748
(1)
1749
(1)

| | |
| --- | --- |
| | Literary Theory and Criticism |

1750
(1)

| | |
| --- | --- |
| | Literature---Electronic Sources |

1751
(2)

| | |
| --- | --- |
| | Other Useful Sites on Authors |

1752
(1)

| | |
| --- | --- |
| | Other Valuable Sites for Research |

1753
(1)

| | |
| --- | --- |
| | History---Reference and Bibliography Sources |

1753
(1)
1754
(1)

| | |
| --- | --- |
| | Periodicals: Print and Electronic Sources |

1754
(1)

| | |
| --- | --- |
| | For General Bibliography in the Humanities |

1755
(1)

| | |
| --- | --- |
| | For Evaluating the Point of View, the Content, and the Intended Audience of Sources |

1756
(1)
1757
(1)

| | |
| --- | --- |
| | What Does Your Institution Offer? |

1757
(1)

| | |
| --- | --- |
| | Summing Up: Basic Tools for Writing and Research |

1758
(5)
1759
(1)
1759
(3)
1762
(1)
Appendix E Glossary of Literary Terms
1763
(12)
Acknowledgments
1775
(14)
Index of Terms
1789
(4)
Index of Authors, Titles, and First Lines of Poems
1793