Note: Supplemental materials are not guaranteed with Rental or Used book purchases.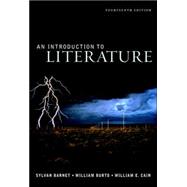 Questions About This Book?
What version or edition is this?
This is the 14th edition with a publication date of 1/1/2006.
What is included with this book?
The Used copy of this book is not guaranteed to include any supplemental materials. Typically, only the book itself is included.
Summary
*This classic (genre-organized) text retains the literature that has made it a success for over 13 editions while adding fresh, new readings, arranged in innovative and enlightening ways: nearly 300 poems, 60 stories, and 15 plays. * Distinguished author team has edited numerous composition texts and literature compilations. * "In Brief" writing chapters provide guidelines for writing about each genre. * Seven casebooks contain critical essays, interviews with authors, and student model essays on an author or particular work. * New "American Voices" chapters, focusing on multicultural literature, now appear in each section: Fiction, Poetry, and Drama.
Table of Contents
A Note on the Cover
iii
Preface
xxvii
Letter to Students
xxxv

| | |
| --- | --- |
| | PART I Reading, Thinking, and Writing Critically about Literature |

1
(58)

| | |
| --- | --- |
| | Reading and Responding to Literature |

3
(23)
3
(5)

| | |
| --- | --- |
| | Looking at an Example: Robert Frost's ``Immigrants'' |

3
(1)
4
(3)

| | |
| --- | --- |
| | Looking at a Second Example: Pat Mora's ``Immigrants'' |

7
(1)
7
(1)

| | |
| --- | --- |
| | Grounds for Argument: The Parable of the Prodigal Son |

8
(3)

| | |
| --- | --- |
| | Luke, The Parable of the Prodigal Son |

8
(3)
11
(3)
11
(3)
14
(1)

| | |
| --- | --- |
| | Katherine Mansfield, Miss Brill |

14
(4)
18
(2)
20
(2)

| | |
| --- | --- |
| | James Merrill, Christmas Tree |

22
(2)

| | |
| --- | --- |
| | W. F. Bolton, Might We Too? |

24
(2)

| | |
| --- | --- |
| | Writing about Literature: From Idea to Essay |

26
(33)

| | |
| --- | --- |
| | Why Write Arguments about Literature? |

26
(1)

| | |
| --- | --- |
| | Getting Ideas: Pre-Writing |

26
(9)
27
(1)

| | |
| --- | --- |
| | Brainstorming for Ideas for Writing |

27
(1)

| | |
| --- | --- |
| | Kate Chopin, The Story of an Hour |

28
(2)
30
(1)
31
(1)

| | |
| --- | --- |
| | Developing an Awareness of the Writer's Use of Language |

32
(1)
32
(1)
33
(1)
34
(1)
35
(5)

| | |
| --- | --- |
| | Sample Draft of an Essay on Kate Chopin's ``The Story of an Hour'' |

35
(2)
37
(1)
38
(2)
40
(2)

| | |
| --- | --- |
| | A Brief Overview of the Final Version |

42
(1)
42
(4)
43
(1)

| | |
| --- | --- |
| | William Butler Yeats, The Balloon of the Mind |

43
(3)
46
(1)

| | |
| --- | --- |
| | Comparison and Contrast: A Way of Arguing |

46
(1)

| | |
| --- | --- |
| | Review: How to Write an Effective Essay |

47
(3)
50
(9)
50
(1)

| | |
| --- | --- |
| | William Stafford, Traveling through the Dark |

51
(1)

| | |
| --- | --- |
| | Lorna Dee Cervantes, Refugee Ship |

52
(1)

| | |
| --- | --- |
| | Jose Armas, El Tonto del Barrio |

53
(6)
59
(602)

| | |
| --- | --- |
| | Approaching Fiction: Responding in Writing |

61
(11)

| | |
| --- | --- |
| | Ernest Hemingway, Cat in the Rain |

61
(3)

| | |
| --- | --- |
| | Responses: Annotations and Journal Entries |

64
(4)

| | |
| --- | --- |
| | A Sample Essay by a Student |

68
(4)

| | |
| --- | --- |
| | Stories and Meanings: Plot, Character, Theme |

72
(25)

| | |
| --- | --- |
| | Aesop, The Vixen and the Lioness |

72
(1)

| | |
| --- | --- |
| | W. Somerset Maugham, The Appointment in Samarra |

73
(1)
74
(1)
75
(7)

| | |
| --- | --- |
| | Kate Chopin, Desiree's Baby |

82
(4)

| | |
| --- | --- |
| | Alice Walker, Everyday Use |

86
(8)

| | |
| --- | --- |
| | Margaret Atwood, Happy Endings |

94
(3)
97
(47)

| | |
| --- | --- |
| | Participant (or First-Person) Points of View |

98
(1)

| | |
| --- | --- |
| | Nonparticipant (or Third-Person) Points of View |

99
(1)

| | |
| --- | --- |
| | The Point of a Point of View |

100
(1)
101
(5)

| | |
| --- | --- |
| | Jack London, To Build a Fire |

106
(12)

| | |
| --- | --- |
| | Alice Elliot Dark, In the Gloaming |

118
(13)

| | |
| --- | --- |
| | V. S. Naipaul, The Night Watchman's Occurrence Book |

131
(6)

| | |
| --- | --- |
| | Katherine Anne Porter, The Jilting of Granny Weatherall |

137
(7)
144
(33)
147
(1)

| | |
| --- | --- |
| | Nathaniel Hawthorne, Young Goodman Brown |

147
(10)

| | |
| --- | --- |
| | John Steinbeck, The Chrysanthemums |

157
(8)

| | |
| --- | --- |
| | Eudora Welty, A Worn Path |

165
(6)

| | |
| --- | --- |
| | Gabriel Garcia Marquez, A Very Old Man with Enormous Wings: A Tale for Children |

171
(6)

| | |
| --- | --- |
| | In Brief: Writing Arguments about Fiction |

177
(14)
177
(1)
177
(1)
178
(1)
178
(1)
179
(1)
179
(1)
179
(1)

| | |
| --- | --- |
| | A Story, Notes, and an Essay |

180
(1)

| | |
| --- | --- |
| | Edgar Allan Poe, The Cask of Amontillado |

180
(5)

| | |
| --- | --- |
| | A Student's Written Response to a Story |

185
(6)
185
(2)
187
(4)

| | |
| --- | --- |
| | Three Fiction Writers in Depth: Flannery O'Connor, Raymond Carver, and Alice Munro |

191
(82)

| | |
| --- | --- |
| | Flannery O'Connor, Two Stories and Comments About Writing |

191
(1)

| | |
| --- | --- |
| | Flannery O'Connor, A Good Man Is Hard to Find |

191
(13)

| | |
| --- | --- |
| | Flannery O'Connor, Revelation |

204
(14)

| | |
| --- | --- |
| | On Fiction: Remarks from Essays and Letters |

218
(1)

| | |
| --- | --- |
| | Flannery O'Connor, From ``The Fiction Writer and His Coutry'' |

218
(1)

| | |
| --- | --- |
| | Flannery O'Connor, From ``Some Aspects of the Grotesque in Southern Fiction'' |

219
(1)

| | |
| --- | --- |
| | Flannery O'Connor, From ``The Nature and Aim of Fiction'' |

219
(1)

| | |
| --- | --- |
| | Flannery O'Connor, From ``Writing Short Stories'' |

220
(1)

| | |
| --- | --- |
| | Flannery O'Connor, ``A Reasonable Use of the Unreasonable'' |

220
(3)

| | |
| --- | --- |
| | On Interpreting ``A Good Man Is Hard to Find'' |

223
(1)

| | |
| --- | --- |
| | Raymond Carver: Three Stories, an Interview, and Comments about Writing |

224
(1)

| | |
| --- | --- |
| | Raymond Carver, Mine and Little Things |

224
(2)

| | |
| --- | --- |
| | Raymond Carver, Cathedral |

226
(11)

| | |
| --- | --- |
| | Raymond Carver, Talking about Stories |

237
(2)

| | |
| --- | --- |
| | Raymond Carver, On Rewriting |

239
(1)

| | |
| --- | --- |
| | Raymond Carver, On ``Cathedral'' |

240
(1)

| | |
| --- | --- |
| | Alice Munro: Two Stories, an Essay, and an Interview |

240
(1)

| | |
| --- | --- |
| | Alice Munro, Boys and Girls |

240
(10)

| | |
| --- | --- |
| | Alice Munro, The Children Stay |

250
(17)

| | |
| --- | --- |
| | Alice Munro, What Is Real? |

267
(3)

| | |
| --- | --- |
| | Alice Munro, A Conversation |

270
(3)

| | |
| --- | --- |
| | Law and Disorder: Narratives from Biblical Times to the Present |

273
(24)

| | |
| --- | --- |
| | Anonymous, The Judgment of Solomon |

274
(1)

| | |
| --- | --- |
| | John, The Woman Taken in Adultery |

275
(1)

| | |
| --- | --- |
| | Franz Kafka, Before the Law |

276
(2)

| | |
| --- | --- |
| | Elizabeth Bishop, The Hanging of the Mouse |

278
(2)

| | |
| --- | --- |
| | James Alan McPherson, An Act of Prostitution |

280
(11)

| | |
| --- | --- |
| | Sherman Alexie, The Trial of Thomas Builds-the-Fire |

291
(6)

| | |
| --- | --- |
| | American Voices: Fiction for a Diverse Nation |

297
(74)

| | |
| --- | --- |
| | Leslie Marmon Silko, The Man to Send Rain Clouds |

297
(4)

| | |
| --- | --- |
| | Jack Forbes, Only Approved Indians Can Play: Made in USA |

301
(2)
303
(8)
311
(6)

| | |
| --- | --- |
| | Diana Chang, The Oriental Contingent |

317
(5)

| | |
| --- | --- |
| | Katherine Min, Courting a Monk |

322
(10)
332
(8)

| | |
| --- | --- |
| | Toni Cade Bambara, The Lesson |

340
(6)

| | |
| --- | --- |
| | Katherine Anne Porter, He |

346
(7)

| | |
| --- | --- |
| | Bernard Malamud, Black Is My Favorite Color |

353
(7)
360
(7)

| | |
| --- | --- |
| | Michele Serros, Senior Picture Day |

367
(4)

| | |
| --- | --- |
| | A Collection of Short Fiction |

371
(190)

| | |
| --- | --- |
| | Leo Tolstoy, The Death of Ivan Ilych |

374
(39)

| | |
| --- | --- |
| | Guy de Maupassant, The Necklace |

413
(6)

| | |
| --- | --- |
| | Charlotte Perkins Gilman, The Yellow Wallpaper |

419
(11)

| | |
| --- | --- |
| | Willa Cather, Paul's Case: A Study in Termperament |

430
(14)
444
(4)

| | |
| --- | --- |
| | William Faulkner, A Rose for Emily |

448
(11)

| | |
| --- | --- |
| | William Faulkner, Barn Burning |

459
(12)

| | |
| --- | --- |
| | Jorge Luis Borges, The Gospel According to Mark |

471
(5)

| | |
| --- | --- |
| | Langston Hughes, One Friday Morning |

476
(6)

| | |
| --- | --- |
| | Ralph Ellison, Battle Royal |

482
(10)
492
(69)
492
(8)

| | |
| --- | --- |
| | Joyce Carol Oates, Where Are You Going, Where Have You Been? |

500
(12)
512
(10)

| | |
| --- | --- |
| | Tim O'Brien, The Things They Carried |

522
(12)
534
(8)

| | |
| --- | --- |
| | Helena Marie Viramontes, The Moths |

542
(5)

| | |
| --- | --- |
| | Elizabeth Tallent, No One's a Mystery |

547
(2)

| | |
| --- | --- |
| | Lorrie Moore, How to Become a Writer |

549
(5)

| | |
| --- | --- |
| | Louise Erdrich, The Red Convertible |

554
(7)
561
(100)

| | |
| --- | --- |
| | Observations on the Novel |

561
(3)

| | |
| --- | --- |
| | Reading Kate Chopin's The Awakening |

564
(2)

| | |
| --- | --- |
| | New Orleans in Kate Chopin's Day: An Album of Pictures |

566
(4)

| | |
| --- | --- |
| | Kate Chopin, The Awakening |

570
(91)
661
(364)

| | |
| --- | --- |
| | Approaching Poetry: Responding in Writing |

663
(12)
663
(6)

| | |
| --- | --- |
| | Thinking about ``Harlem'' |

664
(1)
665
(2)
667
(2)

| | |
| --- | --- |
| | Aphra Behn, Song: Love Armed |

669
(6)
670
(1)

| | |
| --- | --- |
| | A Sample Essay by a Student: ``The Double Nature of Love'' |

671
(4)
675
(22)

| | |
| --- | --- |
| | Popular Ballads and Other Narrative Poems |

675
(1)

| | |
| --- | --- |
| | Anonymous, There was a young fellow of Riga |

675
(2)

| | |
| --- | --- |
| | Anonymous British Ballad, Sir Patrick Spence |

677
(2)

| | |
| --- | --- |
| | Anonymous British Ballad, The Demon Lover |

679
(3)

| | |
| --- | --- |
| | John Keats, La Belle Dame sans Merci |

682
(1)

| | |
| --- | --- |
| | A. E. Housman, Bredon Hill |

683
(2)

| | |
| --- | --- |
| | Anonymous African-American Ballad, De Titanic |

685
(3)

| | |
| --- | --- |
| | Thomas Hardy, The Convergence of the Twain |

688
(2)

| | |
| --- | --- |
| | Siegfried Sassoon, The General |

690
(1)
691
(1)

| | |
| --- | --- |
| | Edward Arlington Robinson, Richard Cory |

692
(1)

| | |
| --- | --- |
| | Thomas Gray, Ode on the Death of a Favorite Cat Drowned in a Tub of Gold Fishes |

693
(1)

| | |
| --- | --- |
| | Emily Dickinson, Because I could not stop for Death |

694
(1)

| | |
| --- | --- |
| | John Lennon and Paul McCartney, Eleanor Rigby |

695
(2)
697
(21)

| | |
| --- | --- |
| | Anonymous, Michael Row the Boat Ashore |

697
(1)
697
(2)

| | |
| --- | --- |
| | Anonymous, The Colorado Trail |

699
(1)
699
(1)

| | |
| --- | --- |
| | Julia Ward Howe, Battle Hymn of the Republic |

700
(2)
702
(1)

| | |
| --- | --- |
| | William Shakespeare, Spring |

703
(1)

| | |
| --- | --- |
| | William Shakespeare, Winter |

703
(1)

| | |
| --- | --- |
| | W. H. Auden, Stop All the Clocks, Cut Off the Telephone |

704
(1)
705
(1)

| | |
| --- | --- |
| | Thomas Hardy, The Self-Unseeing |

706
(2)

| | |
| --- | --- |
| | Anonymous African-American Spiritual, Go Down, Moses |

708
(2)

| | |
| --- | --- |
| | Langston Hughes, Evenin' Air Blues |

710
(1)

| | |
| --- | --- |
| | Li-Young Lee, I Ask My Mother to Sing |

711
(1)

| | |
| --- | --- |
| | Edna St. Vincent Millay, The Spring and the Fall |

711
(1)

| | |
| --- | --- |
| | Wilfred Owen, Anthem for Doomed Youth |

712
(1)

| | |
| --- | --- |
| | Walt Whitman, A Noiseless Patient Spider |

713
(1)

| | |
| --- | --- |
| | John Keats, Ode on a Grecian Urn |

714
(2)

| | |
| --- | --- |
| | Paul Laurence Dunbar, Sympathy |

716
(1)

| | |
| --- | --- |
| | Linda Pastan, Jump Cabling |

717
(1)

| | |
| --- | --- |
| | The Speaking Tone of Voice |

718
(24)

| | |
| --- | --- |
| | Emily Dickinson, I'm Nobody! Who are you? |

718
(2)

| | |
| --- | --- |
| | Gwendolyn Brooks, We Real Cool |

720
(1)

| | |
| --- | --- |
| | Gwendolyn Brooks, The Mother |

721
(1)
722
(1)

| | |
| --- | --- |
| | The Reader as the Speaker |

723
(4)

| | |
| --- | --- |
| | Stevie Smith, Not Waving but Drowning |

723
(1)

| | |
| --- | --- |
| | Wislawa Szymborska, The Terrorist, He Watches |

724
(1)
725
(2)
727
(2)

| | |
| --- | --- |
| | Robert Browning, My Last Duchess |

727
(2)
729
(6)

| | |
| --- | --- |
| | Robert Herrick, To the Virgins, to Make Much of Time |

730
(1)

| | |
| --- | --- |
| | Thomas Hardy, The Man He Killed |

731
(1)

| | |
| --- | --- |
| | Walter de la Mare, An Epitaph |

732
(1)

| | |
| --- | --- |
| | Gerard Manley Hopkins, Spring and Fall: To a Young Child |

732
(1)

| | |
| --- | --- |
| | Countee Cullen, For a Lady I Know |

733
(1)

| | |
| --- | --- |
| | Lyn Lifshin, My Mother and the Bed |

733
(2)

| | |
| --- | --- |
| | The Voice of the Satirist |

735
(7)

| | |
| --- | --- |
| | E. E. Cummings, next to of course god america i |

736
(1)

| | |
| --- | --- |
| | Marge Piercy, Barbie Doll |

737
(1)

| | |
| --- | --- |
| | Louise Erdrich, Dear John Wayne |

738
(1)

| | |
| --- | --- |
| | Jonathan Swift, A Satirical Elegy on the Death of a Late Famous General |

739
(2)

| | |
| --- | --- |
| | Alexander Pope, Engraved on the Collar of a Dog which I gave to His Royal Highness |

741
(1)

| | |
| --- | --- |
| | Figurative Language: Simile, Metaphor, Personification, Apostrophe |

742
(14)

| | |
| --- | --- |
| | Robert Burns, A Red, Red Rose |

743
(1)
744
(1)
745
(1)

| | |
| --- | --- |
| | Richard Wilbur, A Simile for Her Smile |

745
(1)
746
(2)

| | |
| --- | --- |
| | John Keats, On First Looking into Chapman's Homer |

746
(2)
748
(1)

| | |
| --- | --- |
| | Michael Drayton, Since There's No Help |

748
(1)
749
(7)
749
(2)

| | |
| --- | --- |
| | William Carlos Williams, The Red Wheelbarrow |

751
(1)

| | |
| --- | --- |
| | Alfred, Lord Tennyson, The Eagle |

751
(1)
752
(1)
753
(1)

| | |
| --- | --- |
| | Craig Raine, A Martian Sends a Postcard Home |

754
(1)

| | |
| --- | --- |
| | William Shakespeare, Sonnet 130 |

755
(1)
756
(21)

| | |
| --- | --- |
| | William Blake, The Sick Rose |

757
(1)

| | |
| --- | --- |
| | Walt Whitman, I Saw in Louisiana a Live-Oak Growing |

757
(3)

| | |
| --- | --- |
| | Samuel Taylor Coleridge, Kubla Khan |

760
(3)

| | |
| --- | --- |
| | Frederick Morgan, The Master |

763
(1)

| | |
| --- | --- |
| | Claude McKay, The Tropics in New York |

764
(2)

| | |
| --- | --- |
| | Adrienne Rich, Diving into the Wreck |

766
(2)

| | |
| --- | --- |
| | Christina Rossetti, Uphill |

768
(1)

| | |
| --- | --- |
| | Wallace Stevens, Anecdote of the Jar |

768
(1)

| | |
| --- | --- |
| | Wallace Stevens, The Emperor of Ice-Cream |

769
(1)

| | |
| --- | --- |
| | Edgar Allan Poe, To Helen |

770
(1)

| | |
| --- | --- |
| | Herman Melville, DuPont's Round Fight |

771
(2)

| | |
| --- | --- |
| | Thomas Hardy, Neutral Tones |

773
(1)
774
(3)

| | |
| --- | --- |
| | Moritake, Fallen petals rise |

774
(1)
774
(1)
775
(1)

| | |
| --- | --- |
| | Richard Wright, Four Haiku |

775
(1)
775
(1)

| | |
| --- | --- |
| | Taigi, Look, O look, there go |

776
(1)
776
(1)
777
(11)

| | |
| --- | --- |
| | Percy Bysshe Shelley, Ozymandias |

778
(1)

| | |
| --- | --- |
| | Andrew Marvell, To His Coy Mistress |

779
(2)

| | |
| --- | --- |
| | John Donne, Holy Sonnet XIV (``Batter my heart, three-personed God'') |

781
(1)

| | |
| --- | --- |
| | Langston Hughes, Dream Boogie |

782
(1)

| | |
| --- | --- |
| | Martin Espada, Tony Went to the Bodega but He Didn't Buy Anything |

783
(2)

| | |
| --- | --- |
| | Edna St. Vincent Millay, Love Is Not All: It Is Not Meat nor Drink |

785
(1)

| | |
| --- | --- |
| | Sherman Alexie, Evolution |

785
(1)

| | |
| --- | --- |
| | Henry Reed, Naming of Parts |

786
(2)
788
(34)

| | |
| --- | --- |
| | Ezra Pound, An Immorality |

789
(2)

| | |
| --- | --- |
| | A. E. Housman, Eight O'Clock |

791
(1)

| | |
| --- | --- |
| | William Carlos Williams, The Dance |

792
(1)

| | |
| --- | --- |
| | Robert Francis, The Pitcher |

793
(1)

| | |
| --- | --- |
| | Versification: A Glossary for Reference |

794
(7)
794
(3)
797
(1)

| | |
| --- | --- |
| | Galway Kinnell, Blackberry Eating |

798
(1)

| | |
| --- | --- |
| | A Note about Poetic Forms |

799
(1)
800
(1)

| | |
| --- | --- |
| | Three Complex Forms: The Sonnet, The Villanelle, and the Sestina |

801
(7)
801
(1)
802
(1)

| | |
| --- | --- |
| | William Shakespeare, Sonnet 73 (``That time of year thou mayst in me behold'') |

802
(1)

| | |
| --- | --- |
| | William Shakespeare, Sonnet 146 (``Poor soul, the center of my sinful earth'') |

803
(2)

| | |
| --- | --- |
| | John Milton, When I Consider How My Light Is Spent |

805
(1)

| | |
| --- | --- |
| | John Crowe Ransom, Piazza Piece |

806
(1)

| | |
| --- | --- |
| | X. J. Kennedy, Nothing in Heaven Functions as It Ought |

806
(1)
807
(1)
808
(5)

| | |
| --- | --- |
| | Edwin Arlington Robinson, The House on the Hill |

809
(1)

| | |
| --- | --- |
| | Dylan Thomas, Do Not Go Gentle into That Good Night |

810
(1)

| | |
| --- | --- |
| | Elizabeth Bishop, One Art |

811
(1)

| | |
| --- | --- |
| | Wendy Cope, Reading Scheme |

812
(1)
813
(4)

| | |
| --- | --- |
| | Rudyard Kipling, Sestina of the Tramp-Royal |

814
(2)

| | |
| --- | --- |
| | Elizabeth Bishop, Sestina |

816
(1)

| | |
| --- | --- |
| | Shaped Poetry or Pattern Poetry |

817
(2)

| | |
| --- | --- |
| | George Herbert, Easter Wings |

817
(1)

| | |
| --- | --- |
| | Lillian Morrison, The Sidewalk Racer |

818
(1)

| | |
| --- | --- |
| | Blank Verse and Free Verse |

819
(1)

| | |
| --- | --- |
| | Walt Whitman, When I Heard the Learn'd Astronomer |

820
(1)
820
(2)

| | |
| --- | --- |
| | Carolyn Forche, The Colonel |

821
(1)

| | |
| --- | --- |
| | In Brief: Writing Arguments About Poetry |

822
(10)
822
(1)
822
(1)
823
(1)
823
(1)

| | |
| --- | --- |
| | Center of Interest and Theme |

823
(1)
823
(1)
823
(1)
824
(1)

| | |
| --- | --- |
| | A Student's Written Response to a Poem |

824
(5)

| | |
| --- | --- |
| | Louise Gluck, Gretel in Darkness |

825
(4)
829
(3)
832
(10)

| | |
| --- | --- |
| | Walt Whitman, Enfans d'Adam, number 9 |

832
(2)

| | |
| --- | --- |
| | Donald Justice, Elsewheres |

834
(2)

| | |
| --- | --- |
| | Cathy Song, Out of Our Hands |

836
(2)

| | |
| --- | --- |
| | William Butler Yeats: ``Leda and the Swan'' (Three Versions) |

838
(4)

| | |
| --- | --- |
| | William Butler Yeats, Annunciation |

840
(1)

| | |
| --- | --- |
| | William Butler Yeats, Leda and the Swan (1924) |

840
(1)

| | |
| --- | --- |
| | William Butler Yeats, Leda and the Swan (1933) |

840
(2)

| | |
| --- | --- |
| | The Span of Life: Poems from the Cradle to the Grave |

842
(33)
845
(3)

| | |
| --- | --- |
| | Robert Frost, The Span of Life |

845
(1)

| | |
| --- | --- |
| | Sir Walter Raleigh, What Is Our Life? |

846
(1)

| | |
| --- | --- |
| | E. E. Cummings, anyone lived in a pretty how town |

847
(1)
848
(6)

| | |
| --- | --- |
| | William Blake, Infant Joy |

848
(1)

| | |
| --- | --- |
| | William Blake, Infant Sorrow |

849
(1)

| | |
| --- | --- |
| | Anonymous, How Many Miles to Babylon |

850
(1)

| | |
| --- | --- |
| | Sharon Olds, Rites of Passage |

851
(1)

| | |
| --- | --- |
| | Louise Gluck, The School Children |

852
(1)

| | |
| --- | --- |
| | Robert Hayden, Those Winter Sundays |

853
(1)

| | |
| --- | --- |
| | Sex, Love, Marriage, Children |

854
(6)

| | |
| --- | --- |
| | William Butler Yeats, For Anne Gregory |

854
(1)

| | |
| --- | --- |
| | William Shakespeare, Sonnet 116 (``Let me not to the marriage of true minds'') |

854
(1)

| | |
| --- | --- |
| | Kitty Tsui, A Chinese Banquet |

855
(2)

| | |
| --- | --- |
| | Frank O'Hara, Homosexuality |

857
(1)

| | |
| --- | --- |
| | Edna St. Vincent Millay, Sonnet xli |

858
(1)

| | |
| --- | --- |
| | Wyatt Prunty, Learning the Bicycle |

859
(1)

| | |
| --- | --- |
| | Anonymous, Higamus, Hogamus |

860
(1)
860
(5)

| | |
| --- | --- |
| | John Updike, Ex-Basketball Player |

860
(1)
861
(1)

| | |
| --- | --- |
| | Gary Snyder, Hay for the Horses |

862
(1)

| | |
| --- | --- |
| | James Wright, Lying in a Hammock at William Duffy's Farm in Pine Island, Minnesota |

863
(1)

| | |
| --- | --- |
| | Marge Piercy, To be of use |

864
(1)
865
(3)

| | |
| --- | --- |
| | Gwendolyn Brooks, The Bean Eaters |

865
(1)

| | |
| --- | --- |
| | Robert Burns, John Anderson My Jo |

865
(1)

| | |
| --- | --- |
| | William Butler Yeats, Sailing to Byzantium |

866
(2)
868
(3)

| | |
| --- | --- |
| | A. E. Housman, To an Athlete Dying Young |

868
(1)

| | |
| --- | --- |
| | W. H. Auden, The Unknown Citizen |

869
(1)

| | |
| --- | --- |
| | Anonymous, Swing Low, Sweet Chariot |

870
(1)
871
(4)

| | |
| --- | --- |
| | William Shakespeare, Epitaph (``Good friend for Jesus sake forbeare'') |

871
(1)

| | |
| --- | --- |
| | Thomas Hardy, Ah, Are You Digging on My Grave |

872
(2)

| | |
| --- | --- |
| | Edgar Lee Masters, Minerva Jones |

874
(1)

| | |
| --- | --- |
| | Edgar Lee Masters, Doctor Meyers |

874
(1)

| | |
| --- | --- |
| | Edgar Lee Masters, Mrs. Meyers |

874
(1)

| | |
| --- | --- |
| | American Voices: Poems for a Diverse Nation |

875
(16)

| | |
| --- | --- |
| | Paula Gunn Allen, Pocahontas to Her English Husband, John Rolfe |

875
(2)

| | |
| --- | --- |
| | Robert Frost, The Vanishing Red |

877
(1)

| | |
| --- | --- |
| | Aurora Levins Morales, Child of the Americas |

878
(1)

| | |
| --- | --- |
| | Joseph Bruchac III, Ellis Island |

879
(1)

| | |
| --- | --- |
| | Mitsuye Yamada, To the Lady |

880
(1)

| | |
| --- | --- |
| | Yusef Komunyakaa, Facing It |

881
(3)
884
(1)

| | |
| --- | --- |
| | Dudley Randall, The Melting Pot |

884
(1)
885
(1)

| | |
| --- | --- |
| | Jimmy Santiago Baca, So Mexicans Are Taking Jobs from Americans |

886
(1)

| | |
| --- | --- |
| | Sherman Alexie, On the Amtrack from Boston to New York City |

887
(1)

| | |
| --- | --- |
| | Nila northSun, Moving Camp Too Far |

888
(1)

| | |
| --- | --- |
| | Laureen Mar, My Mother, Who Came from China, Where She Never Saw Snow |

889
(2)

| | |
| --- | --- |
| | Variations on Themes: Poems and Paintings |

891
(24)

| | |
| --- | --- |
| | Writing about Poems and Paintings |

891
(1)
892
(2)

| | |
| --- | --- |
| | Jane Flanders, Van Gogh's Bed |

894
(2)

| | |
| --- | --- |
| | Adrienne Rich, Mourning Picture |

896
(2)

| | |
| --- | --- |
| | Cathy Song, Beauty and Sadness |

898
(2)

| | |
| --- | --- |
| | Carl Phillips, Luncheon on the Grass |

900
(1)

| | |
| --- | --- |
| | Anne Sexton, The Starry Night |

901
(3)

| | |
| --- | --- |
| | W. H. Auden, Musee des Beaux Arts |

904
(3)

| | |
| --- | --- |
| | X. J. Kennedy, Nude Descending a Staircase |

907
(1)

| | |
| --- | --- |
| | Sherman Alexie, At Navajo Monument Valley Tribal School |

908
(2)

| | |
| --- | --- |
| | John Updike, Before the Mirror |

910
(2)

| | |
| --- | --- |
| | Greg Pape, American Flamingo |

912
(3)

| | |
| --- | --- |
| | Three Poets in Depth: Emily Dickinson, Robert Frost, and Langston Hughes |

915
(39)

| | |
| --- | --- |
| | On Reading Authors Represented in Depth |

915
(2)
917
(11)

| | |
| --- | --- |
| | These are the days when Birds come back |

917
(1)
918
(1)

| | |
| --- | --- |
| | Wild Nights---Wild Nights! |

918
(1)

| | |
| --- | --- |
| | There's a certain Slant of light |

919
(1)

| | |
| --- | --- |
| | I got so I could hear his name--- |

919
(1)

| | |
| --- | --- |
| | The Soul selects her own Society |

920
(1)

| | |
| --- | --- |
| | This was a Poet---It is That |

920
(1)

| | |
| --- | --- |
| | I heard a Fly buzz---when I died |

921
(1)

| | |
| --- | --- |
| | This World is not Conclusion |

922
(1)

| | |
| --- | --- |
| | I like to see it lap the Miles |

922
(1)

| | |
| --- | --- |
| | A narrow Fellow in the Grass |

923
(1)

| | |
| --- | --- |
| | Further in Summer than the Birds |

923
(1)

| | |
| --- | --- |
| | Tell all the Truth but tell it slant |

924
(1)
924
(1)
924
(1)

| | |
| --- | --- |
| | Apparently with no surprise |

925
(1)

| | |
| --- | --- |
| | I felt a Funeral, in my Brain |

926
(1)

| | |
| --- | --- |
| | I felt a Cleaving in my Mind--- |

927
(1)

| | |
| --- | --- |
| | The Dust behind I strove to join |

927
(1)
928
(3)

| | |
| --- | --- |
| | To Susan Gilbert (Dickinson) |

929
(1)

| | |
| --- | --- |
| | Letter to T. W. Higginson |

929
(1)

| | |
| --- | --- |
| | Letter to T. W. Higginson |

930
(1)
931
(9)
931
(1)
932
(1)
933
(1)
933
(1)
934
(1)
934
(1)
935
(1)

| | |
| --- | --- |
| | The Need of Being Versed in Country Things |

935
(1)

| | |
| --- | --- |
| | Stopping by Woods on a Snowy Evening |

936
(1)

| | |
| --- | --- |
| | Acquainted with the Night |

936
(1)
937
(1)
938
(1)
938
(1)
938
(2)
940
(1)
940
(2)
940
(2)

| | |
| --- | --- |
| | From ``The Constant Symbol'' |

942
(1)
942
(7)

| | |
| --- | --- |
| | The Negro Speaks of Rivers |

943
(1)
943
(1)
944
(1)
944
(1)
945
(1)
946
(1)
946
(1)
947
(1)
947
(1)
948
(1)
949
(1)

| | |
| --- | --- |
| | Langston Hughes on Poetry |

949
(5)

| | |
| --- | --- |
| | The Negro and the Racial Mountain |

949
(4)

| | |
| --- | --- |
| | On the Cultural Achievements of African-Americans |

953
(1)
954
(16)

| | |
| --- | --- |
| | A Poem Translated from Spanish, in an Essay by a Student |

954
(5)

| | |
| --- | --- |
| | A Note on Using the First-Person Singular Pronoun in Essays |

958
(1)

| | |
| --- | --- |
| | Translating a Poem of Your Choice, and Commenting on the Translation |

959
(1)

| | |
| --- | --- |
| | Last-Minute Help: Three Spanish Poems |

960
(2)

| | |
| --- | --- |
| | Anonymous, Ya se van los pastores |

960
(1)

| | |
| --- | --- |
| | Anonymous, Una gallina con pollos |

960
(1)

| | |
| --- | --- |
| | Gabriela Mistral, El Pensador de Rodin |

960
(1)

| | |
| --- | --- |
| | Gabriela Mistral, Rodin's Thinker, translated by Gustavo Alfaro |

961
(1)
962
(2)
962
(1)
963
(1)
964
(1)

| | |
| --- | --- |
| | Further Thoughts about Translating Poetry |

964
(2)
965
(1)

| | |
| --- | --- |
| | Can Poetry Be Translated? |

966
(1)

| | |
| --- | --- |
| | Looking at Translations of a Poem by Charles Baudelaire |

967
(3)

| | |
| --- | --- |
| | Charles Baudelaire, L'Albatros |

968
(1)

| | |
| --- | --- |
| | Charles Baudelaire, The Albatross, translated by Richard Wilbur |

969
(1)
970
(55)

| | |
| --- | --- |
| | Anonymous, The Three Ravens |

970
(1)

| | |
| --- | --- |
| | Anonymous, The Twa Corbies |

971
(1)
972
(2)
974
(1)

| | |
| --- | --- |
| | William Shakespeare, Sonnet 29 (``When, in disgrace with Fortune and men's eyes'') |

975
(1)

| | |
| --- | --- |
| | John Donne, A Valediction: Forbidding Mourning |

976
(1)
977
(1)

| | |
| --- | --- |
| | Ben Jonson, On My First Son |

977
(1)

| | |
| --- | --- |
| | Ben Jonson, Still to Be Neat |

978
(1)

| | |
| --- | --- |
| | Robert Herrick, Delight in Disorder |

978
(1)
979
(1)
979
(1)
979
(2)

| | |
| --- | --- |
| | William Wordsworth, The World Is Too Much with Us |

981
(1)

| | |
| --- | --- |
| | William Wordsworth, I Wandered Lonely as a Cloud |

981
(1)

| | |
| --- | --- |
| | William Wordsworth, The Solitary Reaper |

982
(1)

| | |
| --- | --- |
| | Phillis Wheatley, On Being Brought from Africa to America |

983
(1)

| | |
| --- | --- |
| | Lydia Howard Huntley Sigourney, The Indian's Welcome to the Pilgrim Fathers |

984
(1)
985
(1)

| | |
| --- | --- |
| | Alfred, Lord Tennyson, Ulysses |

986
(2)

| | |
| --- | --- |
| | Robert Browning, Porphyria's Lover |

988
(1)

| | |
| --- | --- |
| | Matthew Arnold, Dover Beach |

989
(1)

| | |
| --- | --- |
| | Gerard Manley Hopkins, God's Grandeur |

990
(1)

| | |
| --- | --- |
| | Gerard Manley Hopkins, Pied Beauty |

991
(1)

| | |
| --- | --- |
| | James Weldon Johnson, To America |

991
(1)

| | |
| --- | --- |
| | William Carlos Williams, Spring and All |

992
(1)

| | |
| --- | --- |
| | Ezra Pound, In a Station of the Metro |

993
(1)
993
(1)

| | |
| --- | --- |
| | T. S. Eliot, The Love Song of J. Alfred Prufrock |

994
(3)

| | |
| --- | --- |
| | Archibald MacLeish, Ars Poetica |

997
(1)

| | |
| --- | --- |
| | Elizabeth Bishop, The Fish |

998
(2)
1000
(1)

| | |
| --- | --- |
| | Gwendolyn Brooks, Martin Luther King Jr. |

1000
(1)

| | |
| --- | --- |
| | Anthony Hecht, The Dover Bitch: A Criticism of Life |

1001
(1)

| | |
| --- | --- |
| | Robert Bly, Driving to Town Late to Mail a Letter |

1002
(1)

| | |
| --- | --- |
| | Allen Ginsberg, A Supermarket in California |

1003
(1)
1004
(1)

| | |
| --- | --- |
| | Adrienne Rich, For the Felling of an Elm in the Harvard Yard |

1004
(1)

| | |
| --- | --- |
| | Adrienne Rich, Aunt Jennifer's Tigers |

1005
(1)

| | |
| --- | --- |
| | Adrienne Rich, Living in Sin |

1005
(1)

| | |
| --- | --- |
| | X. J. Kennedy, For Allen Ginsberg |

1006
(1)

| | |
| --- | --- |
| | Miller Williams, Listen \ 014 |

1007
(1)

| | |
| --- | --- |
| | Derek Walcott, A Far Cry from Africa |

1007
(1)
1008
(2)
1010
(1)

| | |
| --- | --- |
| | Amiri Baraka, A Poem for Black Hearts |

1011
(1)

| | |
| --- | --- |
| | Lucille Clifton, in the inner city |

1012
(1)

| | |
| --- | --- |
| | Joseph Brodsky, Love Song |

1013
(1)

| | |
| --- | --- |
| | Bob Dylan, The Times They Are A-Changin' |

1013
(2)
1015
(1)
1015
(1)
1016
(1)

| | |
| --- | --- |
| | Nikki Giovanni, Master Charge Blues |

1017
(1)

| | |
| --- | --- |
| | Ellen Bryant Voigt, Quarrel |

1018
(1)
1018
(1)

| | |
| --- | --- |
| | Wendy Rose, Three Thousand Dollar Death Song |

1019
(2)

| | |
| --- | --- |
| | Diane Ackerman, Pumping Iron |

1021
(1)
1021
(1)

| | |
| --- | --- |
| | Judith Ortiz Cofer, My Father in the Navy: A Childhood Memory |

1022
(1)

| | |
| --- | --- |
| | Bob Hicok, Man of the House |

1023
(2)
1025
(714)
1027
(67)

| | |
| --- | --- |
| | Thinking about the Language of Drama |

1027
(3)
1030
(3)
1033
(10)

| | |
| --- | --- |
| | Tennessee Williams, The Glass Menagerie |

1043
(46)

| | |
| --- | --- |
| | A Context for The Glass Menagerie |

1089
(1)

| | |
| --- | --- |
| | Tennessee Williams, Production Notes |

1089
(5)
1094
(321)
1098
(1)
1099
(1)

| | |
| --- | --- |
| | Sophocles, Oedipus the King |

1099
(43)
1142
(36)
1178
(1)
1178
(1)

| | |
| --- | --- |
| | A Note on the Elizabethan Theater |

1178
(1)

| | |
| --- | --- |
| | A Note on the Texts of Hamlet |

1179
(6)

| | |
| --- | --- |
| | Portfolio: Hamlet on the Stage |

1185
(3)

| | |
| --- | --- |
| | William Shakespeare, Hamlet, Prince of Denmark |

1188
(111)

| | |
| --- | --- |
| | Ernest Jones, Hamlet and the Oedipus Complex |

1299
(2)

| | |
| --- | --- |
| | Stanley Wells, On the First Soliloquy |

1301
(2)

| | |
| --- | --- |
| | Elaine Showalter, Representing Ophelia |

1303
(1)

| | |
| --- | --- |
| | Claire Bloom, Playing Gertrude on Television |

1304
(1)

| | |
| --- | --- |
| | Bernice W. Kliman, The BBC Hamlet: A Television Production |

1305
(2)

| | |
| --- | --- |
| | Will Saretta, Branagh's Film of Hamlet |

1307
(3)

| | |
| --- | --- |
| | A Note on the Texts of Othello |

1310
(2)

| | |
| --- | --- |
| | Portfolio: Playing Othello |

1312
(8)

| | |
| --- | --- |
| | William Shakespeare, Othello, the Moor of Venice |

1320
(95)
1415
(60)

| | |
| --- | --- |
| | William Shakespeare, A Midsummer Night's Dream |

1418
(57)
1475
(69)

| | |
| --- | --- |
| | Henrik Ibsen, A Doll's House |

1475
(54)

| | |
| --- | --- |
| | Contexts for A Doll's House |

1529
(2)

| | |
| --- | --- |
| | Henrik Ibsen, Notes for the Tragedy of Modern Times |

1529
(1)

| | |
| --- | --- |
| | Henrik Ibsen, Adaptation of A Doll's House for a German Production |

1530
(1)

| | |
| --- | --- |
| | Henrik Ibsen, Speech at the Banquet of the Norwegian League for Women's Rights |

1530
(1)

| | |
| --- | --- |
| | Clare Boothe Luce, Slam the Door Softly |

1531
(13)

| | |
| --- | --- |
| | In Brief: Writing Arguments about Drama |

1544
(15)
1544
(1)
1545
(1)
1545
(1)
1546
(1)
1546
(1)
1546
(1)

| | |
| --- | --- |
| | A Sample Student Essay, Using Sources |

1547
(12)

| | |
| --- | --- |
| | American Voices: Drama for a Diverse Nation |

1559
(180)
1560
(4)

| | |
| --- | --- |
| | Arthur Miller, Death of a Salesman |

1564
(68)

| | |
| --- | --- |
| | A Context for Death of a Salesman |

1632
(1)

| | |
| --- | --- |
| | Arthur Miller, Tragedy and the Common Man |

1632
(3)

| | |
| --- | --- |
| | Eve Merriam, Paul Wagner, and Jack Hofsiss, Out of Our Fathers' House |

1635
(21)

| | |
| --- | --- |
| | Luis Valdez, Los Vendidos |

1656
(10)

| | |
| --- | --- |
| | A Context for Los Vendidos |

1666
(2)
1666
(2)

| | |
| --- | --- |
| | Harvey Fierstein, On Tidy Endings |

1668
(18)
1686
(50)
1736
(3)

| | |
| --- | --- |
| | August Wilson, Talking about Fences |

1736
(3)

| | |
| --- | --- |
| | PART V Critical Perspectives |

1739
(86)

| | |
| --- | --- |
| | Critical Approaches: The Nature of Criticism |

1741
(84)

| | |
| --- | --- |
| | Formalist (or New) Criticism |

1742
(2)
1744
(1)

| | |
| --- | --- |
| | Reader-Response Criticism |

1745
(3)

| | |
| --- | --- |
| | Archetypal (or Myth) Criticism |

1748
(1)
1749
(3)
1750
(1)
1750
(1)
1751
(1)

| | |
| --- | --- |
| | Psychological (or Psychoanalytic) Criticism |

1752
(1)

| | |
| --- | --- |
| | Gender (Feminist, and Lesbian and Gay) Criticism |

1753
(7)

| | |
| --- | --- |
| | Suggestions for Further Reading |

1760
(4)

| | |
| --- | --- |
| | A Remarks about Manuscript Form |

1764
(5)
1764
(1)

| | |
| --- | --- |
| | Corrections in the Final Copy |

1765
(1)

| | |
| --- | --- |
| | Quotations and Quotation Marks |

1766
(1)

| | |
| --- | --- |
| | Quotation Marks or Underlining? |

1767
(1)
1768
(1)

| | |
| --- | --- |
| | B Writing a Research Paper |

1769
(20)

| | |
| --- | --- |
| | What Research Is Not, and What Research Is |

1769
(1)

| | |
| --- | --- |
| | Primary and Secondary Materials |

1769
(1)

| | |
| --- | --- |
| | Locating Materials: First Steps |

1770
(1)
1770
(2)
1772
(1)

| | |
| --- | --- |
| | Two Mechanical Aids: The Photocopier and the Word Processor |

1772
(1)
1772
(2)
1774
(1)

| | |
| --- | --- |
| | Keeping a Sense of Proportion |

1775
(1)
1776
(1)
1776
(1)

| | |
| --- | --- |
| | What to Document: Avoiding Plagiarism |

1776
(2)

| | |
| --- | --- |
| | How to Document: Footnotes, Internal Parenthetical Citations, and a List of Works Cited (MLA Format) |

1778
(11)

| | |
| --- | --- |
| | C New Approaches to the Research Paper: Literature, History, and the World Wide Web |

1789
(16)

| | |
| --- | --- |
| | Case Study on Literature and History: The Internment of Japanese-Americans |

1790
(1)
1790
(1)

| | |
| --- | --- |
| | Mitsuye Yamada, The Question of Loyalty |

1790
(1)

| | |
| --- | --- |
| | David Mura, An Argument: On 1942 |

1791
(3)
1794
(1)

| | |
| --- | --- |
| | Basic Reference Books (Short Paper) |

1794
(2)

| | |
| --- | --- |
| | Getting Deeper (Medium Paper) |

1796
(1)

| | |
| --- | --- |
| | A Review of Researching a Literary-Historical Paper |

1797
(2)

| | |
| --- | --- |
| | Other Reference Sources (Long Paper) |

1799
(1)
1799
(1)
1800
(1)

| | |
| --- | --- |
| | Encyclopedias: Print and Electronic Versions |

1800
(1)

| | |
| --- | --- |
| | The Internet/World Wide Web |

1800
(1)

| | |
| --- | --- |
| | Evaluating Sources on the World Wide Web |

1800
(1)

| | |
| --- | --- |
| | A Review for Using the World Wide Web |

1801
(1)

| | |
| --- | --- |
| | Documentation: Citing a WWW Source |

1801
(1)

| | |
| --- | --- |
| | Citing World Wide Web Sources |

1801
(4)

| | |
| --- | --- |
| | D Literary Research: Print and Electronic Sources |

1805
(5)
1805
(1)

| | |
| --- | --- |
| | Moving Ahead: Finding Sources for Research Work |

1805
(1)

| | |
| --- | --- |
| | Literature---Print Reference Sources |

1806
(1)
1807
(1)

| | |
| --- | --- |
| | History---Reference and Bibliography Sources |

1808
(1)

| | |
| --- | --- |
| | What Does Your Own Institution Offer? |

1808
(2)

| | |
| --- | --- |
| | E Writing Essay Examinations |

1810
(4)

| | |
| --- | --- |
| | Why Do Instructors Give Examinations? |

1810
(1)
1810
(1)
1811
(3)

| | |
| --- | --- |
| | F Glossary of Literary Terms |

1814
(11)
Credits
1825
(12)
Index of Terms
1837
(4)
Index of Authors, Titles, and First Lines of Poems
1841