Note: Supplemental materials are not guaranteed with Rental or Used book purchases.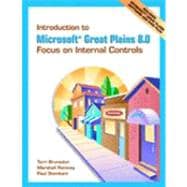 Related Products
Summary
Audience: This lab manual is intended for students taking a first year computerized accounting course or an upper division course in Accounting Information Course Approach: Integrated approach means there are two levels. Level One instructs the student on basic Great Plains transaction entry and reporting. Level Two skills are geared for AIS courses where the focus revolves more on internal control concepts. The focal point of this level is to teach students to apply internal control concepts within a general ledger environment. Competitors: Computerized Accounting Using Microsoft Great Plains Dynamics, 2e, by Arens/Ward, Schneider (ITP)
Table of Contents
Introduction & Software Interface
This Chapter provides an introduction for the manual along with an overview of the Great Plains Software Interface and modules
All readers: uml; Install the Student Version of Great Plains ver.8.0 uml;
Back up and restore the company database uml;
Become familiar with the Series installed with the Student Version
Level One uml;
Menu Navigation uml;
Field lookups uml;
Record Drill down from Summary to Transaction detail
Level Two uml;
Identify how mid-market and smaller general ledger packages are sold uml;
Discuss modular design of mid-market general ledger packages and compare this to smaller packages uml;
Identify the intricacies involved with evaluating the purchase of a general ledger package, particularly as it relates to the companyrsquo;s needs for internal control features, reporting, and scalability uml;
Discuss software licensing and ldquo;rights of userdquo;
Sample Company
Chapter Two introduces the student to the sample company
The type of company, inventory items, etc are explained
Level One uml;
Chart of Accounts uml;
Departments uml;
Inventory Items uml;
Trial Balance
Level Two uml;
Create/Maintain General Ledger Accounts uml;
Account Format uml;
Fiscal Periods uml;
Payment Terms
Database
This Chapter is designed for Level Two students to provide insight to the database aspect of Great Plains
After reading this Chapter, the student will understand: uml;
The relationship between the DBMS and Great Plains uml;
Understand Series Integration uml;
Recognize Master Records versus Transaction Records uml;
Appreciate the importance of proper error correction procedures
System Administration: Security & Internal Controls This Chapter is designed for Level Two Students
It explores System Administration from the aspects of security & internal controls
After reading, student will understand: uml;
The System Manager Series uml;
System Security uml;
System Internal Controls
Table of Contents provided by Publisher. All Rights Reserved.