Note: Supplemental materials are not guaranteed with Rental or Used book purchases.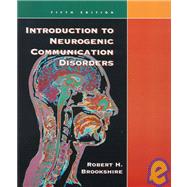 Introduction to Neurogenic Communication Disorders
ISBN13:
9780815110149
by
Brookshire, Robert H.
Elsevier Science Health Science div
Related Products
Summary
Organized into 12 chapters, this clinically relevant text begins with neuroanatomy and neurologic examination, neuropathology, neurophysiology, and assessment of aphasia and related disorders, with discussions of the context of neurogenic communication disorders and aphasia treatment. Also featured are right hemisphere syndrome, traumatic brain injuries, dementia, dysarthria, and apraxia of speech.
Table of Contents
| | |
| --- | --- |
| | 1 Neuroanatomy and Neuropathology |

1
(42)
2
(25)

| | |
| --- | --- |
| | Blood Supply to the Brain |

27
(4)

| | |
| --- | --- |
| | Neurologic Causes of Adult Communication Disorders |

31
(1)
31
(5)

| | |
| --- | --- |
| | Other Neurologic Causes of Communication Disorders |

36
(7)
43
(30)

| | |
| --- | --- |
| | The Interview and Physical Examination |

43
(2)

| | |
| --- | --- |
| | The Neurologic Examination |

45
(17)
62
(8)

| | |
| --- | --- |
| | Recording the Results of the Neurologic Examination |

70
(3)

| | |
| --- | --- |
| | 3 Assessing Adults Who Have Neurogenic Communication Impairments |

73
(54)
76
(5)

| | |
| --- | --- |
| | Reviewing the Medical Record |

81
(12)

| | |
| --- | --- |
| | Behavioral, Cognitive, and Emotional Consequences of Brain Damage |

93
(3)
96
(3)
99
(7)
106
(21)

| | |
| --- | --- |
| | 4 Assessing Aphasia and Related Disorders |

127
(82)

| | |
| --- | --- |
| | Neuroanatomic Explanations of Aphasia and Related Disorders |

128
(15)
143
(9)

| | |
| --- | --- |
| | Limitations of Connectionistic Explanations of Aphasia and Related Disorders |

152
(4)

| | |
| --- | --- |
| | Assessing Language and Communication |

156
(12)

| | |
| --- | --- |
| | Assessing Auditory Comprehension |

168
(14)
182
(10)

| | |
| --- | --- |
| | Assessing Speech Production |

192
(11)

| | |
| --- | --- |
| | Assessing Written Expression |

203
(1)

| | |
| --- | --- |
| | The Effects of Managed Care on Assessment of Neurogenic Communication Disorders |

204
(5)

| | |
| --- | --- |
| | 5 The Context for Treatment of Neurogenic Communication Disorders |

209
(32)
209
(3)
212
(1)

| | |
| --- | --- |
| | General Characteristics of Treatment Sessions |

213
(2)

| | |
| --- | --- |
| | Adjusting Treatment Tasks to the Patient |

215
(8)

| | |
| --- | --- |
| | How Clinicians Decide What to Treat |

223
(2)
225
(1)

| | |
| --- | --- |
| | Instructions, Explanation, and Feedback |

226
(5)

| | |
| --- | --- |
| | Recording and Charting Patients' Performance |

231
(4)

| | |
| --- | --- |
| | Enhancing Generalization From the Clinic To Daily Life |

235
(3)
238
(3)

| | |
| --- | --- |
| | 6 Treatment of Aphasia and Related Disorders |

241
(50)

| | |
| --- | --- |
| | Treatment of Auditory Comprehension |

249
(3)

| | |
| --- | --- |
| | Treatment of Single-word Comprehension |

252
(1)

| | |
| --- | --- |
| | Understanding Spoken Sentences |

253
(3)

| | |
| --- | --- |
| | Treatment of Discourse Comprehension |

256
(2)

| | |
| --- | --- |
| | Treatment of Reading Comprehension |

258
(10)

| | |
| --- | --- |
| | Treatment of Speech Production |

268
(10)

| | |
| --- | --- |
| | Treating Apraxia of Speech |

278
(6)
284
(2)

| | |
| --- | --- |
| | Group Activities for Aphasic Adults |

286
(5)

| | |
| --- | --- |
| | 7 Right Hemisphere Syndrome |

291
(34)

| | |
| --- | --- |
| | Behavioral and Congnitive Symptoms of Right Hemisphere Brain Damage |

292
(11)

| | |
| --- | --- |
| | Tests for Assessing Patients With Right Hemisphere Brain Injury |

303
(9)

| | |
| --- | --- |
| | Treatment of Patients with Right Hemisphere Brain Damage |

312
(13)
325
(64)

| | |
| --- | --- |
| | Incidence and Prevalence of Traumatic Injuries |

326
(1)
326
(2)

| | |
| --- | --- |
| | Pathophysiology of Traumatic Brain Injury |

328
(18)

| | |
| --- | --- |
| | Rehabilitation of Traumatically Brain-Injured Adults: An Overview |

346
(1)

| | |
| --- | --- |
| | Assessment and Treatment of Traumatically Brain-Injured Adults |

347
(1)

| | |
| --- | --- |
| | General Characteristics of Patients at Various Stages of Recovery |

348
(2)

| | |
| --- | --- |
| | Assessment of Traumatically Brain-Injured Adults |

350
(14)

| | |
| --- | --- |
| | Test Batteries Useful in Evaluation of Traumatically Brain-Injured Adults |

364
(3)

| | |
| --- | --- |
| | Treatment of Traumatically Brain-Injured Adults |

367
(14)
381
(3)
384
(1)
385
(4)
389
(22)
390
(5)
395
(1)

| | |
| --- | --- |
| | Cerebrovascular Dementia (Multi-infarct Dementia) |

396
(1)

| | |
| --- | --- |
| | Diagnosis and Assessment of Dementia |

397
(5)
402
(2)

| | |
| --- | --- |
| | The Long Haul: The Family and the Dementia Patient |

404
(7)
411
(26)

| | |
| --- | --- |
| | Neuropathology of Dysarthria |

412
(4)

| | |
| --- | --- |
| | Effects of Neurologic Impairments on Speech Processes |

416
(1)
417
(6)
423
(14)
Appendix A: Standard Medical Abbreviations
437
(4)
Glossary
441
(14)
Bibliography
455
(16)
Index
471