Note: Supplemental materials are not guaranteed with Rental or Used book purchases.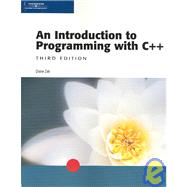 An Introduction to Programming With C++
by
ZAK
Summary
Offer your students a comprehensive introduction to programming using C++ as the illustrative language! By actively working through this tutorial-based, hands-on text, students will gain confidence knowing that they have mastered essential C++ skills and techniques.
Table of Contents
Preface
xiii
Read This Before You Begin
xvii
Overview

| | |
| --- | --- |
| | An Overview of a Microcomputer System |

1
(594)

| | |
| --- | --- |
| | An Introduction to a Microcomputer System |

2
(1)

| | |
| --- | --- |
| | An Overview of Hardware and Software |

2
(5)
3
(1)
3
(1)

| | |
| --- | --- |
| | The Central Processing Unit |

4
(1)
5
(1)
6
(1)

| | |
| --- | --- |
| | A Brief History of Programming Languages |

7
(4)
7
(1)
8
(1)
8
(1)

| | |
| --- | --- |
| | Procedure-Oriented High-Level Languages |

8
(1)

| | |
| --- | --- |
| | Object-Oriented High-Level Languages |

9
(2)
11
(1)
11
(1)
12
(1)
12
(2)
14
(1)

| | |
| --- | --- |
| | An Introduction to Control Structures |

15
(22)
16
(1)

| | |
| --- | --- |
| | Defining Control Structures |

16
(1)
16
(1)
17
(1)
17
(2)
19
(2)
20
(1)
21
(1)
21
(1)
21
(2)
23
(2)
25
(1)

| | |
| --- | --- |
| | Using the Control Structures |

25
(1)

| | |
| --- | --- |
| | Programming Rob the Mechanical Man |

25
(6)
31
(6)

| | |
| --- | --- |
| | Beginning the Problem-Solving Process |

37
(36)
38
(1)
38
(1)

| | |
| --- | --- |
| | Solving Everyday Problems |

38
(2)

| | |
| --- | --- |
| | Creating Computer Solutions to Problems |

40
(1)
41
(3)
41
(2)
43
(1)
44
(6)

| | |
| --- | --- |
| | Hints for Writing Algorithms |

47
(2)
49
(1)

| | |
| --- | --- |
| | Desk-Checking the Algorithm |

50
(2)
52
(2)
54
(1)
54
(1)
55
(2)
57
(3)
60
(2)
62
(1)

| | |
| --- | --- |
| | Using the First Steps in the Problem-Solving Process |

62
(1)

| | |
| --- | --- |
| | The Problem Specification |

62
(1)
62
(1)
63
(2)

| | |
| --- | --- |
| | Desk-Checking the Algorithm |

65
(2)
67
(6)

| | |
| --- | --- |
| | Completing the Problem-Solving Process and Getting Started with C++ |

73
(76)
74
(1)

| | |
| --- | --- |
| | More on the Problem-Solving Process |

74
(1)

| | |
| --- | --- |
| | Variables and Named Constants |

75
(10)

| | |
| --- | --- |
| | Selecting a Name for a Memory Location |

76
(2)

| | |
| --- | --- |
| | Selecting a Data Type for a Memory Location |

78
(1)

| | |
| --- | --- |
| | How Data is Stored in Internal Memory |

79
(3)

| | |
| --- | --- |
| | Selecting an Initial Value for a Memory Location |

82
(1)
83
(2)
85
(1)

| | |
| --- | --- |
| | Reserving a Named Constant |

85
(2)
87
(1)
88
(1)

| | |
| --- | --- |
| | Using an Assignment Statement to Store Data in a Variable |

88
(2)
90
(2)
91
(1)

| | |
| --- | --- |
| | The Console: :Write( ) and Console: :WriteLine( ) Methods |

92
(2)

| | |
| --- | --- |
| | The Console: :ReadLine( ) Method |

94
(2)
95
(1)

| | |
| --- | --- |
| | Coding the Algorithm into a Program |

96
(4)

| | |
| --- | --- |
| | Desk-Checking the Program |

100
(3)

| | |
| --- | --- |
| | Evaluating and Modifying the Program |

103
(2)
104
(1)
105
(1)
106
(1)
107
(3)
110
(6)
116
(1)
116
(1)

| | |
| --- | --- |
| | The C++ Programming Language |

116
(1)

| | |
| --- | --- |
| | Starting and Customizing Visual Studio .NET |

117
(4)

| | |
| --- | --- |
| | Creating a Console Application in Visual C++ .NET |

121
(6)

| | |
| --- | --- |
| | Managing the Windows in the IDE |

127
(1)
128
(4)
132
(1)

| | |
| --- | --- |
| | Closing the Current Solution |

133
(1)

| | |
| --- | --- |
| | Opening an Existing Solution |

133
(2)

| | |
| --- | --- |
| | Building and Executing a C++ Program |

135
(3)

| | |
| --- | --- |
| | Locating and Correcting an Error in a Program |

138
(2)
140
(1)

| | |
| --- | --- |
| | Making a Backup Copy of a C++ Solution |

140
(1)
141
(8)

| | |
| --- | --- |
| | Value-Returning Functions |

149
(46)
150
(1)
150
(1)

| | |
| --- | --- |
| | Creating Value-Returning Functions |

150
(3)
151
(1)
152
(1)
153
(1)
153
(9)
155
(2)

| | |
| --- | --- |
| | The Scope and Lifetime of a Variable |

157
(1)
157
(5)
162
(1)
162
(1)
163
(1)
163
(3)
166
(2)
168
(1)

| | |
| --- | --- |
| | Using Values-Returning Functions in a C++ Program |

168
(1)

| | |
| --- | --- |
| | Analyzing, Planning, and Desk-Checking the Periodic Payment Algorithm |

168
(4)

| | |
| --- | --- |
| | Coding the main( ) Function |

172
(3)

| | |
| --- | --- |
| | Coding the calcPayment( ) Function |

175
(3)
176
(2)

| | |
| --- | --- |
| | Completing the David Liu Program |

178
(7)

| | |
| --- | --- |
| | Using a Function Prototype |

182
(3)

| | |
| --- | --- |
| | Formatting Numeric Output |

185
(2)
187
(8)
195
(48)
196
(1)
196
(1)
197
(2)
198
(1)
199
(8)

| | |
| --- | --- |
| | Passing Variables by Value |

199
(1)

| | |
| --- | --- |
| | Desk-Checking Figure 5-3's Program |

200
(2)

| | |
| --- | --- |
| | Passing Variables by Reference |

202
(2)

| | |
| --- | --- |
| | Desk-Checking Figure 5-8's Program |

204
(2)
206
(1)

| | |
| --- | --- |
| | Passing Variables by Value and by Reference |

207
(4)

| | |
| --- | --- |
| | Passing a String Variable to a Function |

211
(2)
212
(1)
213
(1)
213
(1)
214
(3)
217
(3)
220
(1)

| | |
| --- | --- |
| | Using Void Functions in a C++ Program |

220
(1)

| | |
| --- | --- |
| | Analyzing, Planning, and Desk-Checking |

220
(4)

| | |
| --- | --- |
| | Coding the main( ) Function |

224
(1)

| | |
| --- | --- |
| | Coding the getInput( ) Function |

224
(1)

| | |
| --- | --- |
| | Coding the calculate( ) Function |

225
(1)

| | |
| --- | --- |
| | Coding the displayBill( ) Function |

226
(2)

| | |
| --- | --- |
| | Completing the Water Bill Program |

228
(5)
233
(10)
243
(42)
244
(1)

| | |
| --- | --- |
| | Using the Selection Structure |

244
(1)

| | |
| --- | --- |
| | Including the Selection Structure in Pseudocode |

245
(1)

| | |
| --- | --- |
| | Drawing a Flowchart of a Selection Structure |

246
(1)

| | |
| --- | --- |
| | Coding the Selection Structure |

247
(1)
248
(5)

| | |
| --- | --- |
| | Using Comparison Operators in a Program |

250
(3)
253
(1)
253
(6)
254
(2)
256
(1)

| | |
| --- | --- |
| | Using Logical Operators in a Program |

256
(3)
259
(3)

| | |
| --- | --- |
| | Using the ToUpper( ) and CompareTo( ) Methods in a Program |

260
(2)
262
(1)
262
(1)
263
(1)
264
(1)
265
(5)
270
(1)

| | |
| --- | --- |
| | Using the Selection Structure in a C++ Program |

270
(1)

| | |
| --- | --- |
| | Analyzing, Planning, and Desk-Checking |

270
(2)

| | |
| --- | --- |
| | Coding the main( ) Function |

272
(1)

| | |
| --- | --- |
| | Coding the calcFatInfo( ) Function |

273
(2)

| | |
| --- | --- |
| | Completing the Health Club Program |

275
(4)
279
(6)

| | |
| --- | --- |
| | More on the Selection Structure |

285
(46)
286
(1)

| | |
| --- | --- |
| | Nested Selection Structures |

286
(6)

| | |
| --- | --- |
| | Another Example of a Nested Selection Structure |

290
(2)
292
(1)

| | |
| --- | --- |
| | Logic Errors in Selection Structures |

292
(6)

| | |
| --- | --- |
| | Using a Logical Operator Rather Than a Nested Selection Structure |

294
(2)

| | |
| --- | --- |
| | Reversing the Primary and Secondary Decisions |

296
(1)

| | |
| --- | --- |
| | Using an Unnecessary Nested Selection Structure |

297
(1)
298
(1)

| | |
| --- | --- |
| | Using the if/else Form to Create Multiple-Path Selection Structures |

298
(2)

| | |
| --- | --- |
| | Using the switch Form to Create Multiple-Path Selection Structures |

300
(5)

| | |
| --- | --- |
| | Desk-Checking the Grade Program |

303
(2)
305
(1)
305
(1)
306
(1)
307
(2)
309
(7)
316
(1)

| | |
| --- | --- |
| | Using the Selection Structure in a C++ Program |

316
(1)

| | |
| --- | --- |
| | Analyzing, Planning, and Desk-Checking the Golf Pro Commission Problem |

316
(2)

| | |
| --- | --- |
| | Coding the main( ) Function |

318
(1)

| | |
| --- | --- |
| | Coding the calcCommission( ) Function |

319
(2)

| | |
| --- | --- |
| | Completing the Commission Program |

321
(2)
323
(8)
331
(46)
332
(1)

| | |
| --- | --- |
| | Using the Repetition Structure |

332
(1)
332
(5)

| | |
| --- | --- |
| | Flowcharting a Pretest Loop |

335
(2)

| | |
| --- | --- |
| | Using the while Statement to Code the Pretest Loop |

337
(2)
339
(1)

| | |
| --- | --- |
| | Using Counters and Accumulators |

339
(3)

| | |
| --- | --- |
| | The Sales Express Program |

339
(3)
342
(1)

| | |
| --- | --- |
| | Counter-Controlled Pretest Loops |

342
(3)

| | |
| --- | --- |
| | Using the for Statement to Code a Pretest Loop |

345
(6)

| | |
| --- | --- |
| | Example 1 -- Displaying the Numbers 1 Through 3 |

346
(2)

| | |
| --- | --- |
| | Example 2 -- Calculating and Displaying a Commission |

348
(1)

| | |
| --- | --- |
| | Example 3 -- Calculating and Displaying a Bonus |

349
(2)
351
(1)
351
(1)
352
(1)
353
(3)
356
(5)
361
(1)

| | |
| --- | --- |
| | Using the Repetition Structure in a C++ Program |

361
(1)

| | |
| --- | --- |
| | Analyzing, Planning, and Desk-Checking the Grade Problem |

361
(3)

| | |
| --- | --- |
| | Coding the main( ) function |

364
(1)

| | |
| --- | --- |
| | Coding the getPointsEarned( ) Function |

364
(2)

| | |
| --- | --- |
| | Coding the assignGrade( ) Function |

366
(2)

| | |
| --- | --- |
| | Completing the Grade Program |

368
(3)
371
(6)

| | |
| --- | --- |
| | More on the Repetition Structure |

377
(30)
378
(1)
378
(4)

| | |
| --- | --- |
| | Flowcharting a Posttest Loop |

379
(3)
382
(1)
382
(2)
384
(1)

| | |
| --- | --- |
| | Nested Repetition Structures |

384
(6)

| | |
| --- | --- |
| | The Max Beauty Supply Program |

385
(5)
390
(1)
390
(1)
390
(1)
391
(2)
393
(4)
397
(1)

| | |
| --- | --- |
| | Using a Nested Repetition Structure in a C++ Program |

397
(1)

| | |
| --- | --- |
| | Analyzing, Planning, and Desk-Checking the Multiplication Table Problem |

397
(2)

| | |
| --- | --- |
| | Coding the Multiplication Table Algorithm |

399
(2)

| | |
| --- | --- |
| | Completing the Multiplication Table Program |

401
(2)
403
(4)
407
(36)
408
(1)
408
(1)

| | |
| --- | --- |
| | Object-Oriented Programming |

408
(3)

| | |
| --- | --- |
| | Object-Oriented Programming Terminology |

408
(3)
411
(1)
411
(4)

| | |
| --- | --- |
| | The Declaration Section of the Class Definition |

411
(2)
413
(1)

| | |
| --- | --- |
| | The Implementation Section of the Class Definition |

414
(1)
414
(1)
415
(1)

| | |
| --- | --- |
| | Using the String: :Concat( ) Method |

415
(1)

| | |
| --- | --- |
| | Using the Class in a Program |

416
(3)
419
(1)
419
(1)
420
(1)
420
(2)
422
(4)
426
(1)

| | |
| --- | --- |
| | Using Classes and Objects in a C++ Program |

426
(1)
426
(1)

| | |
| --- | --- |
| | Creating the Rectangle Class |

426
(5)

| | |
| --- | --- |
| | Completing the Implementation Section of the Rectangle Class |

427
(4)

| | |
| --- | --- |
| | Creating the Terney Landscaping Program |

431
(4)
435
(8)
443
(54)
444
(1)
444
(1)

| | |
| --- | --- |
| | Using Sequential Access Files |

444
(1)

| | |
| --- | --- |
| | Using StreamWriter and StreamReader Objects |

445
(1)

| | |
| --- | --- |
| | Opening a Sequential Access File |

446
(3)
449
(1)

| | |
| --- | --- |
| | Writing Information to a Sequential Access File |

449
(6)

| | |
| --- | --- |
| | Using the PadLeft( ) and PadRight( ) Methods |

451
(4)
455
(1)

| | |
| --- | --- |
| | Reading Information from a Sequential Access File |

455
(6)

| | |
| --- | --- |
| | Using the IndexOf( ) Method to Search a String |

457
(2)

| | |
| --- | --- |
| | Using the Substring( ) Method to Access Characters Contained in a String |

459
(2)

| | |
| --- | --- |
| | Closing a Sequential Access File |

461
(1)
461
(1)
462
(3)
465
(3)
468
(1)
469
(1)
470
(3)
473
(7)
480
(1)

| | |
| --- | --- |
| | Using a Sequential Access File in a C++ Program |

480
(1)

| | |
| --- | --- |
| | Viewing the Salesperson Class |

480
(1)

| | |
| --- | --- |
| | The Flowers Express Program |

481
(5)

| | |
| --- | --- |
| | The addRecords( ) Function |

483
(1)

| | |
| --- | --- |
| | The displayTotal( ) Function |

484
(2)

| | |
| --- | --- |
| | Completing the Flowers Express Program |

486
(6)
492
(5)
497
(42)
498
(1)
498
(1)
498
(2)

| | |
| --- | --- |
| | Storing Data in a One-Dimensional Array |

500
(2)
501
(1)

| | |
| --- | --- |
| | Manipulating One-Dimensional Arrays |

502
(11)

| | |
| --- | --- |
| | Displaying the Contents of a One-Dimensional Array |

502
(1)

| | |
| --- | --- |
| | Using the Subscript to Access an Element in a One-Dimensional Array |

503
(1)

| | |
| --- | --- |
| | Searching a One-Dimensional Array |

504
(1)

| | |
| --- | --- |
| | Calculating the Average Amount Stored in a One-Dimensional Numeric Array |

505
(2)
507
(1)

| | |
| --- | --- |
| | Determining the Highest Value Stored in a One-Dimensional Array |

507
(2)

| | |
| --- | --- |
| | Updating the Values Stored in a One-Dimensional Array |

509
(1)

| | |
| --- | --- |
| | Sorting the Data Stored in a One-Dimensional Array |

510
(2)
512
(1)
513
(2)

| | |
| --- | --- |
| | Storing Data in a Two-Dimensional Array |

515
(3)

| | |
| --- | --- |
| | Calculating the Sum of the Numbers Stored in a Two-Dimensional Array |

516
(1)
517
(1)
518
(1)
518
(1)
519
(5)
524
(2)
526
(1)

| | |
| --- | --- |
| | Using an Array in a C++ Program |

526
(1)
526
(3)

| | |
| --- | --- |
| | Completing the Rainfall Program |

529
(3)
532
(7)
539
(26)
540
(1)
540
(1)

| | |
| --- | --- |
| | Creating an Array Using a Data Type That Is Not a Fundamental Data Type |

540
(3)
541
(2)
543
(1)

| | |
| --- | --- |
| | Using Parallel One-Dimensional Arrays |

543
(3)
546
(1)
546
(1)
547
(1)
547
(1)
548
(5)
553
(1)

| | |
| --- | --- |
| | Using an Array of Objects in a C++ Program |

553
(1)

| | |
| --- | --- |
| | Creating the Product Class |

553
(2)

| | |
| --- | --- |
| | Completing the Takoda Treasures Program |

555
(6)
561
(4)
565
(30)
566
(1)

| | |
| --- | --- |
| | Accessing Data Stored in a Database |

566
(1)

| | |
| --- | --- |
| | Using a Connection Object |

567
(3)

| | |
| --- | --- |
| | Opening and Closing a Connection to a Data Source |

568
(2)
570
(1)

| | |
| --- | --- |
| | Using a Command Object to Retrieve Information From a Database |

570
(4)

| | |
| --- | --- |
| | Using SQL to Query a Database |

570
(3)
573
(1)

| | |
| --- | --- |
| | Using a Reader Object to Read the Database Records |

574
(2)
576
(1)
576
(1)
577
(1)
577
(2)
579
(4)
583
(1)

| | |
| --- | --- |
| | Using a Database in a C++ Program |

583
(1)
583
(10)

| | |
| --- | --- |
| | Viewing the displayMenu( ) Function |

584
(1)

| | |
| --- | --- |
| | Completing the main( ) Function |

585
(3)

| | |
| --- | --- |
| | Completing the getByCode( ) Function |

588
(2)

| | |
| --- | --- |
| | Completing the getByStatus( ) Function |

590
(3)
593
(2)
595
(2)

| | |
| --- | --- |
| | Appendix B Built-in Mathematical Methods |

597
(14)

| | |
| --- | --- |
| | Using Built-in Mathematical Methods |

598
(6)

| | |
| --- | --- |
| | The Math: :Pow( ) and Math: :Sqrt( ) Methods |

598
(1)

| | |
| --- | --- |
| | The Math: :Cos( ), Math: :Sin( ), and Math: :Tan( ) Methods |

599
(2)
601
(1)

| | |
| --- | --- |
| | The Math: :Max( ), Math: :Min( ), Math: :Ceiling( ), and Math: :Floor( ) Methods |

601
(1)

| | |
| --- | --- |
| | The Math: :Sign( ) Method |

602
(1)

| | |
| --- | --- |
| | The Math: :Round( ) Method |

602
(2)
604
(1)
604
(1)
605
(1)
605
(1)
606
(5)
611
(2)
611
(2)

| | |
| --- | --- |
| | Appendix D Displaying a Web Page |

613
(6)

| | |
| --- | --- |
| | Creating an Application That Displays a Web Page |

613
(6)
Index
619